This Southwestern Hike Is Considered One Of The Most Dangerous In America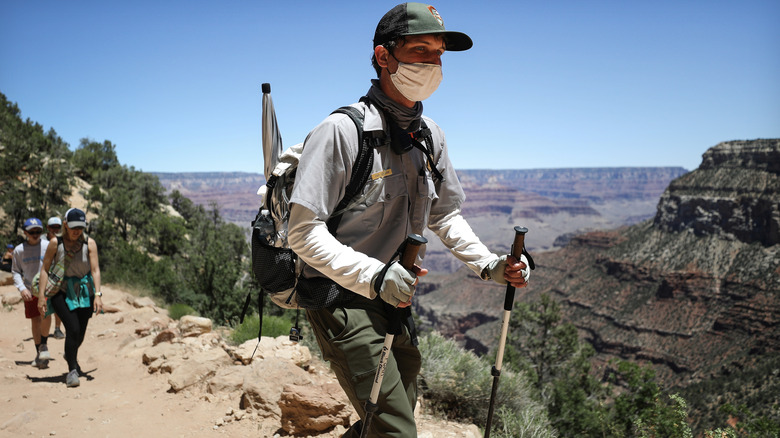 Mario Tama/Getty Images
Hiking the Grand Canyon's 9.5-mile Bright Angel Trail is, for many, the adventure of a lifetime. An immense challenge, it requires a presence of mind, a high level of fitness, and adequate gear and preparation. While even the most seasoned hikers may feel a bit queasy when treading the narrow path at the edge of the abyss, the rewards of completing the trail are tremendous: We're talking sheer exhilaration and unparalleled views of one of the greatest geological sites on Earth.
Among the many trails in the canyon, the well-maintained and accessible Bright Angel Trail is the most popular. It starts near the Bright Angel Lodge at the South Rim and quickly morphs into a series of very steep switchbacks that offer spectacular views of the inner canyon. After descending 4,380 feet, the trail arrives at the churning waters of the Colorado River — a wild river trip itself — near the base of creamy orange and vermilion cliffs.
However, anyone who attempts this trial should proceed with caution, as it is considered one of the most dangerous in the United States. Hikers face risks from overheating and dehydration, extreme weather conditions, sprains and strains, and falling. Understand these risks and take all the necessary precautions before embarking on your adventure.
Overheating and dehydration dangers on the Bright Angel Trail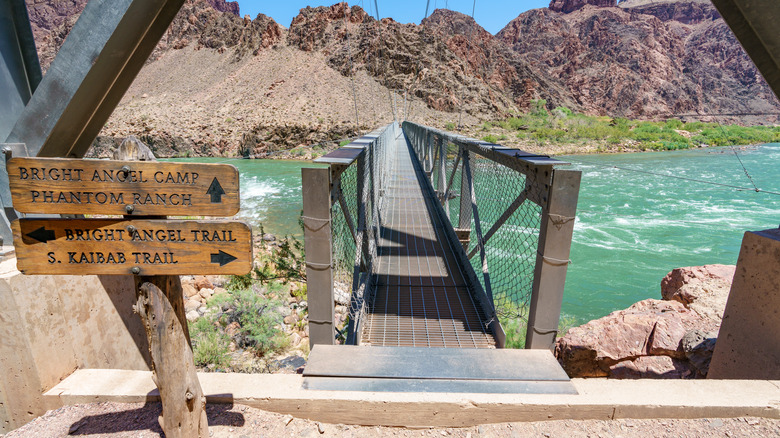 cb_travel/Shutterstock
When hiking the Bright Angel Trail, one risk that adventurers face is becoming overheated and dehydrated — which can cause heat exhaustion — in the scorching temperatures, especially in the summer. During warmer months, the inner canyon becomes an oven, with 100-degree temperatures nearly every single day. 
However, because people begin hiking in cooler temperatures at the rim, they often underestimate how hot it is down below. In addition, people are fooled by the ease of hiking down the steep trail and shocked by how much more effort (and time) it takes to climb back up. 
During an ascent, an overheating hiker may not be able to find any shade. At this point, they may panic and start hiking more quickly. And then, they start running out of water ... Obviously, you want to avoid this scenario at all costs, as it can quickly spiral into disaster and even death.   
Here are some tips for hiking safely in the canyon during late spring, summer, and early fall: 
Read and adhere to the park service recommendations.  
Each hiker should drink one gallon (four liters) of water per day. Plan accordingly.
Bring a headlamp and spare batteries, and hike closer to sunrise and sunset whenever possible. 
Don't try to make it to the river and back in one day. Instead, do a multi-day hike with an overnight stay at one of the campgrounds. 
Know where emergency phones are located along the trail.
Other risks on the Bright Angel Trail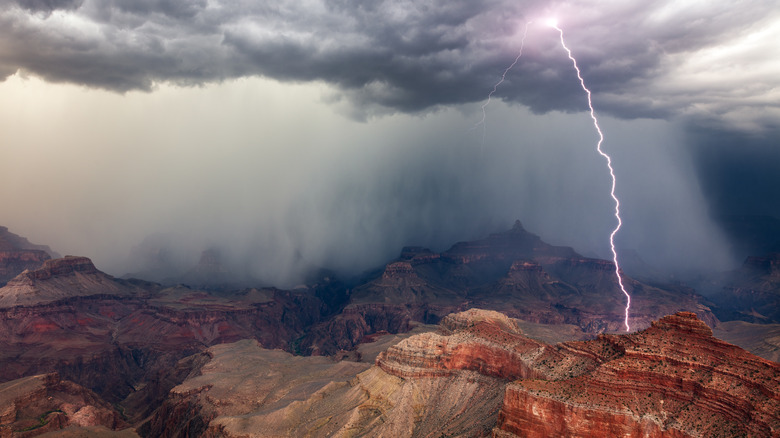 Mdesigner125/Getty Images
Besides intense heat, other forms of extreme weather can also pose risks. If thunderstorms are imminent, postpone your hike to avoid becoming a human lightning rod if you're struck on the upper sections of the trail. 
Regardless of the weather forecast, always carry rain gear in your pack along with extra thermal layers, just in case. The elevation changes along the trail mean that in late fall, winter, and early spring, it can feel summery near the river while a full-on blizzard rages further up the trail. During these times, hikers must be prepared for snow, freezing temperatures, and icy trail conditions. Bring extra clothing layers, a hat and gloves, and crampons for icy conditions. 
Another risk is from strains and sprains that result from a lack of physical preparation. A muscle strain is one thing at the gym and quite another when you're a few thousand feet down into the canyon. So unless you're a triathlete or marathon runner, train for this hike by climbing mountains or hills, when possible. 
Last but not least, hiking this and any other Grand Canyon trail brings with it the danger of falling. Wear hiking boots that provide excellent ankle support and traction and use crampons when necessary. Trekking poles are also useful, as they greatly help with balance. While hiking, be mindful when moving to the trail's edge to accommodate passing hikers or mules. Finally, if a sign is posted that a particular overlook is dangerous, heed the warning. You can get all the picture-perfect selfies you could ever want on this trail without taking silly risks.