Facts About The Grand Canyon You Didn't Know Until Now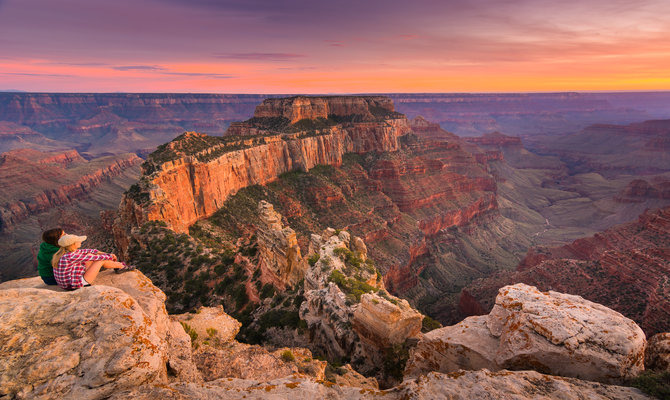 Feem PT/Shutterstock
The Grand Canyon is one of the world's natural wonders and there is no question why. It is located in the state of Arizona in the United States. It became a National Park in 1919 and was the 17th National Park to be established by the United States. It gets approximately 5 million visitors every year.
Grand Canyon National Park is full of so much to do and so many sites to explore. Rafting in the Grand Canyon is an incredible experience, and the backcountry is amazing. Visitors can explore the park by camping, biking, guided tours and summer/winter hiking.
Make sure you hike the Bright Angel Trail, visit the Grand Canyon Village, raft the Colorado River and take a trip to the North Rim. (See: Top 5 Things to Do at the Grand Canyon)
The Grand Canyon has a powerful and inspiring landscape. With its large size and mind-blowing colors you will not be disappointed. But first, before you head there, take a look at these interesting facts.
1. It's the second largest canyon in the world- The Grand Canyon is 277 Miles long, up to 18 miles wide and the distance is approximately 10 miles.
2. Members of one Native American tribe still live inside- According to mygrandcanyonpark.com, "the Havasupai tribe has been living in and around the Grand Canyon's South Rim for the past 800 years, according to anthropologists." In the past they created walking paths which have been turned into hiking trails today. The Havasupai rely on tourism to support their reservation and they have approximately 670 living members.
3. It's hosted of some of the biggest blockbuster movies- Thelma and Louise, Fools Rush In, Transformers and The Trial of Billy Jack are just a few.
4. There are a variety of animal species- According to National Geographic, the Grand Canyon "includes approximately 70 species of mammals, 250 species of birds, 25 types of reptiles and five species of amphibians."
5. They have an awesome skywalk- Devour breathtaking sights of the Grand Canyon by taking a walk on The Grand Canyon Skywalk. It's a glass walkway that extends over the rim of the Grand Canyon and enables individuals to walk beyond the canyon walls.
6. It has really old rocks- According to Science Kids, the rocks found at the bottom of the Grand Canyon (schist) are approximately 2 billion years old and the rocks found on the upper rim (limestone) are approximately 230 million years old.
More Readings
The Most Thrilling Places to go Whitewater Rafting