This Coastal Italian Town Is Must-Add To Your Family Vacation Bucket List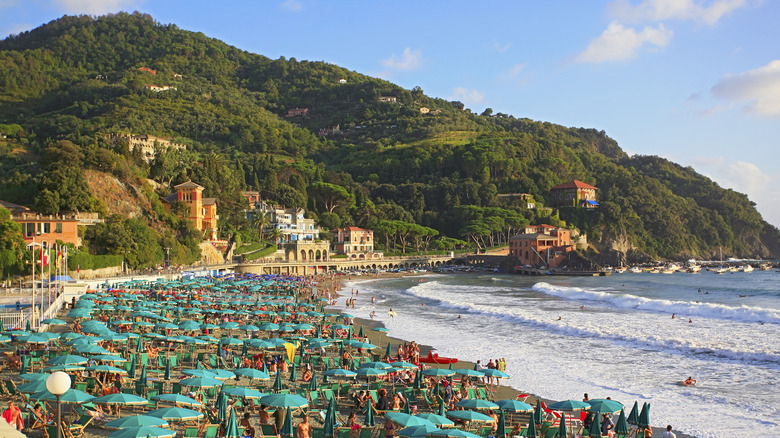 Beyondimages/Getty Images
If you're visiting the northwest of Italy in the Italian Riviera, there is a hidden gem that you might not know about. It's a great place to check out if you're traveling with family, particularly kids. The lovely beach town is Levanto in the region of Liguria. This place was once a Roman settlement called Ceula, and by the 13th century, it was the property of the Republic of Genoa. It was once conquered by Napoleon Bonaparte, and finally became Italian in 1861 when the Italian state as we know it was formed.
Nowadays, Levanto is a coastal destination that is just past Italy's Cinque Terre, or five lands in Liguria (Monterosso al Mare, Vernazza, Corniglia, Manarola, and Riomaggiore). It's just a short 10-minute train ride to see them from Levanto. In the town, you'll find a top-tier beach and playground the kids will love, a lovely bicycle and walking path with fantastic views that is flat (which isn't always easy to find in Italy), and medieval buildings like the Chiesa di Sant'Andrea — a black-and-white striped church that you cannot miss. 
Beaches and outdoor activities in Levanto, Italy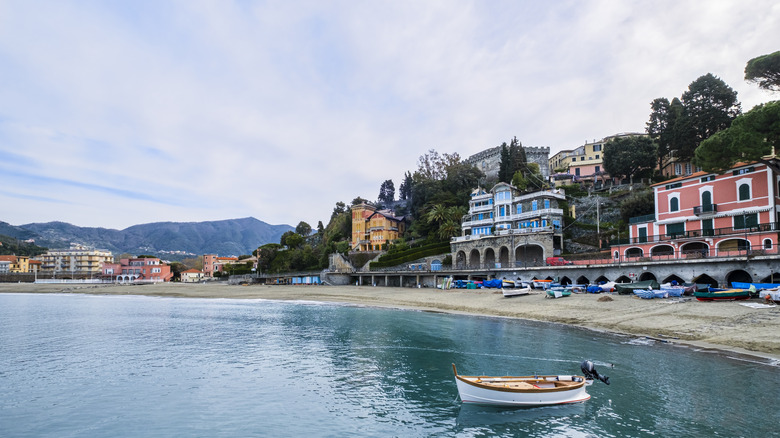 Flavio Vallenari/Getty Images
Levanto is right on the coast in Liguria, and that means it's primarily a beach destination. One side of the beach has beach clubs that have cafés and restaurants, as well as rentals for umbrellas, chairs, and even kayaks, while the other side is free. It's a very short walk into town from the beach, but it's probably worth bringing some water shoes as the beach is known for its pebbles.
When your family has had its fill of swimming, you can take a walk or rent bicycles in town to travel down the Ciclopedonale Maremonti, a popular bike and pedestrian path. This goes along train tracks dating back to the late 19th century, from Levanto to Framura. The path goes under old train tunnels, but also gives you some great views of the ocean. There are separate lanes for pedestrians and bicyclists, but keep in mind that there are no bathrooms on the route. That said, this is even good for the younger members of your family because it's largely flat and not that long — it's 3 kilometers from Levanto to the pretty nearby town of Bonassola, and 5.5 kilometers from Levanto to the end point of Framura. If you want a longer stroll, there are hiking trails that will take you to the National Park of Cinque Terre. You can hike from Levanto to Monterosso in Cinque Terre in three hours. 
What else to see in Levanto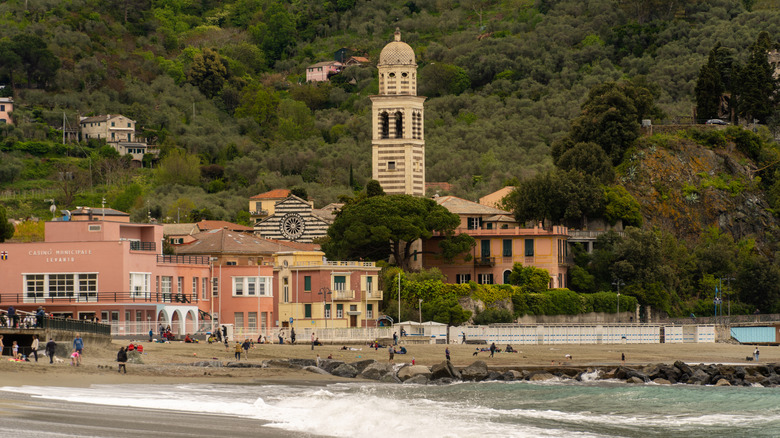 Robert67/Getty Images
This is a colorful town full of cheerful buildings, restaurants, and cafés, and, like the bike and pedestrian path, the town center of Levanto is rather flat. It's great for strollers or those with mobility challenges. There is a playground in the area with a trampoline and carousel, which makes it a great family destination. If the kids are into history, don't miss the striped Romanesque medieval Chiesa di Sant'Andrea, which you can tour. 
There are walking tours on offer, such as this one run by Silvia's Trips, which will show you things like the city hall (which was once the Convent of the Poor Clares) and the deconsecrated church of Santa Maria Assunta della Costa. You'll also pass by the Loggia, a gallery dating back to the 13th century, and the 12th-century Castle of Levanto, which was once part of the city walls. The castle is now private property, but you can see it from the outside. As you do, let the kids know that this was once used to defend against pirates and, later, it was used as a prison.