Mistakes People Make When Traveling By Train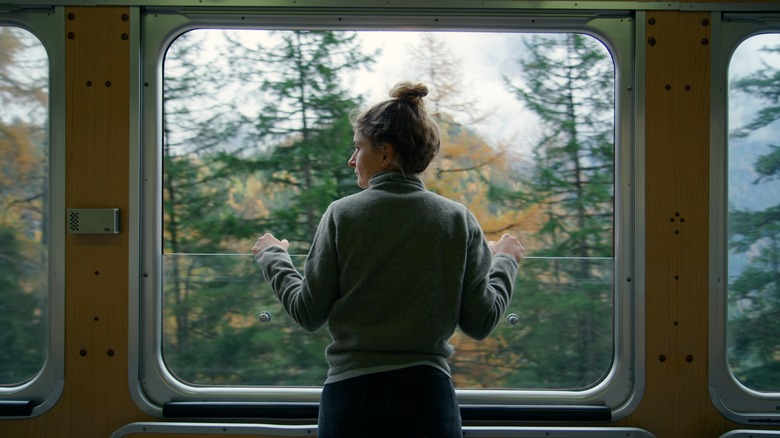 BublikHaus/Shutterstock
Taking a train is one of the best ways to travel, although it can be easy to make some mistakes riding the rails. Beyond the well-deserved romanticization of this mode of transport, it's one of the more enjoyable ways to move between destinations. The ever-increasing hassles, disruptions, and necessary early arrival time of air travel don't exist, and someone else handles the stress of driving! And, wherever in the world you are, enjoying the scenery from the comfort of a train seat is more relaxing than from the driver's seat of a vehicle you're responsible for keeping in control.
Rail seats also tend to be more spacious than those on buses and planes, which only adds to the positives of traveling by train. Additionally, on most carriers, you aren't charged extra (or moved at the last moment) if you want to be seated with traveling companions. In fact, if you purchase tickets on the same booking, you're almost always seated together unless it's extremely last minute and a packed train. If you're conscious about your carbon footprint, trains are much more eco-friendly than driving (even in a carpool) or flying. However, if you're not accustomed to it, or even a frequent train traveler, it can be easy to make simple errors. Keep reading to avoid potential mistakes next time you ride the rails.
Thinking you can just decide, book, and board on the same day of travel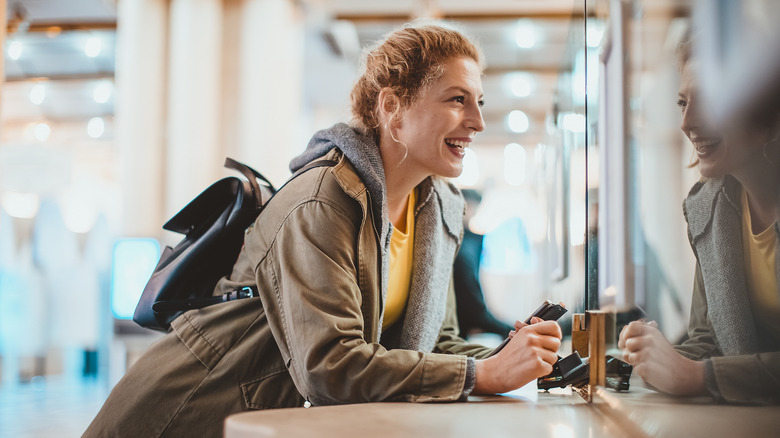 Sanjeri/Getty Images
Sure, train travel doesn't require the same months of preparation that booking plane itineraries does, but you do need to plan a bit. This is especially true for long-distance journeys. A short, regional ticket between two southern French cities in the same department, like Avignon and Arles, can be bought the day before (or even the day of) without much of a price difference. But try doing that for a TGV (high-speed) ticket between Paris and Marseille or Berlin and Vienna, and you could be stuck with fares that are double or triple the price available in advance. 
What will spare you this sticker shock is including train research very early in your trip planning. As soon as you have a rough route in mind, look up the train options and note if a long-distance, high-speed train will be required. You don't necessarily need to book the tickets right away. But it's wise to enter some hypothetical dates to get an idea if there's a big difference in price if you buy that same day versus a month (or a few) ahead of time. If advance booking looks like the best option, make sure to book flexible tickets in case your plans change.
Not booking on the right website or app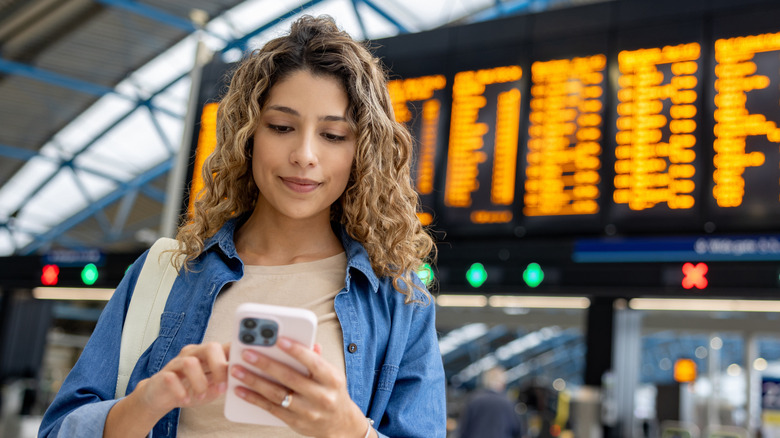 Andresr/Getty Images
Booking websites such as Rome2Rio, Omio, and Trainline are good for research, as each of them does a solid job of providing all the options for your desired route. However, once you've determined your path, go directly to the rail operator to buy tickets. Only book on an alternative provider if there is a huge price difference (i.e., an unbeatable deal) or if your departure is soon and you're unlikely to cancel or adjust the ticket. It is also a good idea to always check the flexibility of the ticket.
Additionally, you don't always get the same rights on a third-party ticket as you would for one booked directly with the rail company. For example, with regional TER trains in France, you can usually take any train for the route you've booked on the day you bought a ticket for, as long as it's not high-speed (those require reservations.) So if you bought a ticket between Rennes and Saint-Malo in Bretagne for October 25, you can take any train that day, even though SNCF (the French national carrier) usually requires you to choose a time when you purchase. However, that's not always true if you book a third party. Usually, those sites charge a fee to adjust ticket times.
Assuming there will be food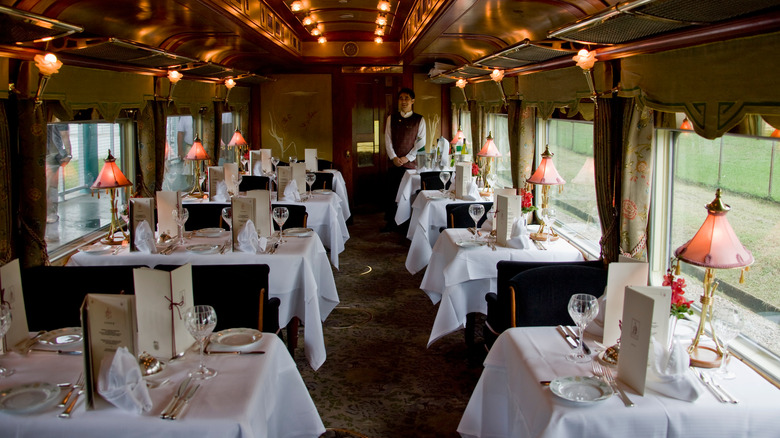 Altrendo Images/Shutterstock
Many high-speed and long-distance trains have dining cars where you can sit and enjoy a meal or grab a coffee and sandwich to bring back to your seat. However, this is not guaranteed on any route or in any country. You can check your booking confirmation for details about the train, and it'll usually indicate if there is a dining car. But, even if the app or ticket says there's a dining car, the train could change at the last moment, or a technical issue might arise, and suddenly, they have to swap the train for one without food and drink amenities. These events are rare, but in general, you should bring plenty of water and snacks to be on the safe side. This is usually a cheaper option than purchases made on the train.
Additionally, sometimes unofficial food carts will make their way on board thanks to a savvy entrepreneur who knows certain routes don't provide refreshments. Again, these aren't guaranteed, and purchases from unofficial vendors are at your own risk.
Assuming there will be Wi-Fi and other tech amenities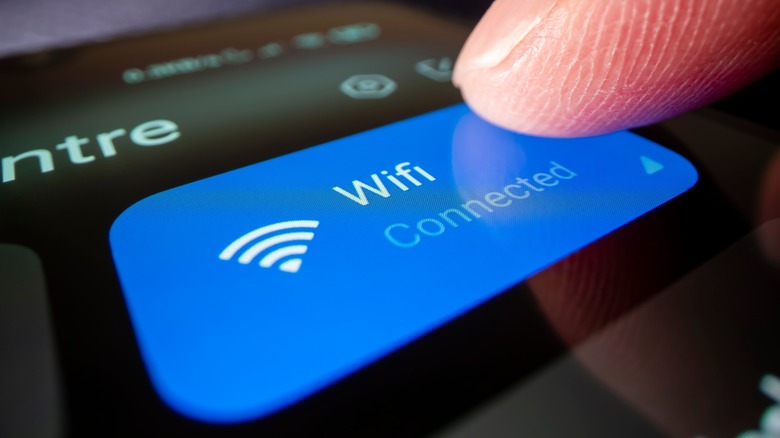 ymgerman/Shutterstock
On many of the longer-distance and high-speed routes, there is Wi-Fi, but it's never guaranteed. Even when it is provided, the connection is often slow or faulty and can randomly stop working at any moment. Connection issues are fine if all you want to do is occasionally check messages or the weather at your destination. It's less than ideal if you plan to get work done (a good idea on longer journeys) or stream something en route. Check your journey details as it'll usually indicate whether Wi-Fi is provided, but don't bank on it working well. Bring your own hotspot (even if it's just a cellphone) or download entertainment ahead of time to avoid disappointment.
Additionally, there might not be a place to charge electronics on-board. If there is, sometimes the plug-ins can be spread unevenly throughout the train and not necessarily be near your seat. This can be particularly problematic on long-distance routes where seats are assigned. So, if yours isn't near a power plug, you'll need to rely on the kindness of other passengers. Sometimes, the outlets don't even work. If being online during your journey is a must, bring a portable power bank along with a hotspot.
Not reading the itinerary carefully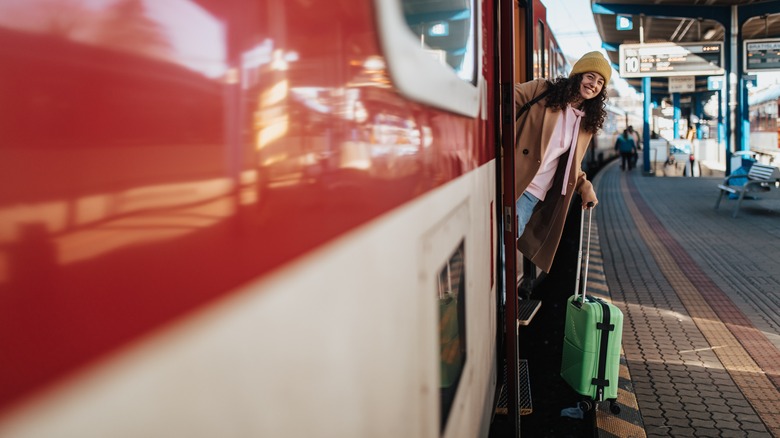 Halfpoint/Shutterstock
It's all well and good to research, plan ahead, and feel excited about transportation before your trip. But it's always a good idea to double-check. One of the mistakes people often make when traveling by train is not reading itineraries carefully. They book a ticket from Cologne to Munich and fail to recognize the small indication on the app noting a connection in Frankfurt. Now, you would usually figure this out at the station when you board the indicated train and don't see your final destination listed, but it's nice to avoid surprises where possible.
Another mistake people make is not realizing many cities have multiple train stations. This is rare in North America, but in Europe, even smaller cities like Lyon have a few stations. Paris has six. If you book a round-trip, sometimes you depart and arrive at a different train station. Again, it is not the end of the world, but it could cause unnecessary stress if you don't know the area well or have booked accommodation far away. Finally, even if you know that there's a connection, did you check carefully that the second leg departs at the same station? Again, this is rare, but sometimes itineraries require a change of station, so be aware of that ahead of time or avoid a ticket with that as a requirement.
Not checking luggage restrictions and requirements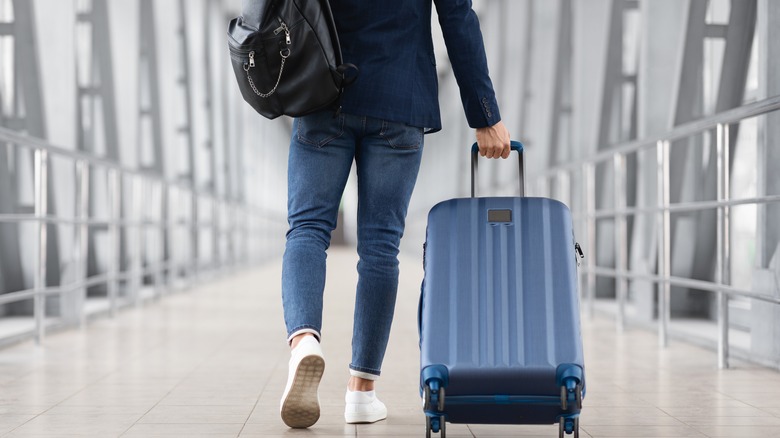 Prostock-studio/Shutterstock
Luggage norms depend on the company, route, and where you're traveling, of course, but don't assume there won't be any restrictions. Sure, it's not Ryanair or Spirit where charges arise for every little extra thing possible, but don't show up with five suitcases and expect not to be charged, or at the very least, given a few odd looks. You'll be responsible for getting it on and off the train yourself, so if you're okay with doing that (and paying) for multiple bags, go for it. If not, try some light-packing methods.
Additionally, there can be limited storage space for luggage. Even if your ticket includes one or two bags, that doesn't actually mean there's space for everyone to bring that. This is especially true if you're taking a direct high-speed train from an airport in Europe where everyone is arriving from further afield and likely has a bag or two. Your suitcase won't be left behind, but you could end up in an uncomfortable (if comical) situation where you are standing with your bag in the aisle or near the doors. Also, ensure yours is labeled. For peace of mind, first of all, but it's also required in most countries with most carriers.
Not validating the ticket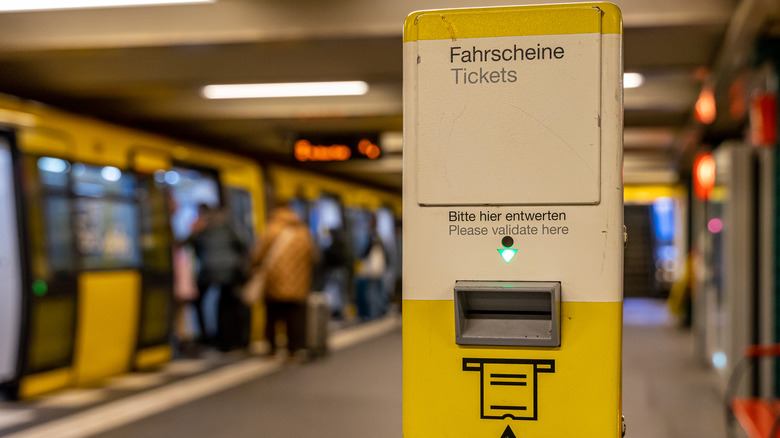 Reinhard Krull/Getty Images
It is clear that buying a ticket is necessary and might need to be booked quite far in advance. If you don't do so, you could face steep fines no matter where you ride the rails. However, a lesser-known or often forgotten fact is that in Europe, your ticket frequently needs to be validated before departure. This is an extra step that is not always required in North America, so make sure to do your due diligence before boarding the train.
If this little detail slips your mind before arriving at the station, don't stress, as tickets can often be validated up until the last minute. You'll see signs and little machines around the station indicating whether or not it's required. Usually, all you do is stick your paper ticket into the validation slot, and voilà, you're all set to travel. Alternatively, tapping your ticket (electronic or paper) on a card reader can also validate it. The required form of validation will usually be listed somewhere on your confirmation email. With the increased use of e-tickets and app-loaded tickets, validation is less common than it once was but crucial where required.
Not bringing ID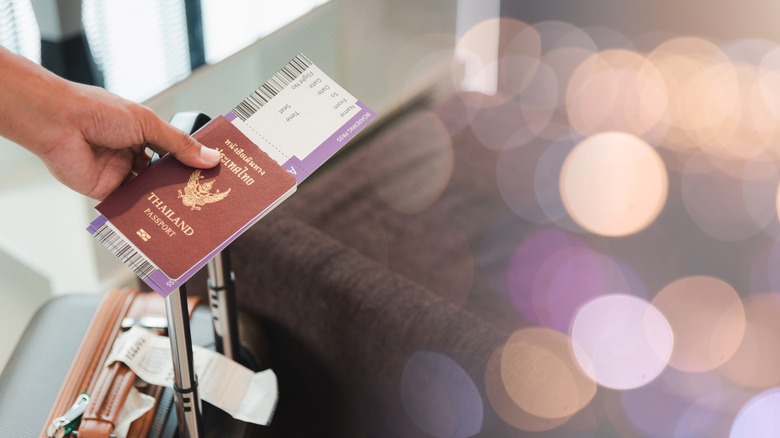 Sorapop Udomsri/Shutterstock
You need a valid (and validated) ticket or rail pass to board and travel, but what can often be forgotten is that you often (although not always) also need to show a valid form of identification along with your ticket. This is so the conductor and rail workers can confirm you're the person listed on the ticket and of the age indicated because youths and seniors often receive discounts. It's not always asked for, but it's good to have on you should it be requested.
Depending on the company, ID can be a passport, driver's license, or national ID. If traveling outside your country of nationality, have your passport and visa (if applicable) and/or residence card if it differs from your citizenship. If you're a student, bring a school ID with you, as it'll be asked for if you purchased a student ticket, which often means significant discounts. Minors don't need a form of ID, but the adult listed on the reservation typically does.
Not downloading the app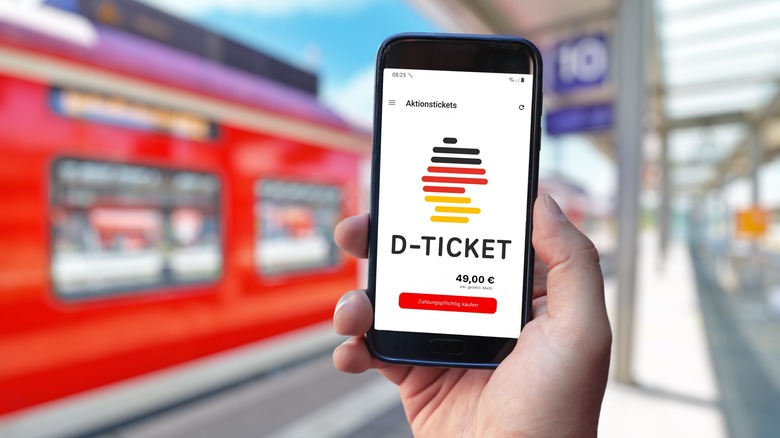 Firn/Shutterstock
We know, we know, we're all sick of needing an app for everything. But, in this case, there is often an excellent reason. The rail company's app, like airline apps, usually has the most up-to-date information regarding your journey. The app will alert you via a mobile notification and an email if your train is delayed, canceled, or has a change in platform. Sure, you can also find out this information upon arrival at the station, but if there's a long delay (or cancelation), it's much nicer to find out before you trek all the way there.
Apps are also quickly becoming the most common way to receive tickets and are the easiest way to make a change to your itinerary if needed. There will also typically be additional details provided, such as the location of your particular car (where seats are assigned), the direction of the train (essential in the case of "choose your own seat" tickets to ensure you face forward), and whether or not food, Wi-Fi, and other amenities are provided.
Not familiarizing yourself with the route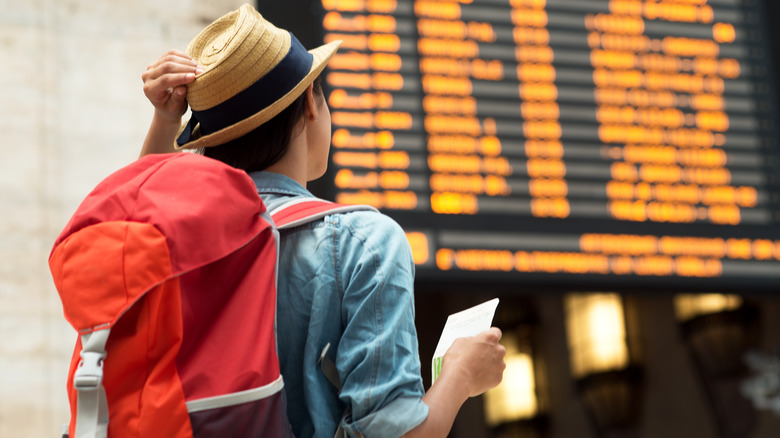 Mstudioimages/Getty Images
It's always a good idea to have at least a cursory awareness of your route. This goes beyond where you board and get off. You should also know the estimated time you expect to be on the train and a few of the stops that precede yours. Why? To avoid stressing about missing your stop or if it's coming up soon. This way, you'll know when you're close. Announcements are usually made a few minutes before arriving at a stop. That's when you should gather your things and move towards the door, as stops are generally brief.
And even if the announcements aren't in English, you can usually understand the stop names. What is becoming increasingly common worldwide is for announcements to be made in the local language (or languages) first before being repeated in English. However, this is only sometimes the case. When in doubt, ask the conductors or a fellow passenger.
Not paying attention to strikes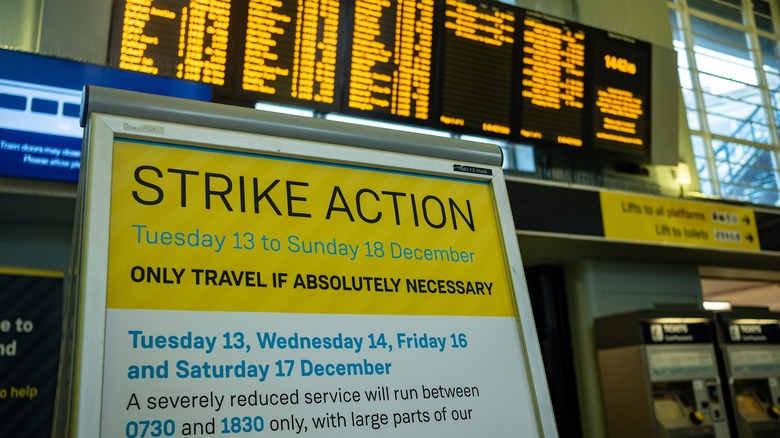 William Barton/Shutterstock
These are more common in Europe than in other parts of the world, although not unheard of elsewhere. Strikes are typically announced in advance, as well as information about routes and specific trains affected. The time frame can vary, from months and weeks ahead of time to just a few days. Make sure to monitor if your itinerary could be affected if strikes are announced. If your train is canceled, rebook as quickly as possible, as alternatives can be sold out quickly.
Last-minute rebookings can be expensive due to limited availability. In this case, don't forget to check alternatives like buses (Flixbus has a broad range of international options) and rideshares such as BlahBlahCar, which can be a great help. In the case of a route cancelation, passengers often get the option to change to another train or receive a full refund. If not, check the company's policy and see what options are available.
Not following train etiquette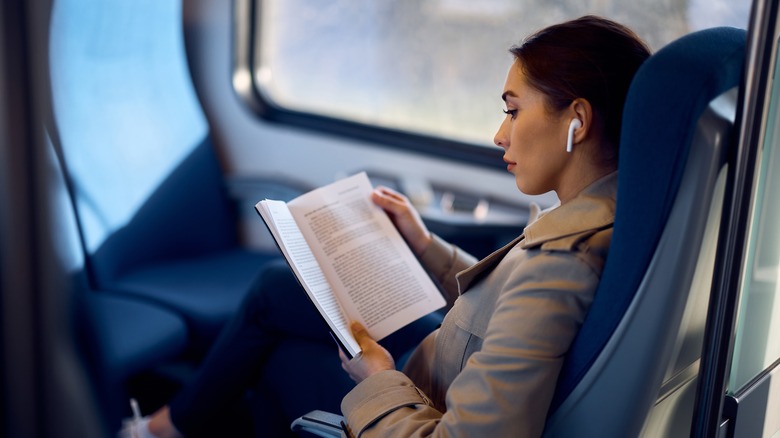 Drazen Zigic/Shutterstock
To avoid less-than-friendly interactions with your fellow passengers, pay attention and follow the local train culture. Often, outside the U.S., people talk at a much lower volume, especially on public transportation. And, out of basic politeness, you should always wear headphones when listening to audio or a call. In many places worldwide, you may even need to step out to make a phone call.
In France, for example, train staff will make announcements on the subject and signs direct passengers to designated areas for phone calls. Many places around the world, likewise, have dining carts for the sole purpose of not having people eating on other parts of the train. In some parts of the world, it's actually against the law (not just rude or annoying) to sit in someone else's spot. For female passengers, many countries like Egypt and Japan offer female-only cars for the comfort and safety of those taking the railways. Not adhering to the norm while taking the train is one of the most common but least obvious mistakes travelers make when on board. Don't be that obnoxious tourist, and do a bit of research before your trip to ensure a smooth journey.