Best Family-Friendly Things To Do In London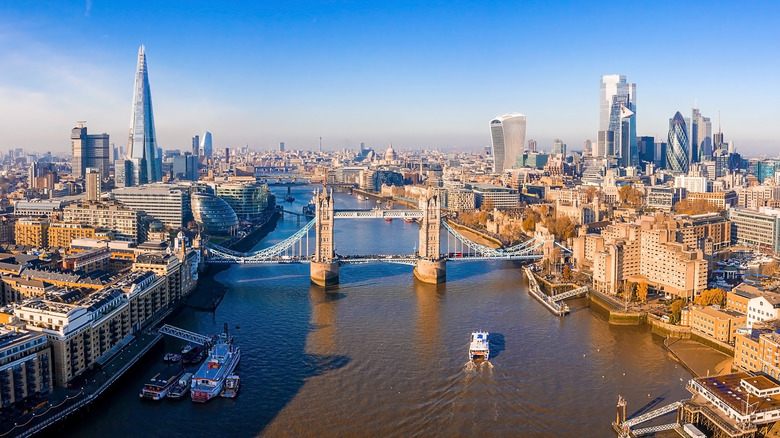 RAW-films/Shutterstock
London has long been a desirable destination for travelers the world over — the center of a former empire whose reach extended around the globe. Its popularity — it greeted more than 11 million visitors in 2022 — shouldn't come as a surprise, given that the city bubbles with energy, attractions, history, amazing architecture, great food, grand green spaces, the sinewy River Thames, and much more. 
There are plenty of options here to keep families entertained, from well-known commercial diversions that need no introduction, to less obvious ways that will help multiple generations truly connect to the city and its residents. Families should consider getting a London Pass, which offers discounts and free entry for many of the city's more notable attractions. Below, we present some of the best family-friendly things to do in London that are not to be missed.
Go green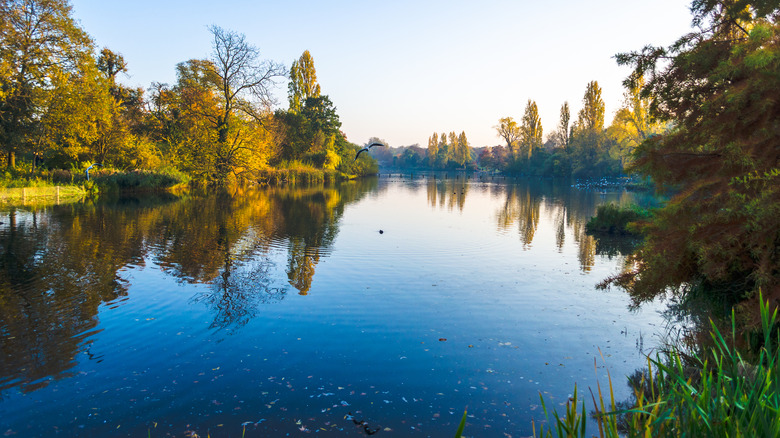 Tim M/Shutterstock
The beating lungs of London, Hyde Park is a verdant oasis in the city, sitting in the midst of some of the poshest neighborhoods here — Knightsbridge, Mayfair, and Kensington. Beyond the large areas of greenery that fill up on weekends with people having a picnic, taking in the serenity, or having a game of football (what Americans call soccer), the park has a number of specific places that families shouldn't miss. 
Speaker's Corner, close to Marble Arch, has existed as a sounding board for more than 150 years, where anyone can stand and talk about anything they want, though whether anyone listens is another matter altogether. Either way, it's a fascinating, lively spot, usually populated with interesting (some might say crazy) characters. In the south of the park, the Rose Garden delights visitors during the warmer months, the perfect place to see a true English rose. Memorials dot the grounds of the park, from one commemorating the late Princess Diana, to those that honor people that perished in the Holocaust, and, more recently, the London bombings in July 2005. And if kids in the group need to expel some energy, and running around the park's fields doesn't cut it, there is a large playground on South Carriage Drive, with climbing structures and enclosed metal slides.
Be a sports fan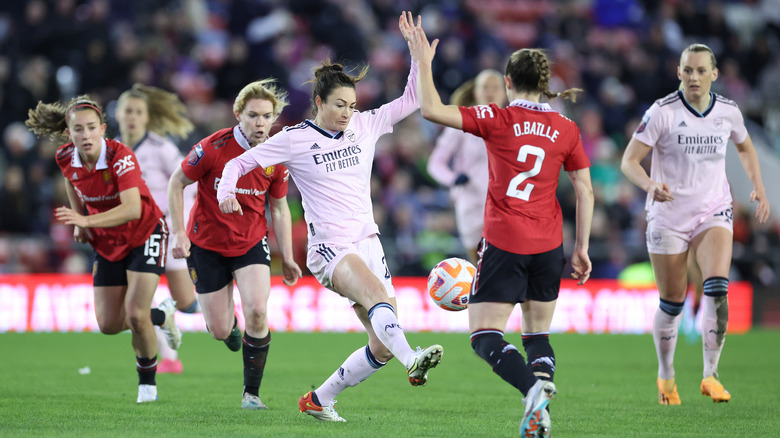 Alex Livesey - The Fa/Getty Images
Rugby and cricket were both invented in England, but for popularity, nothing beats football (under no circumstances call it soccer when you are here), even it's been more than half a century since England were world champions. London is home to many storied professional football teams, but for the more famous men's clubs, getting a ticket to watch a game is as hard as arranging an audience with David Beckham. 
However, you can enjoy equally scintillating athleticism and skill, but without the aggression on the stands that the men's game is infamous for, by watching a match in the Women's Super League or Women's Championship League, the top two divisions of women's football here. London has a number of teams in both of these divisions, and interest in the women's game has been on the rise following the England women's team victory in the Women's Euro 2022 final, held in Wembley in northwest London. Better yet, these games are family friendly.
Get sky high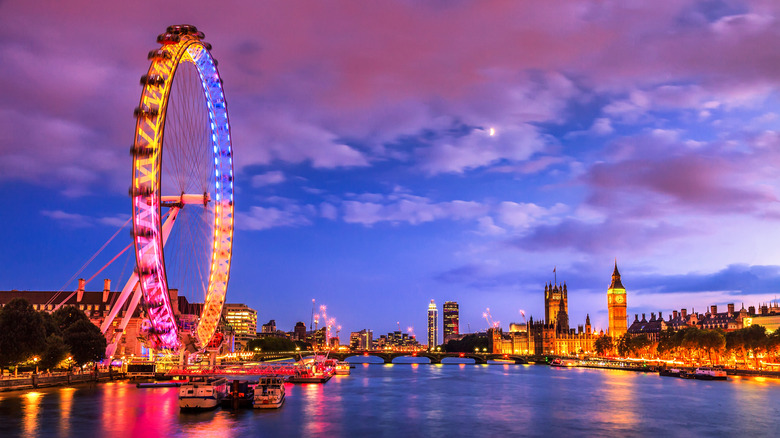 FenlioQ/Shutterstock
London is a great city for walking, even if sometimes the pavements are a little narrow, and in places, the roads are windy and not intuitive to follow. Wandering the streets is a rewarding way to experience the sights of the city, but, if you want to get a more unique view of the lay of the land — a bird's eye vista of the metropolis — a great option is to ride the London Eye.It's the largest cantilevered observation wheel in the world. 
Soaring up to 135 meters (almost 450 feet) in the air, the individual pods set at the end of spokes on a giant wheel are a landmark in themselves, with a location on the south bank of the River Thames, and close to Westminster Bridge, Big Ben, the Houses of Parliament, and Trafalgar Square (you'll be able to see them all, plenty more of the skyline, and the river during the 30-minute rotation). Families get a break via discounted tickets, with individuals paying £28 (about $35) per person, compared with £40/£35 for a normal adult/child fee, with a minimum of one adult and two children required to access the special rate.
Master history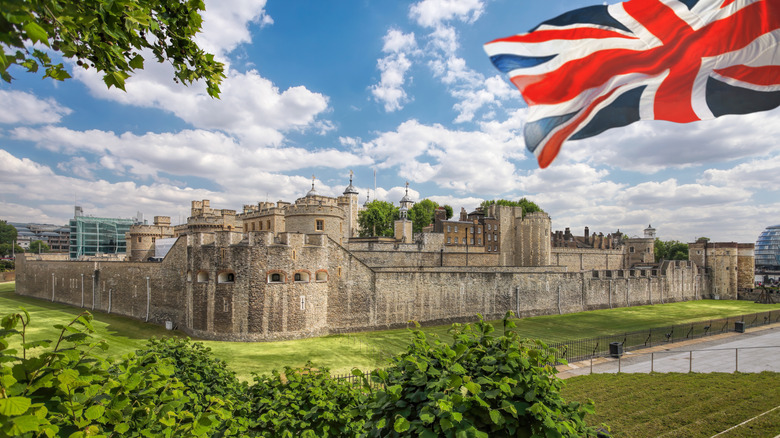 Extravagantni/Getty Images
An iconic piece of the London skyline, the Tower of London dates back almost a millennium, built by the Norman King William, and such is its significance, it appears on the Unesco World Heritage site list. With its origins as a military fortress protecting against attacks made from the River Thames, this monumental building is now a bona fide tourist attraction as well as a fount of history that the whole family can enjoy. 
One of the highlights of a visit is the chance to see the Crown Jewels, a huge assemblage of precious stones used for royal functions even today — some will be in use for the coronation of King Charles in May 2023. Tickets include tours held by the Yeoman Warders, lovingly known in England as Beefeaters, royal guards that have protected the royals for centuries and that enlighten guests on the fortress' evolution — it has also served as a palace and prison. Kids will especially enjoy learning about the royal ravens, birds that are said to protect the tower and all those within.
Get a day job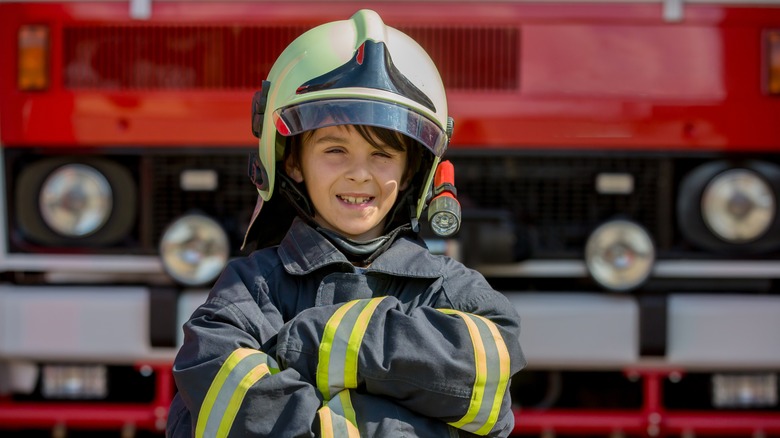 Tomsickova Tatyana/Shutterstock
It's funny that adults wish they could be kids again, a time when life seems a lot less complicated, and kids just want to be adults. While the former isn't easy to arrange, the latter is a breeze for visitors of KidZania, where children up to the age of 14 can role-play and pretend to take on a career as a pilot, police officer, fashion designer, and more. First opened in Mexico in 1999, KidZania has now spread around the globe, with outlets in countries like Chile, Indonesia, and the United Arab Emirates. 
The concept here is pretty straightforward — kids enter the facility, designed like a mini-city, and choose what job they would like to try during their visit (there are in excess of 100 choices, so there is something for everyone). Kids play out their job, and interact with other kids, in other careers, helping them to piece together how a real city functions. For adults, the play time represents a chance for them to unwind — they can watch their kids from viewing stations, or retreat to quiet rooms and just decompress.
Educate yourself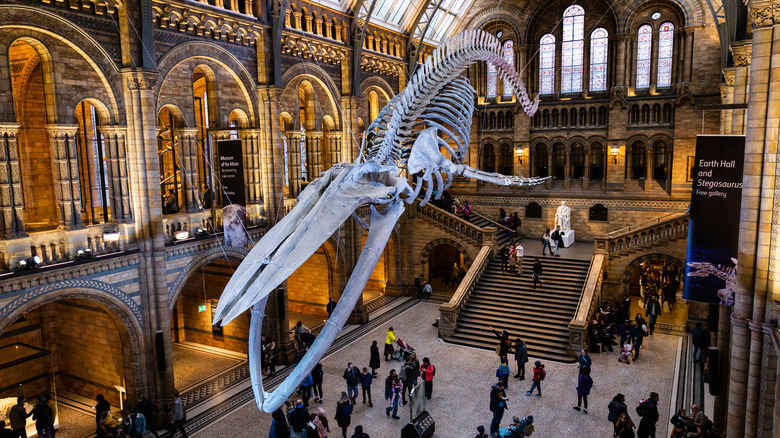 Hal Gamble/Shutterstock
There are number of museums in the British capital to keep the family entertained — entry to some of them is free. For families that want to spend an entire day poring over a trove of fascinating exhibits, they should head to the Natural History Museum, in a tony part of the city (South Kensington), and close to the esteemed science-learning university, Imperial College London. 
There is so much to see here, not surprising since the museum has a total collection of about 80 million items (a sliver of these is displayed at any one time), and highlights include a rare first edition of Charles Darwin's "On the Origin of Species," brilliantly colored molluscs, now extinct, that are millions of years old, and a fossil of what is believed to be the earliest species of bird on the planet. Kids will also enjoy tracing the evolution of public transport in the city at the London Transport Museum, with an old steam train engine among the exhibits.
Hit the river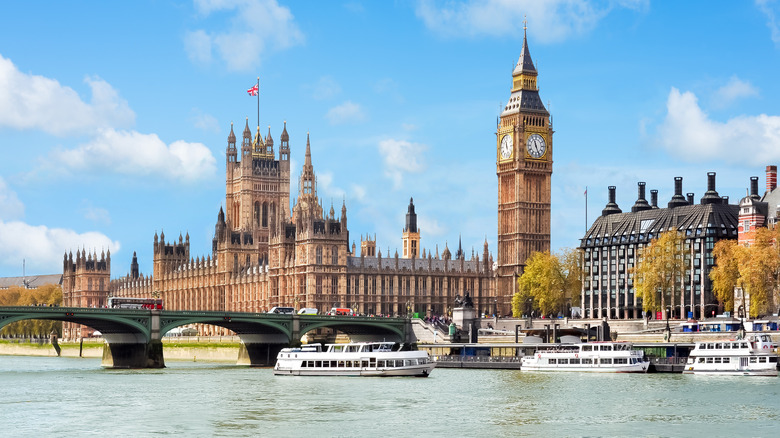 Mistervlad/Shutterstock
For London, the river isn't just a defining feature that separates the tribal identities and parts of North and South London, it's also a functioning waterway that craft ply ferrying goods and people — it even supplies the city with drinking water. Many of the city's key buildings line the river, some built before the era of motorized transportation, so the very core of London is intrinsically tied to the river. 
Given this, seeing the city from the River Thames is a smart choice, and City Cruises has a number of options for taking in the riverfront sights. Trips come with fabulous vistas of iconic landmarks, full commentary that provides context on what is passing by, and seating inside by large, glass-paneled windows, or on an open, outdoor deck. One option allows passengers to hop on and off at the operator's four city piers, allowing for on-land exploration along with the riverine voyages. Some cruises also include an afternoon tea, or dinner, or live jazz music.
Learn about time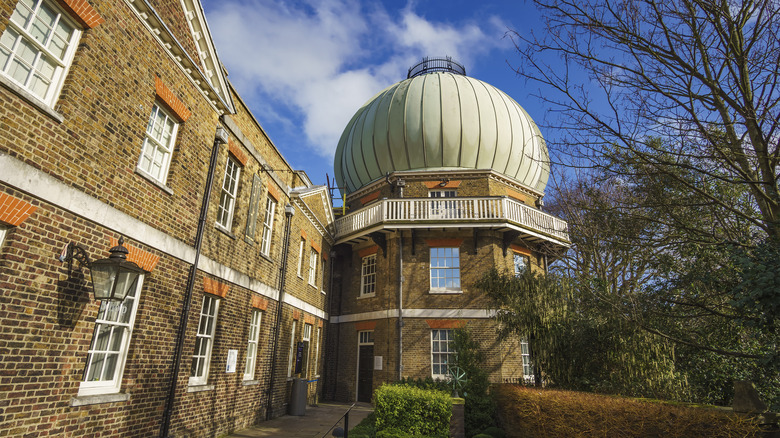 Pit Stock/Shutterstock
For many years, Greenwich Mean Time (GMT) was the benchmark for time on the planet, the basis on which the world's clocks interacted with each other. GMT, in essence, was ground zero for time, and time zones around the globe would often refer to themselves in terms of how far ahead or behind (+ or -) GMT they were. GMT no longer plays that defining role, but it's still an important part of history, and it's one based on a physical line, the Prime Meridian, which exists at the Royal Observatory in Greenwich, East London. 
The Prime Meridian signifies 0-degrees longitude on the earth's map, separating the Eastern and Western Hemispheres, and kids will love the opportunity to stand with one leg either side it, inhabiting two hemispheres. For more wonder, stop by the Great Equatorial Telescope, whose retractable roof is shaped like an onion, and which is the largest telescope in the U.K. Located close by, the Cutty Sark is a tea clipper from the 1860s, and feels like a throwback in time to the rip-roaring adventures on the high seas (visitors can even climb the rigging).
See some animal magic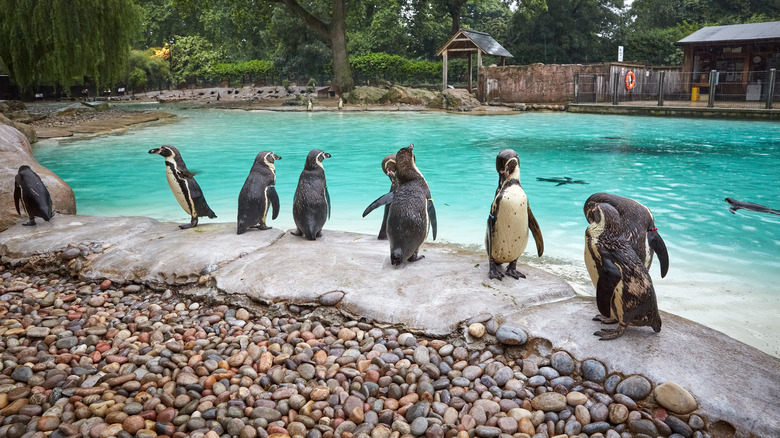 Decebal Matei/Shutterstock
Few family activities are as evergreen, or popular, as a visit to a zoo or aquarium, and London has both. Sea Life London Aquarium, situated right by the London Eye (makes sense to have it by the river), is split into three zones. The Coral Kingdom is home to the United Kingdom's most comprehensive living coral reef, and a wander around the exhibit promises vibrant colors, not just of the coral but also the lively tangs and clownfish swimming here. Ocean Invaders is an exhibit that feels like another world, with slowly pulsing jellyfish moving around sparingly lit tanks — while in Rainforest Adventure, sea creatures and amphibians dart around tanks and habitats. During a trip to the aquarium, visitors will see sharks, octopi, and penguins. 
London Zoo, at the north end of Regent's Park, has long delighted school children from the capital and beyond. Animals from many continents are here, including monkeys, lions, tigers, gorillas, Komodo dragons, giraffes, lemurs, turtles from the Galapagos, and there is even an area that recreates a British farmyard.
Elevate yourself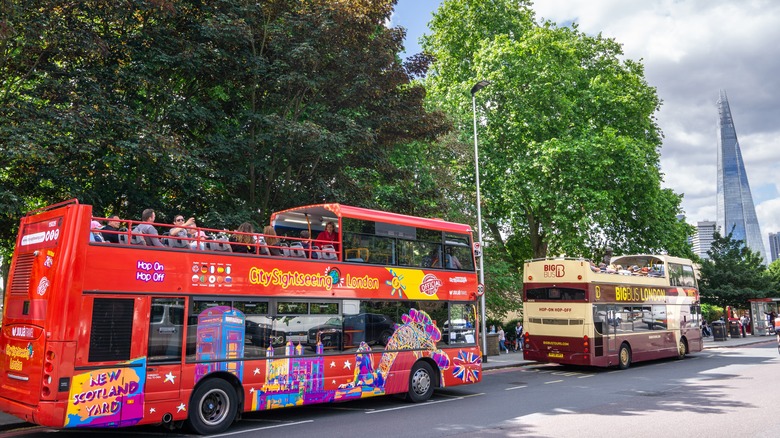 cktravels.com/Shutterstock
Seeing the sights from the streets is simply sensational, but for an elevated perch, nothing beats a hop-on, hop-off bus. Viewed from an open deck, London takes on new details as your eye level shifts up a few meters. These methods of transportation are also a great way to see a lot of the city in a single trip — and while they aren't as quick at getting round the city as the London Underground, they aren't supposed to be (they're for tourists, not for transport, after all). 
Three bus companies dominate the market here. Big Bus Tours has two main routes, with the 150-minute Red Route hitting the Central London highlights, and the 210-minute Blue Route heading east and west to take in more historical high points. Commentary is available in multiple languages, and of course passengers can get off and get on at any stop (the above times show the full route without disembarkation). Golden Tours also has open-deck buses, and some trips come with a live guide, while Tootbus has three routes and commentary in French and English specially designed for kids.
Wax poetic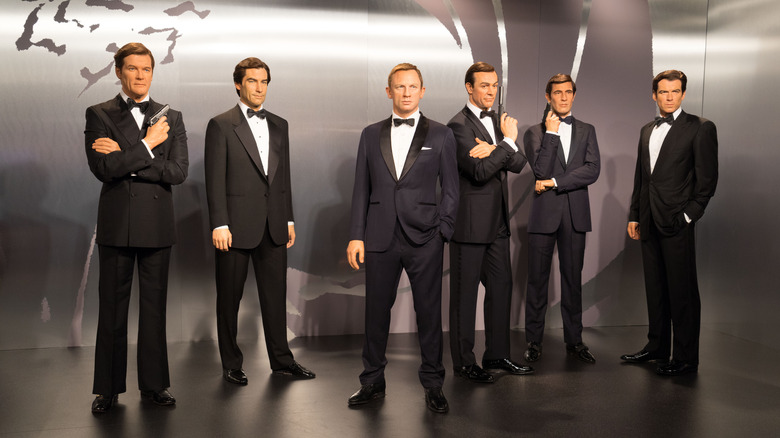 RichartPhotos/Shutterstock
Madame Tussauds is a global brand, with locations in such diverse locales as Bangkok, Beijing, Budapest, San Francisco, and Sydney — its wax figures celebrating personalities famous all over the world, and also in each specific destination. But did you know that the original Madame Tussauds opened in London in 1884, and is still welcoming guests at the same location? Marie Tussaud spent part of her life as an art teacher in the court of Louis XVI — and some years after imprisonment during the time of the French Revolution, she traveled to England to showcase her wax sculptures, setting up a place to display them in central north London in the 1830s. 
Today, droves of onlookers arrive each day to see figures of celebrities like Rihanna, British musicians Stormzy and Dua Lipa, members of the Royal Family, the various actors that have portrayed James Bond, and sporting icons like Usain Bolt. Getting a photo taken alongside these figures is something that the family will never forget.
Get regal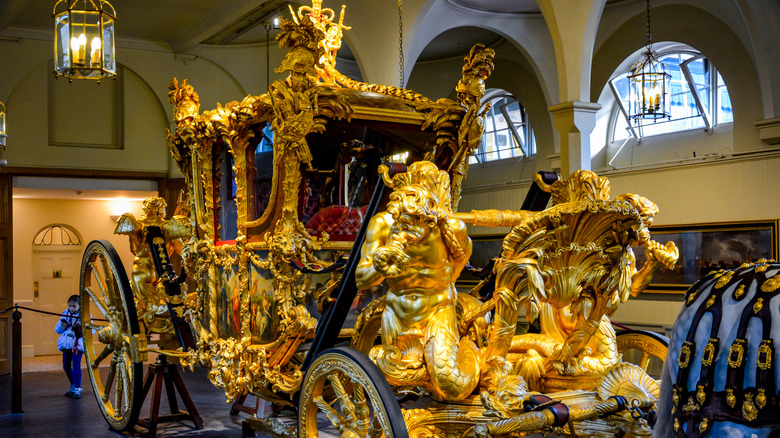 Dave Goodman/Shutterstock
While the Tower of London will help visitors get a grasp on the history of the royals, they can feel like a king or queen, prince or princess, with a visit to the Royal Mews. The part of Buckingham Palace that is tasked with fine-tuning all the road transportation for the royal family, this section is filled with plenty of ornately designed modes of transport, and is also home to a full stables — after all, horses are needed for those ceremonies filled with pomp and pageantry. 
The Gold Stage Coach has to be seen to be believed. More than two centuries old, it has been used for many coronations, as well as the Platinum Jubilee celebration for the late Queen Elizabeth II. It is a shining, gilt beast on wheels, weighing more than four tonnes, which is why eight horses have to pull it. While visitors can only get close to it, they can sit in a replica of a carriage used by Queen Victoria, a photo shot for the ages.
Become a local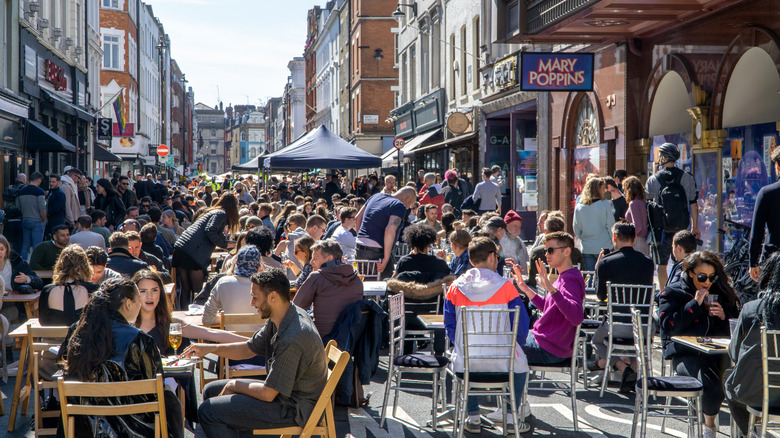 cktravels.com/Shutterstock
While rules vary by state in the United States as to when kids are allowed into a bar, in London pubs, kids have no problem getting entry, as long as they are accompanied by an adult. Pubs are a quintessential part of British culture, a place where friends and colleagues meet to catch up, unwind, vent, mingle, watch a sports match, and generally look to take a weight off their weary shoulders — and they are a bellwether of the neighborhood where they reside. They also witness plenty of heavy drinking, mainly in the evenings, so if you plan to take the whole family into a pub, do so before dusk nears, when the crowd can get rowdy. 
There are many pubs all over the city, with one estimate putting the number at more than 3,500, so finding one shouldn't be difficult. For an atmosphere reflective of London's setting, try to locate one by the river, like The Ship, in Wandsworth, on the south bank of the Thames. Here, close to Wandsworth Bridge, patrons can relax on the outdoor seating area, playfully called The Shipyard, and admire river life over a pint (or a soda pop for the kids, though the legal drinking age in the U.K. is 18).
Shop till you drop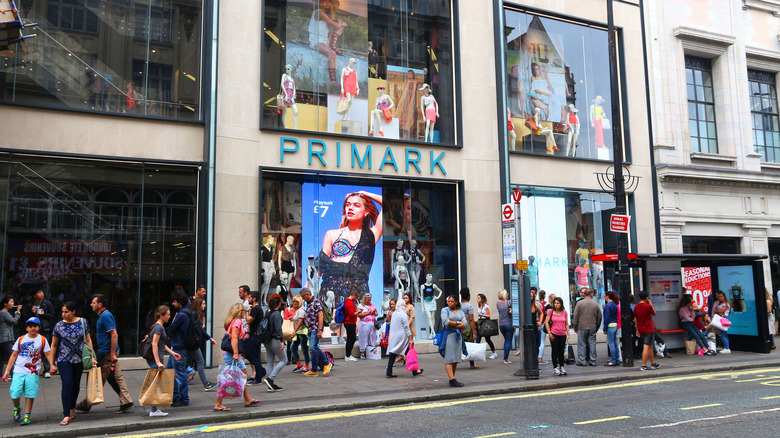 Tupungato/Shutterstock
Oxford Street might not be a long stretch of road in the grand scheme of things — it's a little more than 1 mile in length — but it is probably the most famous commercial shopping strip in the United Kingdom. Bookended by Tottenham Court Road in the east, and Marble Arch in the west, this is where to find flagship stores of global brands as well as iconic British department stores. Some visitors might find the choked sidewalks and fast food joints along the way off-putting, but Oxford Street is a great place to take the pulse of retail in the city. 
This is where to find family friendly international outlets like Primark, Skechers, The Body Shop, Uniqlo, H&M, the Disney Store, Adidas, and Urban Outfitters — as well as beloved British refuges like Selfridges, John Lewis, and Marks and Spencer. A short walk away, on Regent Street, Hamleys is a fantasy land for kids — it claims to be the biggest toy store on the planet, seven floors of family friendly wonder that will have your kids screaming for more, more, more.
See a show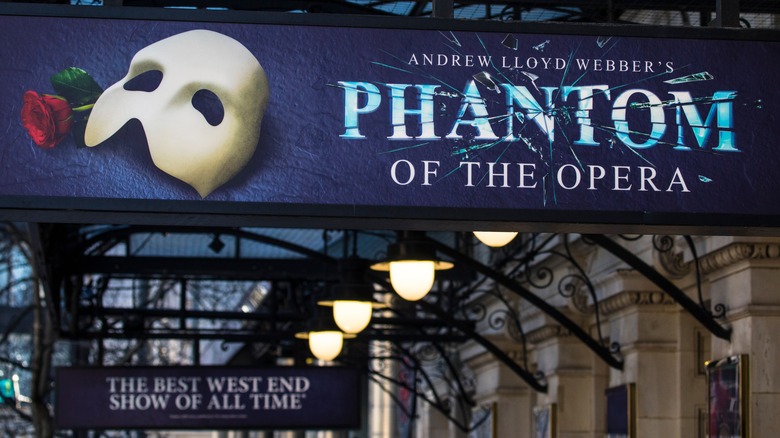 chrisdorney/Shutterstock
The West End is London's equivalent of New York's Broadway — though London's theatrical productions have a longer history than their American counterparts. Clustered in and around Leicester Square, the theaters offer a range of genres, though (of course) musicals are eternally popular. On any given night, you might be able to see "Frozen," "Wicked," "Mamma Mia!" (this show first launched in the West End in 1999), "The Lion King," "Mousetrap," and "Harry Potter and the Cursed Child." 
A trip to the West End to see a show, however, isn't just simply about watching a theatrical production — it's a whole series of experiences anchored by the performance. It's a good idea to wander around the area beforehand, perhaps explore Chinatown, or lively Covent Garden (a former fruit and vegetable market that's now home to hip boutiques, cafes, and restaurants), before grabbing dinner. After the show, stop for an ice cream in Leicester Square, where people come and go at all hours.
Sip a cuppa
Magdanatka/Shutterstock
Tea is central to English identity, a by-product of the British Empire, when the East India Company brought the fragrant leaves back from Asia. Today, tea is poured and sipped all over the United Kingdom, 100 million cups of it daily, according to one estimate, so visitors should definitely contribute to that number while staying in London. Better than simply filling a cup with a teabag and boiling water, have an elaborate afternoon tea, like the one inspired by "Charlie and the Chocolate Factory" at the hotel One Aldwych. Here, the whimsical daytime repast includes a cascade of cakes and mallows and sugary treats, as well as candy floss, lemon sherbet tea, savory macarons, and bubbly drinks topped with liquid nitrogen smoke. 
Perhaps the most famous afternoon tea, and one of the most refined, is the one at Fortnum & Mason, the posh, haute food store that first opened near Picadilly Circus in the early 1700s. The tea here means precision-made sandwiches, scones and clotted cream — and moist, spongy cakes served with the nation's favorite hot brew in a special space that has its own piece of history: The late Queen Elizabeth II presided over the opening in 2012.
Pound the pavement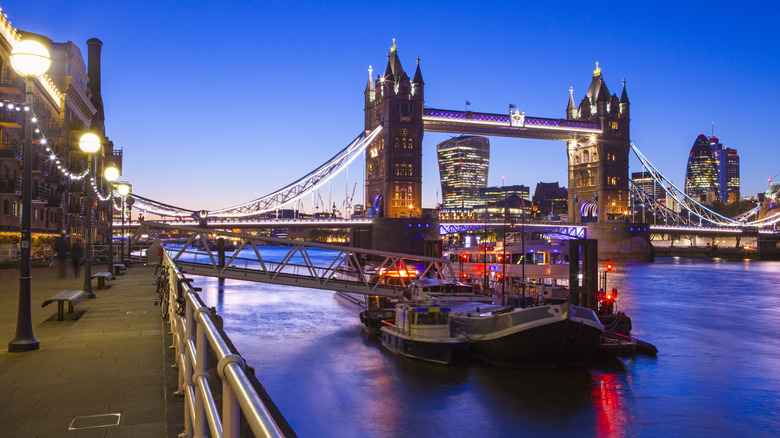 chrisdorney/Shutterstock
On one of those gorgeous days in London where the sky keeps swapping sun and clouds, bringing the city in and out of shadow, nothing beats exploring the city on foot. The River Thames, with pavements and promenades along many sections of it, is dotted with bridges that make it easy to cross back and forth between North and South London. Great walks along the river can be found all over the city, and that is largely thanks to the Thames Path, almost 80 miles of paved walkway from Richmond in the city's southwest to the marshy confines of East London. 
One of the simplest walks that takes in a number of iconic sights, starts near Waterloo Station, and crosses over the pedestrian Golden Jubilee Bridge. On the north side of the river, turn left and into the pretty Whitehall Gardens and Victoria Embankment Gardens, before continuing on to Big Ben, Westminster Abbey, the Houses of Parliament, and the Palace of Westminster. Walk on past more gardens until Lambeth Bridge, at which point you can cross back over the river and hit the Thames Path, which will eventually take you past the London Dungeon, Sea Life London Aquarium, and the London Eye. Expect to take plenty of photos and create lots of memories for the entire family.