Looking For A Picture-Perfect Christmas? Check Out These Charming European Towns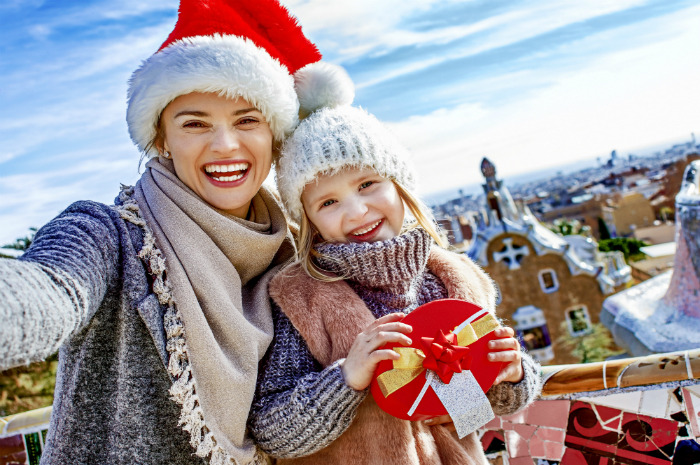 Shutterstock
Reykjavik, Iceland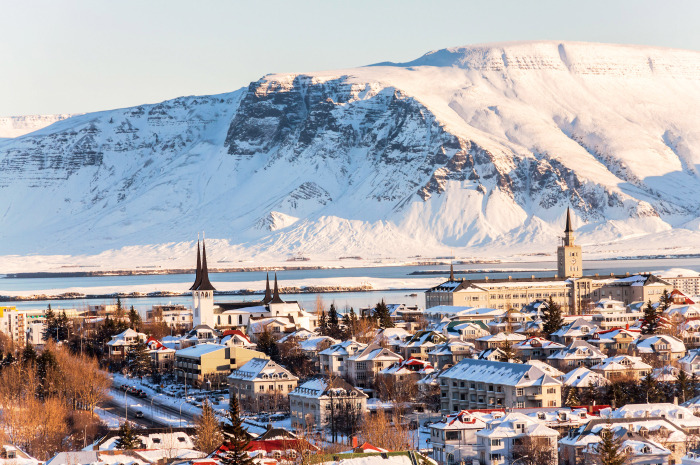 Shutterstock
The city is known for their extraordinary landscapes, but during the holidays tourists enjoy their exciting events and Christmas decorations throughout the month of December. View the enchanting Northern Lights and visit the peaceful Reykjavik Botanic Garden; admire their beautiful arboretum and incredible displays of indoor and outdoor lights.
Bruges, Belgium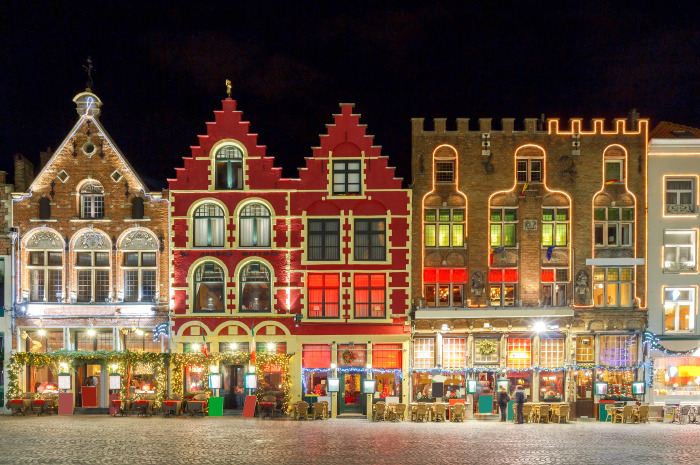 Shutterstock
Experience Christmas in one of the world's most romantic cities. It offers some of the most spectacular picturesque views in the world. This historic, medieval town makes for the perfect Christmas destination. Wander the cobblestone streets and go to their Christmas markets, drink tons of hot chocolate, and admire festive window displays.
Vienna, Austria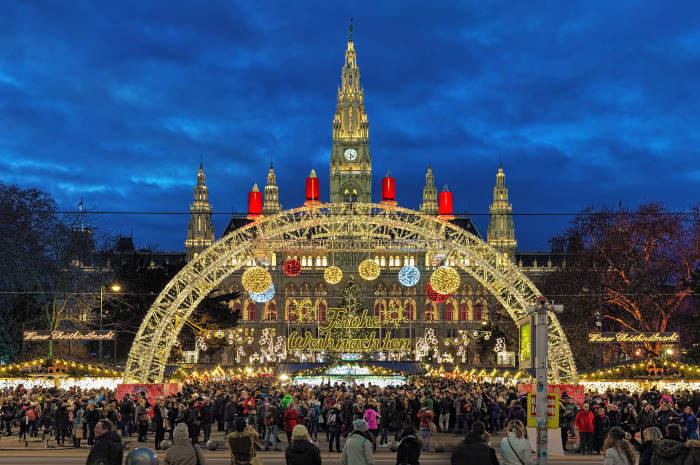 Mikhail Markovskiy/Shutterstock.com
Christmas in this old-fashioned European city is absolutely stunning. Make sure you visit the Christkindlmarkts, which is one of the oldest Christmas markets in all of Europe, dating back to the 13th century, even if it's just to marvel at the gorgeous Baroque architecture with twinkling decorations. The Vienna Boys' Choir concerts are fabulous. The food alone is a good enough reason to spend the winter in Vienna. Don't leave without trying the Gugelhupf, truffles, or the coconut-coated Topfenknödel.
Nuremberg, Germany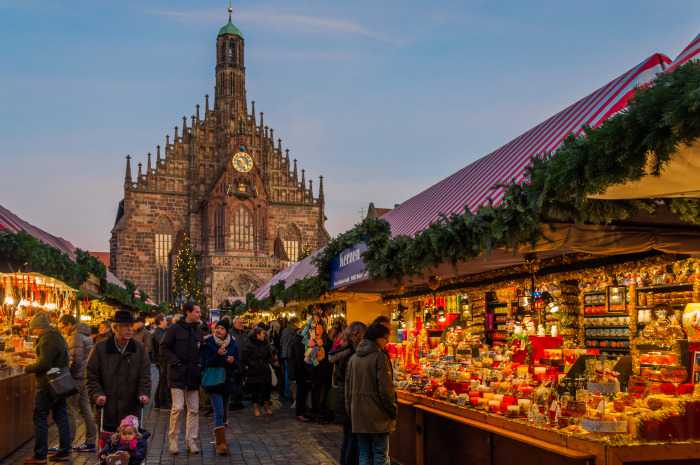 Perati Komson/Shutterstock.com
Germany is credited with starting the Christmas tree tradition, as we now know it, in the 16th century. Nuremberg Christmas market, the country's most famous one, draws over 2 million people every year. Locals are very serious about hand-made decorations – you won't find more beautiful ornaments than those sold in the city. Visit the Old Town and see what a traditional Christmas glory is all about. Don't resist the temptations of mulled wine, sweet roasted almonds, Nuremberg sausages and gingerbread.
Tallinn, Estonia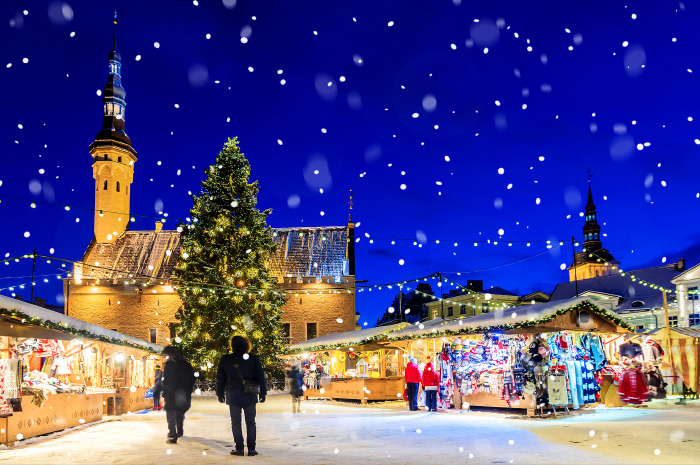 Shutterstock
This underrated European city is a great destination for Christmas. The city is one of the most preserved on the Old Continent. The interesting mix of modern and medieval architecture is even more beautiful when covered in snow with lanterns lit at night. Locals say that the world's first Christmas tree was erected in Tallinn in 1441. Estonia in general is on our list of unforgettable bucket list trips you can do on a budget if you don't want to spend a lot.
Lapland, Finland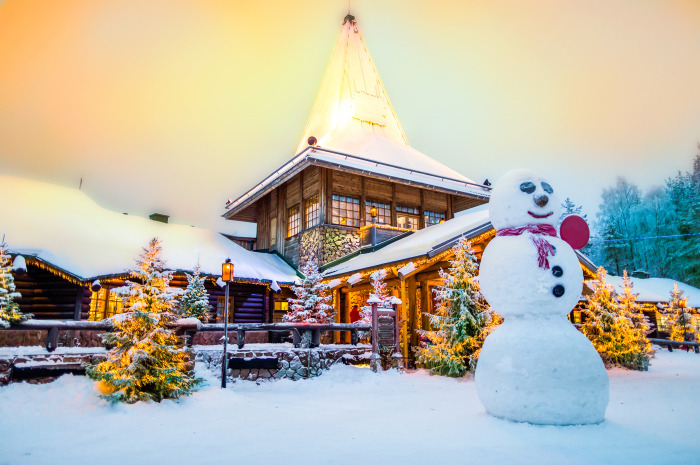 Shutterstock
Stay in glass igloos and log cabins with extraordinary views. They were designed so visitors can enjoy the Northern Lights in their full glory, but sleeping there is an amazing experience even if you don't catch them. Finland, along with Sweden, are often referred to as the original home of Santa Claus because of the world famous Santa Claus village in Rovaniemi where you get to "meet" him and watch his elves work.
Copenhagen, Denmark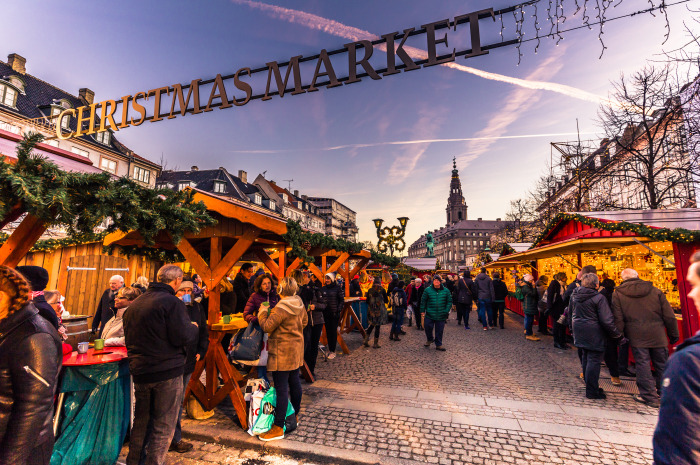 RPBaiao/Shutterstock.com
Copenhagen, the capital of the country where the happiest people on the planet live, is a real Christmas city and radiates with positive vibes during the holiday. The famous Tivoli Gardens' Christmas market is a must-visit if you want to see a fantastic winter wonderland in an urban environment. There is a Christmas carnival, an ice palace and a light show. Take a horse-drawn carriage ride and try a glass of glogg and freshly baked ebleskiver.
Amsterdam, The Netherlands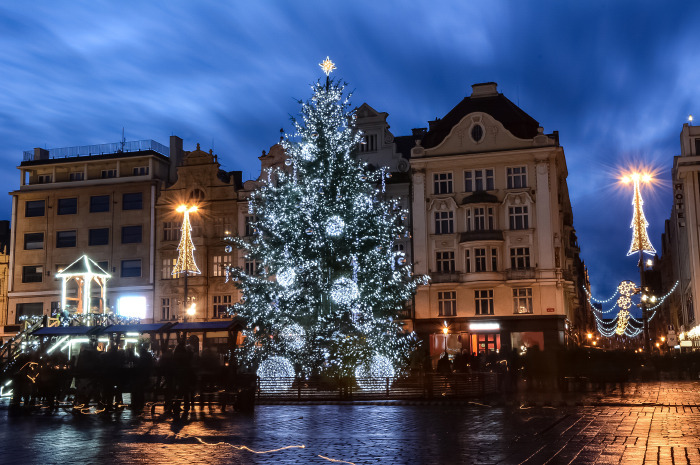 Shutterstock
Holland's largest city is a popular place to be come Christmas time. Locals get really into the legend of Santa Claus. The beautiful century-old houses are stunningly lit and decorated as early as the first week of December. At Museum Square you will find Amsterdam's most spectacular ice rink and Christmas market. Some popular museums, such as Anne Frank House and Rijksmuseum, are open on December 25.
Prague, Czech Republic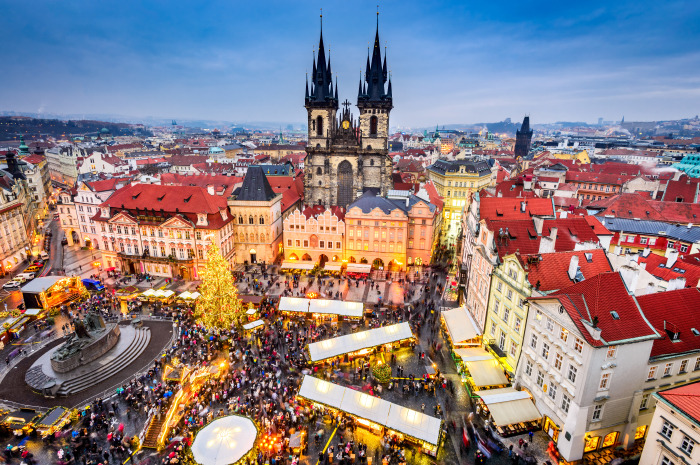 Shutterstock
Go on a tour walking on cobble stone streets to see the beautiful baroque and Gothic architecture. The glittering decorations only make them look more magical. Christmas trees embellish the town squares and the early sundown is filled with warm light. The Christmas markets in Old Town Square and Wenceslas Square are an absolute must as well. Have a traditional meal, possibly at U Fleku, the only brewery in Central Europe that has been brewing continuously for more than five centuries.
Leipzig, Germany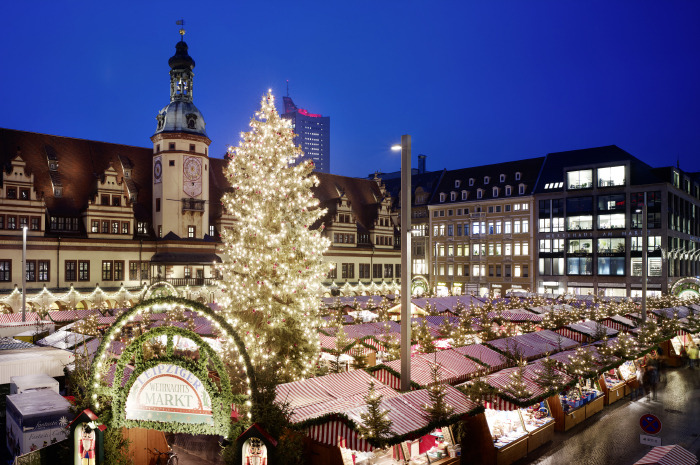 Shutterstock
You have to see the Leipzig Christmas market, a traditional mediaeval market which dates all the way back to 1458, at least once in your life, if you really love this holiday. Its six areas are set in chime with the fascinating historical scenery of the city. There are more than 250 twinkling stalls embedded harmoniously in the historic center, making this market the largest in the country.
Moscow, Russia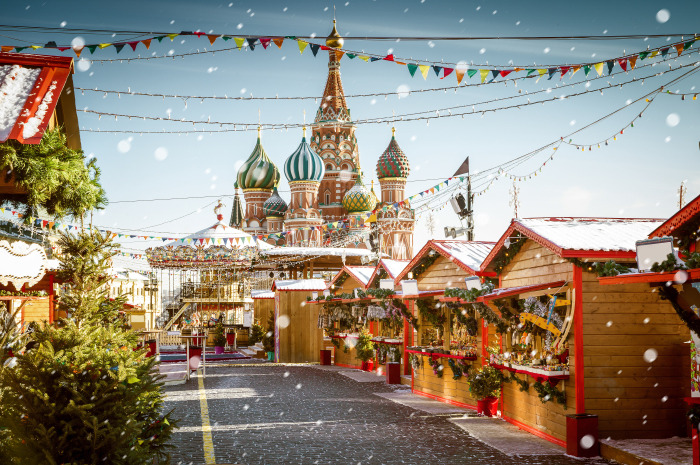 Shutterstock
The iconic Red Square in Moscow becomes a whole different place come Christmas. A market is set up in the city center, decorated and illuminated for the holiday, which is celebrated on January 7 in Russia. You can hear the carousel swings frim far away. "Journey into Christmas" is considered to be the biggest in the world New Year Festival and one of the most picturesque annual festivals in Moscow as it combines original traditional elements of Russian Christmas fun fairs and new contemporary ideas for all ages, according to Visit Russia.
Colmar, France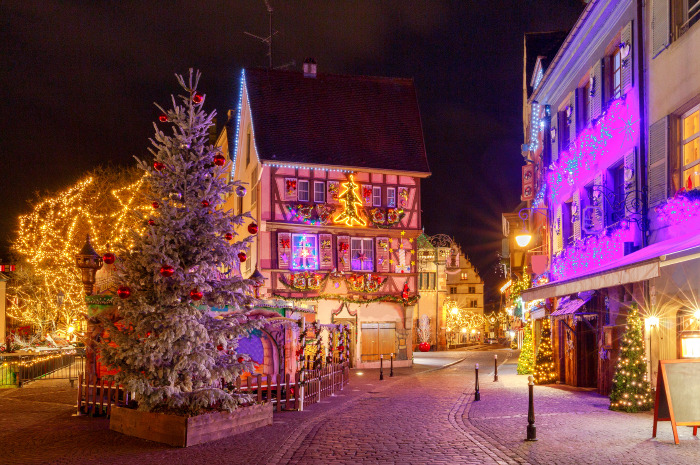 Shutterstock
This is one of the most adorable small towns in Europe. There's the feel of the Old Town, well-lit and decorated like a fairy tale. You look around and you are enchanted by the historic setting and Christmas illuminations which mix with the wonderful lighting designed to enhance the town's heritage, and lay a soothing aura of light over the center of the city, according to Colmar Tourisme. The whole town is decorated and local really get into a festive spirit.
Birmingham, England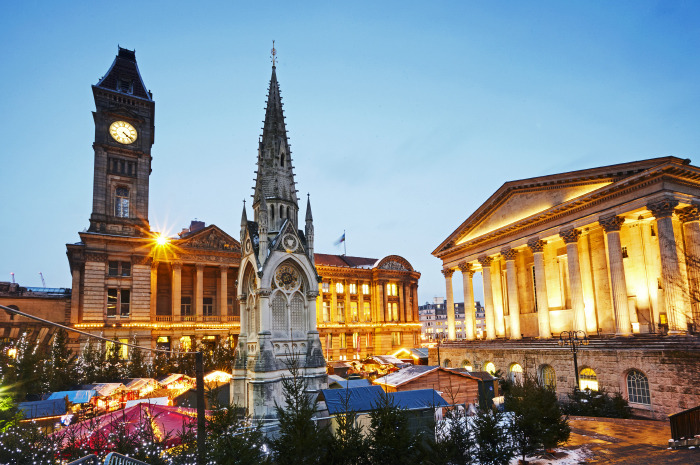 A G Baxter/Shutterstock.com
There is a lot to do here, but almost everybody starts at the famous Birmingham German Christmas Market where you can bargain for crafts, gifts and jewelry. Take a walk in the city center to see stunning decorations, go ice-skating, and take the kids to see Santa grottos. The area under Suffolk Street in front of The Mailbox is transformed into a winter wonderland for the season complete with Christmas chalets.
Bolzano, Italy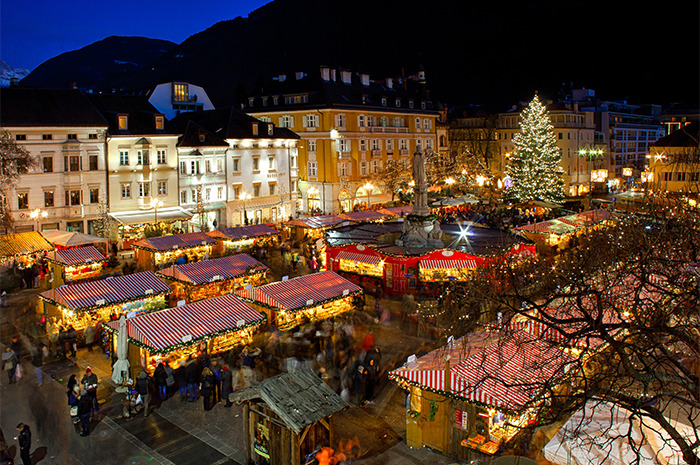 Shutterstock
Most people think of Rome if they consider celebrating Christmas in Italy. There is nothing wrong with that, but for a cozy old-fashioned holiday Bolzano is your destination. Also, this is where the country's largest Christmas market is located. Share Yuletide joy with locals at the historic Piazza Walther. Buy glass decorations and handmade ceramics from one of the 80 stalls there.
London, England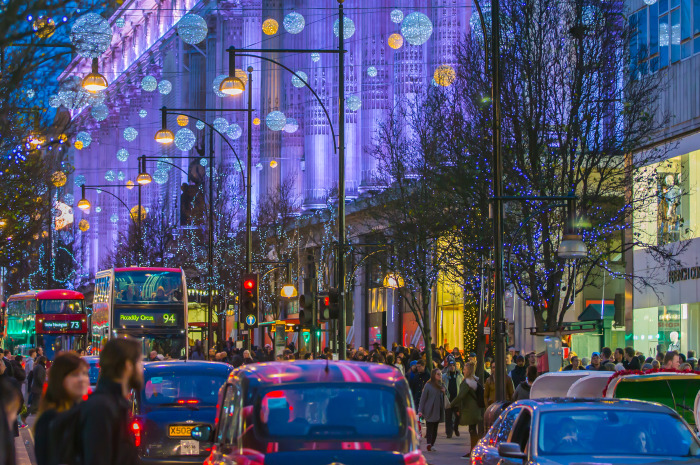 IR_Stone/istockphoto.com
The mega city may be very expensive but it offers plenty of adventures and fun opportunities, making it one of the most fun-filled cities in the world. Take your pick between Christmas markets, holiday shopping, ice skating rinks, Winter Wonderland, and festive events. See the U.K. capital transformed into a fairy-tale place with twinkling lights, Christmas trees and seasonal decorations.
Strasbourg, France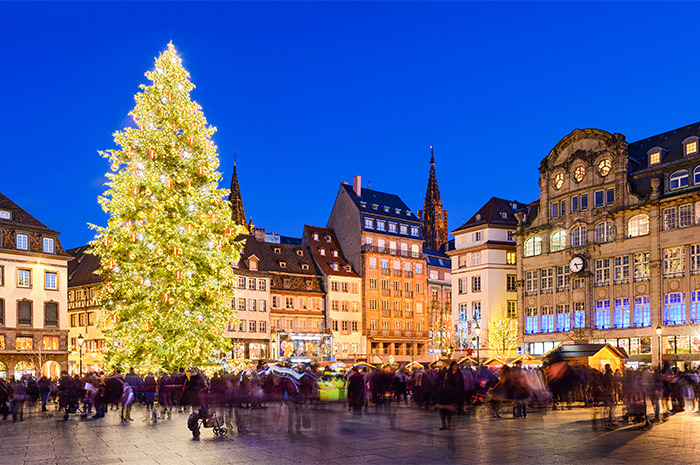 Shutterstock
They call it "the capital of Christmas," according to Office de Tourisme. December is waited in anticipation because of the gigantic Christmas market, the oldest one in all of France, dating back to the late 1500's. It spreads out into lots of streets and squares of the city center. Store windows glow, decorations sparkle, and the smells of spices and cinnamon make you feel like a kid again.
Zagreb, Croatia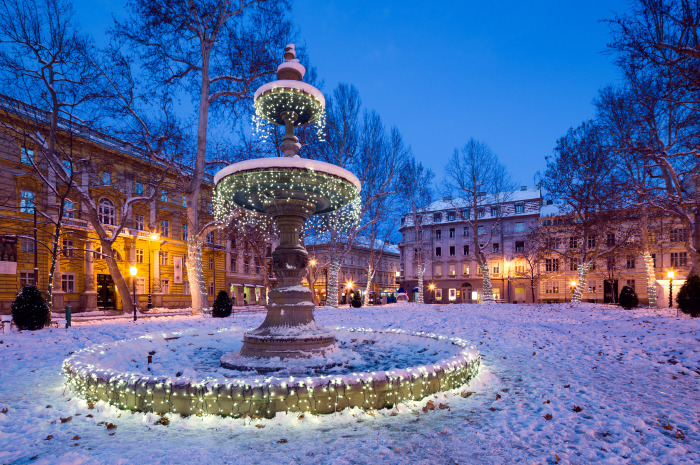 Shutterstock
More and more people choose to spend the holiday in Croatia's capital. Singing, dancing, family entertainment and other fun activities are in abundance in Zagreb. Revamped advent programs have revitalized and modernized Christmas in the city. Did you know that you can follow up a carol set with a DJ set? The city is absolutely gorgeous, looking as if it's straight out of a fairy-tale postcard.