This Town In Mexico Is A Great Warm-Weather Destination For A Couples Getaway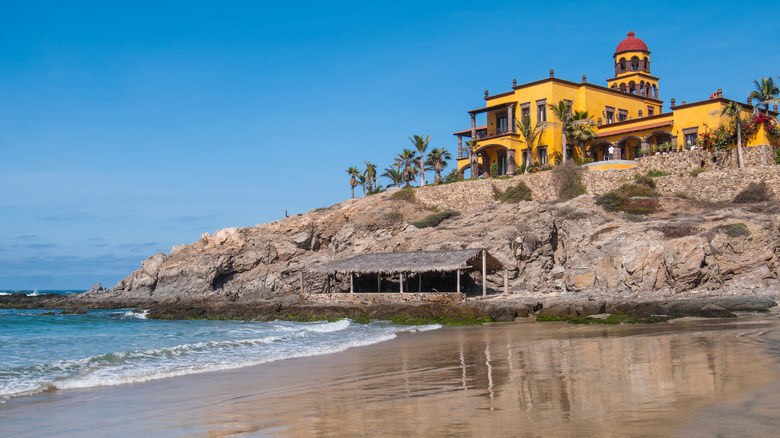 VG Foto/Shutterstock
Whether your relationship is new, or you're rekindling a long-burning romance, picking the perfect warm-weather place to spend time together can make all the difference. Those couples who are looking for a destination where charm, history, scenery, and access to romantic fun are all within easy reach will find it waiting for them in Todos Santos, Mexico.
Located on the sunny western side of the Baja Peninsula, Todos Santos is a short 1-hour drive from Los Cabos, but offers a drastically different getaway experience from the one you would have visiting its high-energy neighbor. In Todos Santos, the appeal lies in a quieter take on life, a getaway focused on a slower pace and fewer crowds to contend with.
According to Visit Los Cabos, more than 3 million travelers head to Los Cabos annually. Couples looking for a more peaceful retreat will thrill at the fact that nearby Todos Santos is home to only 10,000 residents. The Cabo Sun reports the destination welcomes just 300,000 guests each year. Whether you're a couple looking to explore arts and culture together, can't wait to dig your toes into refreshingly open shorelines, or have a heart for savory stops along the way, Todos Santos offers up a place to do exactly that and more — at your own preferred pace.
A must-visit destination for history and nature lovers
Couples that connect best over history will find Todos Santos one of the most fascinating tourist destinations in Mexico to explore. Easy access to fresh water and the Pacific Ocean made it a perfect settlement for residents long before Jesuit missionaries colonized the area in the 1700s. Todos Santos became a designated Mission in 1724 and today, the impressive Todos Santos Mission can still be admired in the town square. A getaway to Todos Santos is also an opportunity for visitors to view abandoned sugar mills, representing the area's sugar cane production boom in the early 1800s.
Scenery seekers will find their time in Todos Santos equally inspiring. The Sierra de la Laguna Mountains act as a breathtaking backdrop to this destination no matter when you happen to arrive. The beaches are equal parts inviting and surprising. It's not unheard of for those lingering on the shoreline to see a wild donkey or two wander leisurely by.
If a sun-soaked getaway is what you're after as a couple, Punta Lobos is a good place to start. This is a fan-favorite stretch of shoreline that's popular for swimming when temperatures are on the rise. For couples looking to get out on the water together, Playa Los Cerritos is the place to be. The surf break here is unsurpassed, making it a great place for surfers to gather and put their skills to the test.
Markets, savory moments and spiritual experiences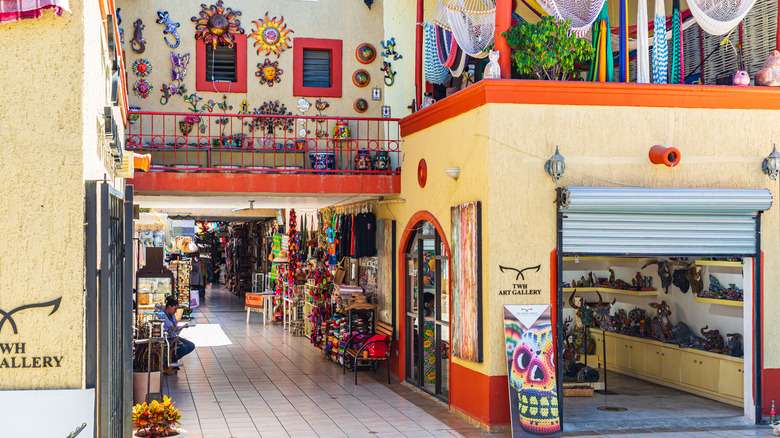 Emily_m_wilson/Getty Images
When you've had your fill of fun on the sand, couples will want to head toward the center of Todos Santos for more adventure. Here, there are a variety of charming art galleries, souvenir stands, and colorful markets to explore. When all of that time browsing leaves you with an appetite, visiting couples will find Todos Santos is brimming over with flavorful options in terms of delicious eateries.
For a romantic meal topped off with stunning views, make a reservation during your stay at El Mirador in the Guaycura Hotel. This oceanview restaurant is loved for its gourmet dining options, chic surroundings, and world-class service. Afterward, you can relax and enjoy a romantic moment by booking a spa session at the on-site Aena Spa. A soak in one of their rooftop copper tubs promises to be restorative and unforgettable.
Couples hoping to infuse some mindfulness into their Todos Santos adventure will find this area has long had a reputation as being an oasis of spirituality and healing. You won't have to look far to find a yoga class to sign up for as a couple, a spiritual retreat to participate in, or a tarot reader ready to look into your future. Reiki sessions and sound healing can also be booked in Todos Santos through the team at Aureo.