This Lakeside City Is A Great Destination For A West Coast Winter Getaway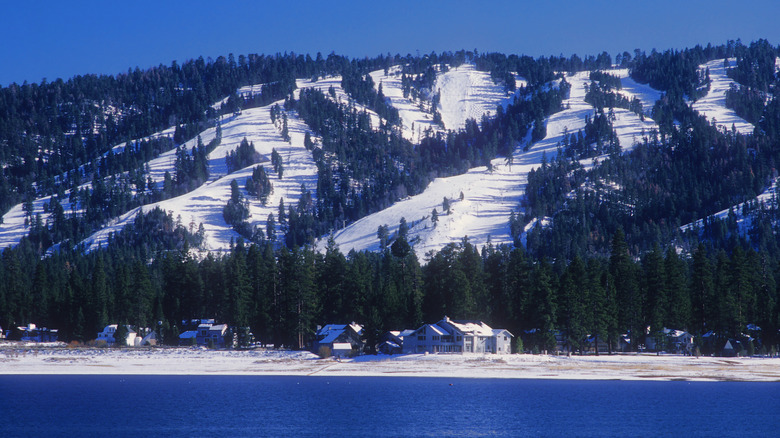 Steve Minkler/Shutterstock
Southern California has a reputation for being a great place to soak up the sun, with its swaying palm trees, beautiful beaches, and warm temperatures most of the year. It also, however, has a great place to ski, sled, and make snow angels. Just a couple hours away from Los Angeles is Big Bear Lake, a winter lover's paradise. As odd as it sounds, you can surf at the beach in the morning and then drive up to this area at the top of the San Bernardino mountains to ski in the afternoon.
Big Bear Lake's first resort was built in the 1920s, and it quickly became a popular spot for winter sports. There are all sorts of things to do here, from the village full of adorable shops to some fantastic skiing and snowboarding to an alpine slide. As the name suggests, black bears are in the mountains and a beautiful lake primarily manmade and created through a dam built in 1884. Let's take a look at what to do at Big Bear Lake and what you need to know before you go. 
Snow sports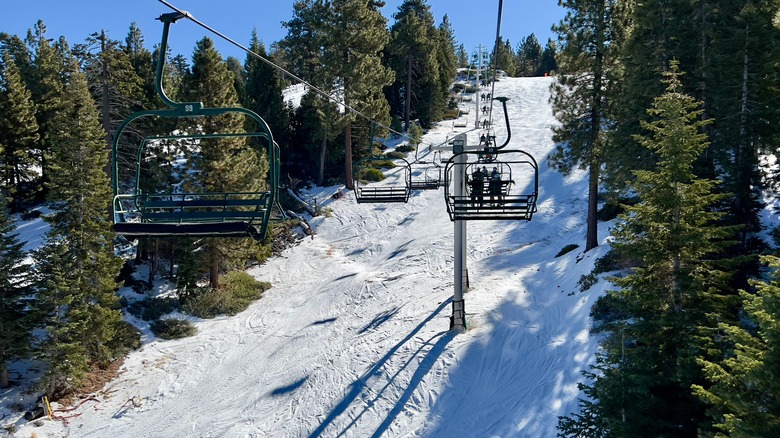 vesperstock/Shutterstock
Before we get into the fun stuff, be aware that the road up to Big Bear Lake is a winding switchback up the side of the mountain. The views are spectacular, but if there is snow, you'll be required to put chains on your tires. Also, if you're bringing food for a rental cabin, open cautiously. The elevation can make sealed food, like mustard bottles, explode. The average winter temperatures range from lows in the 20s to highs in the 40s. 
Skiing is the main event here, with 55 ski runs between the two ski resorts: Bear Mountain and Snow Summit. There are slopes for every level of skier, as well as snow tubing if strapping sticks to your feet and throwing yourself down a mountain seems too risky. You're not limited to traditional winter sports, though. Alpine Slide at Magic Mountain lets you take a chair lift to the top and then slide down a quarter-mile track. 
For the more serene among you, you can go snowshoeing alone or with a tour group. You can pick up an Adventure Pass to access most of the trails, which you can get at the Big Bear Discovery Center, which has info, educational programs, and more. There are helicopter tours over the area, and camping sites are open year-round. Do keep in mind that the area is home to black bears, so if you venture out, it's worth asking for safety tips at the Discovery Center.
Warming up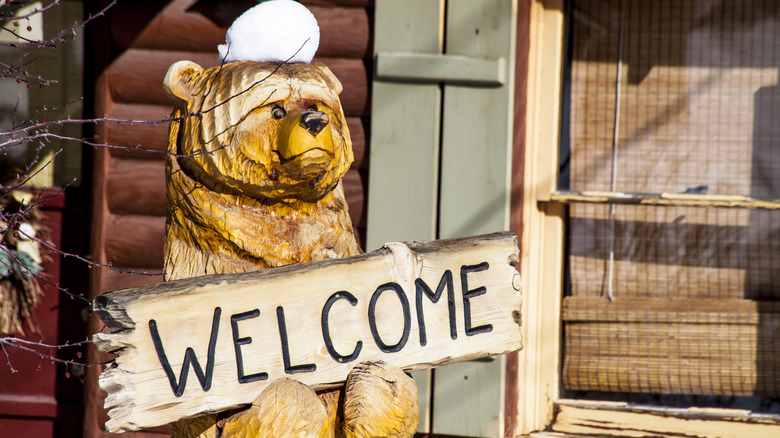 Alexandre Moraes/Shutterstock
After all that cold weather fun, you'll need to warm up. There are plenty of hotels and cabins — some with hot tubs — in the area to rent of every size and style, and some are pet-friendly. It's a small neighborhood, so everything is close by, like Vons and Stater Bros grocery stores, as well as a K-Mart, to stock your cabin fridge. If you want an unusual activity, visit Big Bear's ghost town, Glitter Gulch, with activities like panning for gold, something the early settlers did here. 
The heart of Big Bear Lake is Pine Knot Village, home to boutiques, unusual shops, and restaurants like Grizzly Manor Café, Sweet Basil Bistro, and Masala Craft Indian Cuisine. The Cave has live music, comedy, movie screenings, and theater to enjoy while warming up. 
If you want to venture back outside and visit some animals, the Big Bear Alpine Zoo has a black bear exhibit with rescued bears. It's also one of only two zoos with a grizzly bear exhibit in California. Though grizzlies no longer live in the mountains, they gave the place its name. Just FYI, this place is worth visiting in the summer for incredible hiking, camping, and boating on the lake.