Tips For Ski And Snowboarding Beginners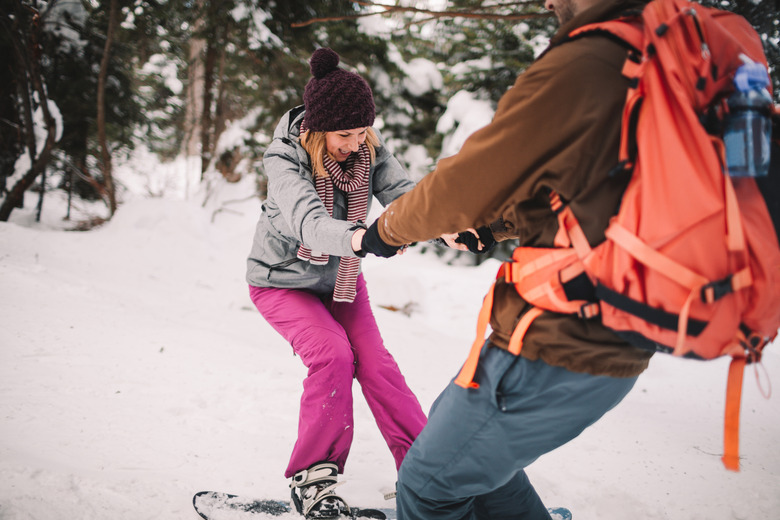 AleksandarNakic/Getty Images
Going skiing or snowboarding for the first time can be intimidating, especially as an adult. There's so much lingo, gear and technique to learn and the learning curve can be overwhelming. But if you do some basic research before your trip, you'll find it isn't as scary as you think to try out these winter sports.
Take lessons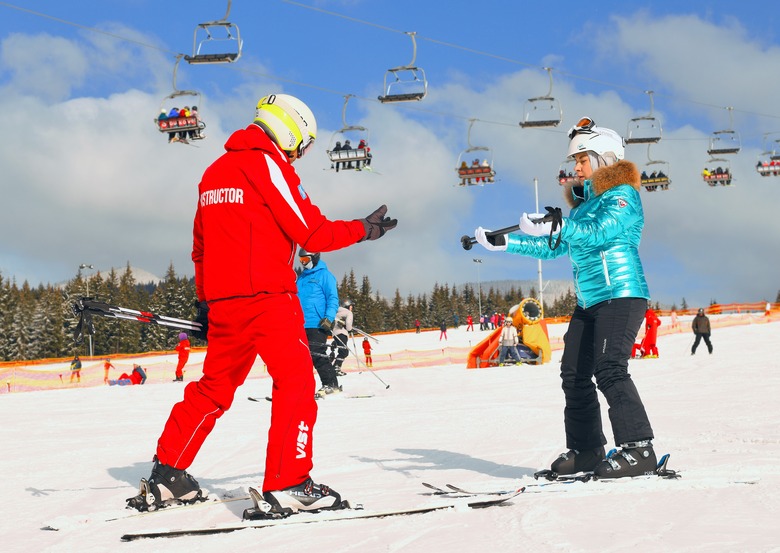 smereka / Shutterstock.com
While you might feel more comfortable learning on your own or learning from a friend or family member, it's worth it to take lessons with the pros if you're a brand-new skier or snowboarder. Professional instructors might be more patient, and give clearer instructions than a loved one who already knows how to ski and would rather be on the slopes. Your instructor will teach you proper technique and catch any bad habits before you form them so you have a solid foundation to later practice on your own.
Skiing or snowboarding?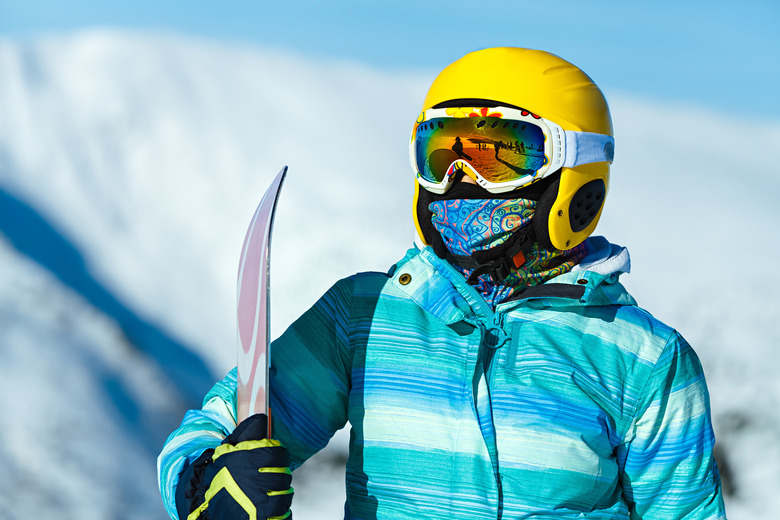 Oleksandr Rzhanitsyn/Shutterstock
Conventional wisdom is that skiing is easier to learn but harder to master, while snowboarding is harder to learn and easier to advance in. Because of body position and having separate control of your legs, it's more intuitive and comfortable for many people to pick up the techniques of skiing. Learning to snowboard requires a bigger time commitment, mental toughness and taking more falls. Another deciding factor could be potential for injury. Skiing has a higher risk of knee injury, while snowboarders experience more upper body injuries like sprained shoulders and wrists.
Choose the right mountain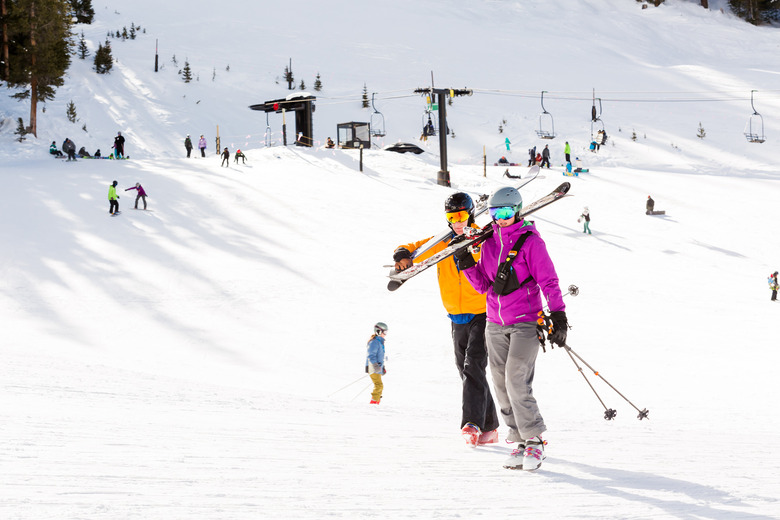 Arina P Habich / Shutterstock.com
Choose a ski resort with a nice, designated beginners area, perhaps even a beginners-only gondola, and plenty of gentle green slopes. Consider choosing convenient ski in ski out accommodations so you don't have to lug around your equipment after a tiring day on the slopes.
Learn on powder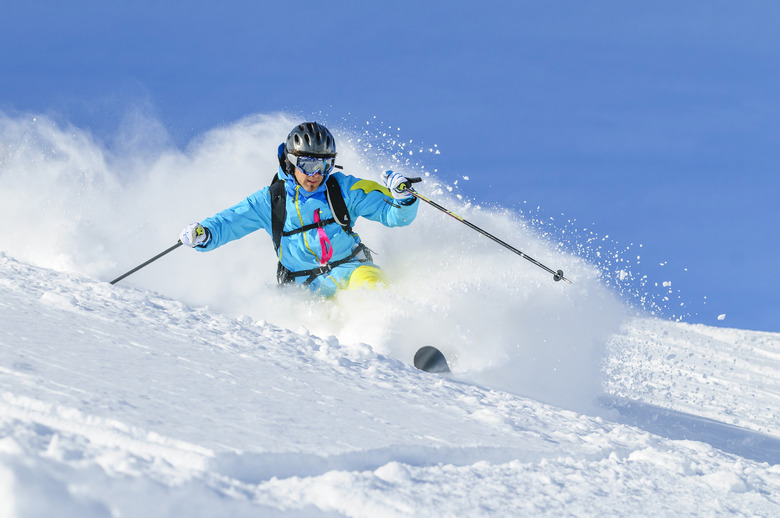 Alexander Rochau/Shutterstock
Fresh, fluffy snow is the best terrain to learn on for both skiers and snowboarders. It's softer to fall on, smoother to ride on and makes maneuvers like sharp turns and controlling speed easier. Icy or hard-packed snow can be slippery, uneven and harder to turn on, while slushy, melting snow is "sticky," creating a vacuum between the snow and your skis or board. Don't push yourself to ski in rough conditions.
Know mountain etiquette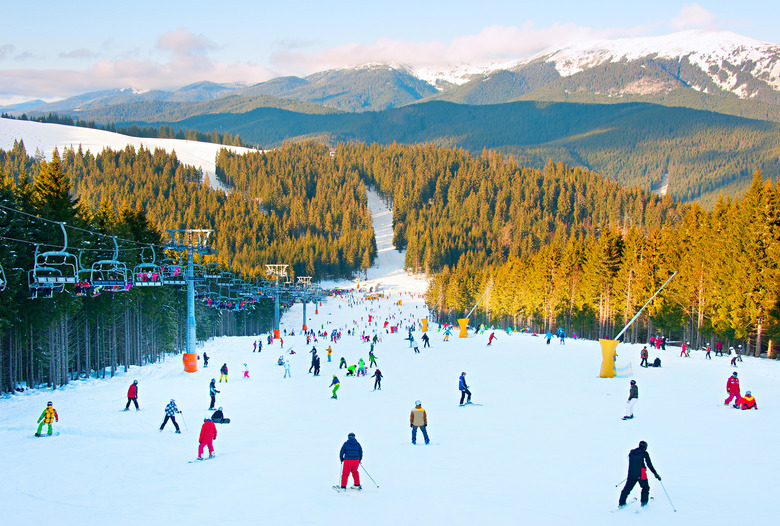 joyfull/Shutterstock
Just like at weddings, family gatherings and the office, there are unspoken etiquette rules on the ski slopes. Even etiquette authority The Emily Post Institute has weighed in on the topic, outlining the dos and don'ts of skiing etiquette. The most important ones are that the skier in front has the right of way and that it's polite to stop and help after a fellow skier has fallen.
Study up on symbols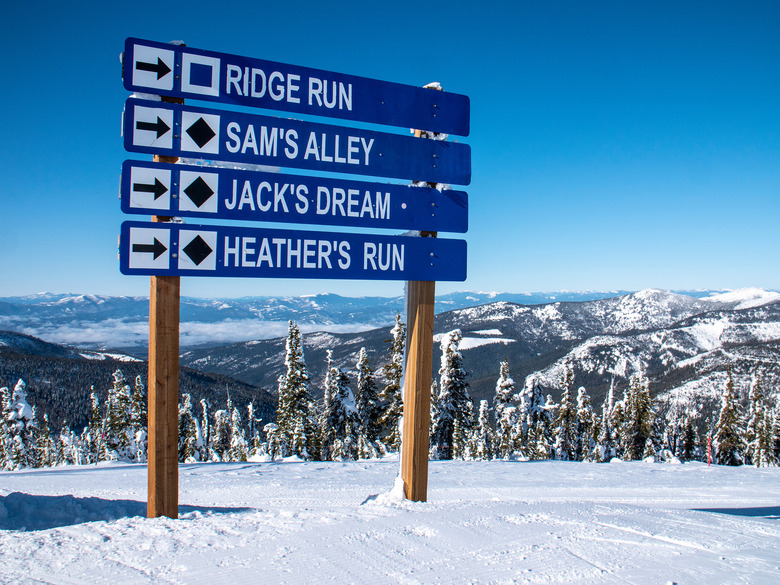 Cascade Creatives / Shutterstock.com
U.S. ski resorts classify slopes by difficulty using a system of colors and shapes. Green circles are easier or beginner, blue squares are intermediate and black diamonds are expert. Double black and triple black diamonds are the most difficult and should be tackled by experts only.
Rent your gear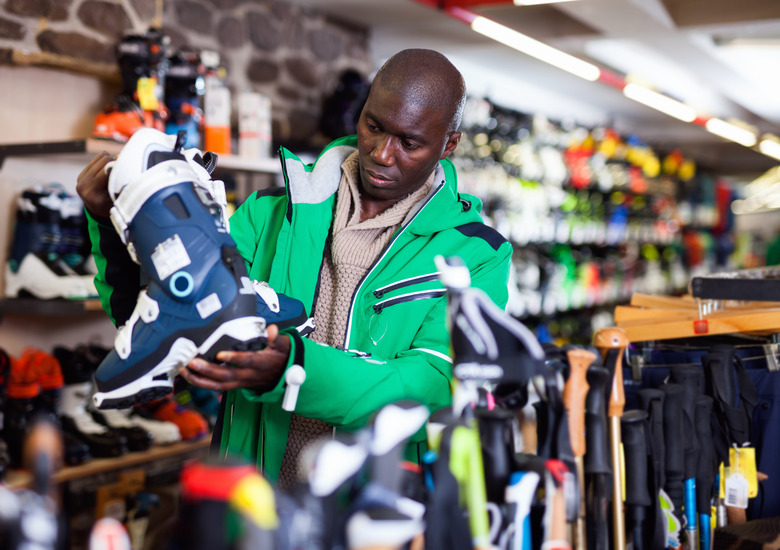 Iakov Filimonov/Shutterstock
For your first time skiing or snowboarding, it's wise to rent your gear. Besides avoiding the high upfront cost, you can also test out different gear to find what suits you instead of being dazzled to drop major dollars on the inappropriate high-performance equipment in the window. If you're ready to commit to skiing or snowboarding, buy an inexpensive kit that you can use every time so that you don't have to adjust to new gear each trip.
Put your best foot forward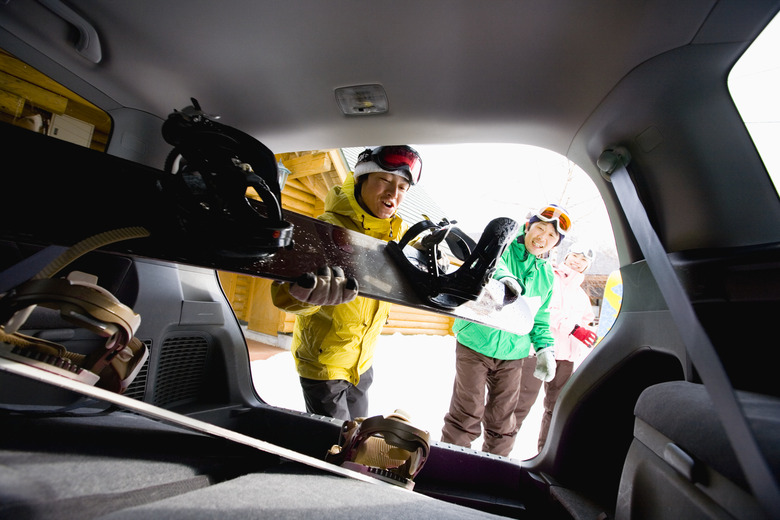 ULTRA.F/Getty Images
Your time at the rental shop is crucial because you don't want to discover issues like pinching boots when you're halfway down the mountain. If you're snowboarding, something you need to figure out before you get to the rental shop is your stance. For most people, it's more comfortable to have your dominant foot in the back. If your right foot is stronger, then you are "regular-footed" and your left foot will be forward. If you're left-footed, you'll ride "goofy footed" and your board's bindings will be set up differently.
Suit up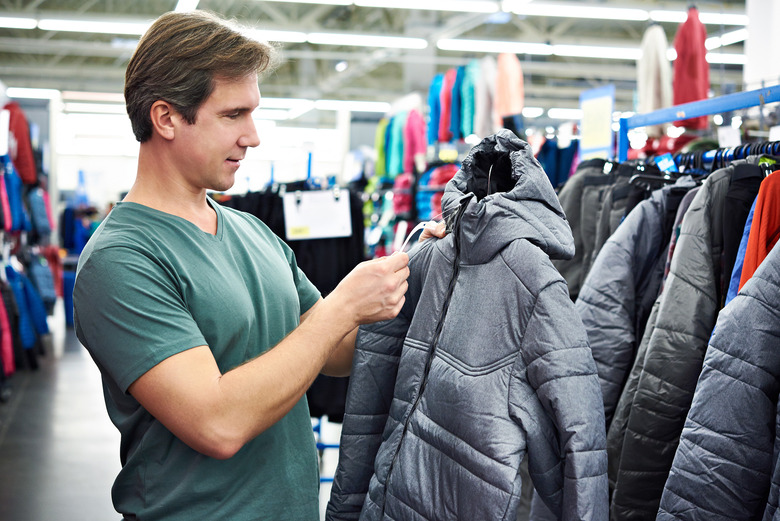 Sergey Ryzhov/Shutterstock
Proper gear and clothing are essential to ensuring an enjoyable first ski or snowboarding vacation. Layering is key. A sweat-wicking base layer will help keep you dry and comfortable, as will waterproof and windproof outerwear. Add a mid-layer of a fleece or sweater in between for warmth. Don't forget waterproof gloves and moisture-wicking socks. If you're unsure about committing to skiing or snowboarding yet, many outfitters also rent ski jackets and pants on top of goggles and helmets.
Wear sun protection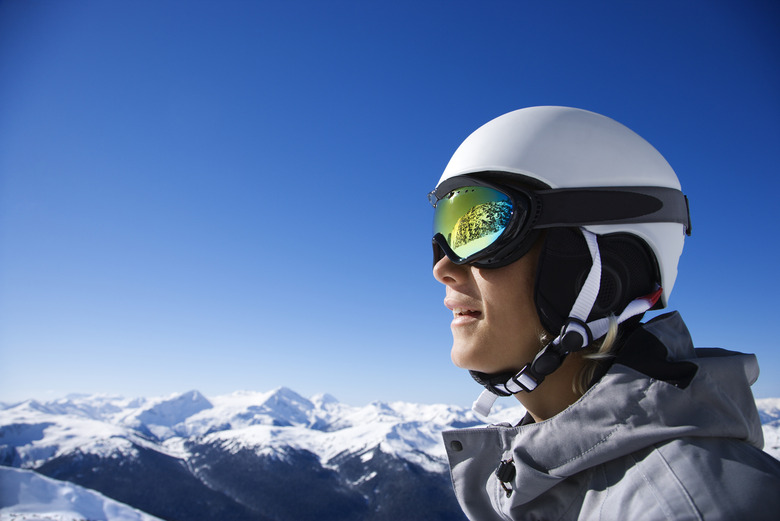 iofoto/Shutterstock
Most novices think to dress for the cold and snow but might not remember to consider the sun as well. Just because it isn't hot out doesn't mean that the sun isn't beating down on you. You're at a higher altitude in the mountains and the sun reflects harshly off of snow. Goggles or sunglasses will help protect your eyes, while sunscreen and chapstick with SPF will help shield your exposed skin.
Prepare to fall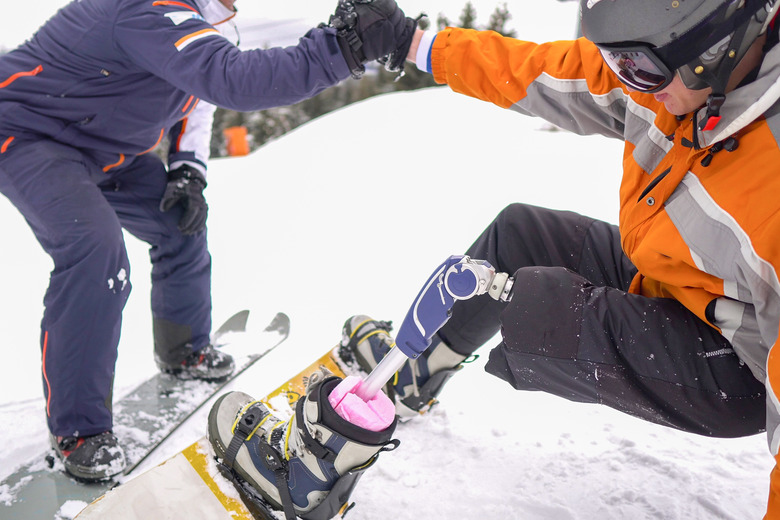 Viktorcvetkovic/Getty Images
Layering up will not only shield you from the cold but will also protect your body when you fall over. Because you will fall over a lot while first learning to ski or snowboard. Let your cushioned clothing and the snow break your fall instead of trying to catch yourself with your hands, which could lead to an injury.
Adjust your expectations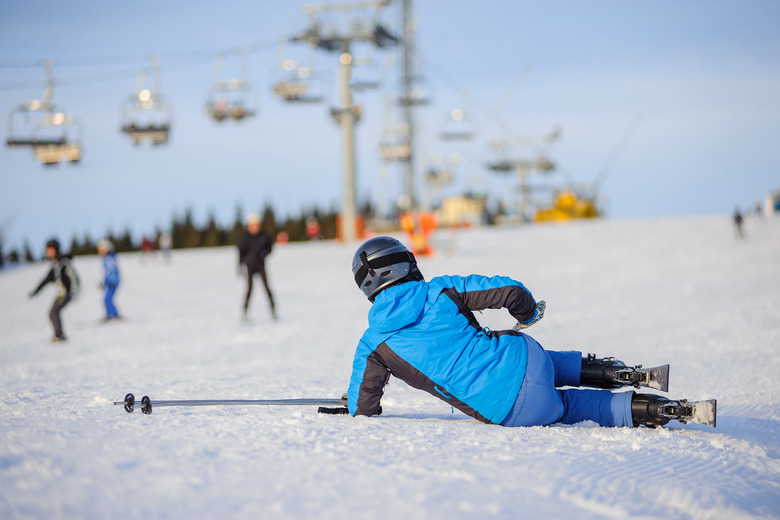 anatoliy_gleb/Shutterstock
The learning curve for skiing and snowboarding is steep. Don't give up if you're not an expert in one weekend. Try to get in as many consecutive days on the slopes as possible. You'll improve faster and more exponentially across a weeklong trip than you would after three weekends spread out over the season.
Change up your workout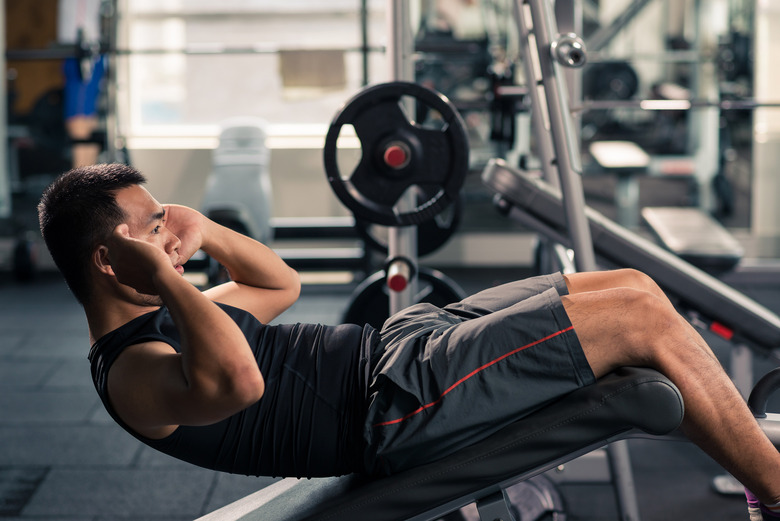 Dragon Images/Shutterstock
Skiing and snowboarding are tough physical activities that require strength and stamina. To make sure you can get the most out of your daily lift tickets, you might consider beginning or changing up your exercise routine ahead of your trip. Amping up your cardio will help you with either sport. Snowboarding relies on core muscles and the upper back for turning and balance, which you can exercise with activities like crunches, planks or pilates. Skiing utilizes more leg strength, so squats (when done correctly), lunges and more can help.
Stay healthy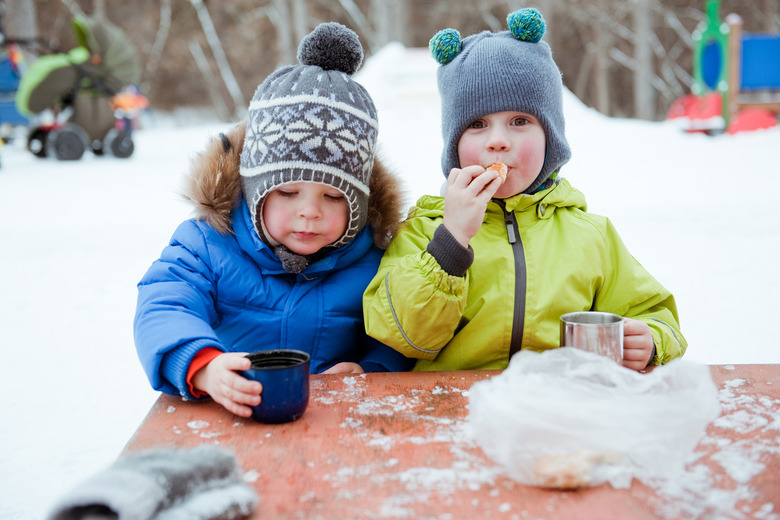 By mamaza/Shutterstock
Even if you're in peak physical shape, you still need to take breaks and listen to your body. Fuel up for the day with healthy, hearty meals, and pack energizing snacks you can stop and eat between runs. Remember to hydrate as well, though leave the alcoholic beverages until after you're done skiing or snowboarding for the day.
Use the buddy system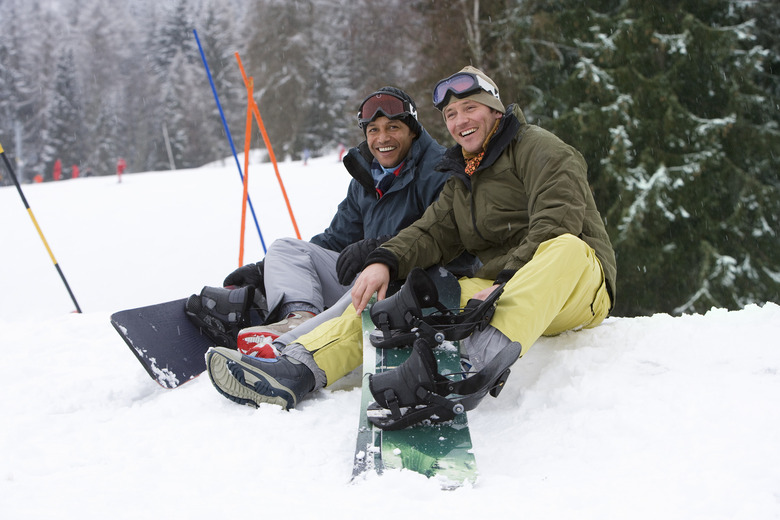 Air Images/Shutterstock
When you're a beginner, it's important not to ski or snowboard alone. Even if you're both barely graduates of the bunny slopes, having a buddy means that there is someone to help you in case you fall, get lost or get hurt. Having the experience together could even help your relationship grow stronger. 
Know how to take a chairlift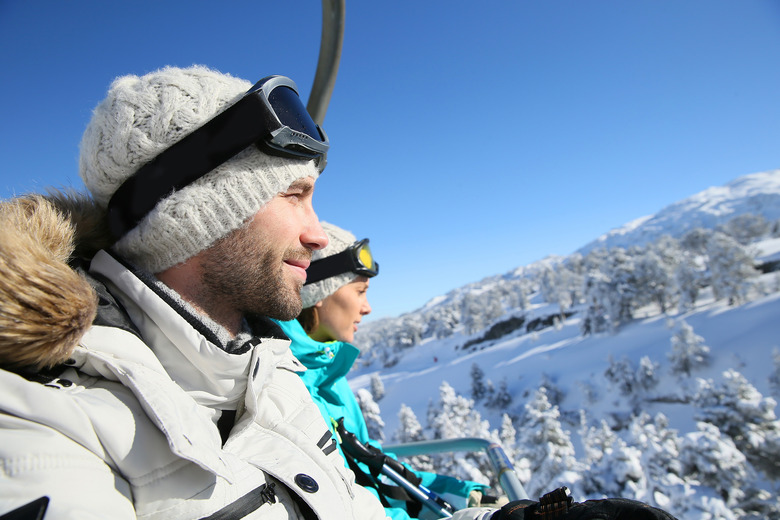 goodluz/Shutterstock
Taking the chairlift might seem simple, but everything's more complicated when you're on skis or a snowboard for the first time. If you are not yet feeling comfortable in your skills, it's best to stick to the surface lifts until you feel confident enough to ride the chairlift. When you are ready, be sure to get clear advice from your instructor on how to dismount a lift and practice the motions before you go up, especially if you are a snowboarder. 
Avoid crossing your skis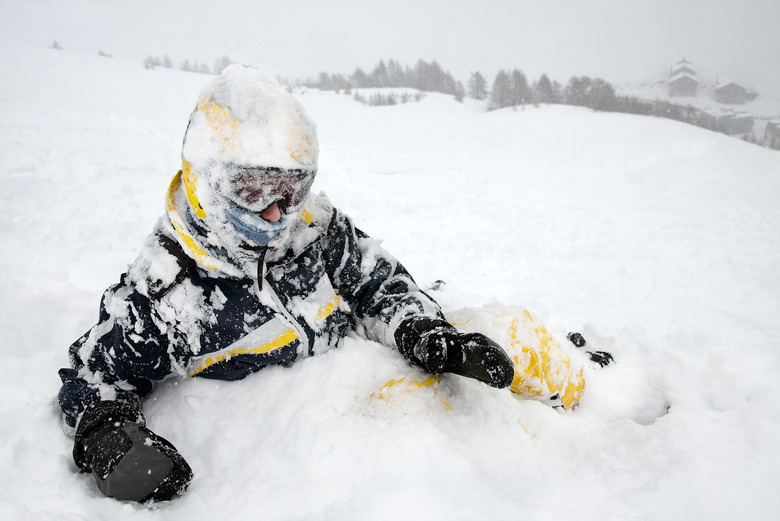 Peter Gudella/Shutterstock
A problem that vexes novice skiers that snowboarders don't have to deal with is crossing your skis. Creating a V-shaped "snow plough" with your skis is how you learn to slow down, but if you're turning in your knees rather than pushing out your heels, the tips of your skis could become crossed. If your skis become crossed after you take a tumble, roll over on your back and lift your legs in the air to untangle them before flipping back over to stand up.
Know the basics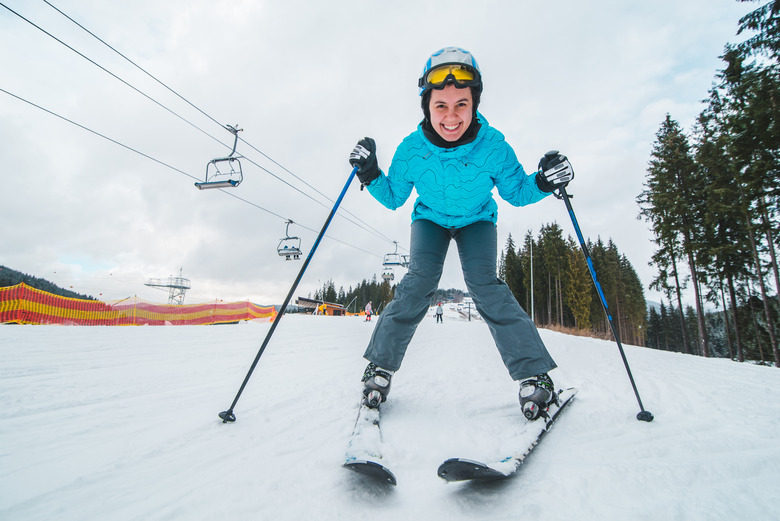 Vera Petrunina/Shutterstock
Since you'll be falling down a lot, standing up quickly and easily is one of the most important basics you can learn. Other vital skills you'll need to practice are turning, sliding and controlling your speed and balance. These are the main things you'll be struggling with during your first foray into skiing or snowboarding.
Relax apres ski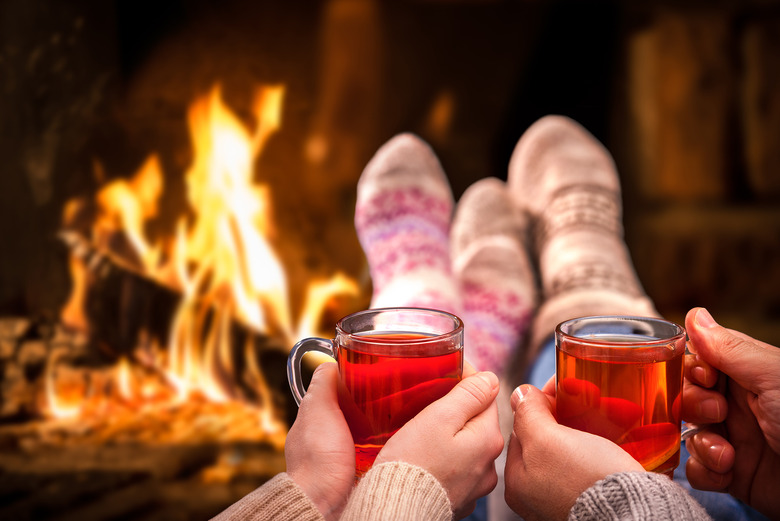 Alexander Raths/Shutterstock
It's easy to get caught up in the logistics of lessons and rentals during your first skiing or snowboarding trip. But after a long, hard day on the slopes, you'll want to unwind at your resort, cabin or in town. Many ski towns are also famous for their dining scene, with world-class restaurants, bars, distilleries and more. If you fancy a night in, take advantage of amenities in your rental such as a hot tub or a fireplace with a boozy hot chocolate in hand.
Have fun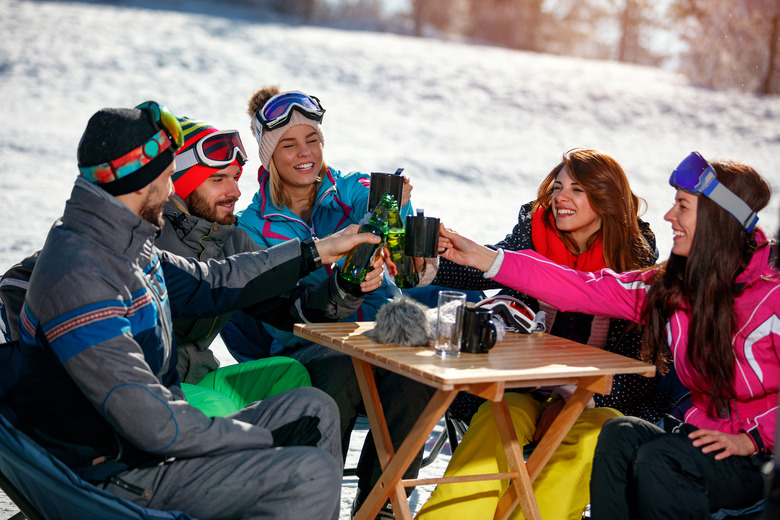 Lucky Business/Shutterstock
Skiing and snowboarding are great ways to enjoy the outdoors, be active and spend quality time with loved ones. After the time, money and stress of planning your dream ski vacation, make sure to actually enjoy it. You should be able to unplug and enjoy your vacation if you follow this guide for planning the perfect ski trip.