Visit This Southern US Destination For A Fall City Getaway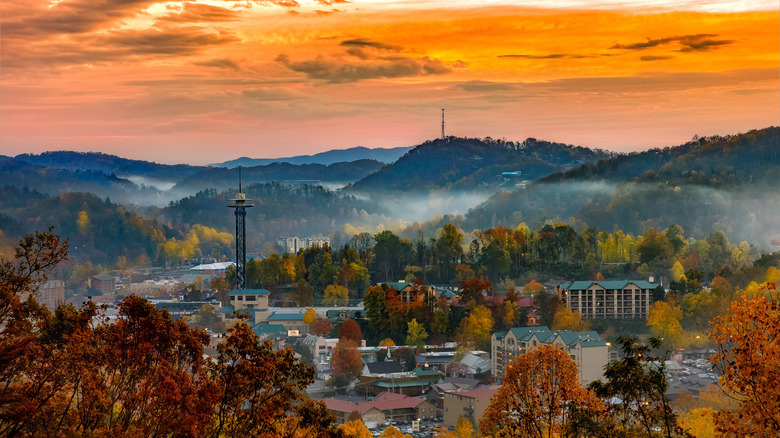 jdross75/Shutterstock
With fall colors in the Northeast already past their peak by the second half of October, it's time to head south to get a glimpse of one of nature's most colorful displays. Fall comes to the South much later, giving autumn enthusiasts a long season of leaf-peeping from September in Maine through to late November near the Gulf of Mexico. But you don't have to wait quite that long to see the changing leaves in our city getaway pick: Gatlinburg, Tennessee.
This enchanting city on the edge of the Great Smoky Mountains National Park was voted USA Today's best place to visit in the fall in 2023. Gatlinburg offers visitors a blend of cultural experiences, natural beauty and outdoor adventures, all in temperatures that tend to hover well above those in the Northeast. Late October and early November, when the fall colors peak, is the perfect time to take a fall city break here. Whether you're planning a romantic escape, a family vacation, or a solo adventure, Gatlinburg promises an unforgettable fall city getaway.
Outdoor fall adventures in Gatlinburg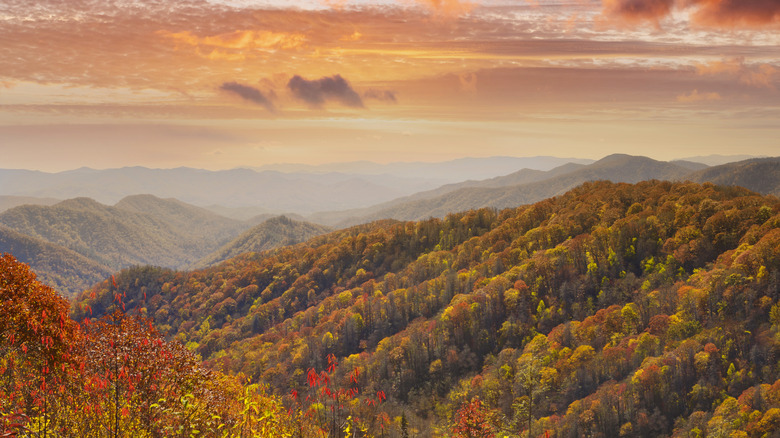 D. Lentz/Getty Images
Gatlinburg makes a wonderful base to enjoy outdoor adventures during fall. The Great Smoky Mountains National Park, just minutes from the city, showcases a kaleidoscope of colors. One of the best ways to experience them is by hiking. In the fall, one of the most beautiful is the 1.8-mile (one-way) trek to Inspiration Point on Alum Cave Trail. Another is the 3.4-mile round-trip hike from Newfound Gap to Indian Gap on the Appalachian Trail. Both go through colorful old-growth forests.
Head to Ober Gatlinburg Ski Area and Amusement Park to admire the fall foliage from above. You can take an aerial tramway and a scenic chairlift over the treetops. As you ascend, you'll have great opportunities to capture the landscape unfolding before you. You can get a wristband to cover several activities in the park — it covers the tram and chairlift plus a visit to the Wildlife Habitat, a ride on the mountain coaster and more. Google reviewers say the wristband is a good splurge as there's not much to do at the top if you don't have it.
Finally, don't miss the Gatlinburg SkyPark. You can ride the SkyLift up to the SkyDeck to sit and enjoy the fall views over the Smoky Mountains. And you'll find the SkyBridge here, North America's longest pedestrian cable bridge, spanning 700 feet across a scenic valley. Google reviewers say the views are breathtaking – but warn that food at the top is expensive, so consider taking your own.
Fall festivities and culinary delights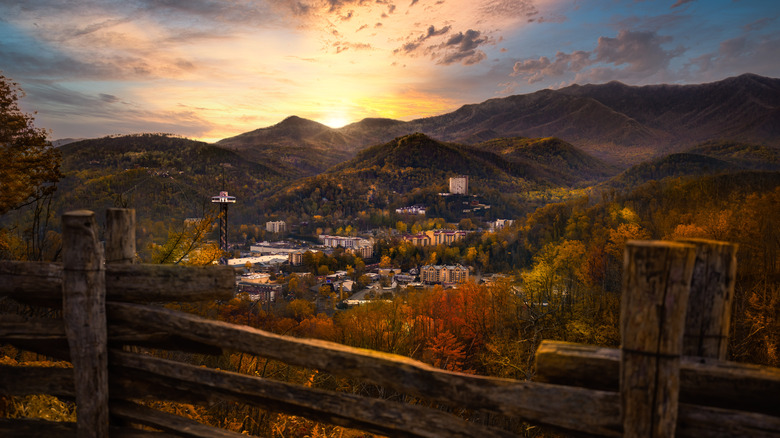 jdross75/Shutterstock
Gatlinburg embraces the spirit of fall through a range of festivals and events. One of the longest is the Smoky Mountain Harvest Festival, which runs from September to late November in Gatlinburg. You'll see life-sized scarecrows dotted around the city and have a chance to admire fall decorations around the city as local businesses compete to have the best. There's an annual Spooktacular celebrating Halloween with a costume contest for kids and lots of booths selling fall goodies.
In November, Gatlinburg kicks off its winter season (a little early) with the Winter Magic & Chili Cookoff. Chili screams fall to us, and the fall colors will still be peaking at lower elevations at this time, so it's a great "fall/winter" event. For autumn-themed drinks, visit Ole Smoky Distillery in Gatlinburg, where you can get pumpkin-flavored beverages, including a shake, hard cider, and even pumpkin and pecan-flavored whiskey. Visitors love the tour you can do here and the tastings you get with a $5 voucher. It's a great way to round off your time in Gatlinburg.