This Charming Town Is The Perfect Spot For A Budget-Friendly Italian Vacation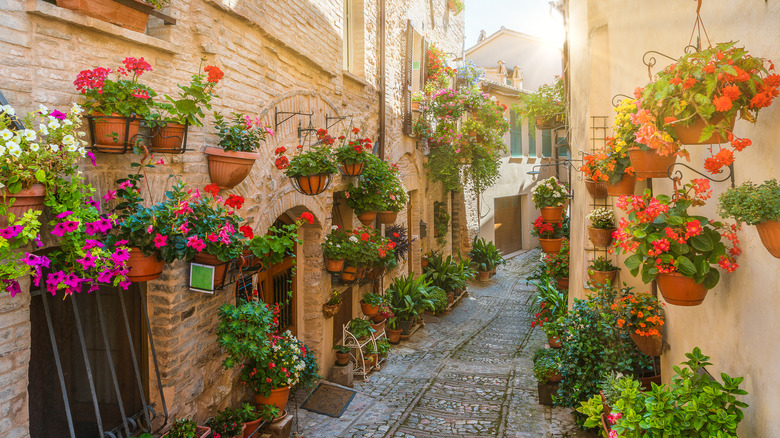 essevu/Shutterstock
An underrated destination but nothing less than an accolade of Italy's primitive heritage, Spello is a Renaissance paragon. Roman arches form the gateway to this hilltop town, characterized by an obsession for flowers and a gift for producing the region's finest olive oil. In Spello, nearly every window has a flower box, and each courtyard is brimming with whimsical displays of colored blossoms. Look on a map, and you'll find Spello perched on Mount Sebasio in the central region of Umbria, wedged between the neighboring towns of Assisi and Foligno. 
Spello finds favor with frugal travelers as few activities require a large budget. Free festivals and monuments rich with historical artifacts provide a full event calendar for tourists that requires little to no fee. Peek out over the city's medieval gates and take in the sea of green that blankets the land. As a coveted wine and olive oil destination, the Umbrian countryside provides the perfect opportunity to tour Italy's world-class distilleries and olive groves.
Inside the city gates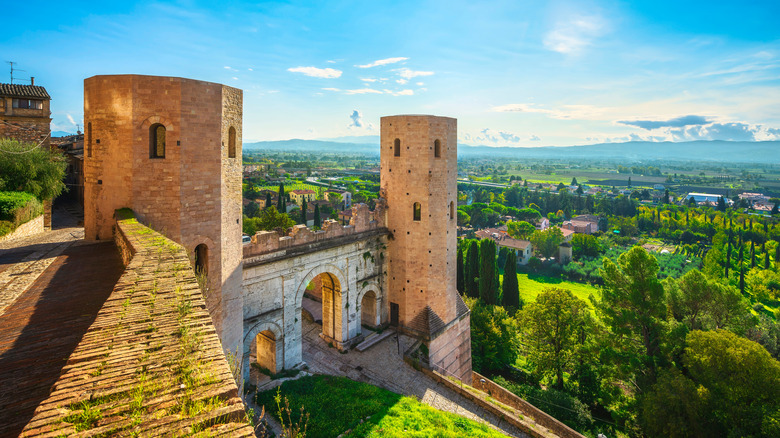 StevanZZ/Shutterstock
The entrance to this city doubles as an ancient relic fortified centuries ago. Throughout the Roman era, the historic gateway called Porta Consolare served as a protective barrier to the city fortress and a grand feat of architecture that greeted venturing guests. 
Today, however, Spello is famous for its obsession with floral arrangements, a passion placed on display every June during Infiorate di Spello. This religious festival commemorates the sacred holiday, Corpus Domini, honoring the passage of Christ's body with a vibrant display of over 60 floral carpets. 
Porta Consolare is not the only ancient artifact excavated from the Augustus period. Believed to be an extension of the temple of Venus, Porta di Venere is another extravagant sight forged in the midst of one of Spello's many cobblestone sidestreets, per Exploring Umbria. The arch is bordered on either side by two polygon-shaped towers and provides a stunning backdrop as the sky lights up in fire with the last rays of the sun.
Tucked in the heart of the city, Piazza della Repubblica is Spello's central hub, where locals carry out their daily cheese and wine runs and forage through seasonal market stands. Pause for a midday pick-me-up at Panificio Serenelli. Whether you're craving a cappuccino or a cornetto (croissant), this authentic Umbrian café specializes in small, indulgent delights.
Step outside the city walls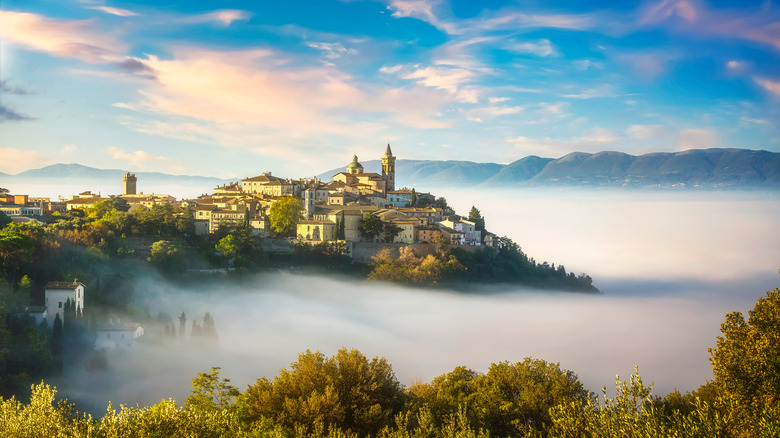 StevanZZ/Shutterstock
Pair a glass of Umbria's renowned Orvieto Classico wine with a side of focaccia dipped in "liquid gold." As one of Italy's top producers of olive oil, much of Spello's countryside is draped in flourishing olive groves. Traipse through Spello's thriving harvest on Via degli Ulivi (the olive oil route). This picturesque path snakes through some of the region's finest olive groves, from Monte Subasio to the Foligno plain.
Venture north down the scenic byway connecting Spello to the nearby city, Assisi. The 15-minute journey weaves travelers past vintage Italian villas and fields of olive groves and vineyards. Assisi is not only a UNESCO World Heritage Site but also the birthplace of several influential figures in the Catholic religion. Sacred temples embellished with ornate frescoes are scattered throughout the city, a testament to Assisi's monastic sanctification. Basilica of St. Francis is one of Assisi's most captivating attractions and houses several paintings completed by Giotto, chronicling the life of St. Francis. 
Part of what gives Assisi its angelic charm is its tendency to keep visitors immersed in its hidden nooks and taverns scattered throughout the city streets. Rooftop cafes with sweeping views of Umbria's postcard-worthy vistas, preserved Roman roads, and brass-embellished aqueducts are just a few noteworthy sites that make this fairytale town a road trip well-worth taking.