Learn More About Italy's History At This Underrated City Destination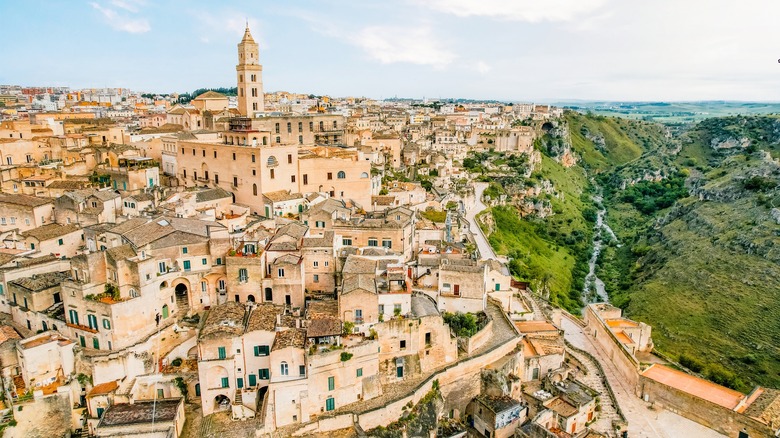 zedspider/Shutterstock
Italy is one of the most popular tourist destinations in the world, and travelers from all over the globe trek here to reel in its natural beauty. Lately, more travelers are realizing that there's much more to the country than big cities like Rome and popular tourist destinations like Positano. Italy is full of underrated hidden gems, from the beaches of Sardinia to the foodie-forward towns of Modena and Parma in the Emilia-Romagna region. While there's something to be said for all of the charming small towns in Italy, there's one in particular that is simply a must for history buffs.
Take a step back in time and visit the stunning oasis of Matera, a small city in Basilicata. Remotely located with no airports in town, Matera is particularly appealing because it's the oldest city in Italy, and one of the oldest inhabited cities in the world. If you hear a trip to Italy calling, be sure to plan a stop in Matera to check out this charming and historic city for yourself.
What to do in Matera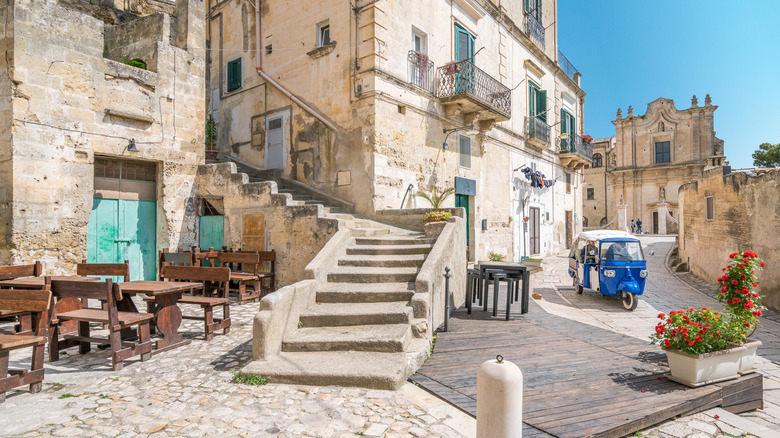 essevu/Shutterstock
Whether you visit in the summer, spring, winter, or fall (spoiler: fall is a great time to visit Italy), you're in for a treat when it comes to Matera. The crowds haven't quite caught onto the hype yet, so it's unlikely to be as busy as major Italian cities.
The "Sassi di Matera" comprises two of the oldest neighborhoods of the ancient town, with "sassi" translating to stones. Here, you can find the iconic cave dwellings which are a UNESCO World Heritage Site. As you enter the city, you'll see dramatic beige buildings all around you, creating an ethereal scene in every direction you turn.
Aside from taking in the city's serene beauty, you're in Italy, so you simply have to eat! Matera has had a rough past, and its humble history is well-represented in the food that is served today. Try "peperone crusco," or crushed dried red peppers, which are commonly crumbled over dishes for a nice, vibrant punch of flavor. "Polpette di pane," which roughly translates to bread balls, are just that: egg, bread, and seasoning, and are often served with tomato sauce and sliced potatoes. Trattoria Lucana is an excellent place to try this, but get there early — it's quite popular.
To properly enjoy the city, you simply must stay in one of the cave dwellings. For one of the best in town, head to Aquatio Cave Luxury Hotel & Spa. There's even a wellness center inside the caves to elevate your experience.
How to get there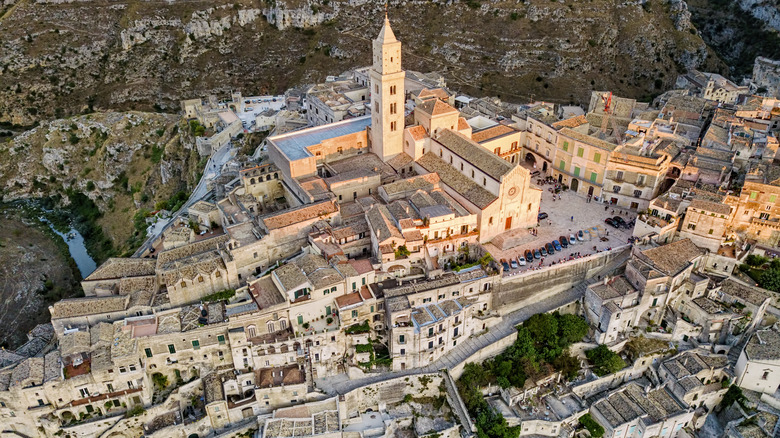 Sky_blue/Getty Images
Getting to Matera is not difficult by any means, but it does take some extra effort because of its somewhat rural locale. The closest airport is in Bari, which is located an hour away in Puglia, the next region over. From there, you can choose to rent a car, which will certainly make traveling through both Puglia and Basilicata more flexible. Driving in Italy can be a bit chaotic, and if you're not used to driving a manual vehicle, you might find it difficult. Your other option is to take a direct bus from Bari to Matera, which you can usually find for less than $10 one way. 
Your other option is to fly into Naples and consider different bus, train, or car rentals from there. It's wise to compare your options to decide whether you should be using a plane, train, bus, or even an automobile when traveling throughout this part of Italy.