Here's How To Explore Italy On A Shoestring Budget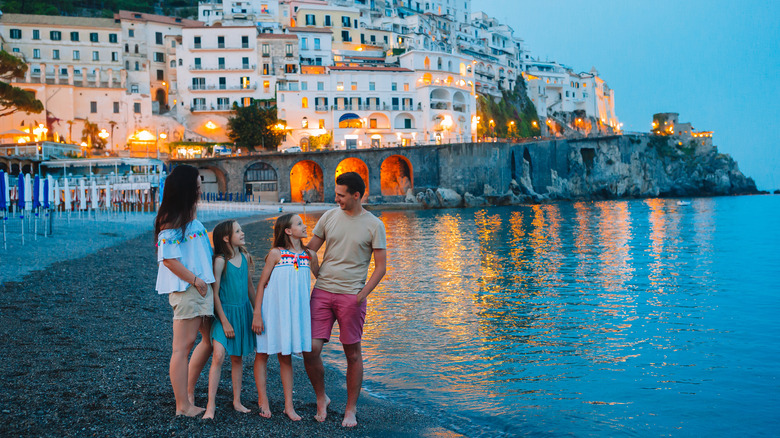 TravnikovStudio/Shutterstock
You've decided that this is the year that you're going to take your summer vacation to Italy. After pricing airline tickets for you and your family, you soon realize that the money you've saved for your bucket list trip will take quite a hit due to the rising cost of airfare, and you're wondering how you're going to afford to see everything you had initially planned to visit in Bella Italia.
The cost of traveling by air has slowly increased in the last few years, with the most significant price hike recorded in 2022. Take that into account with the cost of accommodations and meals, and taking a vacation outside of your hometown seems a bit daunting and unaffordable. And, for those on a shoestring budget, the dream of vacationing overseas appears to be just that, a dream, with no hopes of it coming to fruition. However, there is a multitude of ways how you can explore Italy without breaking the bank, and your dream of seeing this beautiful Mediterranean country can most certainly become a reality.
Free museum Sundays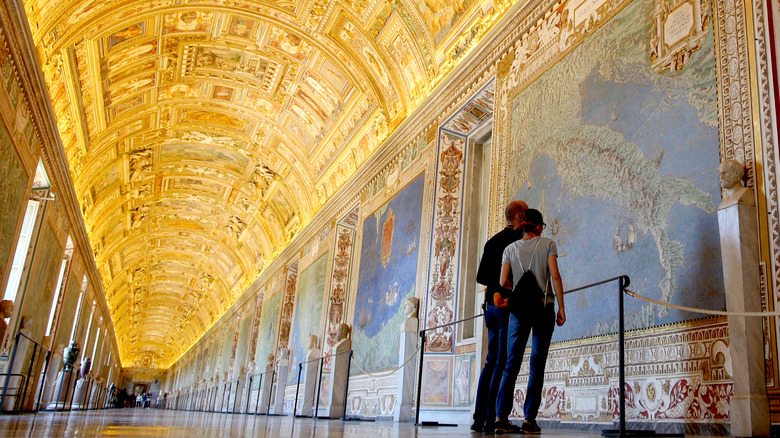 Franco Origlia/Getty Images
Italy is known for its incredible history, amazing culture, and beautiful scenery. That being said, the Ministero della Cultura (Ministry of Culture) for the Italian government recognized the need for all persons to be able to partake in historical, cultural, and social activities without the fear of paying a fortune for tickets. This led to a countrywide action in planning and executing Domenica al Museo (aka, Free Museum Sundays). That's right, free. Whether you want to see the Uffizi Gallery in Florence or the Vatican Museums in Rome, this wonderful gratis scheme affords those on a tight budget (residents and visitors) the ability to visit Italian art galleries, archaeological sites, monuments, and historic museums managed by the Italian government, completely free on the first Sunday of every month during the year.
In order to take advantage of this wonderful initiative, plan your vacation to Italy around the dedicated Sunday, and also check each location's website for information on whether you need to reserve a space ahead of time. A full list of the regions and locations offering this scheme can be found on the Ministry of Culture website so you can plan on exploring the sites most important to you. Keep in mind though, this free event is quite popular and depending on which cultural or historical places you visit, you may be standing in line for a while before getting in, but it's so worth it!
Museum passes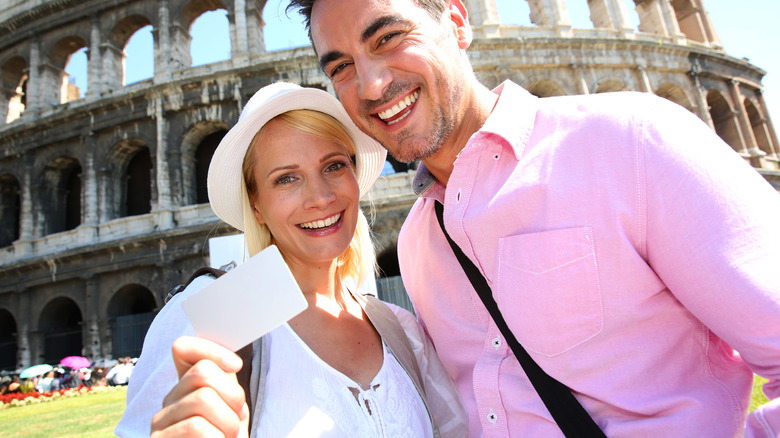 Goodluz/Getty Images
If you're unable to plan your trip to Italy around the first Sunday of the month to partake in the free entry scheme, several regions in Italy afford visitors the option to purchase museum passes in advance, and they can be used throughout the month. A museum pass allows visitors to combine multiple museum visits within a certain time period (hours or days) under one umbrella price per pass.
Larger cities such as Rome, Florence, Milan, Naples, and more offer varying passes on their museum websites, each priced according to the location, season, and amount of sites the pass includes. And, if you're traveling as a family, and your child is a student, a young adult, or any individual is 65 years of age or older, passes are discounted depending on the location offering them. Again, planning ahead is key. If you do decide to purchase the museum passes, book your flights during the low season in Italy to avoid the big crowds. You'll spend less waiting time to get in, which means more sites for you to see under a set price. Depending on the region you're planning to visit, check their museum websites for any passes they may offer.
See historic sites and churches for free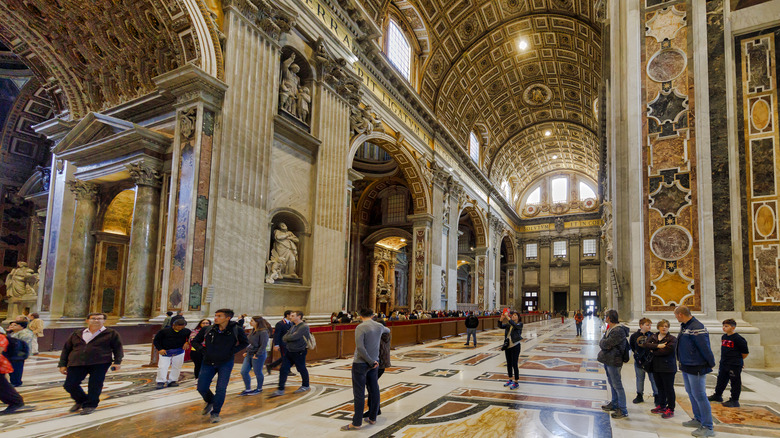 Laszlo Szirtesi/Getty Images
The gardens in Villa Borghese, the Pantheon, the cathedral within the Duomo of Florence, St. Peter's Basilica, Sforzesco Castle, Trevi Fountain, and so much more. The list is long, yet what is their common connection? You can visit them all for free! And, don't be surprised if you walk into one of the many churches in Italy and see famous sculptures framing their space, and paintings adorning their walls and ceilings artfully created by the Renaissance Masters.
While some art galleries charge fees for entry to see such things, there are a host of stunning chapels, basilicas and cathedrals throughout Italy that are free to visit and proudly display these exquisite and timeless masterpieces without charging any money. You may even spot a few stunning Caravaggio paintings in some of them. However, when inside these sacred sanctuaries, before snapping any photos, make sure that it's permissible to do so, and remember to be respectful of those attending mass while you're there.
Tour Italia via free walking tours, and more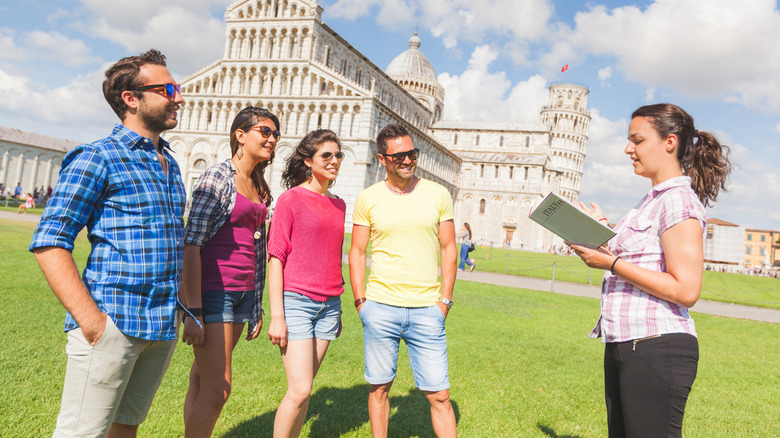 William87/Getty Images
Did you know that several regions in Italy offer a wide host of walking tours for free? Well, they do, and it's not hard to find them. Verona, Florence, Rome, Naples, Bologna, Puglia, and then some: With a little bit of research online, you can find a full variety of free, guided walking tours offered by local Italians. Since there is so much culture and history surrounding the boot-shaped country of Italy, having a local guide show you around major cities, towns, and small villages to learn about everything is truly an authentic experience that should not be missed.
In addition, the guides are as keen to teach you about their country as you are to learn about it. So, feel free to ask questions. Since the walking tours are free, that leaves you with more money in your wallet to stop for a gelato or a pizza, and also tip your guide for their incredibly generous service. And, if you really want to experience authentic Italy and do as the locals do for free, make sure to partake in la passeggiata, Italy's cultural tradition known as the evening stroll between 5 and 8 p.m. each day.
All aboard Trenitalia to explore Italy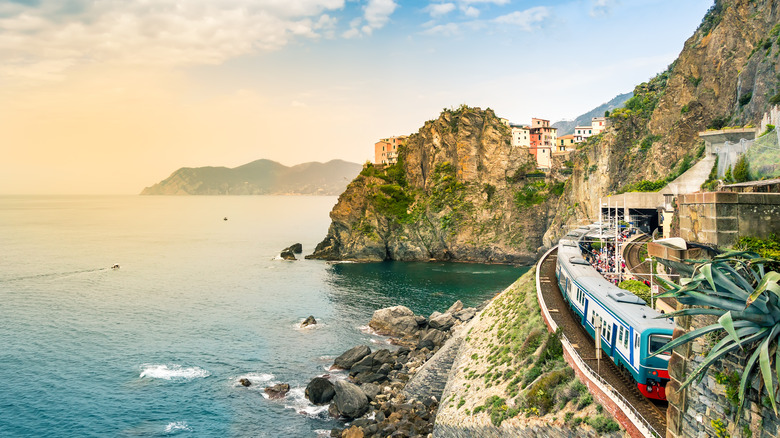 Julia Lav/Shutterstock
There is another thing Italy is well known for, and that's its public transportation system. Trains are a popular mode of travel for residents and tourists, with ticket prices at quite affordable prices getting individuals from northern to southern Italy and everything in between. With the price of fuel increasing every day, traveling by train is a more sustainable option as well. And, to get you to all these fabulous locations, Italy's main rail service, Trenitalia, offers tourists (individuals and families) two great, and affordable options to explore Italy by train.
The Trenitalia Pass offers train passes priced accordingly based on your choice of the three seating options, the age of the passengers (adults and children), and the designated amount of train trips per "x" amount of days under one flat rate price. If your children are under the age of 12, they travel for free. Another great train pass for families with children is the Bimbi Gratis pass. While the adult tickets are significantly discounted (40% off), your children (15 years old or younger) travel completely free on certain rail services within Italy.