The Best Things To Do If You Only Have One Day In Madrid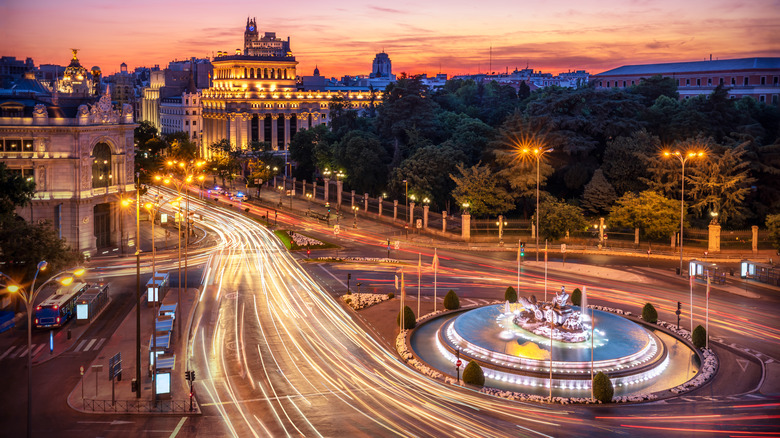 Eloi_omella/Getty Images
Spain's capital city, and most populous metropolis, Madrid is not only the seat of government and the country's stock exchange, but it also has great green spaces, wondrous museums and artistic energy, and no shortage of places to grab a bite. Madrid might not have the Mediterranean cool that permeates Barcelona, nor that city's scenic waterfront location, but it sits on a high plateau with mountains nearby, making it a climate that varies from cold, crisp winters to searing summers. 
Spring and fall are especially alluring in the capital city, with pleasant weather conditions. It's also beautifully positioned in the middle of the Iberian Peninsula, the geographic landmass that is home to Spain and Portugal, making it a great home base for exploring the region. There's enough here to keep a visitor busy for days, but what if you only have 24 hours in the city to sample its multitude of delights? If time in Madrid really is of the essence, peruse the list below for sights that shouldn't be missed.
Get artsy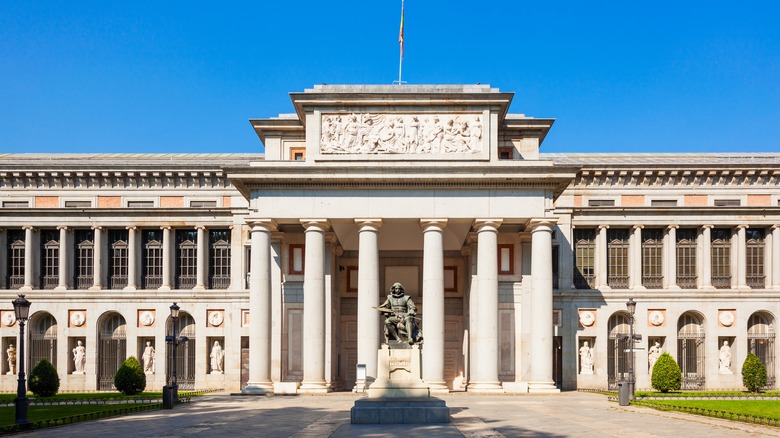 saiko3p/Shutterstock
Travelers will find no shortage of art in Madrid, from intimate galleries to globally renowned museums. The premier institution for art in the city, the National Prado Museum (Museo Nacional del Prado in Spanish) is a gem and should top any visitor's list. The building is certainly a stately structure, designed in the late 1700s to house the Royal Museum of Paintings and Sculptures under a royal decree. After years of construction, it finally opened in 1819, and despite changing its name, has been a treasure trove of art ever since. 
Refurbishments, extensions, and reconfigurations have only added to the museum's luster, and today, there is more than ever to see. Visitors will wander spaces filled with paintings from Northern and Southern Europe dating back centuries, ancient works of sculpture and decorative items, and a comprehensive selection of prints and drawings by some of the most exalted artists from Spain and beyond.
Enjoy the greenery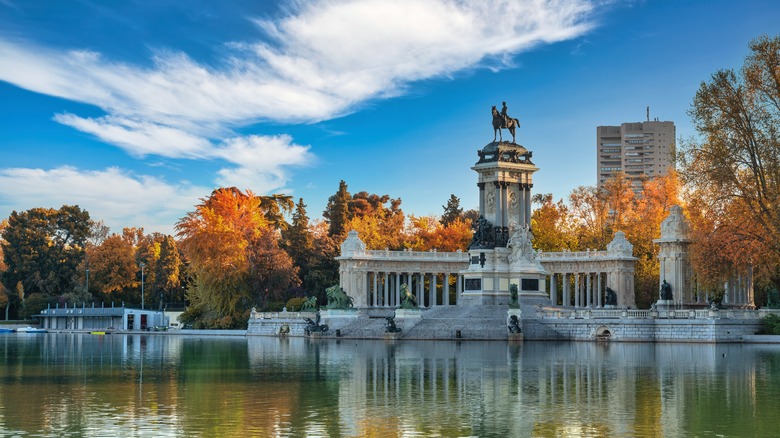 Noppasin Wongchum/Shutterstock
Right behind the Prado Museum, the gorgeous Buen Retiro Park also sits in the center of the city and is Madrid's breathing green lung. Madrileños come to El Retiro to wander the landscaped grounds, spread out on grassy areas for a picnic, and admire some of the park's significant monuments. This park is also culturally relevant enough to be named a Unesco World Heritage site, along with the nearby Paseo del Prado, a heartbreakingly pretty street flanked by trees. 
The park was constructed under the eye of a Spanish noble and features some incredible highlights, with a serene lake where visitors can encounter a monument to a king, a rose garden, and some venerable trees. One of the most astonishing structures is the Crystal Palace (Palacio de Cristal), which was modeled after a similar building in south London and is shaped like a cross. Originally used as a large greenhouse and appearing almost transparent, it now is a forum for art exhibitions, sitting on the edge of one of the park's lakes.
Sweeten the deal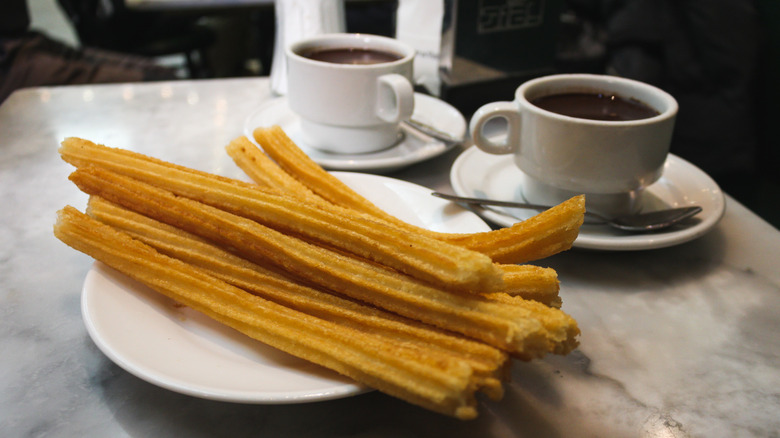 Tamara Loyber/Getty Images
Trying to cram a highlight reel of Madrid into just one day is hard work, and it requires plenty of shuttling around the city, burning a good reserve of calories. At times when you find your energy flagging — and chugging a caffeine-laden drink doesn't seem like the most appealing solution — churros and hot chocolate are the perfect pick-me-up. Madrileños feel that same way, and these devilishly addictive treats are available at many spots around the city. 
While every resident will have their own favorite spot, none have quite the lore, or fame, of Chocolatería San Ginés, which has been operating since the late 1800s. During the warmer months, this spot places tables and chairs outside, but it's inside the main cafe (the business has several satellite locations in the area) that the sense of history is evident, from the sturdy marble tables to the well-worn tile floors. La Antigua Churrería has three outlets in Madrid and serves many different sweet treats, but the loop-shaped churros and dense hot chocolate are the real lures.
Enjoy grand dames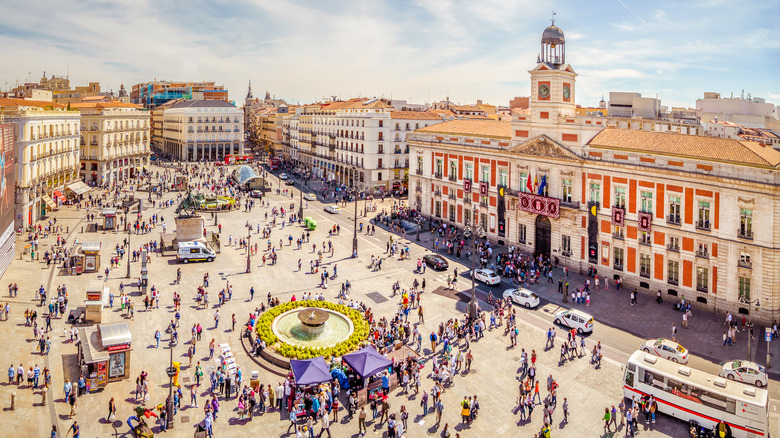 Lucvi/Getty Images
All around Madrid, visitors are likely to encounter eye-catching grandeur and cutting-edge architectural styling, such as one of the terminals at the city's main airport. A key gathering spot in the city, Puerta del Sol is ringed with historic buildings, but what makes it special is that it's the literal and figurative heart of the city, as the starting point of many important roads in Madrid. 
The square has also played an important role in Spanish history — King Ferdinand VII was crowned here in 1812. A hop, skip, and jump away, Plaza Mayor is a public space that emanates great pomp. It is rectangular in shape, fashioned under the direction of King Philip II, and officially opened in 1620, with a statue of the Spanish king as one of its focal points. All around, pillars and arches create an arcade along the edges, and in these recesses, visitors will find shops, restaurants, cafes, bars, and other diversions.
Have a regal affair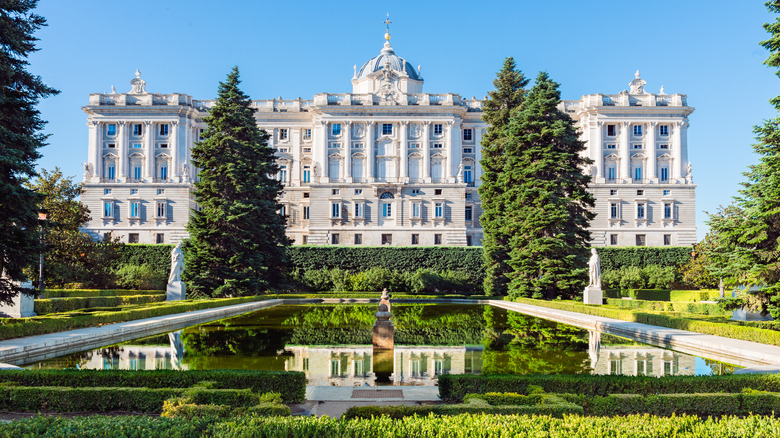 Analisisgadgets/Shutterstock
Another sight likely to inspire awe is the imposing Royal Palace. Less than 10 minutes by foot from Plaza Mayor, it sits on a former Moorish fort, superseding the earlier structure following a decree by King Philip V. The palace took more than two decades to complete, finally opening in 1764, and features spacious courtyards and sweeping staircases. 
The facades are a joy to behold, characterized by columns, arched window lintels, and wraparound balconies on the roof. Visitors can buy tickets to see part of the palace and might even get to peer into the likes of the Hall of Mirrors or a room for the Royal Guards. Art lovers will be especially excited to spend time in the room made for King Charles III, a space that features works by El Greco (who died in the city of Toledo, a short distance from Madrid), Rubens, Velázquez, and Goya.
Mess with reality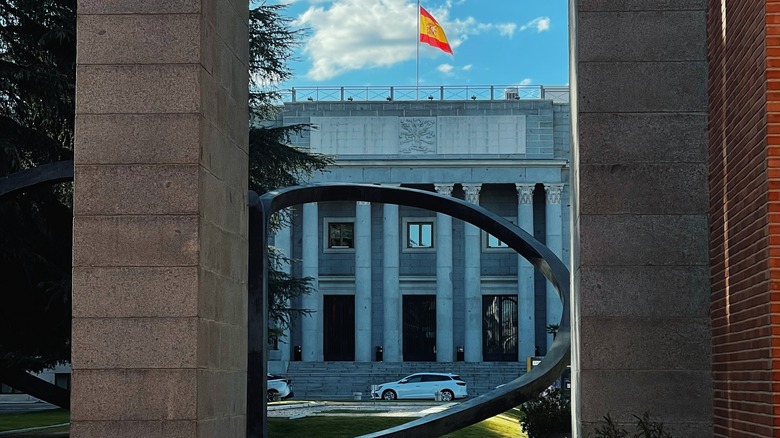 Dmitrii Blas/Shutterstock
Don't expect to find much of obvious interest at the Spanish National Research Council, a government body that is tasked with research in the fields of science and technology and operates as a distinct entity, with its own treasury and a unique legal identity. So then, why does the facility appear on this list? We've included it for fans of the hit Spanish show "Money Heist," a multi-season thriller that was set largely in Madrid and shot on location. 
Keen-eyed viewers of the show might walk past the exterior of the council's main building and have a sense of déjà vu. That is because this building doubled as the exterior for the Royal Mint of Spain in the show, the site of much of the program's focus for its first two seasons. While the building isn't open for public visitation, walking around the outside should produce some great photo opportunities. Just be sure to leave the getaway vehicle at home!
Haggle away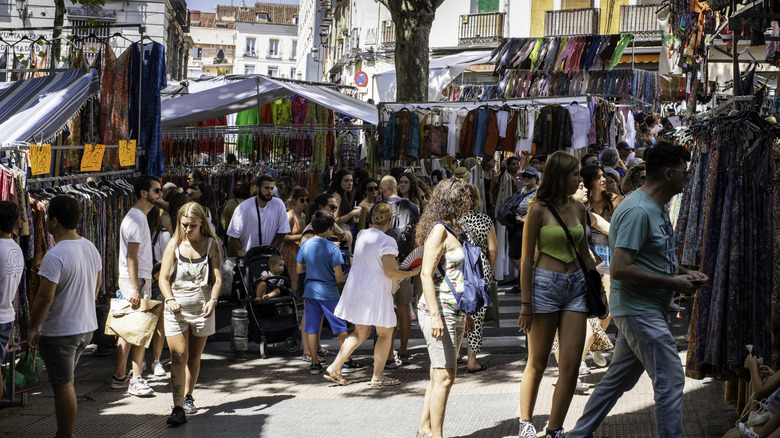 Xavi Arroyo/Getty Images
Madrid has some of the best shopping in Spain, with small, independently run shops alongside major international retail chains. For something unique to the city, El Rastro street market presents a treasure chest of goods. Held every Sunday, in the area around Calle de la Ribera de Curtidores, a short walk south of Plaza Mayor, the market dates back more than 500 years. 
In excess of 1,000 stalls appear on the streets, and the variety of goods is overwhelming, from jewelry and vintage clothing to antiques and vinyl discs. While the market seems to stretch in every direction, a route that brings some sort of order to the expedition is meandering from Plaza de Cascorro at the northern end down to the Puerta de Toledo at the southern part. Many streets have a bit of something for everyone, but others tend to focus on specific genres — for example, San Cayetano has built a name for itself as the home of paintings.
Plant some peace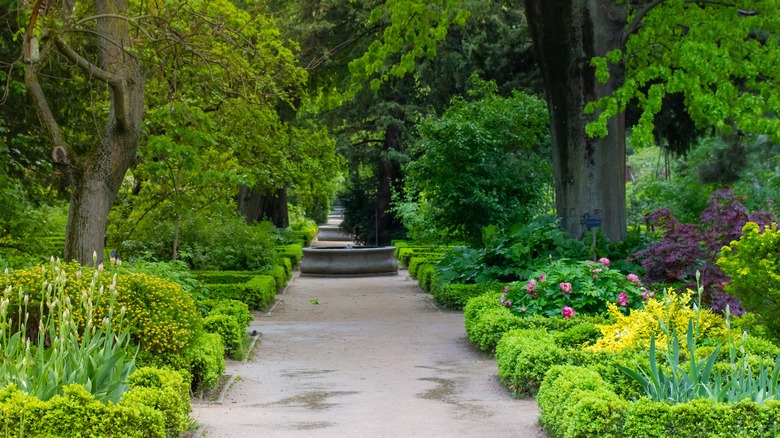 Al More/Shutterstock
Located next to the Prado Museum, the Royal Botanical Garden of Madrid is a visual balm, a place of supreme peace in Spain's largest population center. King Ferdinand VI was the force behind the garden, first opening it in the 1750s. Notable features include grand gates and a very compact layout. Some of its collection include items that were amassed during scientists' trips to America in the 1700s, and throughout the grounds and greenhouses, there are 5,000 species of plant on display. 
An impressive collection of bonsais lends an air of zen tranquility to the experience, while, even in winter, visitors can escape to a warmer climate in the greenhouse where palms grow. The garden itself descends over a trio of terraces, some enlivened by the burbling sound of water running in fountains, others remarkable for their aromatic plants that suffuse the air with their intoxicating scents.
Watch history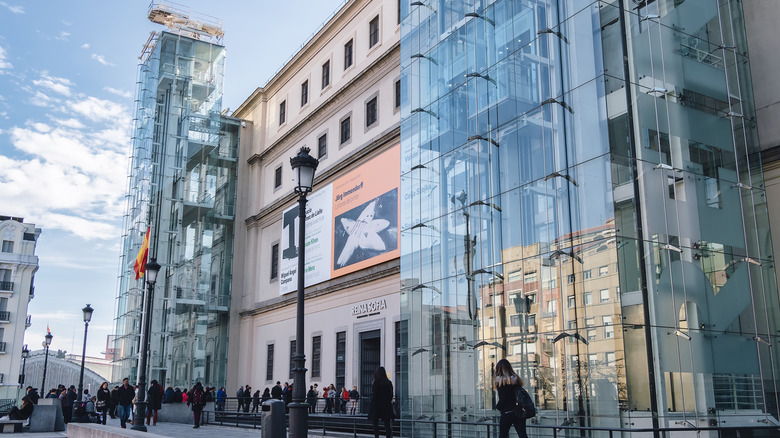 Helena Gh/Getty Images
Born in the south of Spain, Pablo Picasso is perhaps the most lauded painter to have hailed from the country, with his work consistently fetching gargantuan sums at auction. One of his most famous works, titled "Guernica," hangs at the Reina Sofía National Art Center Museum, a former hospital that was converted into a museum and opened in 1990. The collection here focuses on works, many of them Spanish, from the 1800s onward, and sometimes exhibitions explore an overarching specific theme, Surrealism being one such example. 
The museum's footprint was expanded in 2005 with an addition designed by star French architect Jean Nouvel. Wander the spaces here to see works by old hands and contemporary pieces by budding artists, but be sure to leave some time for "Guernica." The mural by Picasso is filled with harrowing symbolism, representing the aftermath of the bombing of a Basque town (for which the painting is named), and is a sobering treatise against the horrors of war.
Freshen up
For a window into local life in Madrid, few things are quite as enlightening as markets. A hub of fruits, vegetables, and other wares located in between the neighborhoods of Las Letras and Lavapiés, Antón Martín Market is a fun experience for all members of the family. Before stepping into the brick-red building, take a few minutes to admire the large mural on one of its corners titled "Isabelita." It depicts a woman with flowers in her hair and a colorful mask over her eyes, and the piece was painted by Irish street artist Fin DAC. 
Inside, fresh produce is the driving heart of the market's offerings, but there is so much more at your fingertips. Visitors will be able to find bouquets of blooming flowers, food from Asia, shoes for performing flamenco, and plenty of places to grab something to eat. The range of culinary choices is impressive, with Japanese, Mexican, Peruvian, and Italian cuisine among the many dining options.
Travel back in time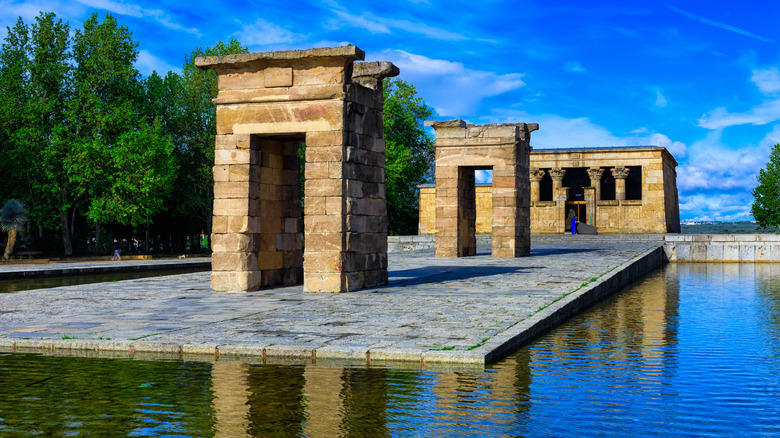 Catarina Belova/Shutterstock
By now, it's obvious that art is not in short supply in Madrid, with some of the finest painters to have walked this planet represented through works in the city's institutions. But, many visitors might not be aware that there is an actual Egyptian temple sitting in the heart of Madrid. Built more than 2,000 years ago, the Debod Temple is certainly an unexpected sight in the Spanish capital. It was gifted to the country by the Egyptian government and brought over carefully, in stages, in the 1960s. 
Due to the size and scope of the temple and its various spaces, such as a hall and chapels, a large area of land was necessary to do the enormity of the complex real justice. Today, the temple sits in La Montaña Park, an area that was once home to a Spanish military base, which was decimated in the Spanish Civil War.
Become a bird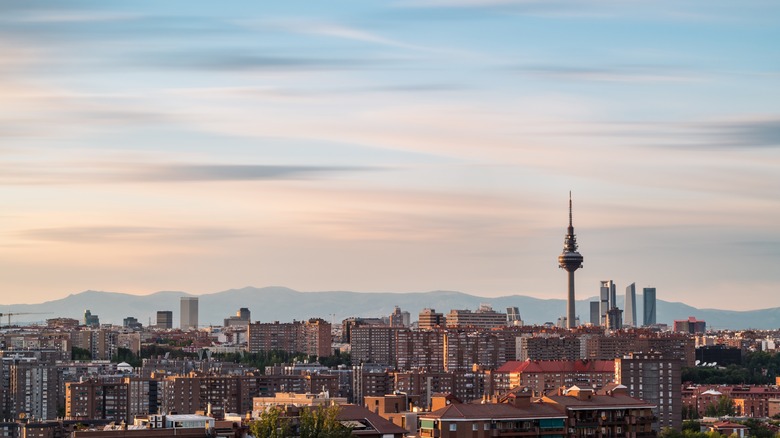 Andres Garcia Martin/Shutterstock
When walking around the heart of a city, especially an unfamiliar one, it's hard to get the lay of the land and work out how all the pieces of the puzzle manage to fit together. To enjoy a bird's eye view of Madrid, go up to Cerro del Tío Pío Park, where you'll feel like you are up in the clouds and the city's structure will begin to make sense. The park sits in a neighborhood called Puente del Vallecas in the city's southeast and has plenty of green spaces that are great for just laying back and enjoying the moment, or spreading out a sheet and lingering over a picnic. 
Many visitors come specifically to enjoy the skyline views, which are especially entrancing at sunset since the lookout offers vistas to the west. With the city's skyline in the foreground and ridges of mountains in the background, the combination is stunning in the fading light.
Catch a show
For a live performance that promises some incredible acrobatics, travelers should get tickets for a production at Madrid's modern-day circus Teatro Circo Price. Shows often have limited runs and are constantly changing, but what remains constant is the kinetic movement and absorbing storytelling that are hallmarks of the company's productions. At press time, one show featured a look at Pablo Picasso, viewing his life through the lens of circus performers and dissecting the stories behind the legendary painter. 
Another tale recounted the journey of a young man from Senegal as he emigrated across the continent in search of work, a fable that touched upon the themes of colonialism, forced migration, and the effects of war, presented through a dizzying melange of acrobatic movement, music, and acting. The theater takes its name from Thomas Price, an Irish acrobat who came to Madrid in the 1840s and formed his own troupe a few decades later.
Grab some grub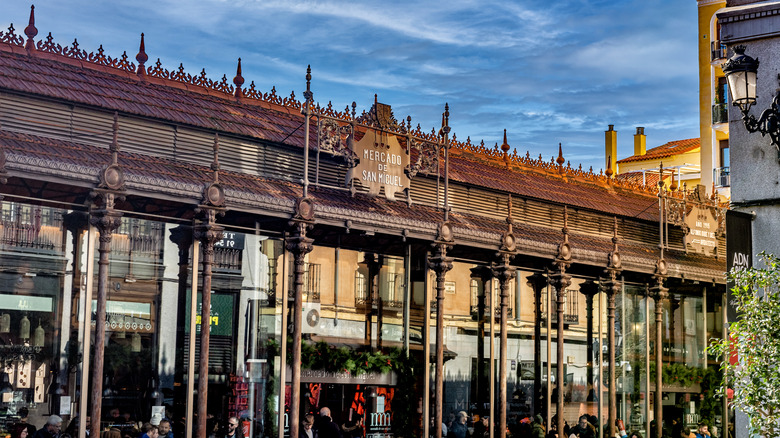 Luca Ladi Bucciolini/Getty Images
During your time ambling around the city, you'll definitely need to take breaks and fuel up, replacing the calories burned as you added to your daily step count. One good, and convenient, place to stop is the San Miguel Market, where the interior is pleasing to the eye and the food choices are plentiful. The market, first opened in 1916, is very close to Plaza Mayor, and its iron skeleton makes it the only iron-framed market still in existence in the city. 
While it is primarily a market where vendors hawk food products — fruits, vegetables, meats, seafood harvested from Spanish waters, cheese from all over Spain, and more — it also hosts exhibitions and fairs and has a number of stalls that serve freshly prepared food. The focus here is firmly on Spanish cuisine, so it will be easy for visitors to find places to enjoy tapas and a glass of local wine.
Stroll and shop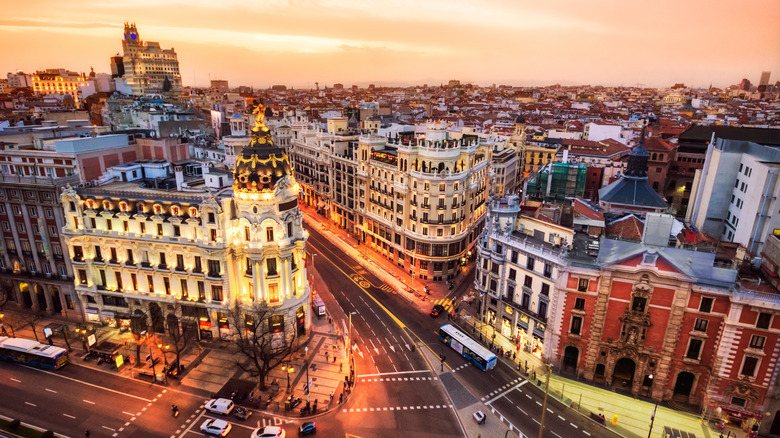 Eloi_omella/Getty Images
A relatively compact piece of roadway that runs in a northwest-southeast direction, Calle Gran Via is the city's undisputed center of retail, a paradise for shopaholics. The street was first mooted back in the 1860s as part of a redevelopment of this part of the city, but delays meant that the project took decades to complete, and the grand thoroughfare wasn't officially opened until the late 1920s. 
In addition to the many shops that flank the road, visitors will find places to eat, order a drink, catch the latest movies, and even watch live productions, with a number of theaters calling this slice of the city home. Soccer fans in search of jerseys purchased right from the source should stop by the Real Madrid store located on Gran Vía, while others can peruse the street's large outlets of Spanish retailers such as Zara, Pull&Bear, Stradivarius, Bershka, and Mango.
Check out urban planning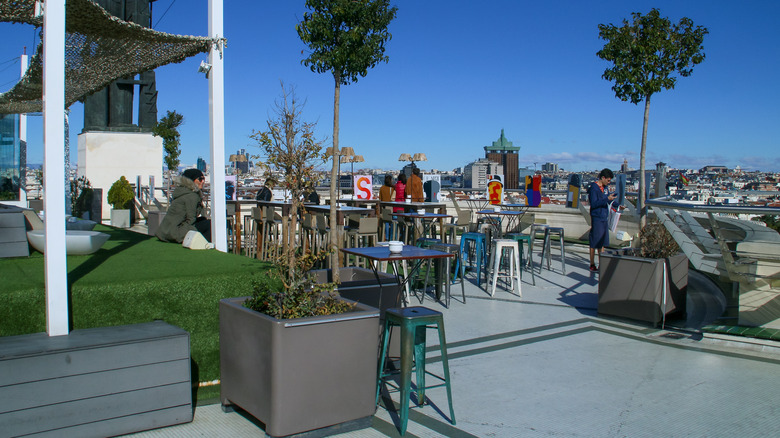 Angeluisma/Getty Images
An institution that takes pride in its wide range of offerings, the Circulo de Bellas Artes is a non-profit that's been in existence for more than 140 years. As the name suggests, it celebrates the fine arts and is the perfect place to enjoy movies, concerts, theatrical shows, art exhibitions, workshops, lectures, and thought-provoking discussions and presentations. Today, it resides in a building designed by Antonio Palacios, one of the country's foremost architects, and sits at one end of Calle Gran Vía. 
You can stop by to see an art show, which might include newcomers or some big names — prior artists with work shown here have included Francis Bacon and the Italian filmmaker Pier Pasolini — or settle down to ruminate over some live poetry. What you must do, though, is head to the rooftop terrace for views of the city that will make you never want to leave. Plus, you can enjoy them while sampling a meal or drink at the restaurant up there.
Take religious rites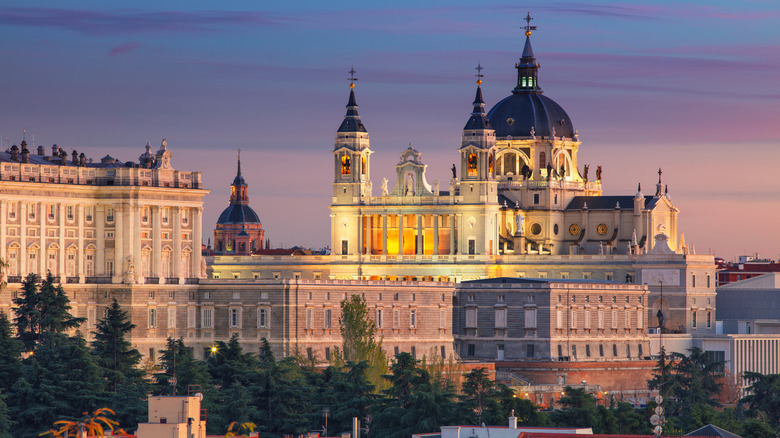 Rudy Balasko/Shutterstock
Soaring towers and a stately dome entice visitors to Santa María la Real de la Almudena Cathedral, a palatial building that might look like it has been in place for eons, but that actually has a much more recent history. The proposal to build the cathedral dates back to the late 1800s, with the idea to construct it on the site of a former church known as Santa María la Mayor, which honored Madrid's female patron saint. 
In 1883, work formally began on the shrine, and almost three decades later, parts of the church were ready to accept worshippers. However, the Spanish Civil War, which ran from 1936 to 1939, interfered with plans for the cathedral to be completed. In fact, it wasn't until 1993 that this mammoth structure, located near the Royal Palace, was finally consecrated with a blessing from Pope John Paul II. Visitors will find elements of both Gothic and Classical styles in the cathedral's various spaces.
Tap your toes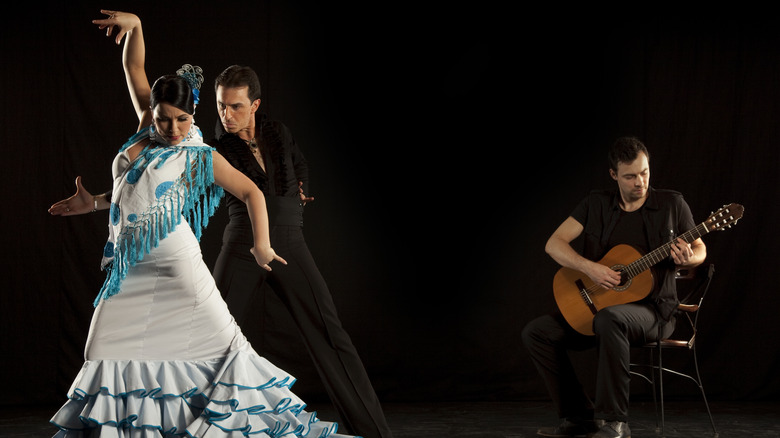 Harrastaja/Getty Images
There remains a difference in opinions on the origins of flamenco — some argue that it was conceived after tribal cultures from northwest India moved to the south of Spain in the Middle Ages, while others believe that it was already prevalent before that migration. What is true, however, is that Andalusia, a region in the south of Spain, is where flamenco as an art form was born, a genre that combines music, theatrics, song, and dance to produce vibrant storytelling. 
Travelers to Madrid have plenty of chances to enjoy this artistic treat since the city provides a wealth of flamenco spaces and performances. The most historic venue is the Villa Rosa, where Tablao Flamenco 1911 stages daily shows in an intimate space where visitors will feel close to the action. The Madrid Flamenco Cultural Center is much newer, opened in 2019, and since food or drink isn't served during a show, the focus is wholly on the performers.