The Coolest Airports Around The World That Are Destinations In And Of Themselves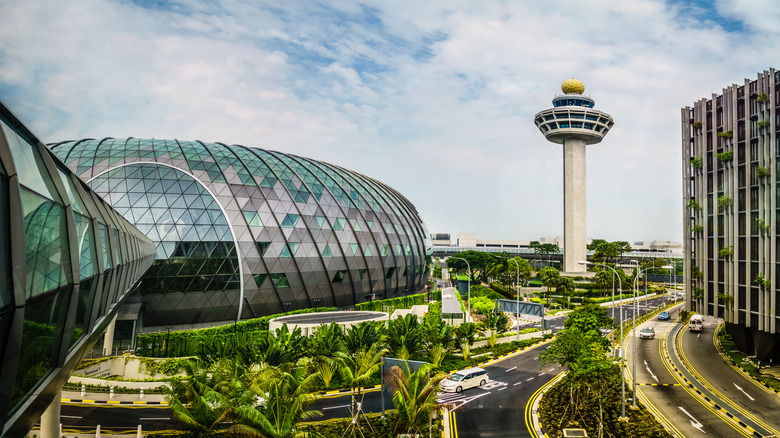 DerekTeo/Shutterstock
A lot of people fly. According to a report by the IT firm SITA, more than 3 billion passengers flew in 2022, and all those flights originate and arrive at airports. For anyone that's boarded a plane, the airport experience will be all too familiar. After waiting in snaking lines at check-in and security, you arrive to limited food options and gate-sitting boredom. 
Considering the amount of time that passengers have to spend at airports, it is surprising that many of them are so forgettable — places existing as glorified waiting rooms. They serve as a kind of limbo, like Dante's first circle of Hell, where time just seems to drag on forever with nothing to break it up. And yet, for all those nondescript aircraft hubs, there are airports on this planet that can inspire, delight, and dazzle, where spending time isn't akin to purgatory, but actually an exciting experience. Hang out at one of the airports below, and you might just accept that the journey can be as worthy as the destination.
Schiphol Amsterdam Airport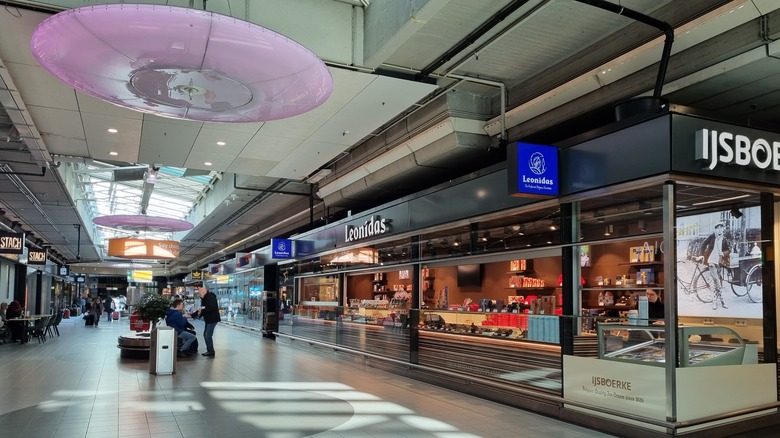 minhanphotos/Shutterstock
Cycling is probably the best way to get around Amsterdam, and this notion is reflected at Amsterdam's airport. Schiphol has an Airport Park, where passengers can jump on a bike for some exercise, and even charge their phone or tablet in the process. The park area is populated by live trees, allowing travelers a verdant space to unwind, either while seated on a chair, reclining in a lounger, or enclosed by a bean bag.
For children who need to drain their batteries before boarding their flight — and for parents who desperately need them to — the playground has a climbing structure that recreates the contours and lines of an aircraft. The playground is, smartly, located next to a dining area, allowing adults the chance to grab a bite while their kids grab a wing, or rudder, or hang over the cockpit. For a little literary life, the airport library presents tomes by Dutch authors, available in about 40 different languages, as well as recordings of Dutch music, giving passengers some local culture and grounding them in a sense of place. For a handle on the trajectory of aviation, the exhibit Future Case looks at the evolution of Schiphol and the air industry. The interactive exhibit even lets travelers try creating their own sustainable airport of the future. 
Heydar Aliyev International Airport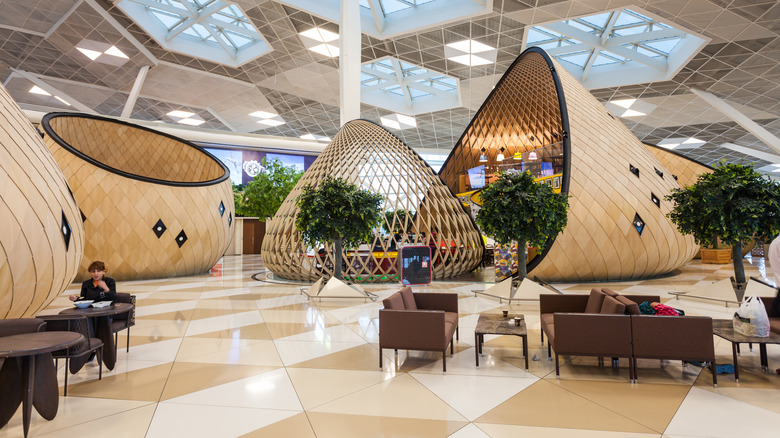 saiko3p/Shutterstock
The capital of Azerbaijan is a dizzying blend of ancient and modern architecture. In Baku, visitors will find an ancient walled city, one that displays centuries of disparate cultural influences. And yet, Baku, a UNESCO World Heritage Site, is also home to breathtaking contemporary structures, firmly placing Baku at the forefront of avant-garde techniques and expression. For example, Baku boasts the Heydar Aliyev Centre.  Designed by the late starchitect Zaha Hadid, the museum and exhibition space features curves and folds that almost defy belief in their execution.
The city's airport, Heyday Aliyev International Airport, is similarly forward-looking, but the airport's surprisingly welcoming. Wood and stone lend spaces a comforting atmosphere, while clever tiling makes the floors look almost three-dimensional. There are trees dotted around public areas, and large panels of windows allow natural light to stream into concourses. The most attractive feature might be the cocoons, which are giant wooden structures, almost shaped like teardrops, that could easily be mistaken for sculptures. But they do, in fact, serve a practical purpose. Inside these towering formations, passengers will find kiosks selling goods, cafés, and other amenities, making them a wondrous melange of form and function.
Beijing Capital International Airport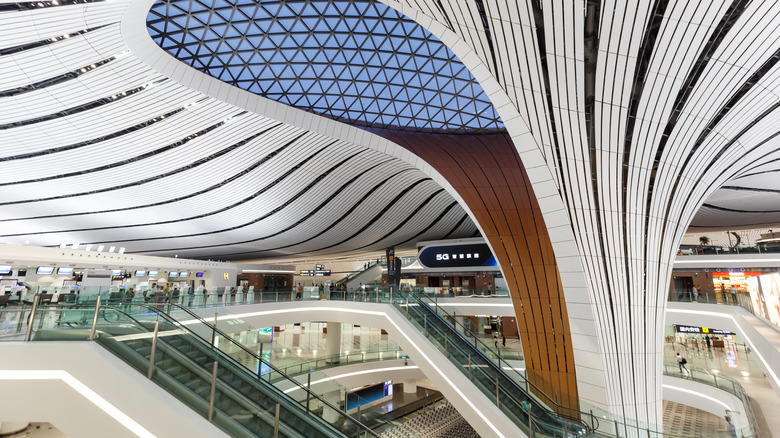 Markus Mainka/Shutterstock
The imprint of Zaha Hadid is also evident at the Beijing Daxing International Airport, one of two international hubs serving the Chinese capital. Built between 2014-2019, the airport is stunningly executed, a masterstroke of artful design and sensible, efficient planning. A central hub branches out into six spokes, mirroring commonplace Chinese vernaculars that place the courtyard at the heart of all proceedings. This shape resembles a starfish, and some refer to Daxing as the starfish airport. The white-on-white hub really is the beating heart of the enterprise, where all the processes and procedures take place, passengers venture if they need to transfer flights, and an area where travelers exchange glances, conversations, and experiences. 
The ceiling at the center is beautifully fluid, curving and rising, sometimes appearing like the underside of a cresting wave or the head of a mushroom. The center is also blessed with plenty of natural light — making it an automatic focal point — while other skylights throughout the terminal add to the blinding brilliance of the ubiquitous whites. Outdoor gardens add shading and texture to the terminals, and, for some, welcomed color to the airport experience. The clever airport layout also ensures aircraft are never parked far from the heart of the terminal, allowing passengers to reach their gates without shuttle trains.
Hamad International Airport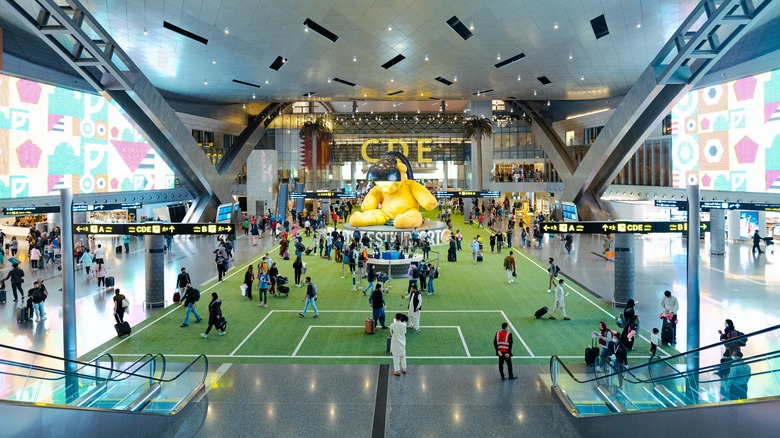 Uskarp/Shutterstock
The capital city of Qatar wasn't always a global hub for air travel, but that all changed in 2014 with the opening of Hamad International Airport in Doha. Since then, Qatar Airways, which is based here, has invested heavily in marketing. For example, Qatar sponsors elite European soccer teams and the FIFA World Cup, which Doha recently hosted in 2022, bringing plenty of attention, and business, to the Middle Eastern nation. The airport is certainly busy and can handle up to 30 million passengers annually, but it's also easy on the eye, with contemporary architecture and astute touches that help passengers pass their time with ease. 
Children, traditionally an afterthought at airports, have the chance to work out their kinks at the playground, where quirky bronze structures, shaped like stick figures from a cartoon, double as slides and climbing areas. In the central section of the airport, known as Duty-Free Plaza South, the giant teddy bear might not look as perky as it did when the airport first opened, but it's still a source of wonder for kids who see it (and inevitably want to take it home). Visitors will also find many internet-ready desktops if they want to browse the web, lounge chairs where they can catch 40 winks between flights, and oodles of shops for a dose of retail therapy.
Helsinki Airport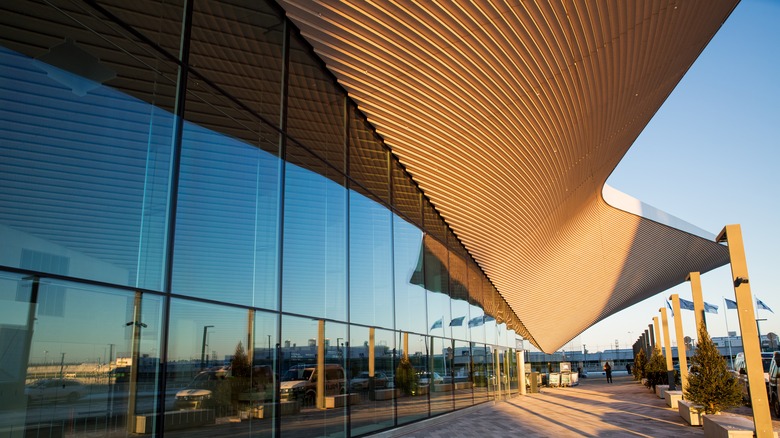 Aleksandra Suzi/Shutterstock
Scandinavian countries are often identified for their cool, sleek, and functional designs, and Finland is no exception. The new arrivals and departures building at Helsinki Airport is further evidence of that enviable trait, with forms that display both hard, sharp angles and soft, sensual curving reliefs. Wood is used prodigiously, and it's the main material in the ceiling, adding a welcoming organic element to the proceedings. Spruce panels link together in flowing sections, making the ceiling almost look like currents of air swooping through the terminal, a fitting image for an airport. Not only is the design here cool, the airport is also carbon neutral. 
Behind the scenes, steel supports much of the framework, keeping the departure area free of cluttering columns and allowing for a huge canopy at the entrance to the building. Skylights and vast glass windows in the front also bring plenty of natural light into the terminal. For passengers landing here, one of the first things that they will see is a garden, with trees, stones, and shrubs — a welcome tableau after time cooped up in the air.
Madrid–Barajas Airport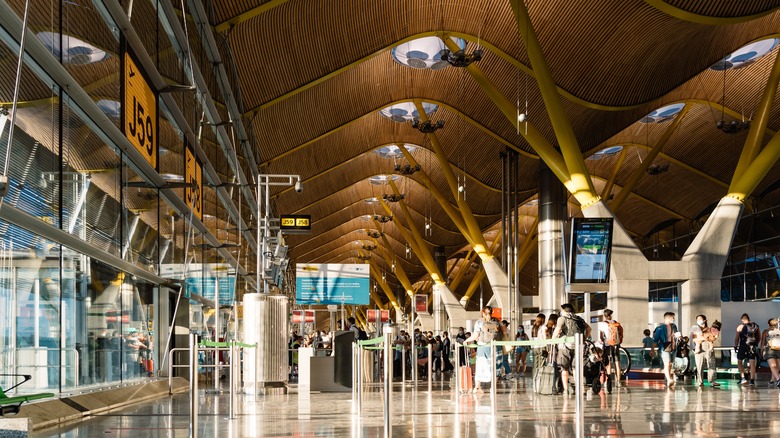 JJFarq/Shutterstock
The capital of Spain is well-versed in works of art, with one of the world's finest museums — the Prado — located in Madrid, though you can experience Madrid's art by simply walking down its streets. The architecture of the city's airport is itself a majestic piece of art. Terminal 4, which was completed in 2005, is both breathtaking in its form and an achievement of engineering, realized by the firms Estudio Lamela & Rogers Stirk Harbour + Partners. The undulating roof is visible from the outside, but once inside, a passenger will appreciate the bravura of the shape — a swooping, curving layer of bamboo that looks, almost, like the wings of a bird in flight. 
With trusses that provide support, the terminal feels immensely open, and spaces in the roof allow natural light to pour in, further accentuating the sense of the outdoors coming in. While the roof creates a liberating space, the terminal is also grounded through the use of Mistral marble on the floor, which is a pretty, glimmering, and yet cleverly functional component that beautifully wraps up the whole project. 
Munich International Airport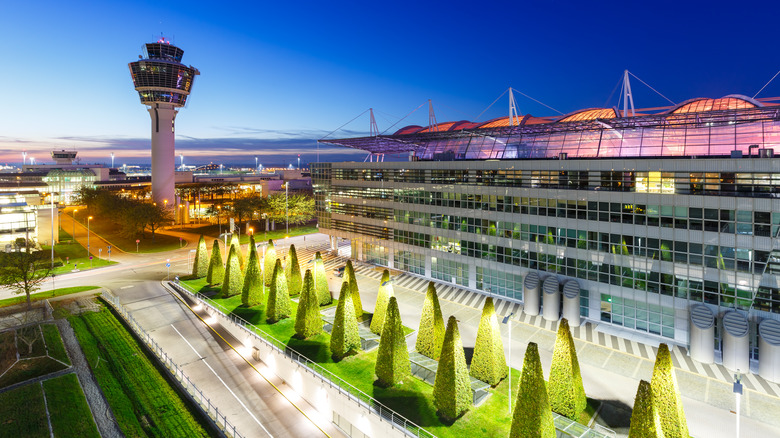 Markus Mainka/Shutterstock
German-speaking passengers who find themselves with time to kill at the Munich International Airport are in for a treat. Every day, at a specific shop in the airport, groups gather before embarking on a tour of the airport. During the 50-minute journey, led by a guide who delivers commentary in German, visitors can get close to planes, find out what's required for smooth baggage handling, and learn about other aspects of the airport process that don't enter most passengers' minds. While the tour isn't free and requires advance booking, it only costs 12 Euros (about $13), and it's a fascinating, real-time look at the actual day-to-day workings of an airport. 
The Visitors Park section features a hill that gives a bird's-eye view of planes departing and arriving, including the mammoth Airbus A380s that fly from the airport. A playground at the park recreates different parts of the world, from Asian pagodas to dense jungles in South America; it even has a rope slide and a mini-golf course. Plane spotters and excitable kids can also enjoy the views of the runways from the observation deck that sits some stories up from the Terminal 2 check-in desks. And for anyone who needs to lighten themselves of niggling aches and pains, the airport even has a licensed physical therapist, who can ensure passengers are fighting fit before they fly off.
LaGuardia Airport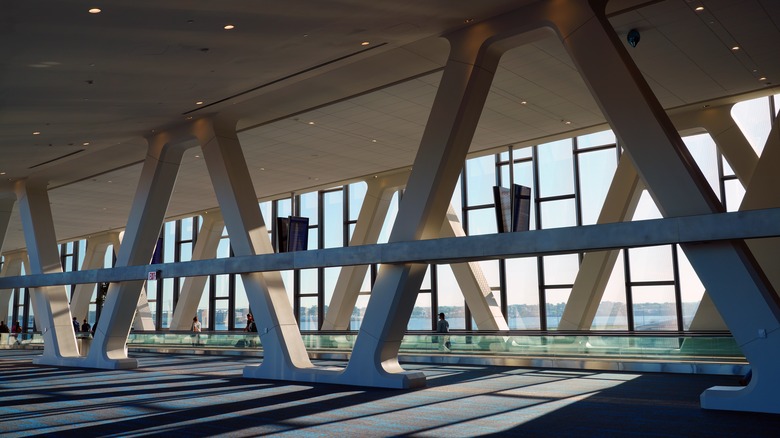 EQRoy/Shutterstock
The airports in the Big Apple are a confounding bunch. JFK sits out by a gorgeous bay that attracts migratory birds, Newark is actually in New Jersey, and LaGuardia serves mostly domestic travelers. After recent renovations, LaGuardia is now showcasing its potential. While the small, antiquated Terminal A still looks, and feels, like a forlorn train station, LaGuardia will soon feature two new, gleaming terminals. The completion of Terminal B, which first opened under its new guise in 2020, was the first milestone in a mammoth $8 billion overhaul of the airport. The terminal's design is bright and sleek, characterized by curving, organic shapes and loads of natural light, a welcomed departure from the dank, sterile former Central Terminal Building. 
New self-service check-in kiosks allow passengers to streamline the departure process, and more screening lanes have led to expedited traveler processing. Dining outlets reflect local brands, hence the appearance of Junior's Cheesecake and Eli's Essentials, while large pieces of public art appease the cerebral palate. Terminal C, which will finish up in 2024 (and serve as one of Delta's key hubs), will feature an extensive art program in partnership with the Queens Museum and massive exterior windows to offer plenty of natural light.
San Francisco International Airport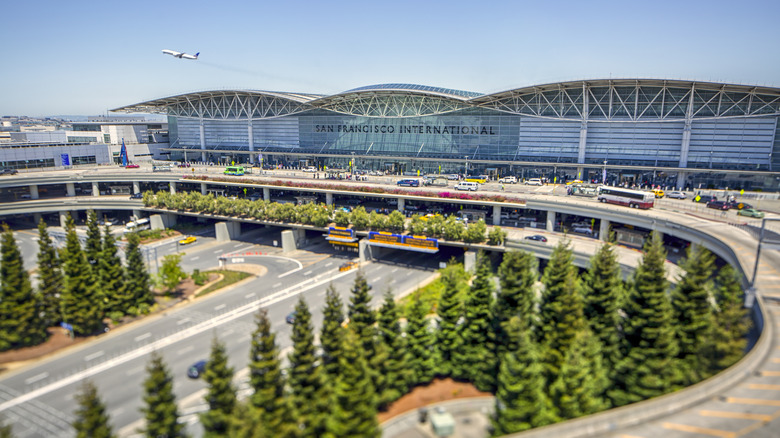 Jasondoiy/Getty Images
Traveling alone can be a disheartening experience. When traveling, sometimes there are moments we want to share with others, right there and then. These moments can be funny, frightening, or just strange, and when someone offers us comforting words, it can temper our boredom, frustration, or stress of flying. For visitors to the San Francisco airport who may want to ease their anxiety, four-legged help is at hand. San Francisco International Airport launched the Wag Brigade in 2013, an assembly of trained animals that roam the airport's terminals to meet and greet travelers.
While not every flier is an animal lover, many passengers attest to the immediate joy of seeing a creature trotting along in a terminal. The Wag Brigade took a hiatus during the COVID-19 pandemic but returned in October 2021, and in May 2023, the Wag Brigade welcomed its newest member, Duke the Cat (full name Duke Ellington Morris), a rescue found on the city's streets. Passengers can also ease their minds (or boredom) with a wander around the SFO Museum. Located in the main concourse of the International Terminal, the museum features photography, video works, rotating exhibits, and local student art. 
Incheon International Airport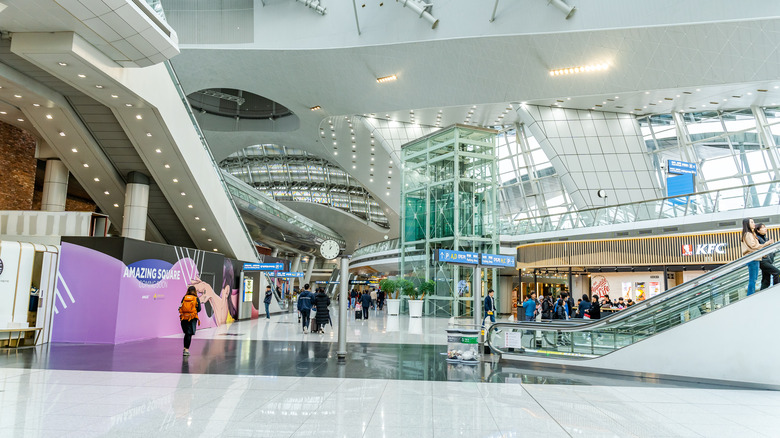 Subodh Agnihotri/Getty Images
The airport serving South Korea's capital city of Seoul actually sits in Incheon, a city directly to the west on the coast of the Yellow Sea. Visitors to Incheon Airport can enjoy all manner of amenities, from a range of shopping experiences to authentic Korean eateries before boarding, but one of the airport's highlights is its celebration of Korean heritage. Three times a day, guards in full regalia parade through the airport, recreating a royal enactment where the guards change shifts. After the stately walk, visitors will witness them undertaking a display of martial arts. 
Also, at various points in the day, traditional Korean music known as "gugak" is performed by musicians seated on a large mat. The traditional music genre is beautifully haunting and typically includes stringed, percussive, and woodwind instruments. This celebration of Korean culture appears throughout the airport, from exhibits of traditional Korean doors to the Korean Cultural Street, which features replicas of traditional Korean homes. The airport also showcases tons of both Korean and international artwork throughout its terminals.
Singapore Changi Airport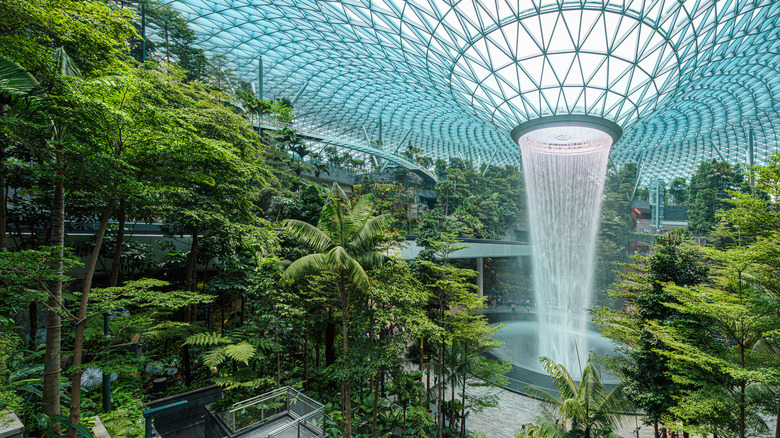 Em Campos/Shutterstock
When the Jewel debuted at Singapore's Changi Airport in 2019, it pushed the realm of what's possible at an airport and grabbed headlines from all over the world. Since its first opening to the public, the glass orb has been a bonafide destination for travelers and locals. Designed by globally revered Safdie Architects, Jewel sits by the airport's Terminals 1, 2, and 3 (it merges with Terminal 1), and airport visitors don't need to be passengers to see it. It's hard to describe Jewel in a way that does it justice, but travelers will find the world's tallest indoor waterfall, dropping from an oculus high above, that flows at about 10,000 gallons of water per minute. 
The waterfall is the centerpiece of a tiered garden, a kind of valley in the forest, that feels like it has been lifted from the pages of a fantasy novel. While exploring, you can half-imagine birds chirping and butterflies flitting by. Evening visitors can also watch a sound and light show at the waterfall, which is technically known as the Rain Vortex, and afterward, retire to one of the many food outlets or shops that circle the gardens. The top level of Jewel is flooded with recreational options, from a walking net strung above plazas to a hedge maze. Along with the Jewel, the airport also boasts an array of smaller gardens and a 24-hour cinema.
Haneda Airport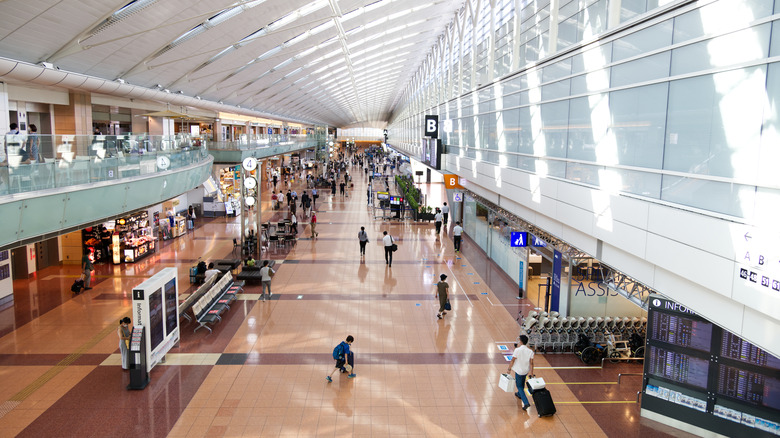 simpletun/Shutterstock
Two international airports serve the Japanese capital, Narita and Haneda, and anyone flying to the latter will find a good deal of options to make their time at Haneda enjoyable. Observation decks are always fun, for passengers old or young, and there are three at the airport, each in a different terminal. But observation decks aren't the only option for families to keep youngsters enthralled. In Terminal 1, Juveniland Tokyo features exhibits of toys that might also excite adults, especially adults who appreciate nostalgic reflection. 
The collection includes antique toys, wooden toys from Scandinavia, assortments of key chains, and other playthings that don't require a screen to be enjoyed. Kids can also receive commemorative airport stamps from information desks. These stamps can be imprinted onto any piece of paper — just don't stamp it onto a passport. Other parts of the airport commemorate the passing of time in different ways. The Haneda Nihonbashi Bridge has folding screens and murals that mark various eras of the country, while Sky Road in Terminal 5 has a grand assemblage of model planes that represent the airlines that land at Haneda.
Vancouver International Airport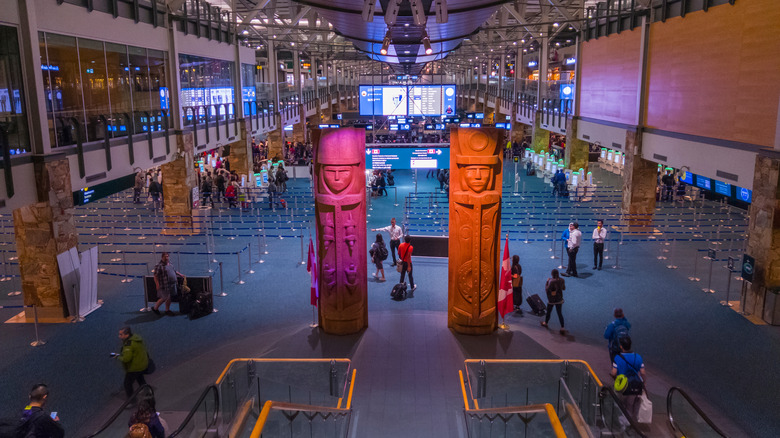 Aberu.Go/Shutterstock
Canada's gateway city to Asia, Vancouver is beautiful in its own right, with grand patches of mountains, ocean, and forest right on its doorstep. Reflecting the beautiful scenery of Vancouver, the city's airport has plenty to hold the attention of travelers, not least the large aquarium which sits in the international departures section. Located beneath a First Nations sculpture entitled "Orca Chief and the Kelp Forest," the aquarium doesn't boast the kind of volume that would allow a shark to roam within, but it's certainly large enough to keep visitors rapt for extended periods of time. 
The airport features many other pieces of First Nations art, in recognition of the indigenous communities that live around British Columbia."The Spirit of Haida Gwaii: The Jade Canoe," created by the revered artist Bill Reid, is one of the airport's focal points, and a medium through which the artist conveys the concept of life as seen by First Nations people. Passengers who explore the airport might also stumble upon live musical performances, and many visitors enjoy a quick stop at the observation area located in the Domestic Terminal.
Zürich Airport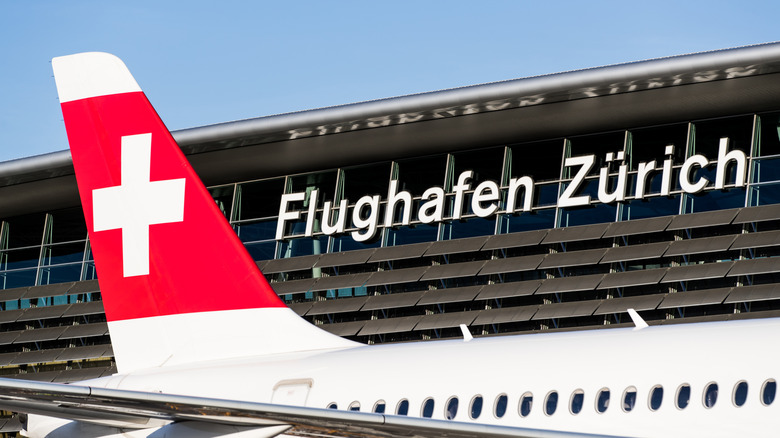 Jetlinerimages/Getty Images
The observation decks at Zürich Airport attract even non-travelers, such is their appeal. Observation Deck B is a great place for young kids to indulge their love of aircraft, and entry requires a minimal fee of 5 Swiss francs (about $6) for adults, but it's free for kids under age 10. The observation deck is so close to the runways and gates that the public can actually see pilots in their cockpits. There are also informative displays at the deck, and kids can enjoy carousing in the mini-airport play section. 
A little distance away, Observation Deck E is only open to ticketed passengers. Since it sits at the hub of three runways, visitors can watch multiple take-offs and landings each hour. You may also have the chance to see the monstrous Airbus A380, as the planes' gates are located near the deck. If you don't feel like leaving the airport during a long layover, Zürich Airport also features its own park, with large expanses of green space, jogging paths, and exercise stations.