Most Vegan And Vegetarian-Friendly Cities To Visit In Europe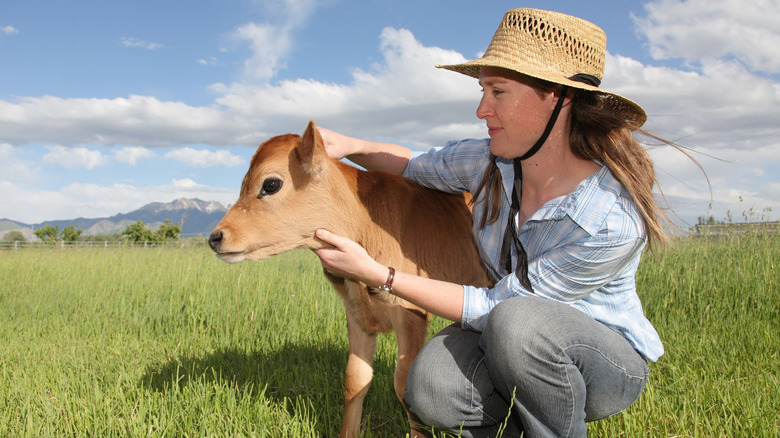 Treasurephoto/Getty Images
If you're a vegetarian or vegan, travel can be difficult. When you don't eat meat or you eschew animal products altogether, finding a place to dine isn't a guarantee. So many veggies end up just eating bread and/or salad or bringing their own food to a hotel and eating before heading out. If you've ever spent a week in another country consuming nothing but protein bars, trail mix, and bananas, you know the struggle. 
Maybe you became a vegan (eating no animal products at all) or a vegetarian (eating no meat, poultry, or fish) because of higher availability of plant-based products in supermarkets. You might have done it for health reasons or for the environment. Maybe you've done it because of a love and respect for animals. Perhaps you're doing a meatless Monday and you don't want to stop because you're on vacation. Whatever the reason, there are a bunch of European cities that are extra veggie and vegan friendly. We'll tell you about the most vegan and vegetarian-friendly cities in Europe so you can plan your next vacation and actually eat well while you're there. 
The British Isles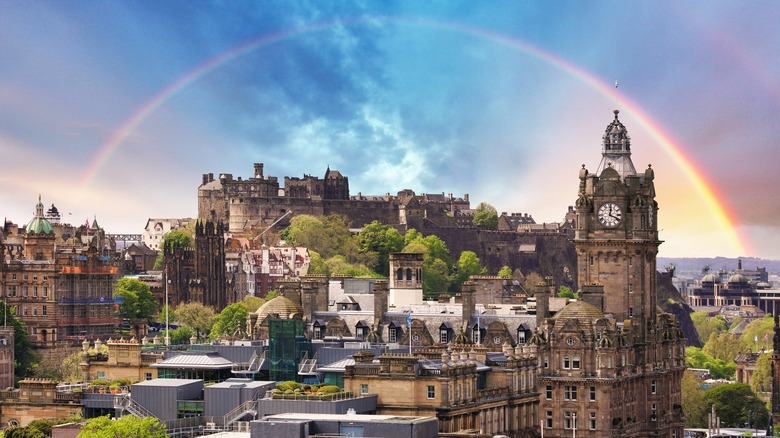 TTstudio/Shutterstock
Let's start with London. First of all, you'll likely see a listing on menus (and food labels) for which food is vegan or vegetarian friendly, as you will throughout the European Union. (Keep in mind that this is a voluntary label.) London also has an incredible 400 vegan or vegan-friendly (meaning they serve other things as well) restaurants as of 2022. Chefs like Yotam Ottolenghi are bringing veggies of all stripes some gourmet food at restaurants, some of which have Michelin stars, including Pied à Terre, and Gauthier. Even McDonald's has a permanent McPlant burger, which is vegan, and several other vegan options, including their baked apple pie. 
Edinburgh, Scotland, is a great place for vegetarians/vegans. The home of haggis (made with sheep or calf offal) actually has a ton of vegetarian/vegan restaurants and shops, including the famous vegetarian deli/restaurant Hendersons of Edinburgh. They actually serve a vegan haggis, as does the Baked Potato Shop. Perhaps it's in response to traditional haggis? In fact, the city has an annual Scottish Vegan Festival in the spring. 
Glasgow is another a happy place for vegans/veggies with over 100 vegan-friendly eateries to choose from, including Mono Café Bar, which hosts live events, and Suissi Vegan Asian Kitchen. In fact, Glasgow has been awarded the most vegan-friendly city in the U.K. before, even winning over Edinburgh. 
Western Europe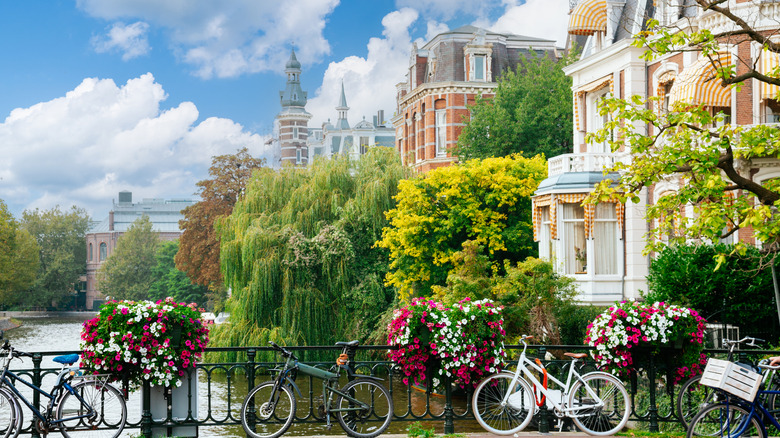 Andrey Danilovich/Getty Images
There are just under 70 fully vegan restaurants in Paris. There are places like VG Pâtisserie, where you can get a gluten-free Saint Honoré or opera cake, fruit tarts, or a Black Forest cake. Stop by Riz Riz for vegan onigiri, Curry du Dragon, or a mango masala. If you want a burger, don't miss the vegan chain Hank Burger, which has two locations in Paris and one in Lyon. They just added a burger with a breaded schnitzel bun, vegan bacon, veggies, and a coconut curry mango sauce. The city also hosts the annual VeggieWorld Paris festival, which features products, food, cosmetics, and more.
Berlin, which is sometimes called the vegan capital of Europe, had 83 vegan restaurants as of 2020, along with a vegan shopping center chain called Veganz. Not only that, but there is an official vegan avenue in the city called Schivelbeiner Straße. It has restaurants, clothing stores, and of course, a Veganz. Berlin is also home to the biggest veggie festival in Europe, called Veganes Sommerfest. There is even a restaurant called Frea, which is a zero waste business.
It's probably no surprise that Amsterdam is on this list, as its number of vegan and veggie restaurants continues to rise. The city itself is incredibly bike friendly and environmentally conscious. If you visit, don't miss Vegan Junk Food Bar (there are several locations), which has won two awards at the Vegan Awards and serves wine, beer, juices, and cocktails.
Southern Europe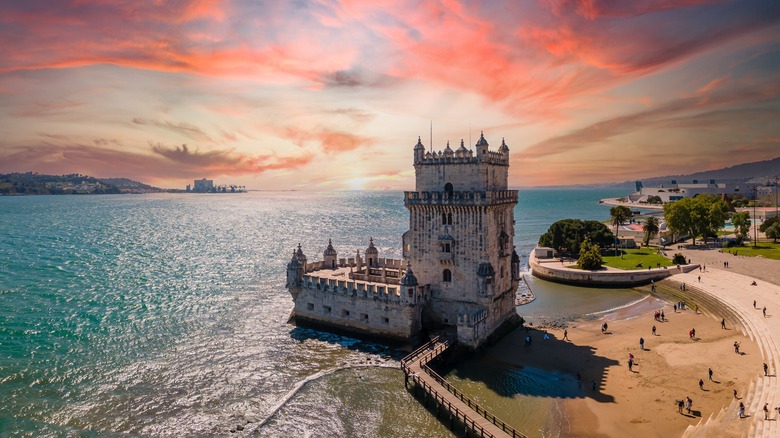 Uldis Laganovskis/Shutterstock
Spain is known for its meat and cheese dishes, but the capital city, Madrid, is actually very veggie- and vegan-friendly. There are over 40 vegan restaurants in Madrid, including vegan doughnut spots like Delish Vegan Doughnuts. Of course, if you're going to Spain, you're going to want some animal-free tapas, and you can find them at La Hummusería, among other places. Also don't miss Bunny's Deli's full vegan and organic menu and Los Andenes Vegan's Peruvian vegan prawn anticucho.
The second Spanish city on our list is Barcelona, which hosts VeggieWorld Barcelona each year. The festival features an array of food, lifestyle, and cosmetic brands. This is a vibrant vegan city with places like Vegan Cat Bar. It's not a cat cafe but a cat-themed beer and burger bar. There is also a chain called Bacoa, which has both meat and vegan options, making it a great place to take your carnivorous friends. There is also the vegan Bubita Sangria Bar, which serves vegan tapas and paella and Areca Bakery, another vegan doughnut establishment. 
Next up is Lisbon, Portugal, which is home to 36 vegan restaurants as of 2020. Not only is this a great place for vegans, but the entire country has recently made vegan food a requirement in both public schools and prisons. This city also hosts a VeggieWorld festival. Don't miss My Mother's Daughters, a cafe that offers a vegan version of the delicious pāo de queijo, or cheesy bread.
Northern Europe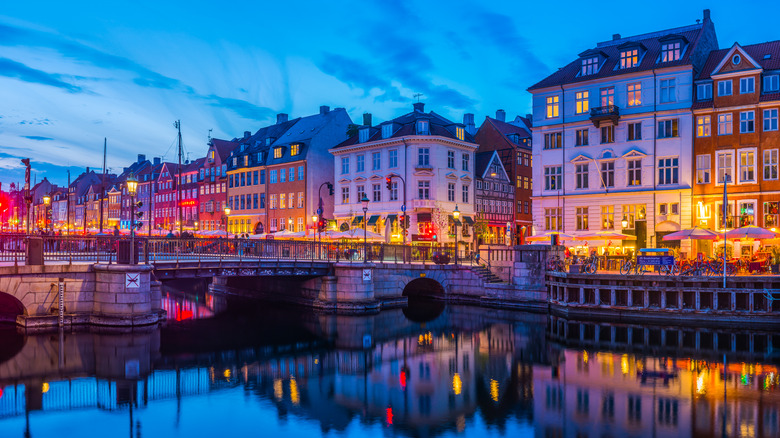 Fotovoyager/Getty Images
Stockholm is another wonderful city for veggies/vegans. They're home to Max Burgers, which was founded in 1968 and is the oldest burger chain in the country. In 2016, it launched a meatless menu, which offers vegan choices as well as choices for lacto-ovo vegetarians (vegetarians who eat dairy and eggs). If you're looking for something more upscale, check out Växthuset, whose small menu focuses on seasonal items. There are over 20 vegan restaurants in this environmentally conscious city, so there are plenty to choose from.
Gothenburg, in western Sweden, is the second largest city in the country and is vegan/veggie friendly. For example, there is Blackbird, which not only offers creative dishes like chic'n waffle de Oaxaca and arancini with butternut squash and sage but also has an online store where you can purchase seitan ribs, tofu dishes, vegan cheese, and desserts. If you're looking for a joint that serves alcohol, you can take a look at Brewers Beer Bar. 
Copenhagen, Denmark, has won awards for its environmental consciousness and has many veggie/vegan restaurants. Like everything in Northern Europe, it's pricey, but you can find what you're looking for. Don't miss Lupa, which focuses on sustainability with dishes like fried mushrooms, charred leek and potato, and a full bar of mostly Nordic spirits.
Eastern Europe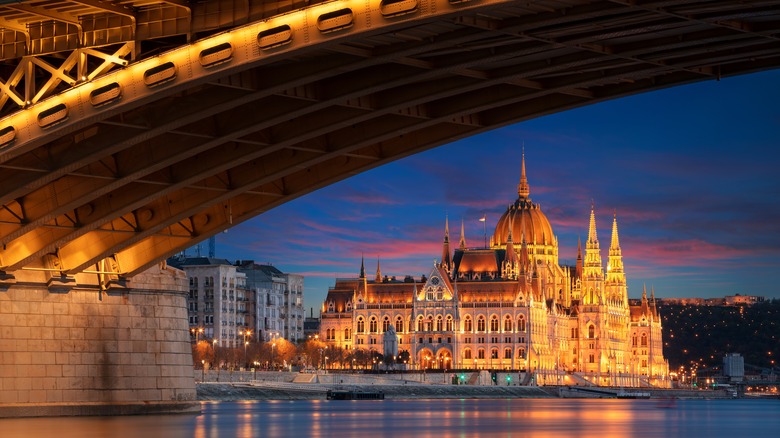 Rudy Balasko/Shutterstock
As of 2020, Warsaw, Poland, had around 50 vegan restaurants. Its Edamame Vegan Sushi offers kimchi, veggie tempura, and gluten-free tomato zuke with wasabi. Lokal Vegan Bistro is right down the street and offers dishes like seitan buffalo wings, vegan philly cheesesteak, soups, and a vegan tartare. They also have an online shop for vegan products to cook at home. Nancy Lee has a fantastic brunch menu with jackfruit sandwiches and a full English breakfast.
Prague is really veggie friendly, with over 50 vegan restaurants. There is even a vegetarian/vegan food and history walking tour! One standout place is Strecha, which is not only a vegan restaurant, but also offers jobs to people experiencing homelessness and those who have been incarcerated. Don't miss Moment, which serves a beetroot terrine, dumplings with rosehip sauce, root veggies, and seitan, as well as a carrot barley risotto with sweet and sour apples, kale, and smoked almonds. 
Budapest, Hungary, has around 30 vegan spots, including the popular Napfényes Étterm, which even offers home delivery. Its offerings vary seasonally but include dishes like ratatouille with jasmine rice and veggie frankfurters, pan-fried pancakes with veggie cream, baked potatoes, and garlic vegan mayo, and paprika seitan stew with tofu noodles. There is also a monthly vegan Sunday pop-up market and the restaurant Kozmosz, which features a vegan version of the national Hungarian dish, goulash. 
Finally, if you're planning a vacation, HappyCow, which lists vegan/veggie restaurants all over the world, is a great resource.