Take A Trip To This Southwestern State Park For Thrilling Outdoor Adventures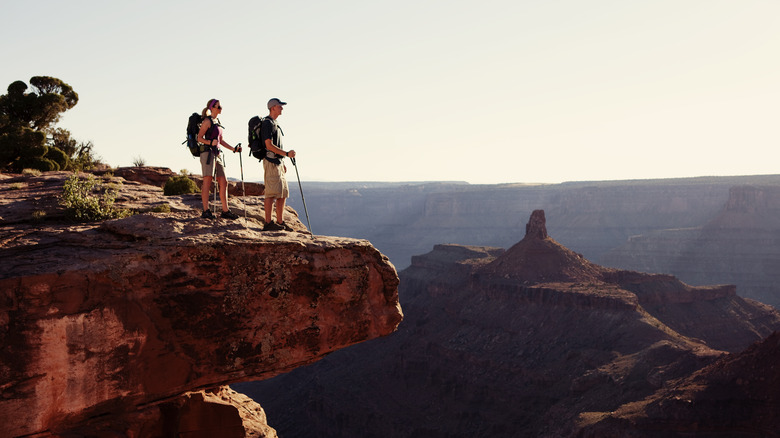 Franckreporter/Getty Images
The Southwest is home to miles and miles of deserts and canyons. The rugged landscape makes for wonderful and colorful hiking trips, and the rivers that carved the canyons offer exciting water adventures. Dead Horse Point State Park in Moab, Utah is an ideal spot for such activities. Additionally, you can bike and camp in this expansive place.
Dead Horse Point State Park consists of steep, warm-colored canyons with the Colorado River flowing through. It's a breathtaking place, especially during sunrises and sunsets. No matter when you visit though, you'll find immense beauty.
The canyons themselves are massive, some dipping as deep as 2,000 feet. So, if you're scared of heights, you may want to enjoy the scenery from afar. If you're willing to face that fear, or if you don't have that fear at all, this park might just make it to your bucket list of places to check out.
The story behind the name and where to hike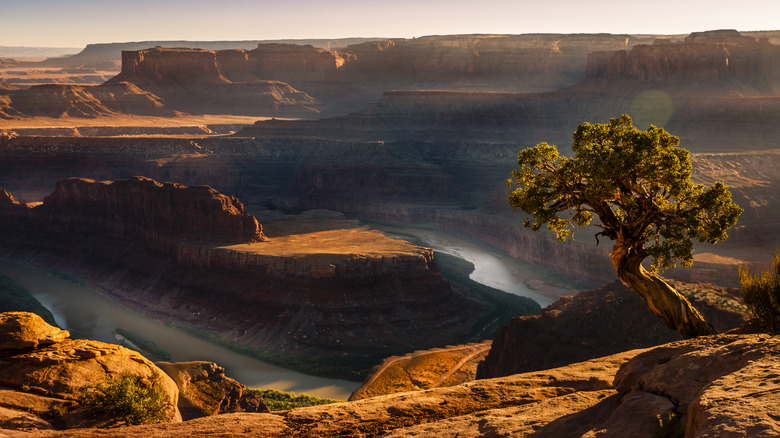 Agustavop/Getty Images
The name comes from a local myth: Mustangs used to run wild, and cowboys would round them up onto what is now known as Dead Horse Point. They'd eventually let most of the horses go after selecting some for themselves. One time, however, they did not free the remaining mustangs, and those left behind died of dehydration, despite the river being directly below them.
While you likely won't see any wild horses on your trip, you will be able to see the Colorado River mentioned in the story. You can get your hiking fix on one of the numerous trails throughout the park, which opened back in 1959, as well as bike many of them. Each one reveals sweeping views and immerses you in nature. The two most popular hikes are the Dead Horse Rim Loop, which takes just under two and a half hours to hike, and the Dead Horse Point State Park Short Loop, which takes about a quick 40 minutes. Your pets are allowed on many of the trails, so feel free to bring them along for the trek.
Camping and planning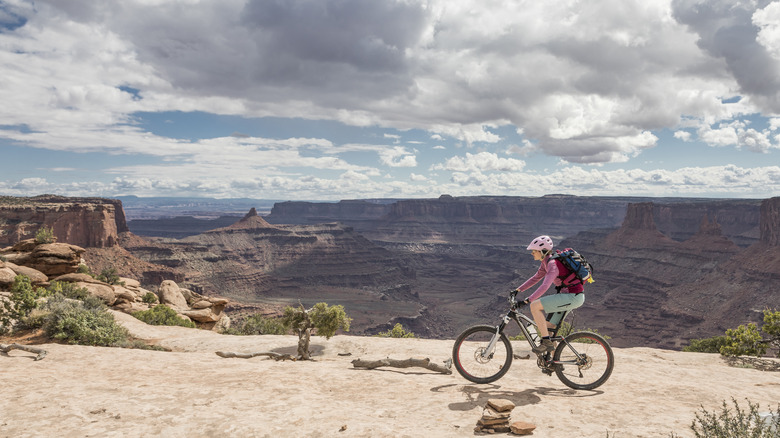 Saro17/Getty Images
Dead Horse Point State Park is also a fantastic spot for camping. You can pitch a tent, pull up in your RV, or even rent a yurt for a night or a few. For tents, it costs $40 per night, for RV's it's $50, and yurts run for $150 per night. These fees include the park entrance fee. Keep in mind that, while they do have electricity you can hook your RV up to, there is no access to potable water.
If you're just visiting for the day, the entrance fee is $20 per vehicle. If you're ambitious and decide to leave the car behind and instead hike or bike in, the fee drops down to $10.
However you decide to enter the park, there's one thing that's certain: You will find magnificent views at this spectacular state park. You can visit any time of the year; just note that the temperatures swell in the summers and snow can coat the trails in the winter. Plan and dress accordingly.