This RV Park Is A Great Home Base For An Adventure-Filled West Coast Camping Trip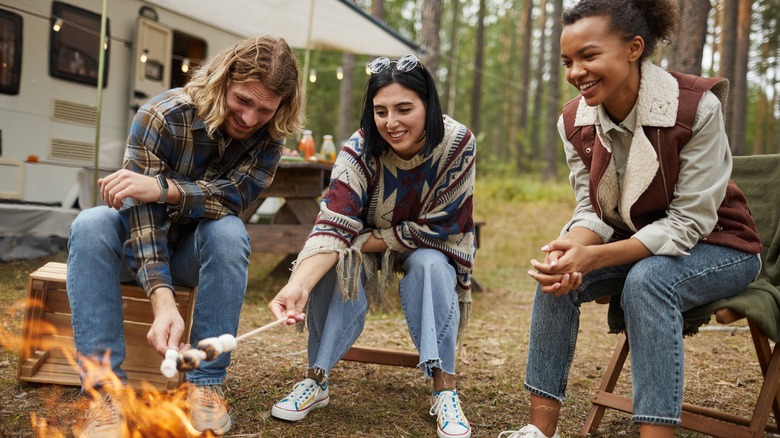 SeventyFour/Shutterstock
Washington State is known for its phenomenal outdoor scene. There are over 4,000 miles of hiking and mountain biking trails around the state — all hidden within and beyond the 142 state parks and 3 national parks. Before you can hike them all, however, you've got to have a home base, somewhere you can stay each night before venturing out. Salt Creek Recreation Area and Campground in Port Angeles, Washington, is the ideal spot for just that.
Like others, this RV park allows you to hook up utilities and access the recreation area's amenities of fire pits, playgrounds, volleyball and basketball courts, horseshoe pits, and picnic shelters. What sets it apart, though, are the wondrous views. Its location on a bluff creates a vantage point, allowing gorgeous views of water and trees from almost anywhere. You can set up and immediately explore the site or pause for a bit and take in the sights right from your RV.
Salt Creek and beyond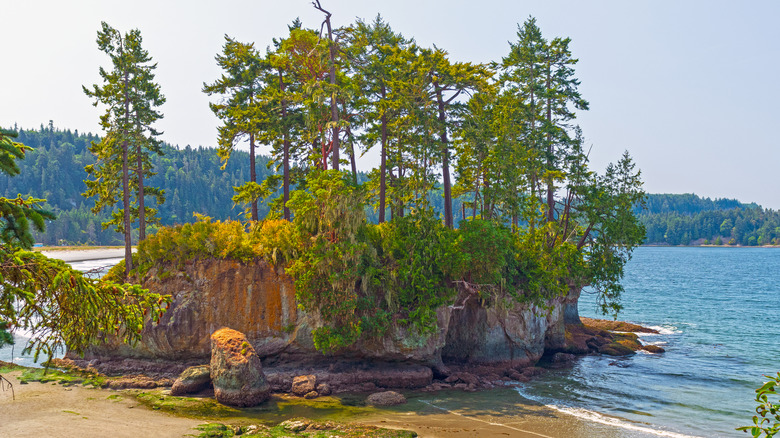 Wildnerdpix/Shutterstock
Since you're already in the Salt Creek Recreation Area, you might as well explore it first. In addition to the amenities mentioned, you can go hiking, biking, kayaking, canoeing, shore diving, and tide pooling. The recreation area in and of itself is an adventure worth embarking upon.
If you're set on seeing other parts of the state, say the nearby must-visit Olympic National Park, which consists of 922,651 acres, you can easily do that and use the campground as a home base. You can hike, bike, kayak, and canoe here, just like at the Salt Creek Recreation Area. Only the national park is significantly larger and offers different scenery. You can also explore the hundreds of archaeological sites, like the Ozette Native American Village, within the park. 
Port Angeles is the nearest town, so if you need to grab anything you forgot or fancy a hot meal, that's your answer. If you're interested in what the town offers, check out the Webster's Woods Art Park, an indoor and outdoor gallery sprawling over 5 acres, or the Port Angeles Community Playhouse for an exciting performance. You're relatively close to the town and the park, meaning you can spend your days mingling with the locals or take a break from civilization and delve deep into nature.
Making reservations
Simon2579/Getty Images
Next time you plan a camping trip, head to Salt Creek Recreation Area and Campground. You'll have beautiful views and a number of activities at your fingertips on the campground alone, and even more, if you decide to venture beyond it. Regardless of what you do during the day, the campsites here are cozy to return to at night and beautiful to wake up to in the mornings.
You can plan ahead and book your spot at the campgrounds, or you can take a risk and try to find a first-come, first-served camping spot. Note that this is a popular RV park, and its campsites are often fully booked. Booking for the year opens on New Year's Day each year for the entire year. Fees for campsites with no utilities are $25 per night for residents of Clallam County and $30 per night for everyone else. Campsites with utilities cost $30 per night for Clallam County locals and $35 for outsiders. There's also a $10 booking fee.