Must-Visit National Parks To Add To Your West Coast Bucket List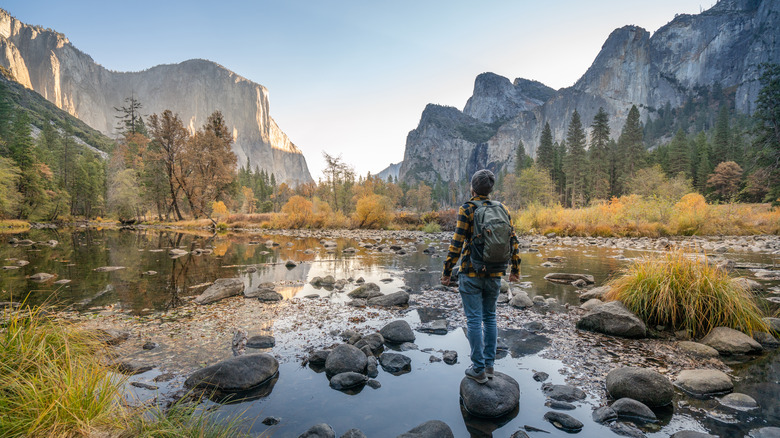 Swissmediavision/Getty Images
The American landscape is imbued with a cultural and geological chronicle that's often hard to see in all its richness. The country's 63 national parks and more than 400 national park sites (including locations in territories like Guam and the U.S. Virgin Islands) attempt to tell this story. Many national parks protect rural America's indigenous wildlife and unspoiled landscapes, while other sites preserve the grounds that have shaped our history as Americans. For instance, Pennsylvania's Flight 93 National Memorial isn't a national park but a protected space that enshrines the sacrifices passengers made on that infamous day in history.
Along the West Coast, a bevy of phenomenal outdoor sights greets the adventurous traveler. These are some of the most scenic places in the nation, and the tapestry of mountains, rivers, and wildlife waiting out there to discover something unique every time you visit. The western expanse of the American homeland is something truly unique. It has rugged landscapes and mythically large forests, mountain ranges, and waterways. While this part of the country is filled with amazing national sites, like the first national park, Yellowstone, these offer something unique that shouldn't be missed.
Yellowstone National Park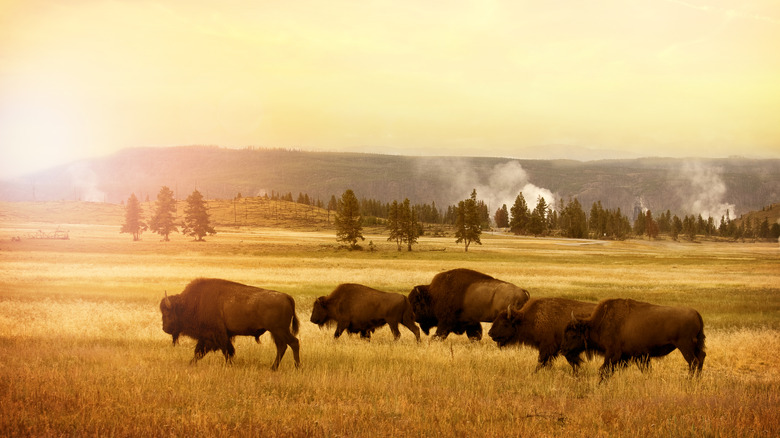 Stellalevi/Getty Images
Yellowstone National Park is the crown jewel of preserved scenic beauty in America. It was the first national park to be designated, taking on this title in 1872. It can be seen sprawled across Idaho, Montana, and Wyoming, in the heart of Big Sky country. Yellowstone National Park has hundreds of unique animal species and over 1,100 native plant varieties. Spanning 3,400 square miles and over 2 million acres, Yellowstone is larger than Delaware and Rhode Island.
Spotting wildlife is a major draw for visitors to Yellowstone, and the park has been called "America's Serengeti," as a result. Vast fields of bison, grizzly bears, coyotes, wolves, moose, and much more can be seen throughout Yellowstone, with the fantastic mountainous vistas serving as an unforgettable backdrop to the whole experience. In addition to flora and fauna living within the park's boundaries, visitors can see Old Faithful, over 300 additional geysers, and nearly 300 idyllic waterfalls. 
The sheer volume of sites to take in at Yellowstone demands a multiple-day voyage into the depths of the park. Fortunately, there are over 2,000 campsites at 12 dedicated campgrounds and nine visitor centers to help make your stay pleasant. The original national park, Yellowstone, shouldn't be missed by anyone searching for unforgettable outdoor experiences.
Grand Canyon National Park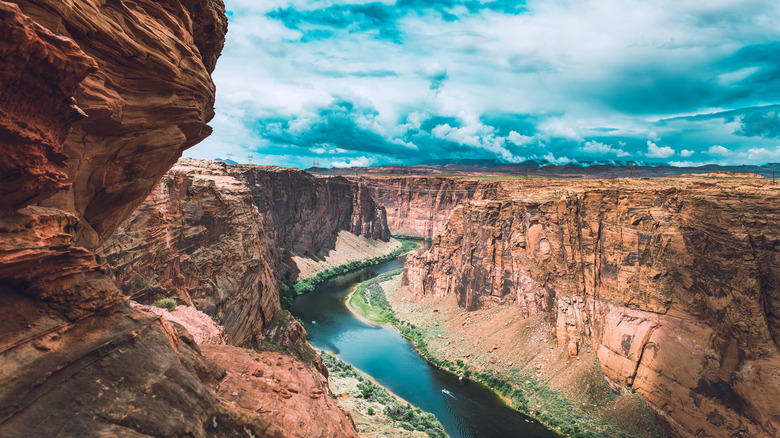 Tobiasjo/Getty Images
The Grand Canyon stretches across almost 300 miles of the Colorado River through Arizona, Nevada, Utah, and Colorado (although the National Park is contained in Arizona). It's also the ancestral homeland of 11 Native American tribes. Grand Canyon National Park preserves what has to be one of the foremost examples of erosion anywhere in the world. The Canyon averages around 4,000 feet deep and increases to 6,000 at its deepest point, as well as 18 miles across at its widest. This makes the Grand Canyon a spectacular sight to behold and an example of the immutable power of time (as many as 2 billion years) and geological processes that have been and remain at play across the history and future of our Earth.
Visitors can hike, camp, and even get married at the Grand Canyon. In describing this vast monument, Theodore Roosevelt said it's "one of the great sights which every American, if he can travel at all, should see." In truth, he wasn't wrong in describing one of the most remarkable natural formations on the planet. In addition to hiking and driving routes that will bring you to fantastic vantage sites like Hopi Point, Mather Point, and Toroweap Point, visitors can don their swimming gear and strap in for whitewater rafting through the Canyon's riverine floor. There's something for everyone at this particular site that scars the landscape with unique beauty.
Petrified Forest National Park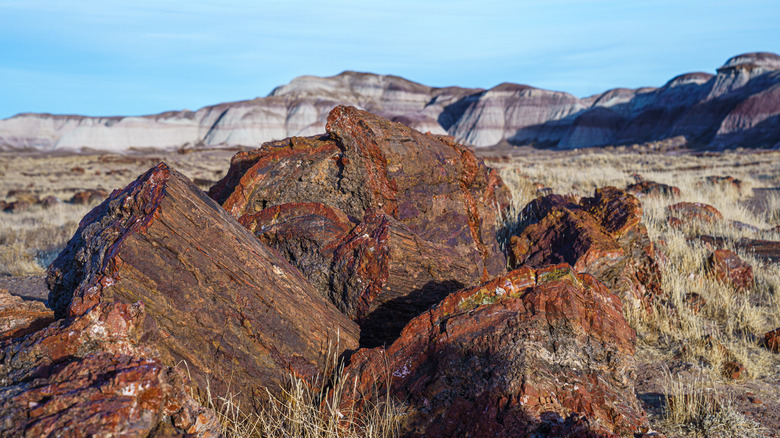 Josh Brasted/Getty Images
Many national parks provide a hiking and exploration space to experience the unscathed beauty of the American Landscape. Petrified Forest National Park offers visitors the sights of violent geological trauma. Spanish explorers named the Petrified Forest in the 1500s as they stumbled upon one of the world's largest concentrations of gigantic conifer-forests-turned-quartz-stone anywhere in the world. The fossilized tree remains began forming amid surging floods around 225 million years ago.
Visitors can enter from the north or south ends of the park and traverse a 28-mile-long stretch of road connecting the two edges through the painted desert. The area also supports badland formations and a uniquely colorful landscape distinct from a typical desert vista. This part of Arizona was once home to early Paleo-Indian inhabitants who roamed these deserts around 13,000 years ago. Interestingly, there's evidence that these individuals likely settled in the area, using the fossilized conifers to build tools to improve their living conditions. 
Similarly, Puebloan people called this area home and used fossilized logs to build houses around 1,000 years ago. There's also a large concentration of prehistoric animal fossils sprawled around the site. Typically, the Earth's natural cycle produces sweeping landscapes that humans seek out. But in the Petrified Forest National Park, you'll be amazed by a different geological process.
Rocky Mountain National Park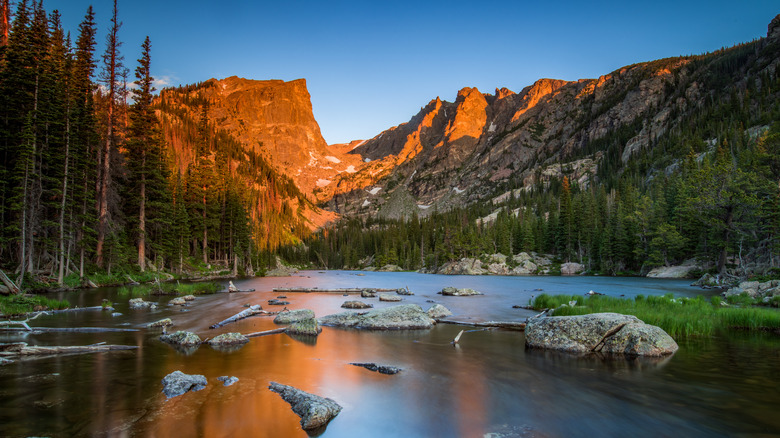 Matt Dirksen/Getty Images
Rocky Mountain National Park cages a massive 415 square miles and is dominated by the Rocky Mountain's range terrain and geological processes, cutting a huge course through the western United States and Canada. Rocky Mountain National Park can be found in Colorado, and it's known as the Land of Extremes.
Within the park, you can traverse more than 300 miles of hiking trails and get up close and personal with a litany of local wildlife and plant species. The area's history and the National Park's foundation each play a significant role in its drawing for visitors. When the U.S. Forest Service was formed in 1905, there had already been years of battle over preserving these historical and natural sites from the axes and chainsaws that sought new construction materials anywhere they could find them. The U.S. Forest Service was established to help protect American wildlands. Still, activists working to enshrine Rocky Mountain National Park fought against the Forest Service alongside special interest groups until 1915, when the park was officially dedicated.
Human history dates much farther back in this region, though. It's thought that Spanish and Portuguese traders explored the Rocky Mountain locale as early as the 1700s, and there's significant evidence that nomadic Paleo-Indian peoples traveled through what is now the park, as well.
Olympic National Park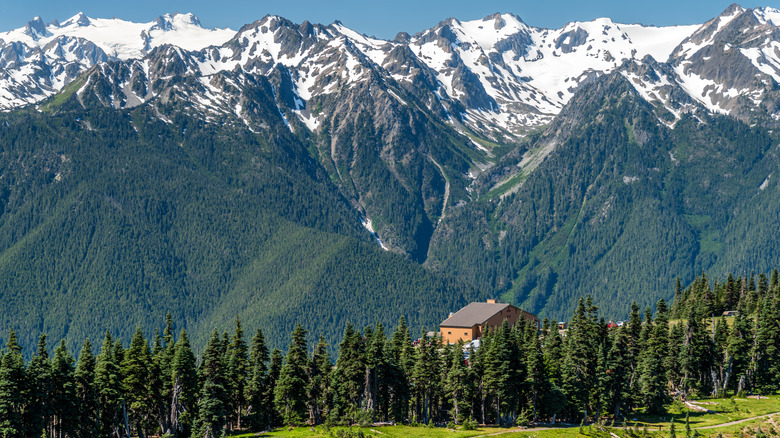 Yunpeng Li/Shutterstock
Olympic National Park in Washington State is a complex natural landscape that continually offers something new every time you visit. Within the park's boundaries, you'll find roughly 1 million acres of land, including towering mountaintops, three individual ecosystems, and over 70 miles of the Pacific coastline. It's been the home of scores of Native American cultures for thousands of years, adding to the peninsula's layered mystique. You'll also find the Hoh Rainforest situated within the park. This is home to a truly one-of-a-kind place known as One Square Inch of Silence. It's one of the quietest places on Earth and competes prodigiously for this title against science's most impressive human-fabricated silence boxes.
The park is majestic and sweeping, and spending even a day inside the cavernous wilderness will leave you with a profound sense of wonderment, as it did for The New York Times Meghan O'Rourke in 2017. She gazed upon orcas in the midst of a hunt and noted the oxymoronic silence of the ocean's massive churn. As a visitor, you can make your way into the park, stroll through ancient forestland, fish for a fresh Pacific catch, or dip in the hot springs or crystal rivers.
North Cascades National Park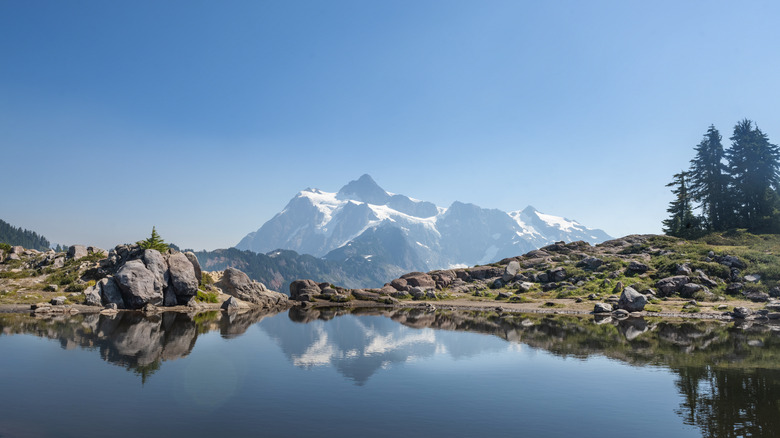 Boogich/Getty Images
The North Cascades mountain range, for which the park is named, has been called the American Alps due to its jagged peaks. The Picket Range, found at the northern end of the park, is also blessed with a variety of darkly humorous names, like Mount Fury, Mount Terror, and Phantom Peak. This is one of the least visited sites in the whole collection of U.S. National Parks, making it a great place to explore if you're searching for a spot well off the beaten trail. Millions of visitors flock to numerous parks every year, but in 2022, North Cascades saw just 30,000!
Those who pass on the park are missing a real treat, too. The park is home to one of the most diverse ecosystems in the world, and an eagle-eyed hiker can catch a glimpse of numerous rare animals here. These include the Canadian lynx, wolverines, gray wolves, and grizzly bears. There's a single road running through the National Park, and along it, you'll find six campgrounds that will suit any type of camper. Also, dozens of other walk-in sites can be found throughout the grounds as you travel by foot in search of awe-inspiring vistas and peaceful trailheads, including 28 highly rated options.
Crater Lake National Park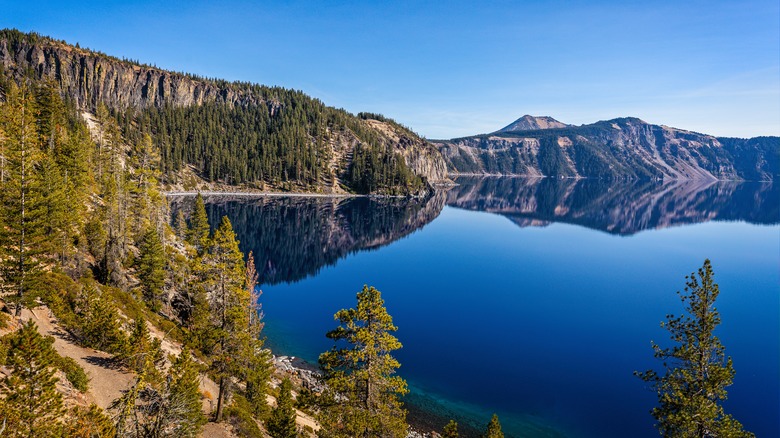 Kushal Bose/Shutterstock
As the result of a volcanic eruption around 8,000 years ago, Crater Lake National Park is home to the deepest lake in the United States. Its deep blue color is crystal clear and is sourced from only rain and snow in the area, with no additional water sources contributing to the water body. Visitors can often see through the blue void to a depth of about 100 feet, still just a mere sliver of the lake's nearly 2,000-foot drop to the bottom! 
The lake is this National Park's centerpiece, to be sure, and it's a great place for boating, swimming, and other water sports. You can also hop on the park's trolley system for a carefree tour of the area. Around the volcanic lake, hikers can traverse the shoreline and natural rises that have formed around the caldera. The lake is also a mysterious feature of the Oregon landscape: It seeps out water at a rate of 2 million gallons per hour, but scientists have yet to discover any springs, aquifers, or rivers sourced by the lake.
Within the water body, visitors will see a few islands formed during the volcanic eruption. Phantom Ship Island is 16 stories tall and forged of 400,000-year-old hardened lava that effectively resists the powerful effects of erosion. Wizard Island is a 750-foot-tall remnant of the volcano's cinder cone and the largest of the lake's islands.
Arches National Park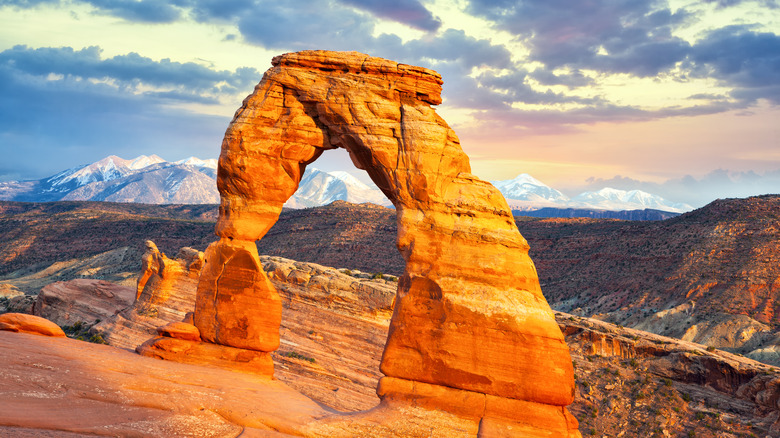 dibrova/Shutterstock
Like many other National Parks in the western expanse, Arches National Park showcases a fundamental force of nature. Yet, individual to Arches, located in Utah, the landscape is home to the densest concentration of naturally formed stone arches in the world. These are the product of unfathomable centuries of erosion (around 65 million years!), and over 2,000 arches exist in this desert landscape. In addition to some of the more notable formations, like the Delicate Arch, the North Window, or Skyline Arch, the park is littered with balanced rocks, pinnacles, and rock fins. Camping, hiking, and scenic driving trails are a staple of the park.
The landscape is fascinating, but the monolithic architecture of the winds is only one of the incredible sights and lessons that this site can impart. When these rock formations were in their infancy, they were buried beneath the surface of this desert clime. Sixty-five million years later, they stand as testaments to the steady march of a global transformation. But they aren't impenetrable forces bearing witness to the Earth around them. Wall Arch was toppled in 2008 — sandstone is primarily affected by erosion and gravity. Arches are both a celebration of the planet's natural habitat and a reminder that all things are mortal, even the gigantic sandstone sentries standing in the Utah desert.
Canyonlands National Park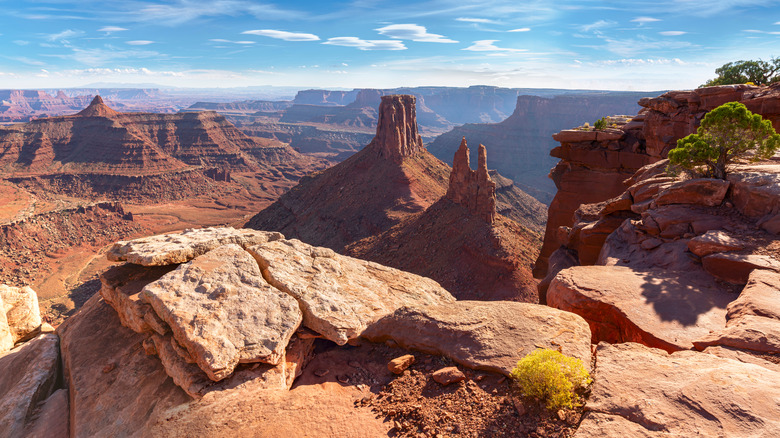 Manamana/Shutterstock
Canyonlands National Park is a 527-square-mile landscape divided into three districts (plus The Rivers): Island in the Sky, The Needles, and The Maze. Island in the Sky is an excellent option for those looking to drive through the park and take in the sights. As a result, it's accessible, no matter what kind of time or physical restrictions you might be working with. Other segments of the park offer an immensity of trail-based vistas.
The Maze is the most remote part of the park and requires self-reliance and considerable time. Many who traverse this district spend a week or longer wandering and camping in the rugged backcountry canyons. Visitors can utilize two- or four-wheeled offroad vehicles to begin their exploration of this truly alien landscape. However, the Park Service recommends significant caution for those considering a trip into The Maze, and much of the literature governing the area speaks of the difficulties of navigating and negotiating the mesas and canyons. This makes it a hardcore explorer's dream landscape and sets the arena far apart from the typical National Park regarding the difficulty you'll face and the reward you can expect from a successful voyage.
Mesa Verde National Park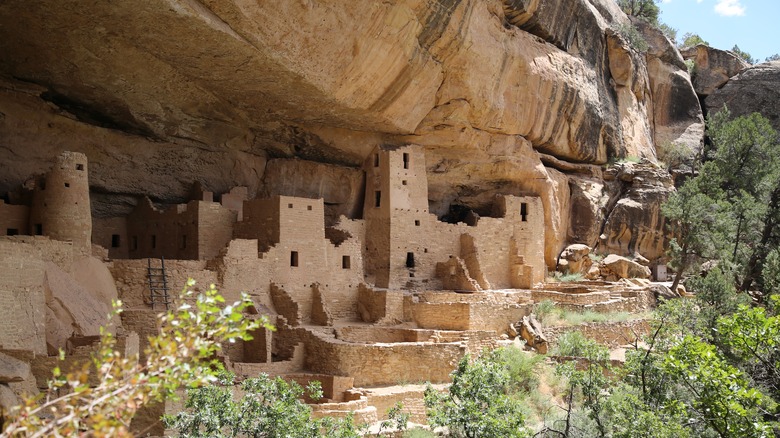 stefanophotographer/Shutterstock
Mesa Verde National Park is the only UNESCO World Heritage Site on this list. Mesa Verde is located in southwest Colorado, just over the border with New Mexico. Here, the cliffs have preserved a remarkable history of Native American life that dates back around 1,000 years. At some point in the late 1190s, the Pueblo people who lived in the area moved their homes beneath the cliff face. In doing so, they built pueblos directly into the rocky outcroppings and alcoves beneath the mesa tops they had called home for hundreds of years. 
Across Mesa Verde National Park, you can find over 5,000 archaeological sites, making it the largest archaeological preserve in the country. Ancient Puebloan people built enormous structures to support their lifestyle, and around 600 cliff dwellings remain firmly intact beneath the mesa. In addition to the Cliff Palace and complete villages, visitors can hike around this site and visit petroglyphs and other formations that have been preserved in time.
Most national parks in the western United States focus on preserving the natural beauty and landscape of particularly wild or scenic areas. Mesa Verde National Park differs because it centers on a historic Native American site that supported dozens of tribes and countless individuals for hundreds of years. In addition to the spectacular views you're bound to absorb while visiting, taking some time to learn about the indigenous history of our country makes this national park an enriching experience.
Mount Rainer National Park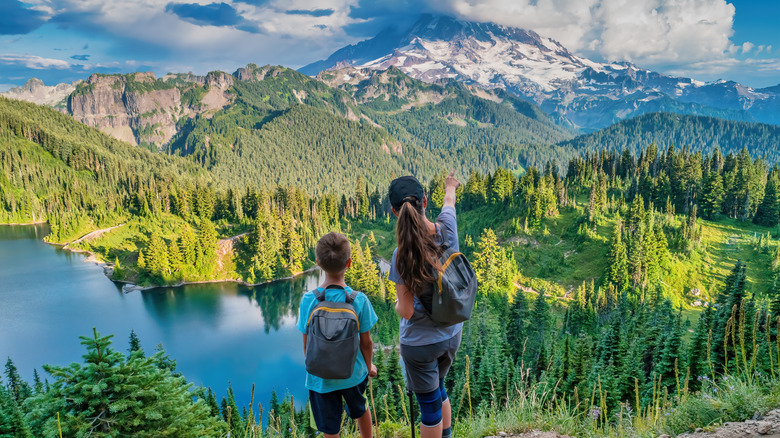 Benedek/Getty Images
Located in Washington state, Mount Rainier is a spectacular site. Mount Rainier National Park is home to the world's largest volcanic glacial cave system, and the summit, standing at 14,410 feet, provides the highest volcanic peak in the contiguous United States. Moreover, the ecology that can be found around Mount Rainier National Park spans alpine and subalpine growth that's both beautiful and deserving of protection and study. The area supports a thriving ecosystem with ancient plant life and many animal habitats.
Mount Rainier National Park visitors can expect breathtaking scenery along hiking trails (more than 130 throughout the park), camping areas (including 60 dedicated lodging facilities), and viewpoints that include waterfalls and mountain peaks. But this isn't the only thing you can do in the national park. One fantastic feature of Mount Rainier National Park is the skiing and snowboarding that this permanently glaciated peak provides. For a tranquil wintertime activity, you can also get in on snowshoeing across the wintery terrain. This makes Mount Rainier an excellent draw for people who love a wide range of outdoor excursions.
Great Basin National Park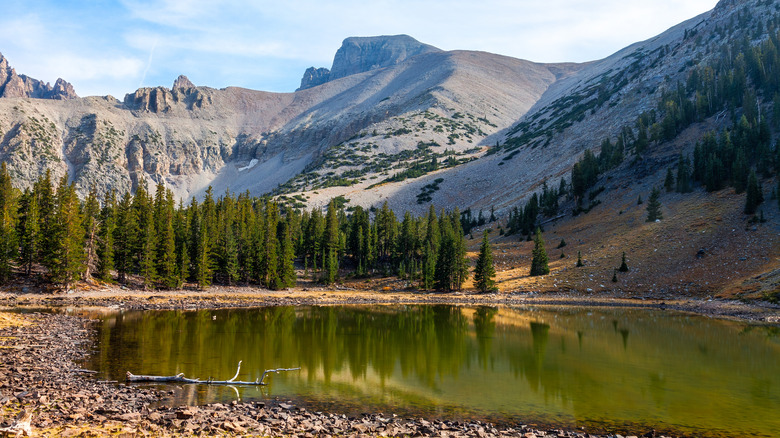 Arlene Waller/Shutterstock
Nevada's Great Basin National Park is a phenomenal place to go stargazing, yet it's one of the least visited National Parks. Hiking around the park will bring you into contact with some of the oldest trees on the planet — the Bristlecone pine forests have stood for  4,000 or more years. The landscape was carved into the Nevada desert by glaciers 10,000 years ago, and the Lehman rock glacier can still be seen in the park to this day. The standout feature of Great Basin National Park is the combination of remoteness and minuscule humidity. 
This unique set of attributes creates one of the darkest night skies in the United States. As a result, astronomy buffs can enjoy some of the best night viewing in the nation from their campsite in Great Basin National Park. Indeed, the annular eclipse comes with an event hosted by National Park Service employees at Great Basin, as well as an annual astronomy festival.
In addition to the unbeatable nighttime sky, visitors to the Great Basin can explore other fabulous natural features. Here, you'll find the Lehman Caves, a limestone formation between 2 and 5 million years old, and 12,000-year-old archaeological remnants from Paleo-Indians who once inhabited the area. Similarly, a culture known as the Fremont People called the area home roughly between 1,000 and 1,300, and keen historians can explore rock art left over from their mark on this awe-inspiring landscape.