How To Deal If You Arrive To A Campsite That's Fully Booked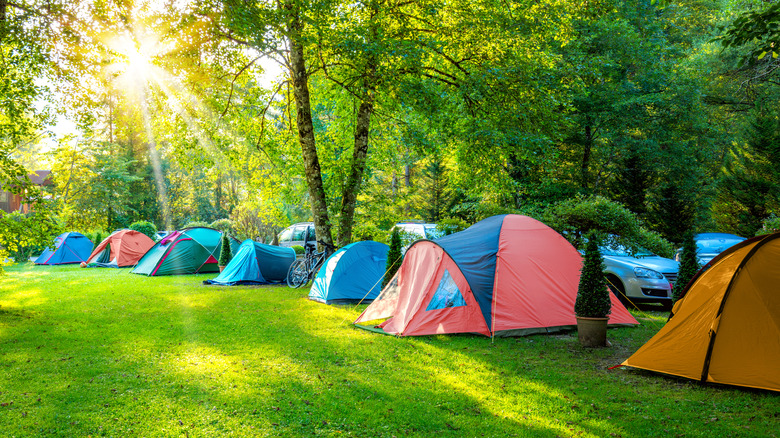 Taiga/Shutterstock
Spending a long weekend camping is the perfect way to get up close and personal with nature, unplug, and spend quality time with your loved ones. Over the past several years, camping has continued to grow in popularity, which means that many of the most popular campgrounds book up well in advance.
According to the 2023 North American Camping & Outdoor Hospitality Report, around 52 million households went camping at least once last year, and 92 million self-identified as campers. With so many families returning to the nostalgic pastime instead of other vacation options, there is a lot of competition when it comes to snagging a great campsite, especially within official national park campgrounds.
If you're planning a camping trip, you should be booking your campsite well in advance to avoid the stressful situation of arriving at a fully booked campground. For spontaneous camping trips, booking your trip months in advance isn't always possible. Whether you're on a cross-country road trip and decide to make an unplanned stop or embarking on a spur-of-the-moment adventure, you'll need a backup plan in case the campground you're visiting is fully booked when you arrive. Most importantly, don't panic if you find yourself in this situation — you've got options.
Here's what to do if you're tent camping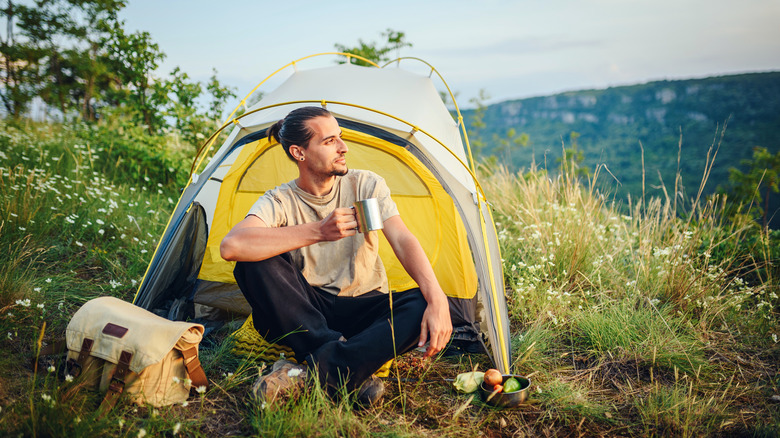 Vasil Dimitrov/Getty Images
Many campgrounds have more tent sites than RV hookups, so you will already have a better chance of scoring a reservation at a busy campground. If you arrive to find that the campground you selected is full, you have a couple of options.
Do a little research to see if there are any privately owned campgrounds in the surrounding area. Staff members at national park visitor centers should be able to offer some great suggestions. Large campground chains like KOAs often have hundreds of sites, making them less likely to book up far in advance. Call around to a few locations, and chances are you can find a site without having to stray too far off your course.
Popular online homestay platforms like Airbnb are another great resource. There are often listings for campsites on private properties nearby popular outdoor recreation destinations. Similarly, Hipcamp is like Airbnb but is geared explicitly toward campers.
If you're not having luck finding availability at any nearby campgrounds, or your heart is set on staying within the park you're visiting, consider wild camping. Wild camping is permitted in the backcountry of most national parks in the United States, but you must obtain a permit. Wild camping in national forests is also legal and free.
If you're traveling in an RV or camper van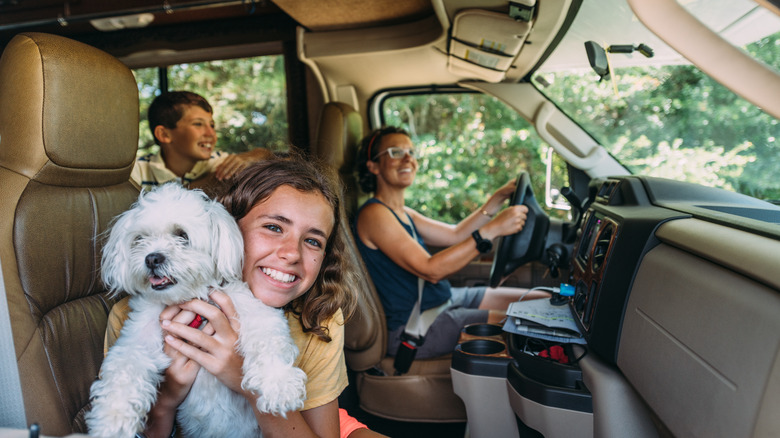 Ferrantraite/Getty Images
Arriving to a campground with no space can ruin an otherwise successful RV trip. If you've embraced van life, you've likely already spent a night or two in a Walmart parking lot during your adventures. Walmart has long been valued by road trippers and RV travelers as a safe place to stop for a night of rest, and it remains a great backup plan if you arrive to find your campground fully booked.
As a company, Walmart permits overnight vehicles, but individual locations and store managers get to make the final call based on the availability of parking and local laws. It's always a good idea to call ahead and double-check. Similarly, many Cabela's and Bass Pro shops will allow you to park your rig overnight and may even offer amenities like waste and water stations.
Bureau of Land Management (BLM) land has free dispersed camping sites where RV travelers can park and camp for free for up to two weeks, and national forests allow vans and RVs to park on the shoulder of the road and camp overnight as long as they don't block traffic. 
If you've arrived at the campground late at night and you're desperate to find somewhere to get some sleep, some states allow RVs to park overnight at rest areas along the highways. There is often an 8-10 hour limit on parking, but it works in a pinch until you can find a better option.