Try Some Of The Best Ice Cream In America On This East Coast Road Trip Route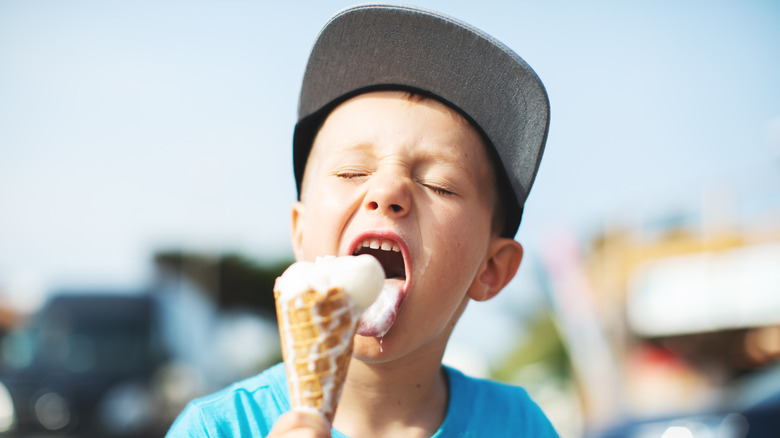 Julpo/ Getty Images
There are thousands of trails and road trip routes around the United States. Some are made for nature lovers, hiking aficionados, and history buffs. Meanwhile, others are made for the noble pursuit of ice cream. Whether you're looking for something fun to do with young kids or have a sweet tooth yourself, the New Hampshire Ice Cream Trail is the perfect road trip route for you. Reaching from the north at Moose Alley Cones in Pittsburg down to the southern border at Hayward's Homemade Ice Cream in Nashua, the trail weaves through the whole state, hitting a total of 42 ice cream shops as of 2023.
The trail was mapped and established back in 2012 by the non-profit Granite State Dairy Promotion in an effort to boost New Hampshire's dairy industry. While in 1990, the state boasted 275 family-owned dairy farms, that number has since dwindled down to 90. Completing the ice cream trail is a great way to support these local farms all the while getting a taste of some of the best homemade ice cream in the country.
How to join the New Hampshire Ice Cream Trail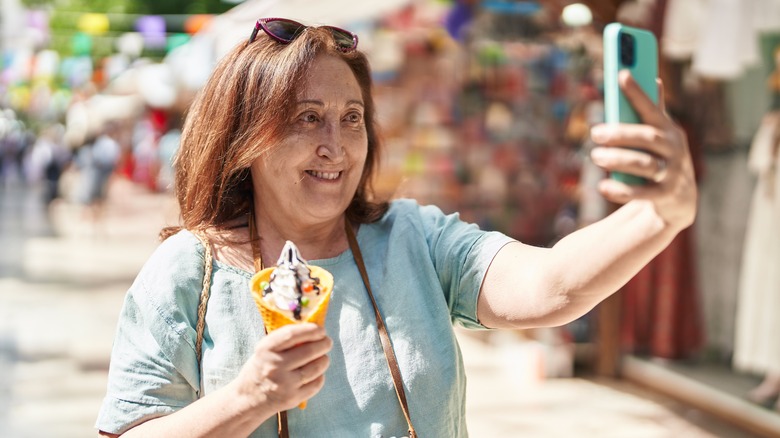 Krakenimages.com/ Shutterstock
Every year, the Granite State Dairy Promotion releases its list of qualifying ice cream shops on Memorial Day Weekend. Not only does this provide the public with the year's ice cream hit list, but it also initiates a competition for participants. The GSDP official website offers an ice cream trail passport.
This passport provides blank spaces to get stamped by each store. Trail-goers attempt to complete this passport, proving they have made it to all 42 ice cream shops on the list. If they send a fully stamped passport to the GSDP headquarters by the mid-October deadline, they enter a raffle to win a goodie basket and a $200 Amazon gift card. Even if you don't win the prize but have submitted a completed passport, you are still guaranteed to receive a sweatshirt with the hashtag #eatlikeacow.
The journey length and time will vary from trip to trip. But, as you plan potential rest stops, note that the main hubs where you'll find ice cream shops nearby are in the towns of Keene, Concord, Nashua, and Manchester.
Recommended ice cream shops on the New Hampshire Ice Cream Trail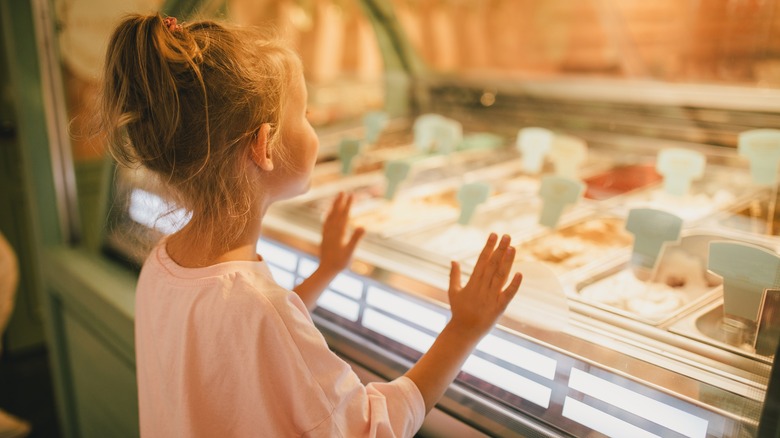 polinaloves/ Shutterstock
Not just any ice cream shop in New Hampshire qualifies for a spot on the Ice Cream Trail. In order to make the grade, GSDP director Amy Hall told Seacoastonline, they must "display a high level of commitment to serving local ice cream from New England or New Hampshire dairy farms." So, wherever you go, it's assured that your creamy dessert will be made from fresh, locally sourced dairy. However, there are a couple of standout experiences on the list we recommend.
If you're looking to be extra indulgent, you'll want to get an ice cream sunday from Ava Marie Handmade Chocolate & Ice Cream in Peterborough. Famous for its 35-scoop sundae called the Mt. Monadnock, this ice cream shop is not for the faint of heart or stomach.
If you're looking for a farm-to-table experience, you'll want to visit Sanctuary Dairy Farm Ice Cream. This ice cream parlor sources its products right from its very own cows, which you can visit at the on-site barn. While this is one of the more old-fashioned locations, if you're looking for something more modern, we suggest Sub Zero Nitrogen Ice Cream. They make your custom-order ice cream on the spot and right in front of you using nitrogen gas. Wherever you go on this New England road trip route, you can expect it'll be a sweet ride.