2 Cities In Japan Just As Fabulous As Tokyo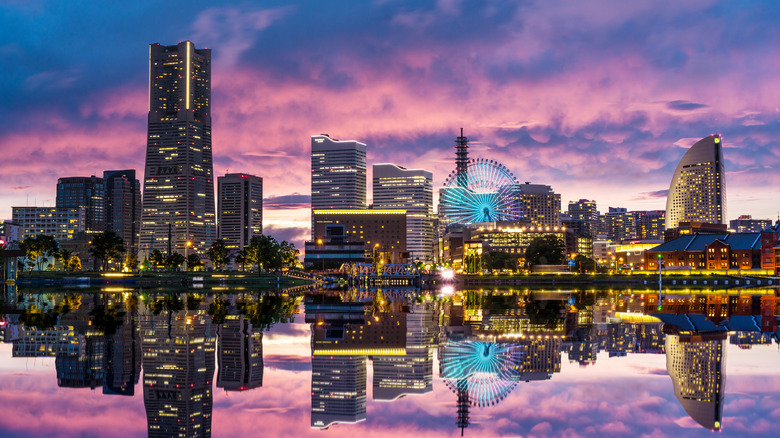 Chunyip Wong/Getty Images
When it's your first time visiting Japan, it's natural to start with Tokyo, but there are plenty of other unmissable tourist destinations outside the capital. In recent years, Kyoto, for instance, has shown up in more than one ranking as the world's best city and a favorite among travelers. However, despite the beauty of its temples and shrines, Kyoto's popularity has led to overtourism problems. During the spring cherry blossom season or the changing of the leaves in autumn, it might feel just as crowded as Tokyo, if not more so.
Fortunately, Japan's extensive train system makes it easy to get around and visit other places. You don't always have to venture far from one big city to find another with its own unique atmosphere. Foreign visitors looking to journey outward from Kyoto can currently take advantage of JR-West's Kansai Wide Area Excursion Pass. It offers three days of unlimited train rides to other nearby cities like Nara, Osaka, Kobe, Himeji, and Tottori.
Meanwhile, back in the Kanto region, you can access Japan's second-largest city by train in about 40 to 50 minutes from Tokyo. We're talking about Yokohama, the bustling port city that's home to Japan's biggest Chinatown and the world's biggest mobile humanoid robot. Don't rule out the airport as a gateway for side trips, either. If you hop on a plane in Tokyo, you can be in the historic city of Nagasaki in less than two hours. Here's why you should consider visiting both Yokohama and Nagasaki.
Yokohama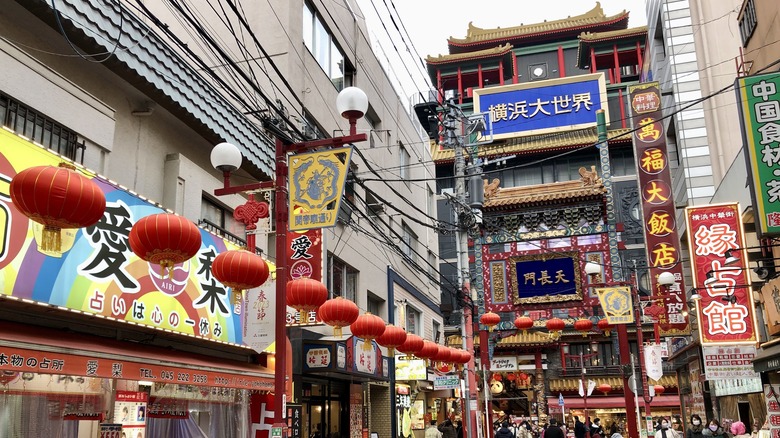 Joshua Meyer/Static Media
As the capital of Kanagawa Prefecture, Yokohama is part of the Greater Tokyo Area. On a clear day, you can even see its skyline from some observation decks in Tokyo. Yokohama Landmark Tower, one of Japan's tallest buildings, is a prominent feature. Its Sky Garden, accessible via the country's fastest elevator, provides a panoramic view of the city from 69 floors up.
The surrounding district of Minato Mirai (meaning, "Port of the Future") includes the InterContinental Yokohama Grand Hotel, which is shaped like a yacht sail. Minato Mirai also holds the Nippon Maru museum ship and the Cosmo World amusement park — known for its massive Ferris wheel, which doubles as a clock. The Yokohama Red Brick Warehouse is another popular dining and shopping venue, especially during the holidays when it runs a Christmas market. For noodle lovers, Yokohama has both the Cup Noodles Museum and the Shin-Yokohama Ramen Museum. Both places let you sample different regional varieties of ramen.
In addition to its ornate entrance gates and temples, Yokohama Chinatown offers an abundance of street food like fried soup dumplings. Not far from there is Yamashita Park, which has its own museum ship and observation deck in the Hikawa Maru and Yokohama Marine Tower. You can stroll along the waterfront here, or head out to Gundam Factory Yokohama on the adjacent pier. Guinness World Records recognizes its 59-foot robot as the biggest of its kind. From now until March 2024, the robot is scheduled to give daily movement demonstrations.
Nagasaki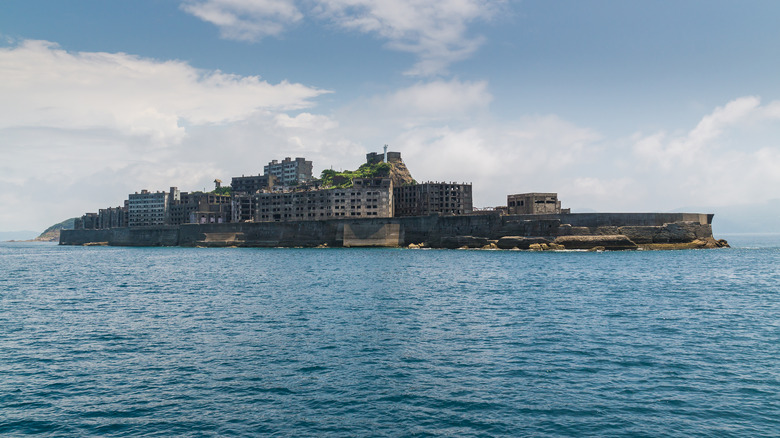 motive56/Shutterstock
There's more to Japan than just the island of Honshu, where Tokyo and Yokohama are located. Down on the southern island of Kyushu, there's also more to the city of Nagasaki than just its World War II history. For over two centuries, Nagasaki was the only port in Japan open to foreign trade, as the Tokugawa shogunate kept the country isolated from the outside world. To this day, the hilly city, connected by trams, still thrives with foreign influences. You can see them in places like the former Dutch trading district, Dejima, and the Chinese-built Sofukuji Temple and Confucius Shrine. 
There's a Chinatown here, too, which comes alive with glowing zodiac animals and over a million visitors during the annual Nagasaki Lantern Festival. For their role in the Meiji Industrial Revolution, Glover Garden and the abandoned coal-mining island, Gunkanjima ("Battleship Island"), have been designated UNESCO World Heritage sites. The latter, which appeared in the James Bond movie "Skyfall," is accessible by tour boat.
In Nagasaki Peace Park, the memory of war hangs heavy over the hypocenter where the atomic bomb detonated on August 9, 1945. The park contains a memorial museum and a piece of the old Urakami Cathedral, which has been rebuilt nearby since it was destroyed in the bomb blast. Across town, Japan's oldest surviving Catholic church, Oura Cathedral, has been designated a National Treasure. You can learn more about Nagasaki's persecuted Christians, as seen in the Oscar-nominated film "Silence," at the Twenty-Six Martyrs Monument and Museum.