Hidden-Gem Cities In Japan To Add To Your Bucket List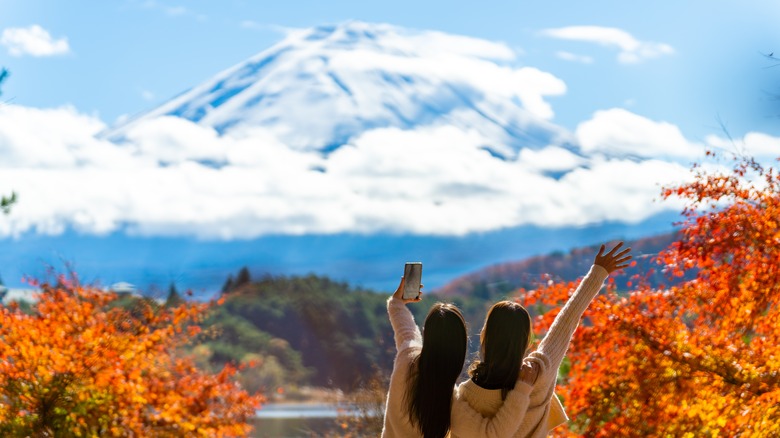 CandyRetriever/Shutterstock
Futuristic megacities with neon-lit streets, impossibly fast bullet trains, towering skyscrapers, cosplay costumes fused with ancient Buddhist temples, jaw-dropping natural landscapes (hello, Mt Fuji), and kimono-clad geisha. This is Japan, a country of delicious contrasts, where ancient traditions blend seamlessly with modern-day life. It's one of the most rewarding and unique destinations you could ever visit — and many do — thanks, in part, to its holy reputation as one of the most Instagrammable cherry blossom spots around the world, as well as a plethora of local delicacies to tuck into.
You're likely to have heard of Tokyo, Kyoto, Hiroshima, and Osaka — four of Japan's most popular metropolises, luring visitors from all over the globe. But the "Land of the Rising Sun" has so much more to offer beyond these big hitters ... From the dramatic mountain scenery and historic architecture of spots like Takayama and Nagano to vibrant arts and delicious eats in Fukuoka and Nagasaki, there are plenty more unmissable destinations in Japan just waiting to be uncovered.
But before we dig in, we wanted to tell you how we put this article together. The majority of recommendations you'll see below are based on personal experience, and some are backed up by handy TripAdvisor reviews. Now that's out of the way — sit back, relax, and read about 10 relatively undiscovered cities in Japan that you definitely don't want to miss.
Fukuoka — best for food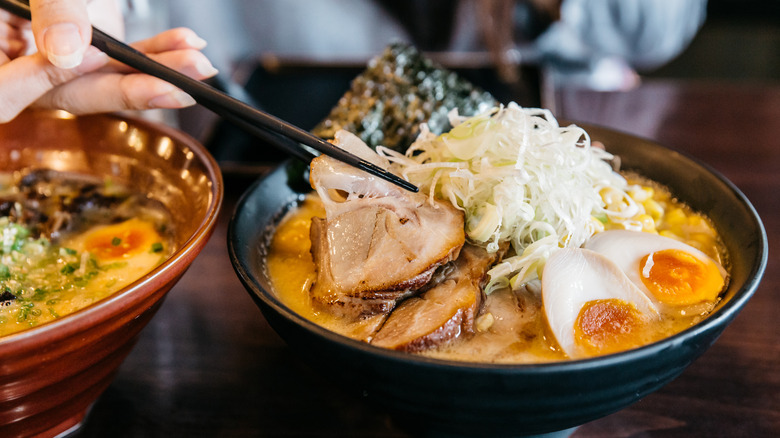 Artit Wongpradu/Shutterstock
Travel to friendly Fukuoka for an escape to the harbor, featuring a temperate climate and the best Hakata ramen you've ever tasted. Often heralded as Japan's "Gateway to Asia," this city boasts a thriving art and nightlife scene — thanks to museums, art schools, and creative spaces, as well as jazz venues and burlesque performers. It's a popular destination for Japanese tourists, but international travelers are only just getting wind of it.
Start in lush Ohori Park with a leisurely stroll around the pond. A fabulous spot for joggers and dog walkers, this picturesque space allows you to strike out to some of Fukuoka's most celebrated sites. At the southeastern corner sits Fukuoka Art Museum, with Buddhist statues dating back to the 11th century and various special temporary exhibitions to marvel at. Ohori Park Japanese Garden should be next on your list, just a few steps away, which showcases typical Japanese features, such as dry landscapes, torii gates, shrines, and tea houses. Add the fantastically preserved Tōchō-ji Temple to the mix, and you have yourself a stellar itinerary. But it still feels like something is missing ...
A-ha! Food! When you're ready, head to the yatai — these are tiny Japanese versions of street food stalls, where you can rub elbows with locals and sample countless dishes from Fukuoka's lauded cuisine. The most famous of these is Hakata ramen, a local, lip-smacking noodle dish featuring thin ramen noodles in a pork-based broth.
Takayama — best for tradition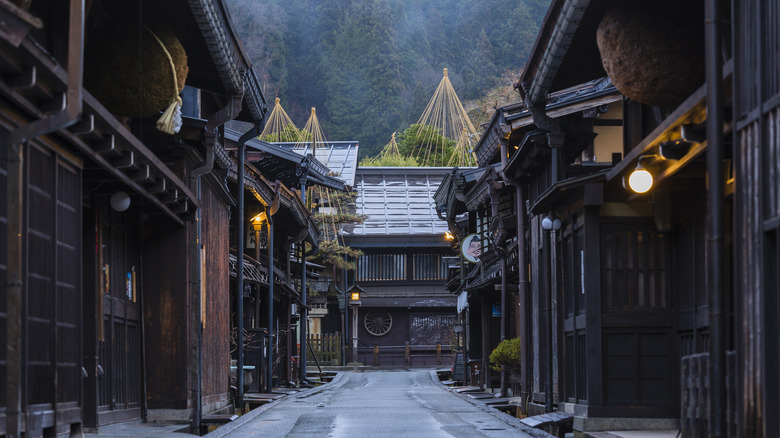 Pespiero/Getty Images
Do Meiji-era inns, hillside shrines, and a pretty riverside setting excite you? Head for Hida Takayama, nestled in the mountains and far enough away from the typical tourist trail to find a slice of peace. It offers a traditional touch that can be hard to find, with an immaculately preserved old town and festivals dating back to the 17th century. Timing your trip to take in the Takayama Spring Festival in April, or the Autumn version in October could be a way to squeeze in an extra culture hit, although it's likely to be the city's busiest season for tourists.
You'll feel at home as soon as you set foot in Takayama, especially on Sanmachi Street. Head here first thing for a dose of the old town's expertly carved wooden buildings, not to mention shops and cozy cafés. It's a buzzing little spot for tasty treats like mochi, dango, and buns, as well as iconic Japanese hand-crafted products. Next, get your dose of nature at nearby Shiroyama Park. From Buddhist temples and castle ruins to mountainside views, there's much to be gained from an hour or two in this idyllic haven — Soyuji Temple and Eikyo-in Temple are particular standouts. The city is also home to several museums, which could be a good option if it's raining or getting chilly. If you have to make a shortlist, the collections at Takayama Jinya should be your priority.
Matsuyama — best for ancient castles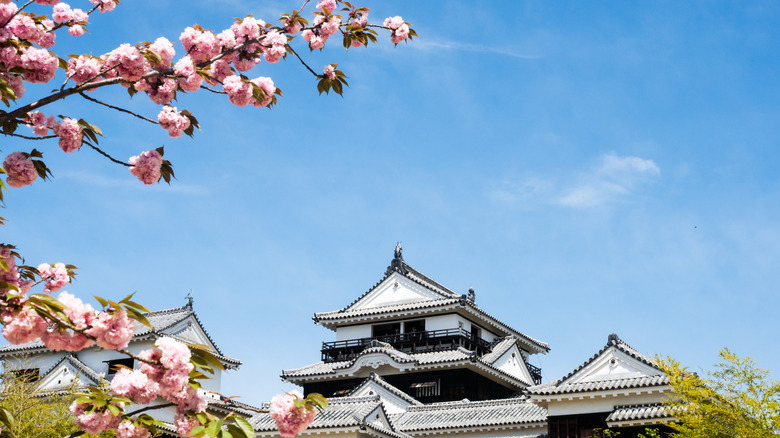 Amehime/Shutterstock
Welcome to Shikoku island's largest city, Matsuyama — home to some stunning pilgrimage temples. But the real star of the show, and a spot you should think about ticking off first, is Matsuyama-jō, a 17th-century original castle. Its hilltop vantage point offers spectacular surrounding views and even a glimpse of the Seto Inland Sea. Next, take in the stunning architecture of Ishteji Temple, featuring statues, a pagoda, and an inner section that you can only get to via a cave.
Matsuyama was first brought to national attention in 1906 after its inclusion in the novel "Botchan" by Natsume Soseki. In fact, the book is so well respected it's read by Japanese schoolchildren across the country. In its pages, the city's most iconic onsen is mentioned — a hot spring with bathing facilities around it. So, while you're here, you may as well soak the rest of the day away by relaxing at Matsuyama's centuries-old Dōgo Onsen, right?
Despite this national claim to fame, many Japanese people have never even visited the island of Shikoku, where Matsuyama can be found, let alone a string of international tourists. The city's location may have something to do with this — there are no bullet trains here, or direct trains for that matter. The best route is to catch a highway bus from Hiroshima Prefecture or book a flight from Tokyo or Osaka. Although a little inconvenient, the journey is worth it if you're looking for a quintessential Japanese holiday.
Beppu — best for hot springs
Seanpavonephoto/Getty Images
Speaking of onsens, you'll want to make a note of this sleepy spa town. With steam rising from vents in the earth — even more magical to behold in the winter — Beppu is your chance to go hot spring crazy. In fact, there's more bubbling here than any other place in the country. Will it be a hot water bath, mud bath, sand bath, steam bath, or all of the above? There are almost too many to choose from, but Takegawara Onsen is a safe bet if only for its long history and nostalgic charm. A little tip — Beppu's waters are very powerful and likely to corrode your jewelry, turning it black. So, just remember to take it off before you wade in!
Once you're cleansed, start sampling Beppu's magnificent culinary scene. Jigoku-mushi purin (hell-steamed pudding) is the most famous of the city's dishes — a mix of smooth, delicately sweet custard and bitter caramel, all cooked up in hot spring steam. If you don't have a sweet tooth, go for what's considered a savory soul food of Beppu — a bowl of signature chilled noodles called Beppu reimen.
The "Onsen Capital of the World" doesn't feel overrun by tourists like Tokyo or Kyoto, which likely has something to do with its lack of direct transport to and from major hubs. You're looking at a 6-hour train journey from Tokyo and a 4-hour ride from Kyoto, with a connection for each.
Kagoshima — best for volcanoes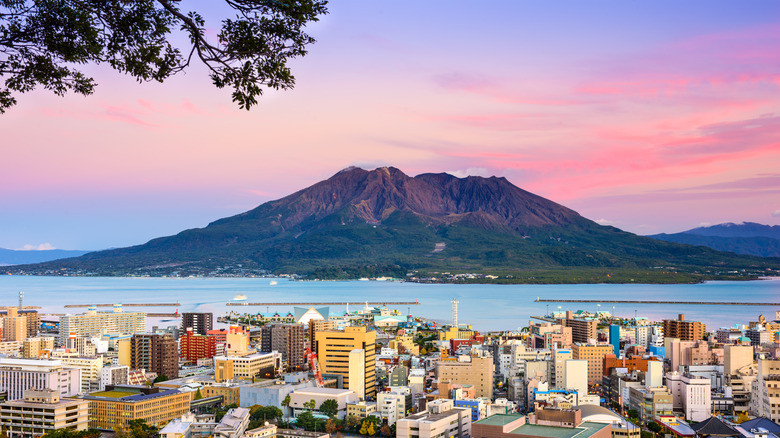 Seanpavonephoto/Getty Images
With the backdrop of Sakurajima (a very active volcano), mystical Kagoshima offers something slightly different. Picture an otherworldly blend of traditional and tropical, with plenty of glorious sunshine all year round — so much so it's often likened to the Italian city of Naples. Kagoshima also has a reputation as Japan's "friendliest city," but it's not one that many tourists seem to have on their radar. Its volcano erupts on a fairly regular basis, which may have something to do with that, but don't worry, the city is perfectly safe to visit. Just be sure to bring your camera — you don't want to miss the spectacle of fine ash coating its tranquil landscape.
Talking of volcanoes, your first stop should be none other than the Sakurajima Geopark. Here, you can learn more about life under an active volcano and follow several walking trails. All offer breathtaking views of the surrounding woodlands, but the 1.8-mile Nagisa Yogan Trail is not to be missed. Next, get some respite at one of Kagoshima's 2,730 hot springs. Prepare to soak your tired feet in a free foot spa, complete with a stunning volcano view. What's not to love? When you're ready for food, get down to Kagoshima Furusato Yataimura, which features a collection of small restaurants cooking up a range of tasty Japanese delicacies. Think seafood, udon noodle bowls, and mouthwatering Kurobuta pork.
Nagano — best for temples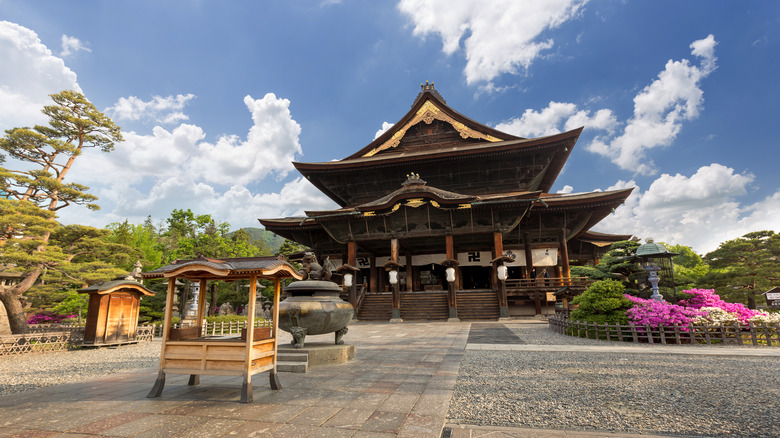 Kanuman/Shutterstock
Nagano city is affectionately known as a "temple town" as it surrounds one of Japan's most celebrated and oldest shrines, Zenkō-ji. In 1998, the city proudly hosted the Winter Olympic Games, which brought thousands of visitors to its forested mountains for the first time. With some of the best snow in the country and often regarded as one of the best places in the world to ski, Nagano continues to attract winter sports lovers, but its center remains largely untouched by international tourists.
Start your day by visiting Zenkō-ji, the spiritual heart of the Nagano region. If time allows, get there first thing — a morning ceremony takes place every day of the year. You can even stay overnight at one of many traditional temple lodgings (shukubo). Next, hop along to Matsumoto Castle, a must-see UNESCO World Heritage Site, boasting a moat full-to-the-brim with bright and colorful koi fish. Entry is free, and there are plenty of volunteer guides giving tours in several languages. Don't miss Nagano's famous street food, either — oyaki. This pan-fried Japanese dumpling is made with chewy wheat dough and stuffed with vegetables, mushrooms, or meat. If there's still time, journey to the Yamanouchi area of Nagano for the Jigokudani Monkey Park, which is open all year round. Each season provides a unique reason to visit — key highlights are the monkeys frolicking in the winter snow and the arrival of baby monkeys during the cherry blossom season in spring.
Chichibu — best for festivals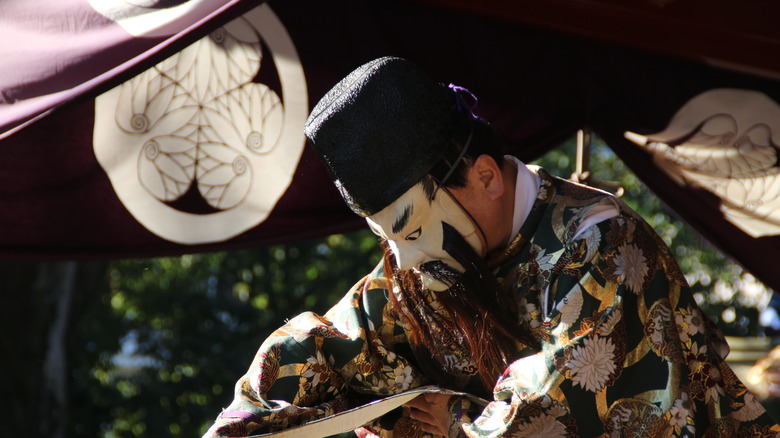 Eramiya/Shutterstock
No trip to Japan is complete without visiting a shrine or taking in at least one festival, right? Well, here's some good news: Chichibu offers both, as the city is known for its impressive temples amid beautiful nature, and the fabulous Chichibu Night Festival takes place every December. Expect giant floats lighting up the night sky and a parade complete with mikoshi portable shrines, taiko drummers, and mesmerizing dancers. The festival is loved by so many that it's ranked among the top three in the country, alongside Kyoto's Gion Matsuri and the aforementioned Takayama Matsuri. Despite being a stone's throw away from Tokyo by train (around 90 minutes), Chichibu doesn't feel overrun by visitors. Instead, it plays the part of a quaint rural city well, attracting tourists looking for something different and those keen to escape the hustle and bustle.
The famous night festival might be Chichibu's calling card, but the city's second-best offering is its scenic location, nestled in the heart of Saitama Prefecture and surrounded by vast mountains and natural landscapes. If you've got time, the tranquil Hitsujiyama Park, Chichibu Festival Museum, and the Chichibu Imamiya Shrine are well worth visiting. And when it comes to food, you can't leave without getting a taste of some of the region's specialties. Chichibu soba, waraji katsudon (breaded pork cutlet), miso-pickled pork, and deep-fried potatoes (glazed with a miso-based sauce) are sure to blow your socks off.
Onomichi — best for sea views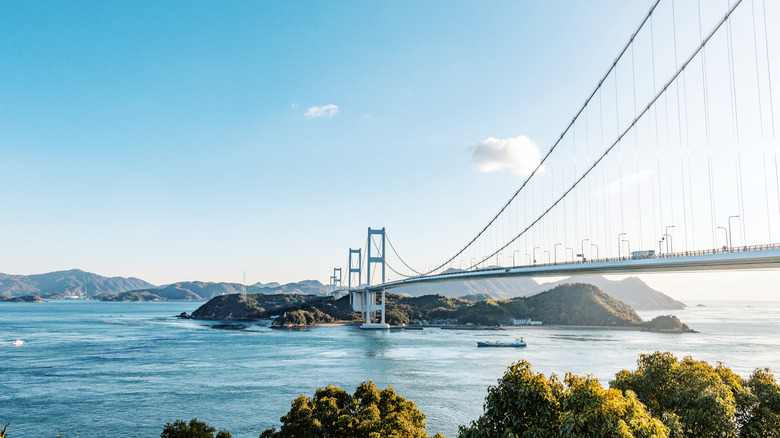 Masaotaira/Getty Images
With a nostalgic port town atmosphere, Onomichi is another quaint gem to add to your ever-growing list. What makes this little spot so special is its geography. The city is sprawled across multiple tiny emerald-green isles within the Seto Inland Sea, all connected to each other and mainland Japan by a series of white bridges and small ferries. It's no wonder that picturesque Onomichi has served as a filming location for numerous movies and Japanese television dramas over the years, including Teppan (2010) and Tokyo Story (1953).
But what really sets the city apart is its many slopes and narrow lanes. If you plan on heading here, be sure to bring comfy sneakers — you'll find many of Onomichi's attractions clinging to deceptively steep hillsides. The most famous of these sites is the Temple Walk, with a whopping 25 sanctuaries to take in along its 1.5-mile route. Senkō-ji is probably the most impressive, thanks to a bell tower and highland setting, complete with stunning views of the surrounding sapphire blue sea. Last but not least, we come to the Shimanami Kaidō — a 43-mile cycle route that winds across six islands, from Onomichi to the city of Imabari, on Japan's Shikoku island. It's a particularly popular spot to visit during cherry blossom season in the spring, but it's one of the most picturesque bike rides you can take at any time of year.
Nagasaki — best for history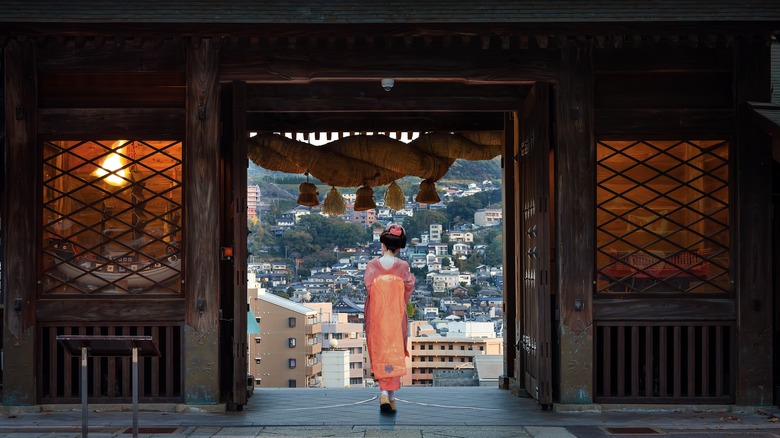 cowardlion/Shutterstock
The word "Nagasaki" likely brings tragedy to mind, what with the dropping of the second atomic bomb here in 1945. Known as the "Forgotten City," it was heavily overshadowed by the first bomb attack on its larger cousin, Hiroshima, three days earlier. To this day, it remains overlooked by tourists, and those who visit sometimes make the mistake of thinking of it as nothing but a melancholy memorial park. The reality? Nagasaki begs to be explored beyond its monuments and peace statues. When you scratch the surface, you'll uncover its lively, captivating port, with beautiful European colonial areas, jaw-dropping art, churches, parks, atmospheric bridges, colorful shrines, and a vibrant Chinatown.
The memorials and museums are deeply moving and important to acknowledge, so start by paying your respects here. Follow on from this with the Nagasaki Prefectural Art Museum, packed with a plethora of stunning modern art created by Nagasaki artists, alongside an equally stylish café on the roof. When it comes to local delicacies, we have Shippoku-ryori to be grateful for. It's an expert fusion of Japanese, Chinese, and Western cuisines, created thanks to the thousands of merchant traders from across the globe who lived alongside each other in the city for centuries.
Niigata — best for sake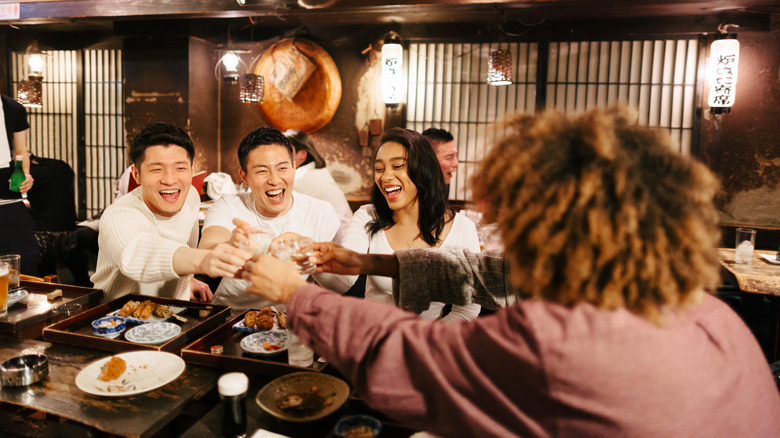 Recep-bg/Getty Images
Sitting pretty along the west coast of Japan, Niigata is a sprawling city with the humble grain of rice as its local star. By extension, it's the perfect spot to sample impeccably smooth rice wine (sake), and what better way to begin your trip than at Imayotsukasa Sake Brewery? Or, hop along to Ponshukan in Niigata Station and choose between 100 varieties of sake dispensed from tiny vending machines.
But the real draw of the Niigata region? Its cascading rice fields. For the best vistas, head to Hoshitoge Rice Terraces in nearby Tokamachi — a beautiful spot at sunrise. It is particularly gorgeous between June and November, when the tiered fields fill with water, reflecting the colors of the sky. For history buffs, Niigata City History Museum (Minatopia) is well worth a visit. It features a former Niigata Customs House, shipping landings, and a bonded warehouse, transporting you back to years gone by. With spectacular fireworks and folk dancing in the summer season, plenty of opportunities to ski in the winter, and the arrival of cherry blossoms in Hakusan Park to add to proceedings in the springtime, Niigata is a strong year-round destination. So, where are all the tourists? It's as much of a mystery to us, especially since getting here has never been easier — Tokyo and Niigata are connected by bullet train, with a one-way journey lasting just two hours. With all this in mind, what are you waiting for?