This European Foodie Destination Is A Great Spot For A Fall Getaway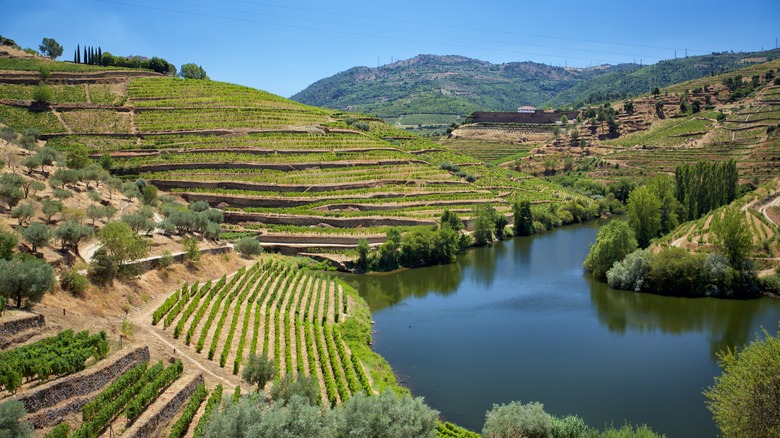 Pavel Elias/Shutterstock
Food tourism is increasing by the minute, and understandably so. Sure, iconic sites like the Taj Mahal and the natural wonders of Iceland are alone enough a reason to travel, but it's hard to argue that the quality of any trip is greatly improved when top-notch cuisine is involved. Some destinations around the globe are particularly known for their foodie scene, like San Sebastián in Spain and Israel as a whole. If you're looking to get out on a culinary escape this fall, and you want to head somewhere warm that doesn't entirely break the bank, look no further than Portugal's Porto and the Douro Valley.
While there's no arguing that Lisbon is a fascinating European city, if you're headed to Portugal, it's well worth it to allow for some extra time in nearby Porto. Via an approximately three-hour train ride from Lisbon, which is easy to book with a Eurail pass, Porto is an enchanting city and one of the best hubs to access the delicious Douro Valley. 
Why visit in the fall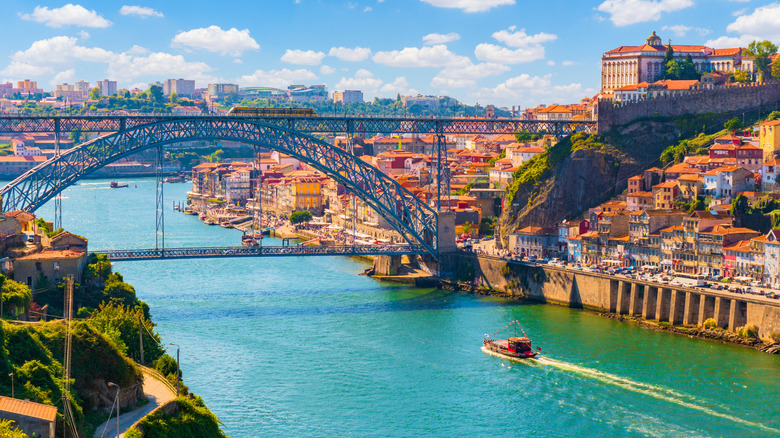 Rafael Bischof/Shutterstock
Many choose to have a European summer, but shoulder season in Europe is arguably more enjoyable for a plethora of reasons. For Portugal specifically, the summer crowds typically diminish in the fall, meaning you can enjoy some of the country's top sights without having to share them with thousands of strangers. The heat in the summer, especially in Porto, can really add a damper to your trip. In September and October, however, temperatures usually fall around the low 70s Fahrenheit, making it much more bearable to have long days outside taking in the city's incredible views. Porto is even near some renowned beaches, such as Mindelo Beach, Aterro Beach, and Lavadores Beach, and while the water temperatures can dip down to the low 60s, having a beach day is certainly not out of the question in the fall.
Porto is overall generally affordable in contrast to other cities in Western Europe, but in the fall, that is even more so. According to data collected from Skyscanner, in terms of traveling in the fall, flights to Portugal are cheapest in November.
Iconic dishes in Porto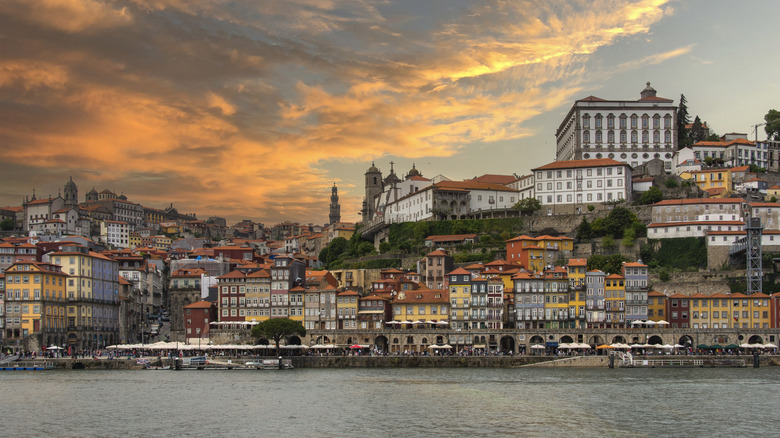 Frankvandenbergh/Getty Images
Now, for the good part: the food. Both Douro Valley and Porto are some of the best foodie destinations not only in Portugal, but within Europe. Portuguese wine in particular is having a moment, and Portugal even exports the majority of the world's cork. The Douro River, which cuts through Porto and creates the city's dramatic scenery, provides ample terrain for some of Portugal's wine varietals. While many associate Italy or France as Europe's top wine destinations, the Douro Valley is certainly not to be written off, especially for sipping port.
In the city of Porto itself, you simply must try the local decadent sandwich, Francesinha. It's heartily stuffed with chorizo, steak, or ham between thick slices of bread, completely covered in cheese, and often topped with a fried runny egg. Caldo Verde, a comforting soup loaded with chorizo, potatoes, and kale, is another must-try. And, hey, if you're going to drink Portuguese wine, it only makes sense to pair it with some local cheese. Portugal makes some seriously tasty cheese, like the iconic Serra da Estrela. Cheese plates in Porto are typically served with a fruity jam, such as quince or apricot paste.