Portugal's Shoulder Seasons Make For Better Weather And Less Crowds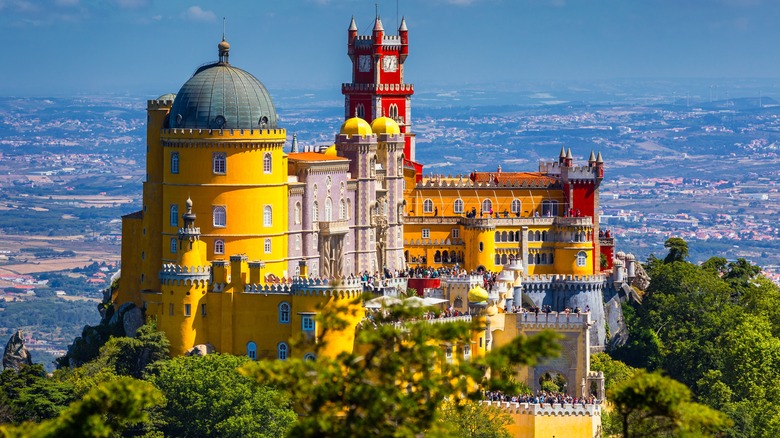 DaLiu/Shutterstock
While most people plan their vacations during the summer season, there are many who prefer to avoid summer holiday travel like the plague. Whether it's because they're dreaming of spending their days on an exotic island and catching some golden rays of sunshine for that perfect tan or it's simply because their children are finished with school for the year, or their work schedule is less frantic. Traveling during the summer months is not only more expensive, it's also much more crowded, and extremely hot, particularly if you're heading to Europe.
Take, for instance, the stunning and ancient, coastal country of Portugal that borders Spain and the North Atlantic Ocean. Known for its delicious port wine, fantastic gastronomical cuisine, and miracle sightings — while proudly boasting the title of  Europe's oldest country (per WorldStrides) — traveling to Portugal during its shoulder seasons affords visitors far less crowds and much better weather.
Standing on the shoulders of Portugal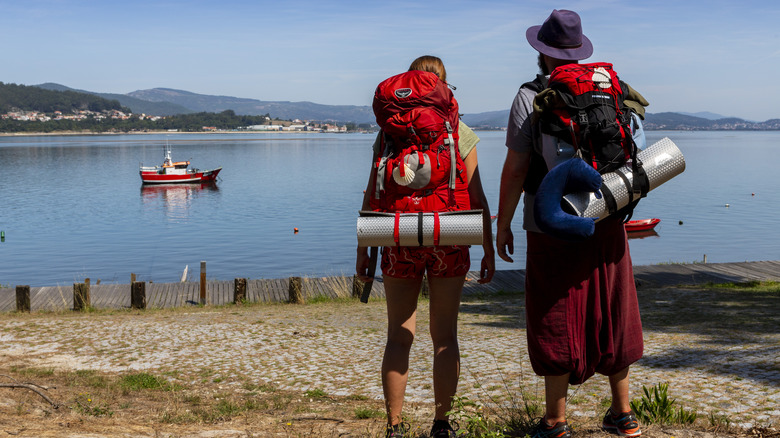 Xurxo Lobato/Getty Images
So, what is a shoulder season, you ask? Typically, and depending upon the destination you're visiting, it's the months outside of the peak and low seasons. In this instance, Portugal's shoulder seasons are spring and autumn, and if you're a lover of activities that you can partake in under the Mediterranean sun, such as hiking, attending festivals, surfing, or even boating, these are the perfect months for you to visit, as recommended by Lonely Planet.
If you visit Portugal during the months of April through May or September through October, you'll find that accommodations are not nearly as expensive as they are during their peak season (summer), and there are fewer tourists crowding the stunning beaches that frame this amazing country. And, with a fantastic selection of them to choose from, as recommended by Rough Guides, there's no shortage of fine, powdery sand to sink your toes in.
The country of sunshine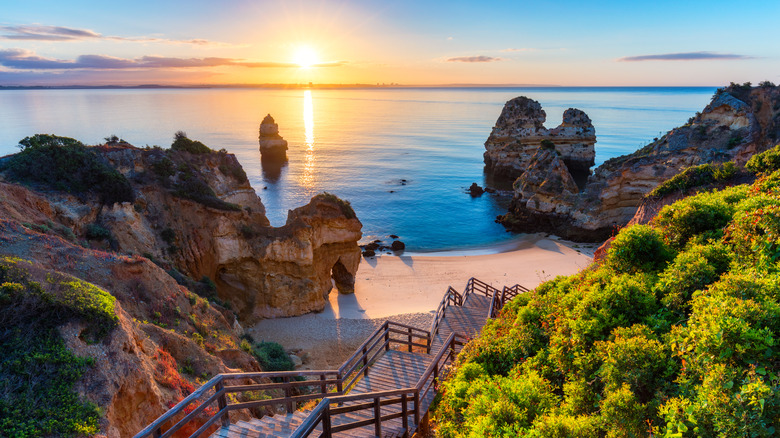 DaLiu/Shutterstock
Did you know that the small country of Portugal is known for its annual amount of sunshine? Well, it is! And, according to Portugal.com, residents and visitors get to enjoy its brilliant luminosity for over 300 days each year. That's a whole lot of natural vitamin D for everyone to soak up. And, while its neighboring country of Spain gets quite hot during the year, and Portugal is known to be one of the warmer countries in Europe, it benefits from being on the southwestern coast facing the North Atlantic Ocean.
During the shoulder seasons, temperatures are pleasant and mild. With flowers blossoming in the spring, albeit the beginning of April does bring some spring showers, they quickly dissipate to allow for gorgeous weather. Autumn of course brings crisp, clear days, fall temperatures, and the changing colors of the leaves, which is always a delight to see no matter where you are. With so many charming towns and stunning seascapes to admire, you can't go wrong visiting Portugal.