Smart Tips To Avoid Getting Scammed By A Fake Travel Agency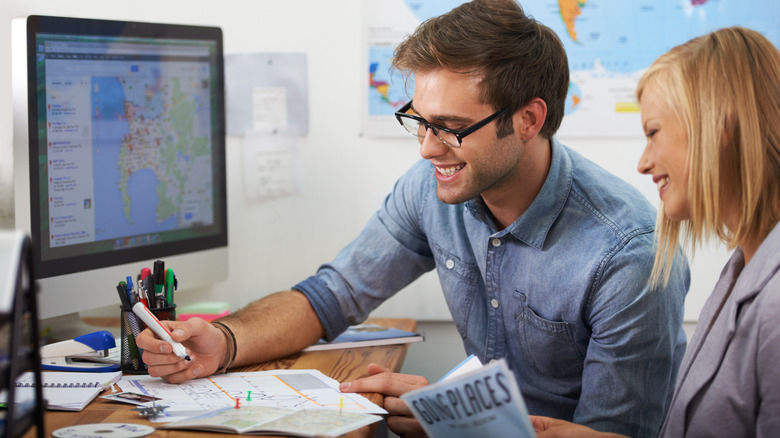 Peopleimages/Getty Images
Vacations can feel like divine interventions that rescue us from the boatloads of work and responsibility that fill our plates in the day to day. Planning them, on the other hand, requires time, which we have to carve out from our already busy schedules. Because of this, they can be stressful. Luckily, travel agencies exist, and they can help — just provide the dates, location, and your budget, and they can take care of the tedious work you may not have the time or energy for. When you find the perfect travel agent, things move smoothly. But if you find a bad one, well, things can go downhill pretty fast, which is why you have to be careful when selecting a travel agency.
It's especially important to be cautious with travel agencies since you'll be handing over large amounts of money and sharing your personal information. Luckily, you can learn and look out for the red flags that indicate a travel agency may be a scam. 
Spotting scams online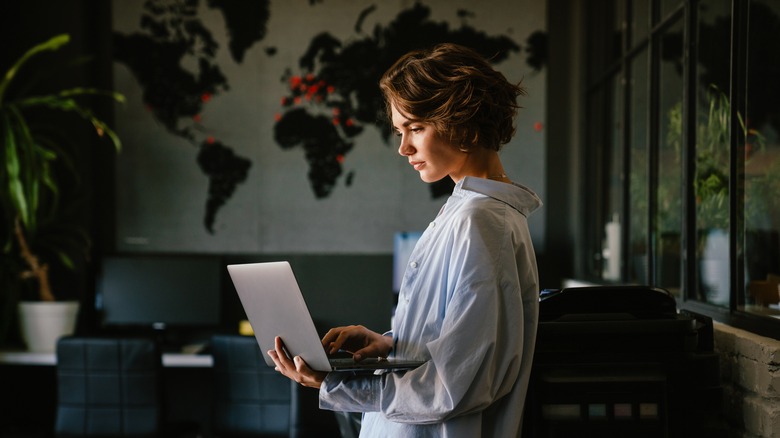 Dean Drobot/Shutterstock
Keep an eye out for legitimacy every time you use a travel agency. Start by ensuring that the company has a website. Make sure its domain and site in general do not contain spelling errors. If they do, the company is likely a scam. Next, see if the website is secure — do this by looking at the little lock symbol in the URL. If it's unlocked, the site is more prone to scammers.
Now check out the contact section. Make sure the phone area code matches the address — and that the agency has physical address in the first place. Does the email account end with @gmail.com or @yahoo.com? Remember, it's a business, so if it's legitimate it should have an email from a custom domain. While you're on the website, check to see if it's accredited by an organization like the International Air Transit Association (IATA) or the Airline Reporting Corporation (ARC). These organizations have standards that travel agencies must meet, meaning that only legitimate ones will have them.
After — or even before — checking the websites for yourself, you can take additional measures to verify their legitimacy. Sites like Scam Detector, which focuses on fraud prevention and helps you figure out if a website is secure; Better Business Bureau, which helps you find out if a business is real and legitimate; and WHOIS, a public database that provides information regarding the creation of and changes to websites, are great ways to investigate.
Reviews and payment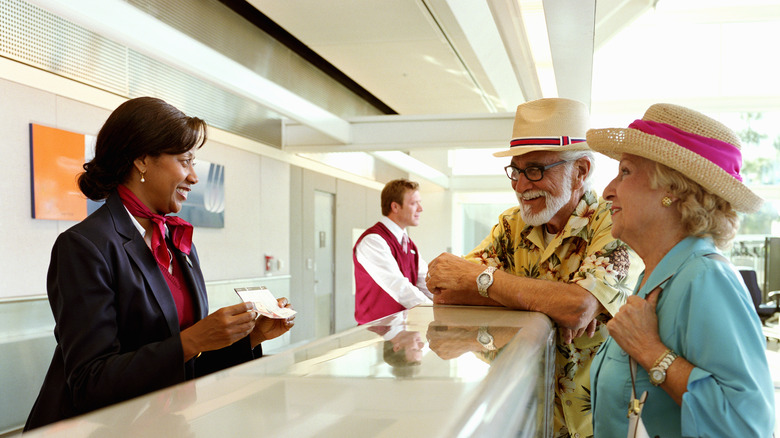 Digital Vision/Getty Images
For even more insight and to learn of other's personal experiences, read reviews on sites like Google. This gives you access to information about the website outside of the website itself. These reviews can be helpful for setting your expectations for the services you'll receive — and can help steer you away from sketchy sites and agents.
Finally, pay special attention to payment. How are they asking you to pay? A real agency will not ask for gift cards, wire transfers, or cryptocurrency. A real agency will also be transparent about payment policies, be it refunds or cancellations or even the list price — it won't have hidden travel fees. Taking these extra steps can save you from getting scammed by a fake travel agency. If you know you want to use a travel agent, remember these tips to ensure you get the vacation of your dreams rather than a nightmare of stress.