Take A Trip To This Underrated Midwest National Park To Explore Shipwrecks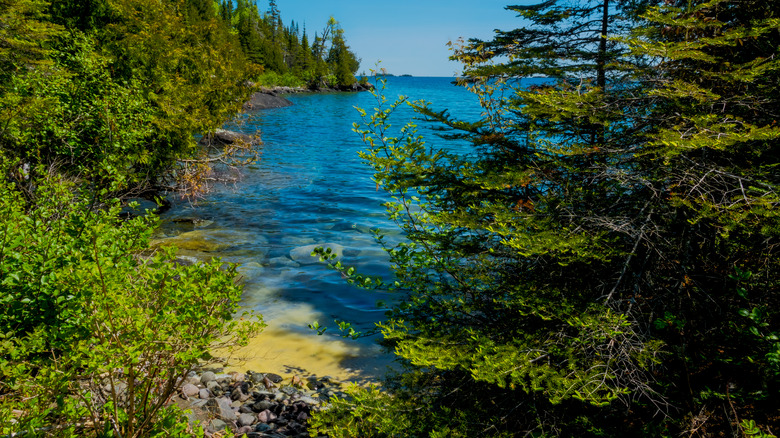 Arlene Waller/Shutterstock
Lake Superior is considered one of the most beautiful lakes in the Midwest. In this body of water, you'll find a hidden gem: Michigan's Isle Royale National Park. Isle Royale is the largest island on Lake Superior, but CNN reported that it was one of the least visited national parks in the country in 2022. Established in 1940, and located 20 miles off the shores of Grand Portage, Minnesota, the 850-square-mile park has acres of wild and uninhabited land. 
It's also the site of 10 shipwrecks that met their demise in the 19th and 20th centuries. Four of these were passenger ships, and the rest were freighter ships. According to the National Park Service (NPS), Isle Royale became part of a trading route for ships in the 1700s. Lake Superior, however, is a force to be reckoned with; underwater reefs and extreme weather can make it difficult to traverse its waters. 
Due to the cold water temperatures, many of these shipwrecks are intact and can be explored via scuba diving. They include the SS Algoma, SS America, SS Henry Chisolm, SS Chester A. Congdon, SS George M. Cox, SS Cumberland, SS Emperor, SS Glenlyon, SS Kamloops, and SS Monarch.
While the United States has incredible beaches for scuba diving, Isle Royale National Park is a one-of-a-kind experience. As avid Isle Royale diver Jackie Polomski put it (via Michigan Live), "It's like stepping into an underwater museum."
What divers encounter at Isle Royale National Park
A 2009 study conducted by the NPS found that nine out of the 10 shipwrecks at Isle Royale National Park sank because they ran aground. Divers can see for themselves what's left of these ill-fated ships. The SS Emperor, which sank in 1947, is exceptionally well-preserved. This includes the engine room and cabins, both of which divers can catch a glimpse. In fact, some of the ship's bunk beds are still intact. 
Divers will also come across the SS America. It sank in 1928, and has an intact staircase among other features. Likewise, the SS Kamloops (pictured above) sank in 1927, and the ship's wheel, old shoes, and more can still be seen. Divers who set their sites on the SS Chester A. Congdon will be surprised to find that despite sinking in 1918, the ship's bow is in relatively good condition. 
That said, frigid water conditions and a lack of emergency services mean that scuba diving at Isle Royale National Park is only for certified divers. Isle Royale Charters is one company that takes divers on five-day scuba-driving trips to the shipwrecks.
However, it recommends this excursion for those with prior experience diving in similar conditions as Lake Superior, as well as those with shipwreck diving. If this is you, you must get a scuba diving permit from one of the three visitor centers in Houghton, Rock Harbor, or Windigo. Isle Royale Charters is only in service from June until September. 
Other activities at Isle Royale National Park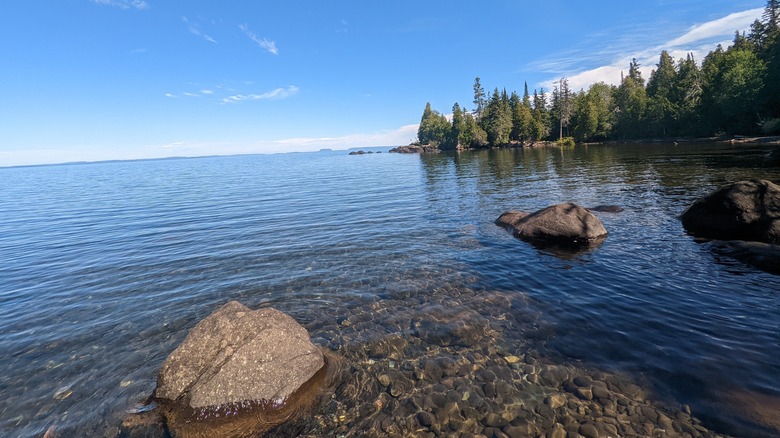 F. Setiawan/Shutterstock
Even if shipwreck diving isn't for you, Isle Royale National Park is not to be missed. The park is open to visitors from April 16 to October 31, and the island is only accessible via seaplane or ferry from Michigan or Minnesota. Visitors who depart from Michigan can do so from Houghton or Copper Harbor. In Minnesota, they can depart from Grand Portage or Grand Marais.
Visitors can arrive at the Rock Harbor or Windigo visitor centers. Rock Harbor is at the island's northeast end and features the Rock Harbor Lodge. Besides offering rooms with scenic views, the hotel has kayak and canoe rentals. It's also home to the Greenstone Grill, a restaurant that serves classic American food. Visitors who want to see more of the island can book boat tours of Isle Royale at the lodge. 
Windigo is a bit more rugged. Overnight stays are available at the Windigo camper cabins, which do not have indoor plumbing. However, guests can also choose to camp at one of the 36 campgrounds, or opt for a day trip. 
Fishing in Lake Superior and hiking are also available. There are 165 miles of trails, the top-rated one on All Trails being the 4.7-mile Stoll Trail. At the time of this publication, visitors must pay a $7 fee to enter Isle Royale National Park. All pets, except for service animals, are not allowed.