Avoid Crowds At This Overlooked East Coast Beach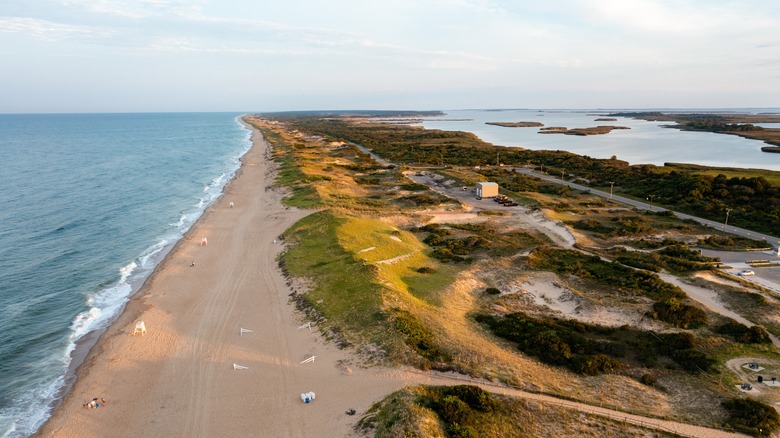 Kyle J Little/Shutterstock
Tourists seeking a seaside vacation flock to states like California and Florida, which are known for their beach towns. However, Virginia is home to more than 7,000 miles of shoreline, and some of the most memorable beaches on the East Coast. Virginia Beach is one of the most popular nautical destinations in the state, attracting over 7 million overnight visitors every year. While it offers fun, family-friendly activities like strolling the famous boardwalk, the bustle of Virginia Beach may not be the best option for those craving a quieter retreat. If you're searching for a peaceful coastal getaway in Virginia, look no further than Sandbridge Beach.
Though located just 15 miles south of the popular resort area of Virginia Beach, the easily accessible Sandbridge Beach is a hidden gem that feels much more secluded. This small city that often goes overlooked is the perfect place to escape the crowds, explore nature, and enjoy the serenity of the Atlantic Ocean.
Activities and incredible views of Sandbridge Beach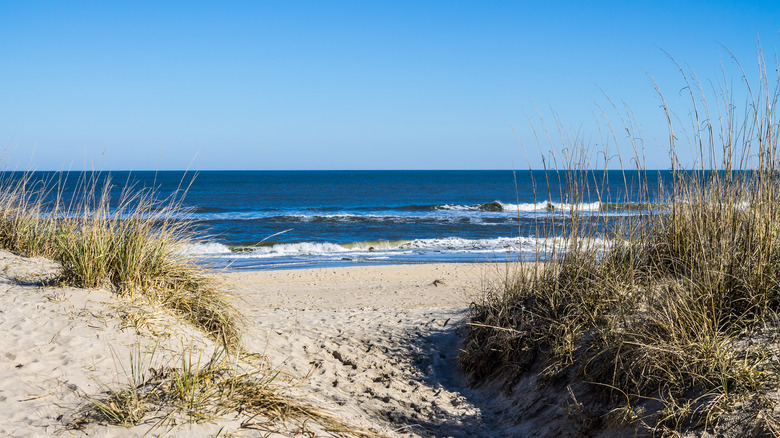 Sherry V Smith/Shutterstock
Sandbridge Beach is a coastal community best known for its five miles of pristine coastline, as well as diverse marshes and bays where wildlife thrives. Sand dunes and sea oats — a tall grass with oat-like flowers that can grow up to six feet — are strewn across Sandbridge Beach, making this a beautiful place to relax. Here, unlike nearby beaches, you won't have to fight for a more private spot on the sand; Sandbridge Beach is much less focused on touting tourist attractions, and instead all about the expansive ocean views.
In addition to just enjoying the surrounding scenery, many vacationers go swimming at Sandbridge Beach. This East Coast beach has several sought-after surfing breaks, including S-Turns, Rock Lane, and the Market. The water quality is good, but it's important to note that it can be chilly, especially during winter months. Excitingly, if you take a walk along the shores, you may spot a pod of wild dolphins that frequent these Atlantic Ocean waters.
On the Sandbridge coastline is Little Island Park, a 122-acre beachfront recreational area. The park is home to the Little Island Fishing Pier — a perfect venue to snap photos of the ocean during sunrise and sunset. To the north of the pier is a 775-foot beach that offers another spot for surfers to hit the waves. To the south of the pier, visitors can post up at another small beach for swimming.
Other activities to do in the area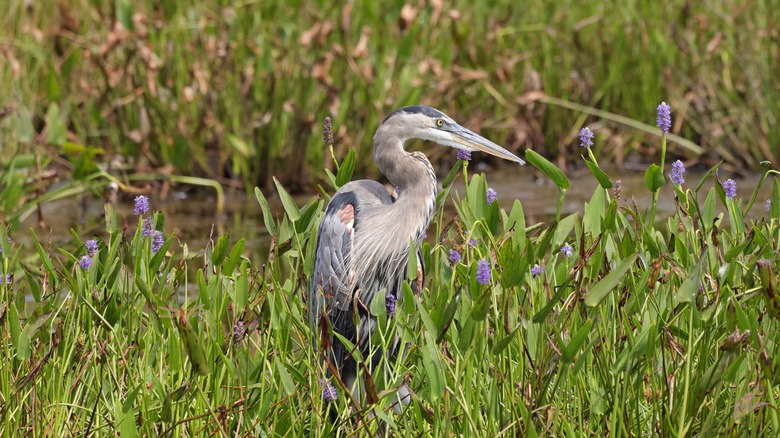 Anne Katherine Jones/Shutterstock
Aside from its spectacular shorelines, the maritime townlet has many activities for nature lovers. While in the Sandbridge area, don't forget to visit False Cape State Park. This park is considered one of the last undeveloped areas on the Atlantic coast, brimming with oak and pine forests, swamps, marshes, and a bay. Once here, you can hit the waters on a guided kayak trip, or hike on one of the many unique trails. False Cape also offers primitive camping areas.
Moreover, you can venture to Back Bay National Wildlife Refuge, which is adjacent to False Cape State Park. Like the park, there are plenty of hiking and biking trails to traverse the refuge that allow for optimal wildlife watching. During the spring and fall, you'll have the opportunity to view reptiles and amphibians, including green tree frogs, green snakes, and turtles. Throughout the year, ranger and volunteer-led programs can help you spot different birds that migrate to the marshy area during winter. Sandbridge is the ultimate hideaway for travelers who truly want to unwind by the waters, and immerse themselves in the natural, oceanside landscape.