Holiday Trips You Should Be Booking Right Now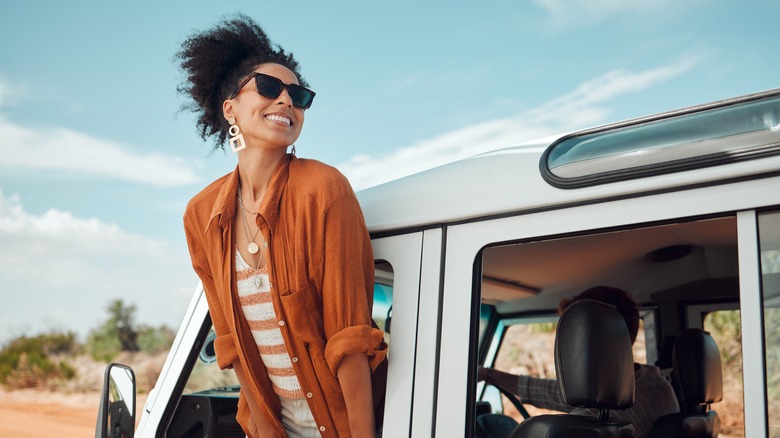 PeopleImages.com - Yuri A/Shutterstock
When it comes to holiday travel, there really isn't a bad time to plan it. In fact, oftentimes, the sooner you get to planning, the better. While booking a flight several months out isn't often recommended, you can and should be thinking about your holiday vacations well in advance. A last-minute adventure booked through a Black Friday sale might be fun and cost-effective, but you're less likely to get the trip you're looking for.
From kitschy (but cute) American Christmas festivities to lazily floating down the Rhine River, there is no one-size-fits-all holiday plan for every traveler. There are, however, a ton of options to Santa suit nearly every traveler. We couldn't possibly sum up all of the options available to you for your next far-flung holiday, though this list should get some ideas going. So get prepared to be inspired for your ho-ho-holiday plans in whatever form they may take.
European riverboat cruises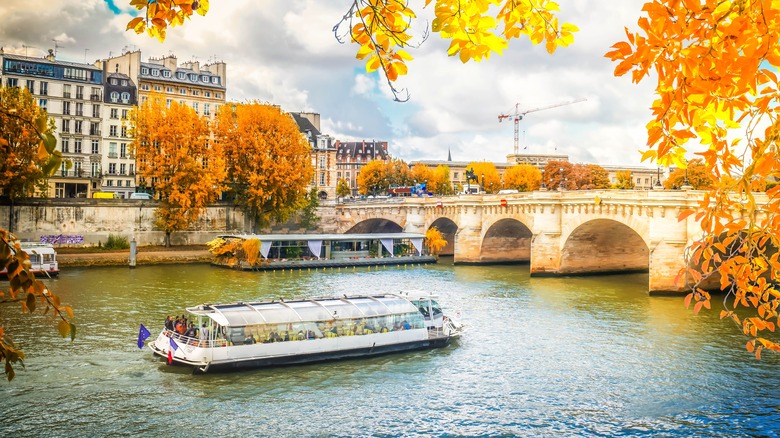 Neirfy/Shutterstock
Ridiculously underrated adventures, riverboat cruises can showcase a range of cultures in the same way a traditional ocean cruise can, but on a much smaller scale. These trips are gaining popularity partly because visitors get to spend a lot more time in a destination than just traveling to it. It's also a great way to see many places in one fell swoop.
River cruising is supposed to become even more popular in the next decade. Travelers love that these options include some of the perks of an ocean cruise with access to inland areas. These boats are more intimate than their oceanic counterparts, so if giant cruises have always intimidated you, a river cruise is a more reasonable replacement. If you think of a massive nautical liner as a city, a river cruise boat is more like a quaint town. Instead of carting thousands of passengers around, these petite boats carry about 100 to 200 people.
For this holiday season, Austria presents the Grand European Tours, sailing from Amsterdam to Budapest in 15 days. If a holiday-themed riverboat cruise is more of your vibe, Christmas on the Rhine & Moselle is a festive 12-day trip showcasing the best of Europe as it floats from Paris to Zürich.
New York City, New York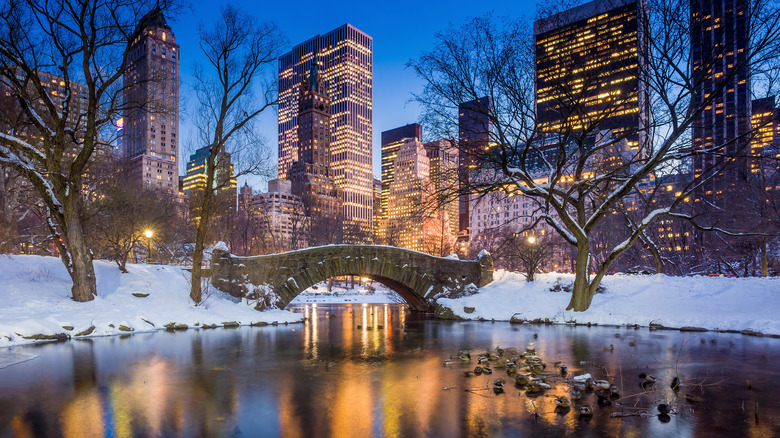 F11photo/Getty Images
NYC is a popular tourist destination year-round, but many more people flock to the city that never sleeps in December. Go to the world-famous Rockefeller Center to see the Christmas tree and its lights, or reenact the adorable skating scene from "Elf." Then, spend an evening seeing the renowned Rockettes, though a ticket to see them at Radio City Music Hall is nearly impossible if you wait too long.
Make sure you also visit Southern Brooklyn, where neighborhoods compete for the best holiday decorations. You'll specifically want to head over to Dyker Heights, which has some of the best holiday decorations in the city. Since it doesn't cost anything to get around the neighborhood to see the festive décor, this is a terrific option for budget-oriented travelers, especially if you have kiddos.
Once the holidays wind down, a lot of people stay for the famous New Year's Eve celebrations at Times Square. Just be aware if you do decide to wait for the NYE festivities, they are not as glamorous as TV would have you believe. Plan on being outside for hours without access to a bathroom (unless you want to lose your spot in the massive crowd).
Exploring state parks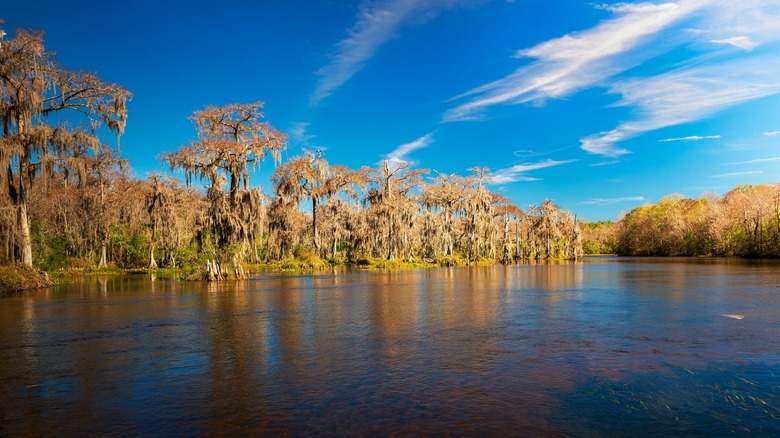 Nick Fox/Shutterstock
State Parks don't get enough credit for the amount of conservation and good they do for our communities. While national parks like Yosemite get a lot of attention — rightfully so, as they're incredibly beautiful — more accessible state parks rarely do. Not only are these often more cost-effective visits, but there are also so many state parks around the country that you don't have to travel far from home to find one, especially during the holidays.
There are over 6,900 state parks across the United States, so we mean it when we say they are everywhere. Even without the accolades the national parks receive, state parks can be just as stunning regardless of the time of year. However, if you're a fan of snow, some of the parks in colder regions are made all the prettier by blankets of winter white.
If you want to escape the cold, venture to Edward Ball Wakulla Springs State Park in Florida. As its name implies, there are natural springs here to enjoy. You can swim, snorkel, or go wildlife watching.
Travel by train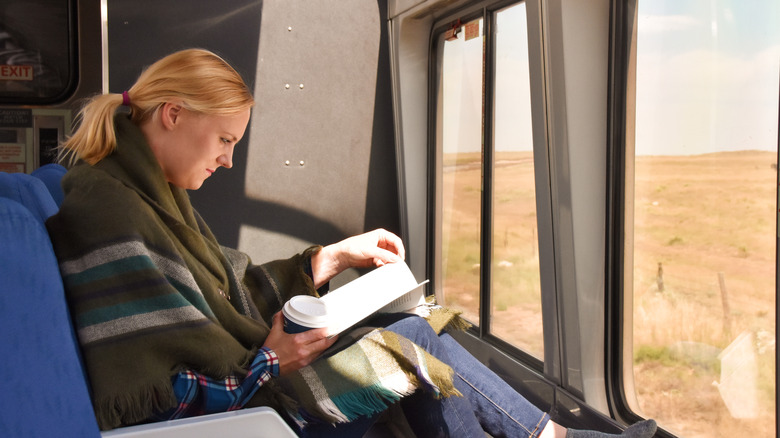 Liga Cerina/Shutterstock
A lot of people travel for the holidays. While a plane is often the fastest way to arrive, consider getting to your destination by train. Choose the scenic route over the quick one and make getting to your holiday location part of the vacation. Relax, take in the stunning sights, and explore parts of the world you have never seen. 
One of the most beautiful routes in the U.S. is from NYC to Rutland, Vermont. You can even travel on Christmas Day to save some money. Or attempt the 36-hour train ride from Los Angeles to Seattle via the Coast Starlight for gorgeous views of the West Coast. But book now because fewer times are available on the holidays.
Train travel is deeply underrated in the United States. Although other parts of the world, like Europe, have made train travel into an art form, or Japan, where bullet trains revolutionized travel, the United States is woefully behind. You can even do work while aboard the train if need be. It makes the longer commute time feel more worthwhile. Plus, if you book a room or roomette, you get a lot more privacy than you would on a plane.
Cuba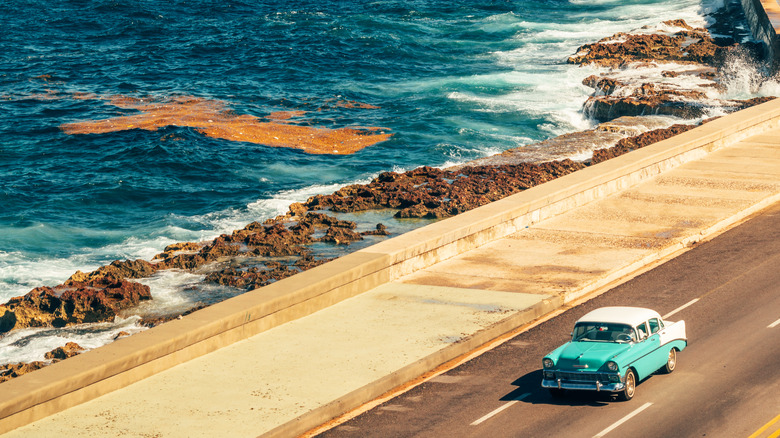 Nikada/Getty Images
Cuba is no longer off-limits to Americans, though it does come with some complications. As a non-Cuban citizen, you can't just show up on the island for vacation. You have to travel with a U.S.-based tour agency and be escorted while on the island by a guide. There are other conditions to consider, but those are the big ones. If that isn't a deal breaker, Cuba in December is fantastic.
Because December is the island's dry season, the options for wild adventures are endless. Cave and scuba diving, rock climbing, hiking epic peaks, and dancing in the famous Havana salsa clubs are just some of the many things you can do. Locals say that to see the soul of Cuba, you must visit the Oriente, the region east of Camagüey. You'll see many historic sites, including propaganda billboards. Some of the country's most beautiful beaches are there as well.
Even if parts of the island's less urban areas aren't very crowded, the beaches will be. In addition to being the dry season, December is smack dab in the middle of Cuba's high tourist peak. So, between locals and visitors, the beaches will be a hot spot.
U.S. Virgin Islands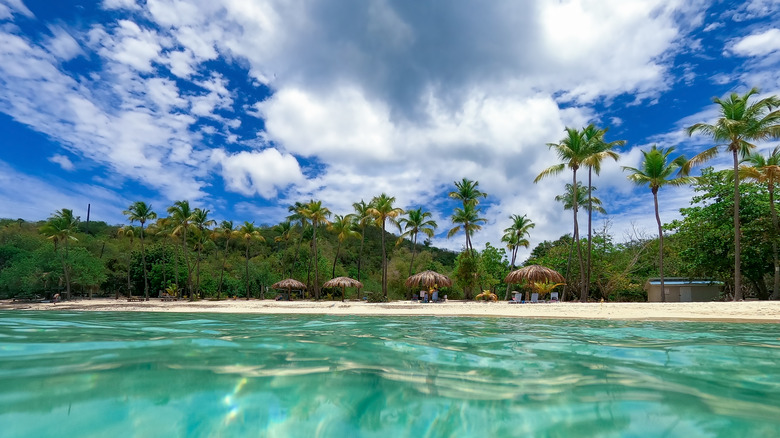 Marina113/Getty Images
Whether you visit St. Croix, St. John, and St. Thomas or one of the dozens of smaller islands in the U.S. Virgin Island (USVI) territory, you don't have to travel far to find beachfront paradise. A trip to the USVI is a terrific choice for travelers who can't go too far from home for a beachy time away, as well as those who don't have a passport (or let theirs expire, no shame.)
Temperatures on the USVI are incredible all year as they average 78 degrees Fahrenheit, so even in December, this paradise is a major warm-up from most of the country. These islands are fantastic for anyone who loves beach days, ocean swimming, water sports, snorkeling, and diving. USVI is home to over 500 species of animals and fish, so there is always something to see.
One thing to note is that, compared to all other Caribbean destinations, the USVI has a high cost of living, with experts citing that budget travelers can spend up to $100 per day on necessities. If cost isn't a factor, a trip to the USVI is bound to be a smash hit for the holidays.
Amsterdam, The Netherlands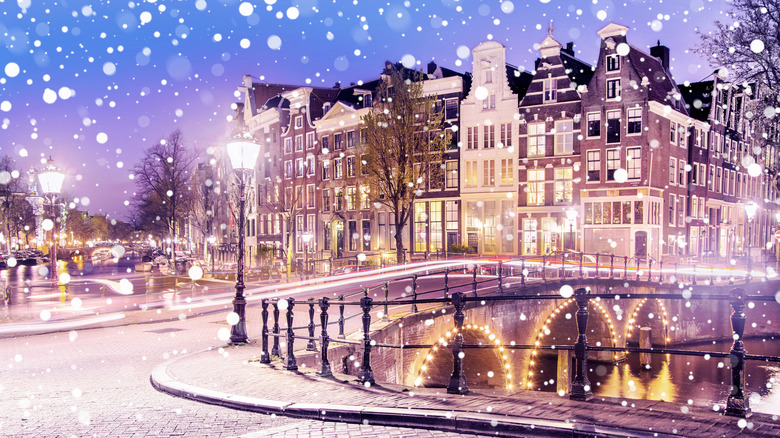 Marina Datsenko/Shutterstock
Holland's largest city is a popular place to be come Christmas time. Locals get into the legend of Santa Claus and the holiday season. Decorations start to appear in mid-November partly because the season is kicked off with the arrival of Sinterklaas (Saint Nicholas) and his Zwarte Pieten (Black Peters). The Dutch legend says that Sinterklaas and his minions take away naughty children.
At Museumplein or Museum Square, you will find Amsterdam's most spectacular ice rink and Christmas market. The ice rink makes for an excellent evening destination as it's open for most of the night. Other areas of the city also get festive makeovers during the holiday season, including The Red Light District.
Some popular museums, such as Anne Frank House and Rijksmuseum, open on December 25. The city is famous for its clubs, almost all of which throw huge parties on New Year's Eve — though the best ones sell out very early.
See the Northern Lights in Finland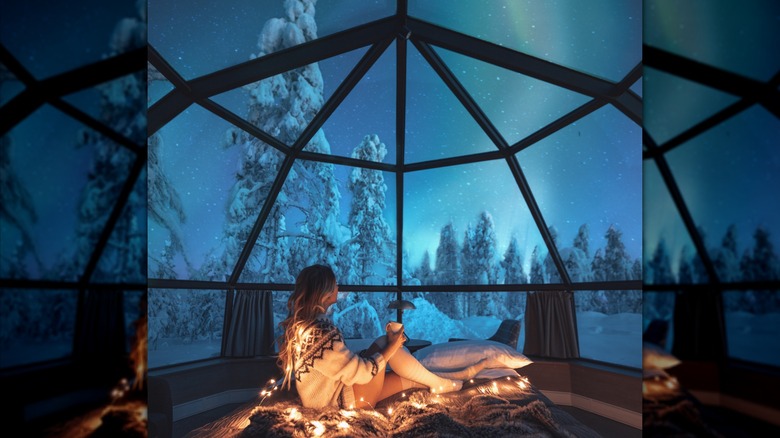 Serts/Getty Images
Stay in glass igloos and log cabins with extraordinary views of the Aurora Borealis (Northern Lights), visible 200 nights of the year — imagine that heavenly experience. These accommodations were designed so visitors could enjoy the Northern Lights in their full glory. Rooms fill up quickly as the holidays see an uptick in visitors. Vacationing in Finland alone is an amazing experience, even if you don't catch the lights. You can go on a husky and reindeer safari, ice fishing expeditions, and snowmobile trips in the winter. Boarding an icebreaker cruise is also popular.
While spotting the lights in Finland depends on the time of year, the holidays are in the middle of that season. Unsurprisingly, the farther north you are in Finland, the better your chances of seeing the lights. You can also see the Northern Lights in Iceland, though a vacation there will be significantly more expensive than in Finland. That said, Finland is not a cheap place to visit either, though it's still more affordable than the now tourist-laden Iceland.
Family ski vacation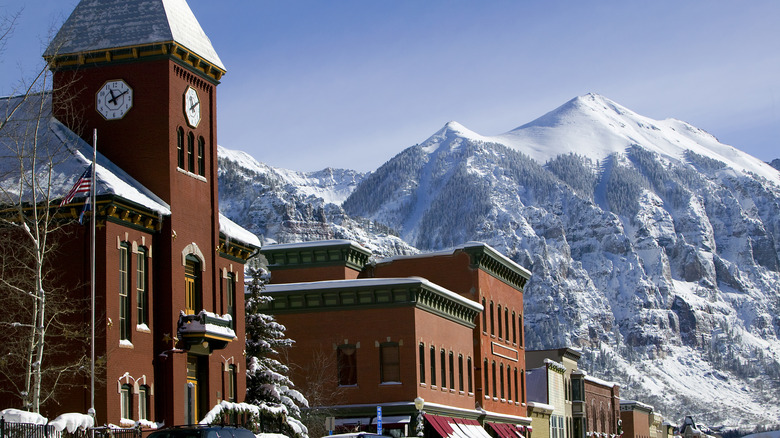 Dougberry/Getty Images
Kick off the ski season during Thanksgiving rather than waiting until later in winter or the holidays. Turkey Day is not too soon to vacation like a true adventurer and hit the slopes. Many resorts will be open by the last week of November and are far less likely to sell out that early.
December and January are popular as adults have more time off work and kids are out of school. Christmas and New Year's are two of the most popular times for ski resorts, so they tend to book out. That means you must make reservations at resorts and other lodges now if you don't want your vacation plans to be thwarted. The more you wait, the fewer discounts you'll find, especially for lifts.
The holiday season is also a terrific time to visit your favorite or a brand-new ski resort because they go big on the festivities. You'll find many family-friendly activities, festivals, and events wherever your skiing destination is. Plus, there's always plenty of hot cocoa to enjoy, which is always a good thing.
Key West, Florida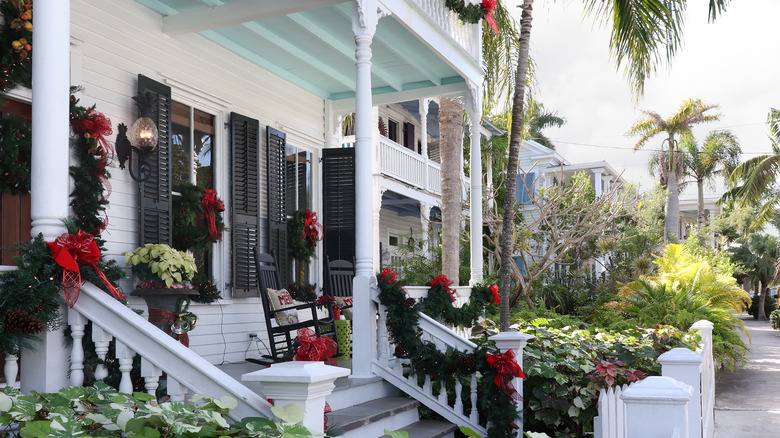 Meagan Marchant/Shutterstock
If other island destinations are too far or expensive, consider Key West. Many people go there for comfortable temperatures around the holidays. Although there isn't any snow in the Keys, that doesn't mean they don't go big with decorations, lights, and festivities, even by the beach. But unlike other places we've mentioned, the holidays aren't quiet in the Keys. The area has a huge uptick in visitors during this time of year, so things will be more crowded, and accommodations will not be running big discounts.
For better prices, consider renting a condo rather than a hotel room. The Upper Keys have a more relaxed vibe if that's more your travel speed. Go swimming with dolphins, snorkeling, kayaking, and parasailing. For even more adventures, you may want to try primitive camping, but you have to reserve your spot in advance. Don't miss the annual Lighted Boat Parade, a uniquely Key West extravaganza.
Visiting Disney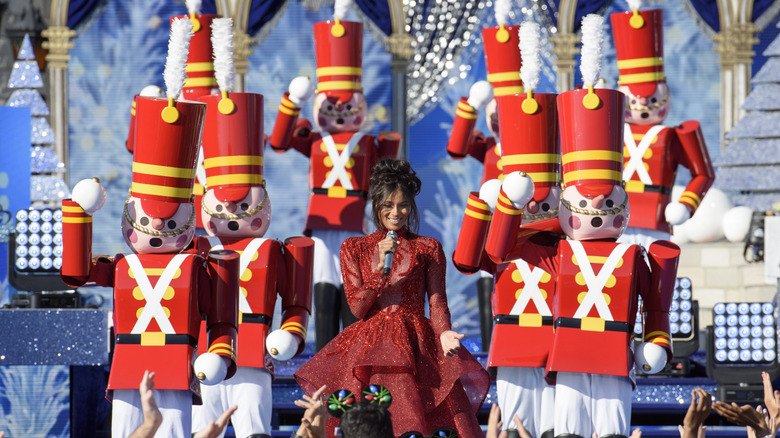 Handout/Getty Images
Walt Disney World, including winter breaks, is most crowded when kids are out of school. If possible, you'll want to visit during the low seasons. However, many parents can't make other times because of conflicting schedules. Disney World can be so busy on Christmas and New Year's Eve that those are the only days of the year when parks at Disney World (particularly Magic Kingdom) hit capacity. If that happens and you aren't in the gate, you're out of luck for the day unless you wait for things to quiet down.
Suppose it's just the holiday events and decorations you want to see. In that case, Disney World is much more accessible and, frankly, enjoyable if you visit early or late in the holiday season. Decorations start going up on November 1 after Halloween ends and stay up until mid-January. The parks won't have all of their holiday offerings out then, but they will start ramping up holiday-specific merchandise and food and beverage options to enjoy.
Christmas Town USA, North Carolina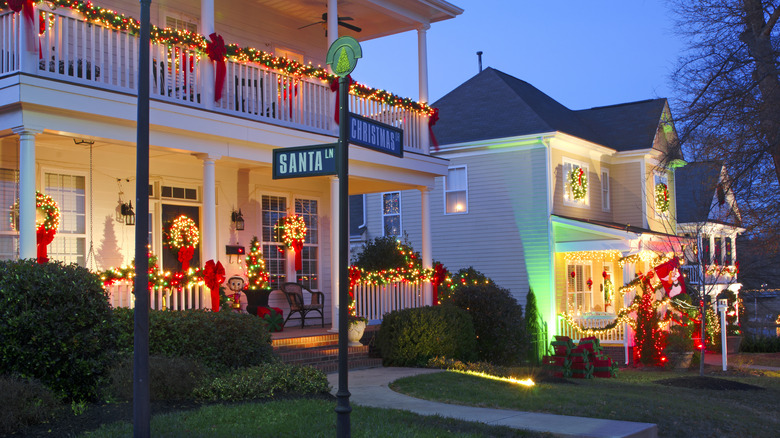 Bauhaus1000/Getty Images
McAdenville is so into the holiday that it renames itself Christmas Town USA® every December. A tradition that began in the 1950s, McAdenville takes the holiday season to another level. It is also located close to the more famous destination in Charlotte, making it a perfect day trip destination. Consider a visit in mid-December for the annual Yule Log Parade to see the town dressed to the nines.
Hundreds of thousands visit in December — over half a million most years — to marvel at the stunning lights the town puts up annually. That is unbelievable compared to a local population of about 650 people. About 400 trees are lit downtown alone. The light displays go up for viewing on December 1 and remain in public view until December 26. Each night for most of December, the town comes to life with holiday cheer, which is free to view.
Santa Claus, Indiana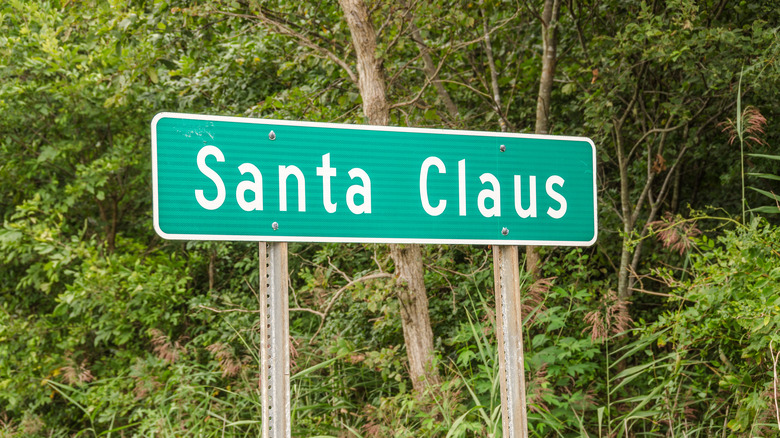 Suesmith2/Getty Images
Named partly because it tried to get a post office in the 1850s with the name Sante Fe, legend has it that kids running by a town meeting suggested the town be named Santa Claus. Hence, the local post office has been sending "From Santa" letters to kids for over a century. Dubbed "America's Christmas Hometown," it offers a lot to locals and visitors. In case you forget where you are, keep an eye out for the 22-foot-tall Santa Claus statue or the Santa Claus Museum & Village.
For a holiday season visit, you can book a package at Santa's Lodge or Rudolph's Christmas Cabins, a pass to Santa Claus Land of Lights, an access card to chat with an elf on the Northpole Network at Santa's Candy Castle, storytime milk and cookies with Santa, and Christmas crafts. If you visit Santa Claus at the beginning of December, keep an eye out for the annual Santa Claus Christmas Parade to kickstart the festive season.
Koziar's Christmas Village, Pennsylvania
Predating even the festivities in Christmas Town, Koziar's Christmas Village has been an annual tradition in Bernville since 1948. The town's Christmas décor has even been internationally recognized — Display World Magazine once named it the "Best Outdoor Christmas Display in the World." The village opens the first Saturday of November each year, and the earlier you go, the better. Koziar's Christmas Village draws visitors from all over the country who come to see more than a million lights and meet Santa himself.
Touring areas like the Winter Wonderland can be done on your own at your own pace. When you visit, you can see eight unique areas: Santa's Post Office, The Kissing Bridge, the Old-Fashioned Bakery, the Toy Maker and his shop, and many others. Groups enjoy seeing the village via a bus tour, though that needs to be booked in advance, especially as it gets closer to Christmas. Admission prices vary based on the day, with weekends being more expensive than weekdays.