This Southwest Destination Is One Of The Top-Ranked Camping Spots In America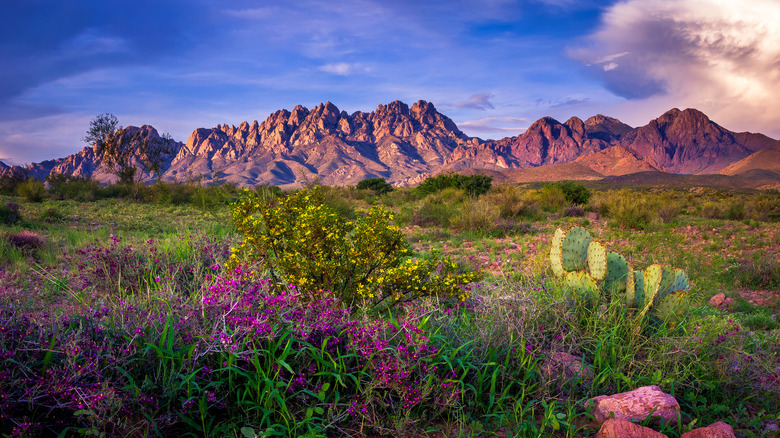 Richter MachThunder/Shutterstock
With its vast land and impressive geographic features, New Mexico is a fantastic place to explore if you're outdoorsy. In 2023, Adventures on the Rock, a sustainable travel website, named it the third-best state for camping.
That said, if you want to experience one of the best camping spots in New Mexico, head to the Sierra Vista campground in Las Cruces. In July 2022, The Dyrt, a website providing camping resources and campground reviews, named Sierra Vista the best campground in the United States.
Sierra Vista is located near the Organ Mountains-Desert Peaks National Monument off of Dripping Springs Road. This is a Bureau of Land Management-managed camping area, and pets and fires are allowed. Best of all, it's entirely free. However, you don't want to forget your camping essentials because it is a dispersed camping site. In other words, no facilities are available, including trash bins or restrooms. 
Despite this, Sierra Vista has campers charmed. On Campendium, one person wrote, "This is such an amazing place. There are beautiful views of the mountains, a vibrant sunset, and free-range cows wandering in the field." Some said the campground was clean and had excellent cell phone service but could quickly get packed. While the campground may lack amenities, the same can't be said about activities. 
Campers can explore nearby New Mexico attractions
Nina B/Shutterstock
Campers at the Sierra Vista campground won't find themselves without anything to do. For instance, they can ride mountain bikes or hike the Sierra Vista Trail. This 29-mile trail draws visitors in for its views of the rugged Organ Mountains. Another option is to hike the 14-mile Sierra Vista Trail South, which has a 4.3 out of 5 stars rating on AllTrails. A reviewer said, "Great hike for getting in shape! Trail is well marked and a combination of loose rock, sand, and dirt. Beautiful views!" However, several hikers warned that there's a lack of shade on the trail.
Campers looking for a day trip can head to White Sands National Park. This tourist hub is only a 45-minute drive from the Sierra Vista Trail. It features impressive dunes made out of a mineral called gypsum. Visitors here can hike, bike, and even sled in the soft, bucolic sand.
In addition, Downtown Las Cruces, which is 20 minutes away, has plenty for guests to enjoy. Besides being able to shop and eat at local establishments like Organ Mountain Outfitters and La Nueva Casita Cafe, there are several museums that are free to the public. They include the Las Cruces Museum of Art and the Museum of Nature & Science.