This City Is Considered A Top Destination For Solo Travelers In Central America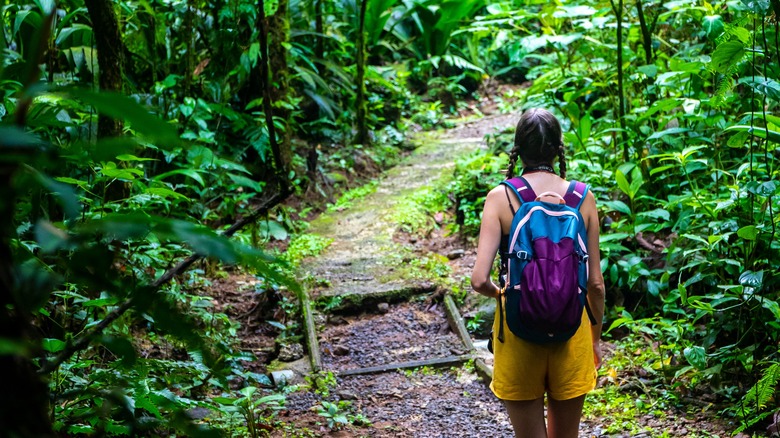 Jakub Maculewicz/Shutterstock
Central America is a bucket list destination for solo travelers and backpackers worldwide, and there is no better place to start than San Jose, Costa Rica. Home to a bustling international airport, the city can be reached in under a five-hour flight from many cities in the United States. Numerous direct flights are offered daily, making it easy for most tourists to get there. The capital city of the vibrant country makes an excellent launch pad into the world of solo travel. It offers unparalleled opportunities to experience rich culture, natural beauty, and unforgettable experiences for travel newbies and experienced travelers alike.
Costa Rica is a tiny country known for its lush rainforests, breathtaking beaches, epic volcanoes, national parks, sustainability, and beautiful culture. Costa Ricans are incredibly friendly to tourists, and much of the country's revenue relies on the tourism industry. The country's unofficial national motto is pura vida, which translates to pure life in English. Hardly a day will pass where you won't hear it murmured in greeting accompanied by a friendly wave. Plus, it's the safest country in Central America, according to the 2023 Global Peace Index.
Visitors can expect big city amenities within San Jose and plenty of opportunities to experience local art, attractions, tours, and cuisine. With a variety of accommodations designed especially for solo travelers, you won't have any trouble meeting new friends to explore all of the city's exciting activities.
Visiting San Jose, Costa Rica as a solo traveler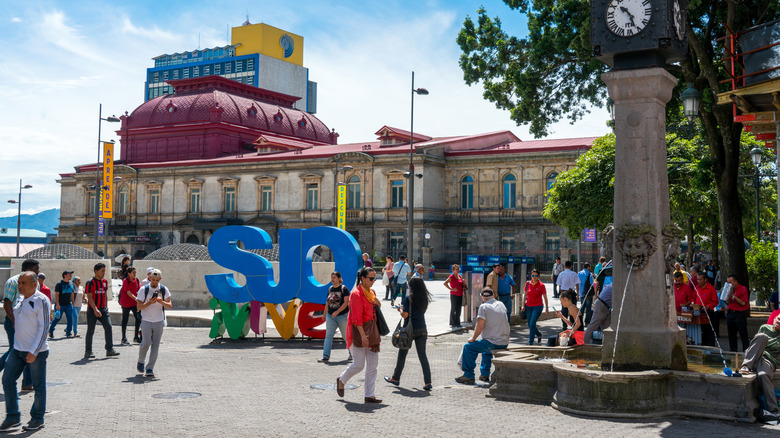 Wittayayut/Getty Images
For decades, Costa Rica has been a popular destination for adventurers, nature lovers, and solo travelers. The country's national park system was established in 1970, and soon after, tourists arrived in droves. In 2022, Costa Rica welcomed more than 2 million visitors, many passing through San Jose, home to the international airport.
Solo travelers will find the thriving modern city an exciting destination all on its own. You'll find over 20 hostels throughout the city, which offer a variety of accommodations from dorms to private rooms, with prices starting at around $9 per night.
Excellent high-speed internet is available throughout the city, making it an ideal destination for digital nomads hoping to work remotely during their stay. Costa Rica has an excellent and affordable public transportation system, and you can easily take a bus to the most popular tourist destinations around San Jose. This makes it easy to explore the many museums, restaurants, art galleries, and markets around the city.
The city is relatively safe, although there are certain areas you'll want to avoid, like Santa Rita de Alajuela, otherwise known as El Infiernillo (Little Hell). Solo travelers should avoid walking around alone at night and keep an eye on personal belongings. Exploring the city alone during daylight hours is relatively low-risk. Most crimes committed involve theft. Still, there is some risk of violent crime.
Adventure awaits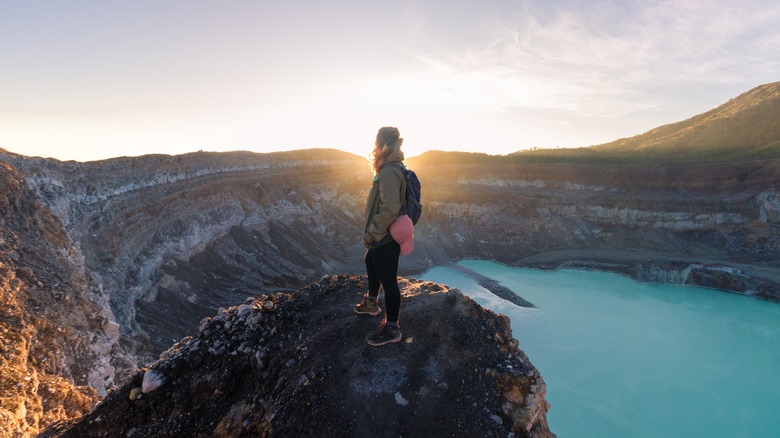 Saintdags/Shutterstock
Costa Rica is a small country, about the size of West Virginia in the United States, and San Jose has an ideal location in the Central Valley, right in the heart of the country. Due to its compact nature, many of the most popular tourist attractions can be easily visited as a day trip from San Jose.
Coffee fanatics will adore the Britt Coffee Tour, just 45 minutes from the city. Costa Rica is famous for its delicious coffee, and this tour allows you to experience every step, from planting the seeds to roasting the beans to sipping on a warm, flavorful cup.
Two epic volcanoes can be reached in under two hours from San Jose. Irazú Volcano National Park, home to Costa Rica's tallest volcano, where you can take in the brightly colored volcanic crater pool and hike along the trails through the lava fields. Poás Volcano National Park offers the opportunity to get up close and personal with an active volcano and enjoy views of one of the largest volcanic craters on Earth.
If you're hoping to chase some waterfalls, travel just north of San Jose to visit La Paz Waterfall Gardens, which features five beautiful waterfalls along well-maintained walking paths. The property is a wildlife refuge, so it's a great place to spot some of Costa Rica's native plants and animals, like scarlet macaws, monkeys, sloths, and snakes without straying too far from the city.