The International Trip Destination That's Perfect For Travel Newbies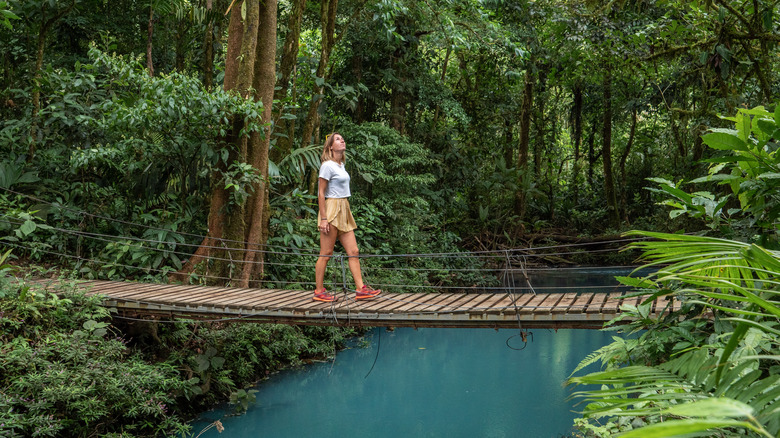 Swissmediavision/Getty Images
Embarking on your first international trip can be incredibly daunting. The preparation and planning that goes into making this kind of trip happen can be overwhelming. This is why it's important to carefully consider your destination rather than heedlessly throwing a dart at a map and hoping for the best. While we believe all destinations are worth visiting, going to a place that could throw you into too deep of a culture shock as your first trip abroad is likely to end in disappointment.
If you're looking for a good mix of creature comforts as well as outdoor adventures, one of the best places to visit as a newbie traveler has to be Costa Rica! This isn't going to be your typical European backpacking trip, that's for sure. However, what Costa Rica might lack in picturesque cobblestone streets and French pastries, it more than makes up for with its exceedingly kind people, incredible food and coffee, and breathtaking nature.
Pura Vida is the way to go for new travelers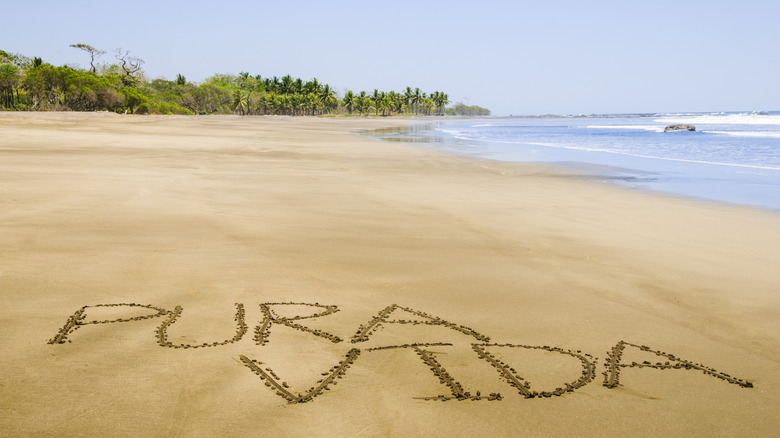 Ogphoto/Getty Images
Pura Vida, or "pure life" in English, is a term Costa Ricans (who also refer to themselves as Ticos) use often, and to explain its meaning is akin to describing a brand-new color. It's used as a greeting, an exclamation of joy, a response to "how are you?," as a way of saying "you're welcome," and even an acknowledgment of the crappy stuff that just ... happens. That's life! It's pure life. It's Pura Vida. It's hard to explain but effortless to experience once you're in Costa Rica.
Pura Vida is one of the best reasons for new travelers to consider this country for their very first international destination. The lifestyle is so easygoing, and Ticos are incredibly kind. So, wherever you go, whatever you want to do, if you get lost, if you're hungry or need help, you'll find people who are happy to give you a hand.
This feeling of friendliness and helpfulness infects travelers and expats, too. If you stay in a hostel or travel with a tour group, you're bound to make a menagerie of friends who also love the outdoors, amazing food, or just a chill day on the beach.
Once you figure out your transportation, everything else is a breeze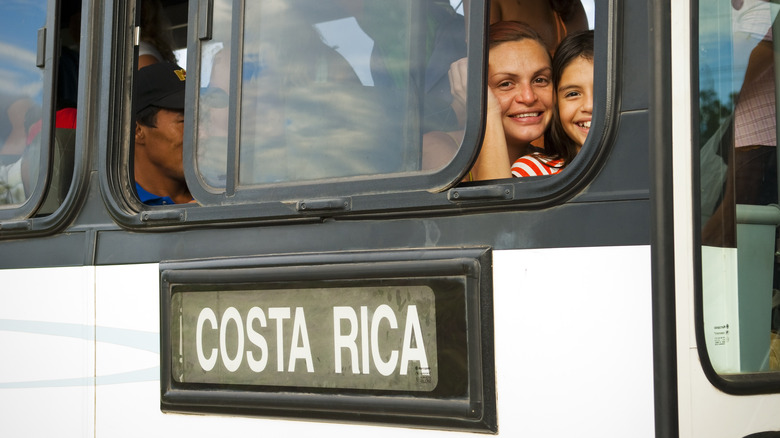 Joel Carillet/Getty Images
The Costa Rican landscape is diverse. Parts of the country boast mountain ranges capped with luscious cloud forests and are scattered with volcanoes. The coastlines are inviting, with soft, sandy beaches dotted with palm trees and amazing ocean views. While the Pacific side is great for surfing, the Caribbean side is a bit more unique and less touched by tourism.
This natural diversity, along with its commitment to sustainability and conservation, has made Costa Rica a popular tourism destination. It truly has a little something for everyone. However, it's still a developing country with poor infrastructure. So, the time it takes you to travel 100 miles at home might be double or triple in Costa Rica. In fact, everything moves a bit slower in general in Costa Rica (just like their famous sloths). So be prepared to have patience and embody the Pura Vida mindset from the minute you step off the plane.
This is why it's vital to plan out exactly where you want to go and how you're going to get there before you arrive. If you're traveling on a budget, consider taking buses to your desired destinations. These are a cheap, reliable, safe, and efficient way to get around an otherwise transportation-challenged country. Private transfers are also a great option for small groups. We don't recommend renting a car unless you are an extremely confident driver since the roads are not for the faint of heart.