Visit This Top Ranked Italian Destination For Swimming Adventures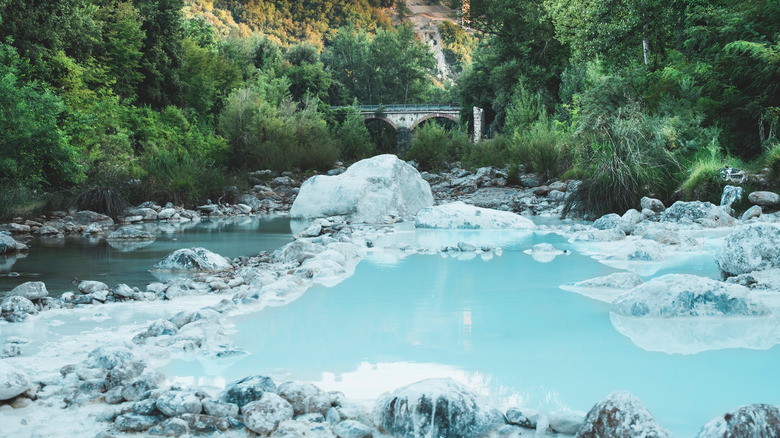 UliAb/Shutterstock
Italy is one of the world's most popular destinations. From historic cities like Rome to picturesque beaches in Calabria to wine regions like Tuscany, it seems Italy has something for every type of traveler. For those who are looking to soak and relax, you don't need to head indoors to a spa in a five-star hotel in a major city like Milan or Florence. Instead, you can utilize a natural attraction in Italy, because, yes, Italy has something for even you.
Petriolo Thermal Baths located in Tuscany are located approximately 20 miles outside of Siena. They make for a great city escape and are a relaxing, off-the-beaten path spot on an Italian road trip for tourists to get a taste of local life. But, when one thinks of Italy, hot springs don't really come to mind — is it really worth spending your time on your Italian vacation at a hot spring instead of taking in the typical Italian sites? Well, let's break it down.
The unique qualities of Petriolo Thermal Baths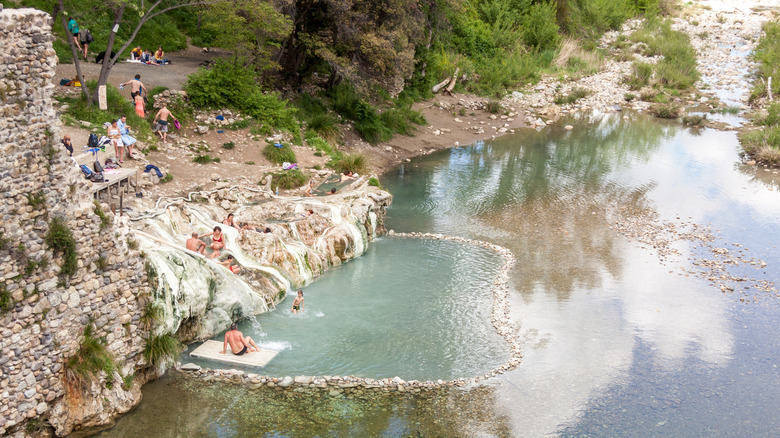 Doin/Shutterstock
The Petriolo hot springs are not well known amongst tourists, so you'll feel like you're in on a best-kept secret when you pay a visit. Best of all, these public baths are free. 
The Petriolo Thermal Baths are known to have alleged healing and therapeutic properties. Expect a strong smell of sulfur since the springs do indeed have sulfuric properties, The springs also have high rich salt contents and are the hottest hot springs in all of Italy, at an average of 43 degrees Celsius (or 109 degrees Fahrenheit). Because of the high quality of the water, legend dating back to Roman times claim that Petriolo baths help heal osteoarticular diseases, skin diseases (particularly acne, psoriasis, and eczema), respiratory tract diseases, and chronic joint diseases.
The Petriolo baths are scenically set between two nature preserves. Located directly next to a small river, the layered pools at the spring are perfect for both hot and cold plunges. There are hotels located within feet of Terme di Petriolo (the Italian way to say Petriolo Thermal Baths). One of the best options for nearby lodging is La Locanda di Petriolo. 
How to get there and what to bring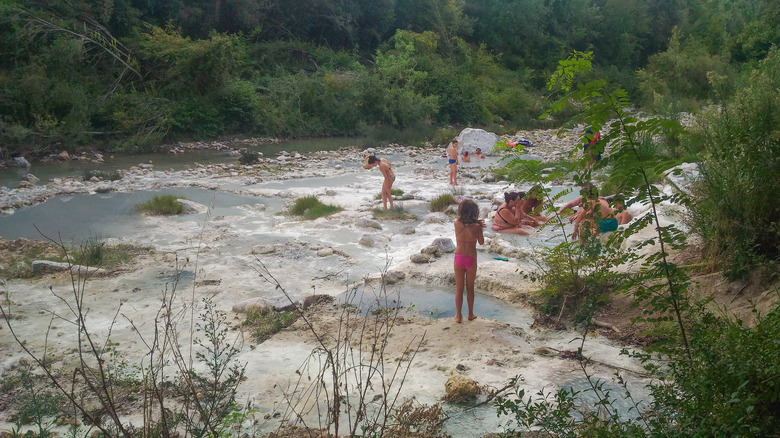 s74/Shutterstock
As mentioned, guests can choose to stay close by to the thermal baths, but most choose to visit Petriolo Thermal Baths as either a day trip, or en route to their next destination on a road trip. The closest notable city is Siena, which is a great destination for wine-tasting. Florence is also about one hour 30 minutes distance driving under typical traffic conditions.
In order to get to Petriolo Thermal Baths, it is crucial to have a car. You could technically hire a taxi driver from Siena or Florence, but from Florence, the cost could be close to $175 for one-way, and from Siena, it could be upward of $55. Driving is the best way to ensure you see the rolling hills of Tuscany, and can take your time getting there.
Many choose to also visit the extremely popular Saturnia Springs located in the Province of Grosseto. For a full day of soaking, visit Petriolo in the morning, and hit Saturnia at sunset. The two springs are located approximately one hour 30 minutes apart by car.
You'll want to obviously bring a swimsuit to visit these baths. However, you might want to think twice about wearing a light-colored swimsuit, since the presence of sulfur in the waters can sometimes discolor lighter colored swimwear.