Plan A Scenic Camping Trip At This Island Off The Coast Of California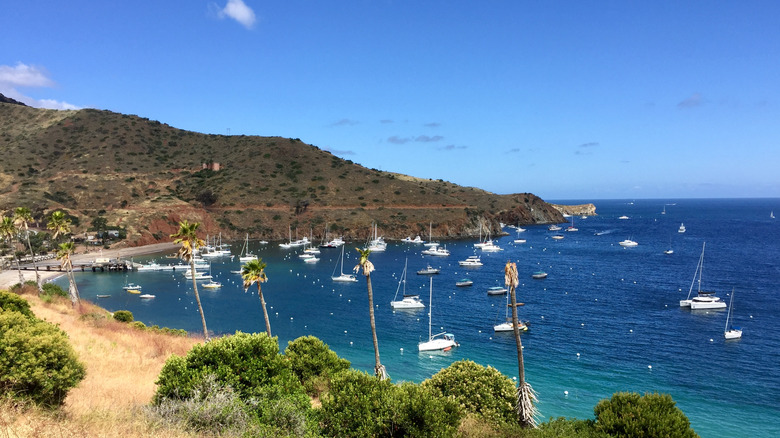 kesterhu/Shutterstock
Southern California has some beautiful camping sites. Forest lovers can visit campgrounds in the Angeles National Forest. Those who like to hit higher elevations might choose Lake Arrowhead or nearby Big Bear Lake. Desert fanatics have miles of beauty to discover at Joshua Tree National Park. However, if you're looking for something different, an island about 23 miles off the coast, south of Los Angeles, has some of the most scenic places to pitch your tent. These campgrounds let you escape it all but are close enough to the two little towns on this island, so supplies aren't that far away. That location? Santa Catalina Island. 
About an hour's ferry ride away from the ports of Long Beach or San Pedro, Catalina has the town of Avalon, which is sort of a crescent-shaped shopping area with a resort-y feel. In the middle of the island, at the entrance to its isthmus, sits the tiny village of Two Harbors, where you can camp, hike, and scuba dive. Only around 250 of Catalina's just over 4,000 residents live in Two Harbors, and the temperature hovers between an average of 78 Fahrenheit and 43 Fahrenheit, and it's open year-round. Let's take a look at what you need to know to camp here and discuss the unexpected animal you might catch a glimpse of. 
Santa Catalina and Two Harbors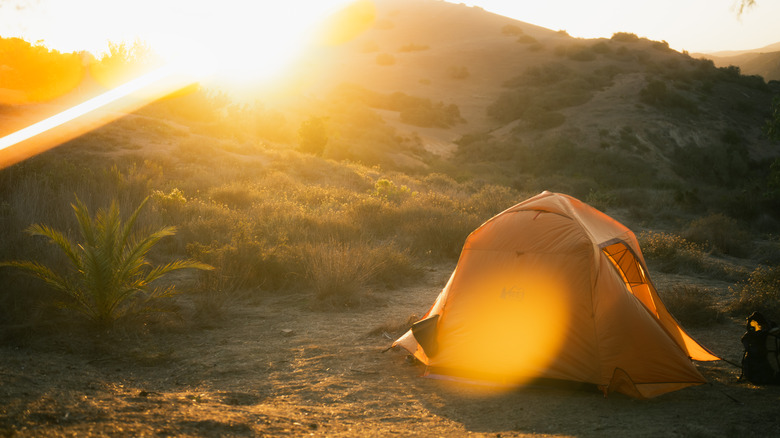 Teresa Ward/Getty Images
Santa Catalina Island has been home to native tribes like the Tongva since 7,000 BCE. It has been claimed by the Spanish Empire, Mexico, and then the United States. It was then developed by William Wrigley Jr. in the 1920s (yes, the chewing gum Wrigleys) and became a tourist destination. It was even used as the location for spring break training for the Chicago Cubs.
To get to Two Harbors, you can take the ferry, a private boat to one of the moorings, or a power boat from Avalon. There are a number of campgrounds that you can hike to from town, which has a general store for supplies. You can hit Black Jack Campground below Mount Orizaba, Parson's Landing on the beach, and several more. Some campsites only have tent areas, and others have tent cabins for those who like their "roughing it" a little less primitive. Amenities include showers, picnic tables, fire pits, and toilets.
You can visit Two Harbors Visitor Services for camping rentals and supplies, event and activity sign-up, tour info, bicycle and hiking permits, and more. For some campgrounds, you can sign up for a Gear Haul service, which will take your luggage from the village to your campground's drop-off site.
Other things to do on Catalina Island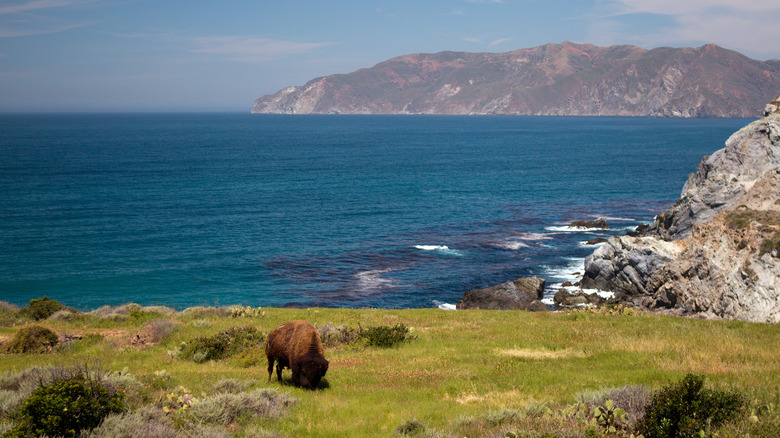 Dale Gast/Shutterstock
Santa Catalina Island is only 22 miles long and 8 miles wide at its widest point, but there is a lot to see. On the southeast side of Catalina, Avalon has restaurants, shops, spas, accommodations, a golf course, and sightseeing. You can get a glass bottom boat tour, snorkel, take a flying fish boat ride, and check out Descanso Beach Club or the Casino, which is an entertainment center built in 1929.
The island also features some interesting furry residents. There is the small island fox native to the Channel Islands of California, and it is the smallest of the species in North America. If you camp near Two Harbors, you might also catch a glimpse of the island's most unexpected resident, the American buffalo. The most well-known story about how they got there was that they were transported for the 1924 film "The Vanishing American" by Zane Grey or his other film that year, "The Thundering Herd." However, that story hasn't been proven. Over the years, some have been taken back to the mainland, but many remain. You can take a tour to see them, but you might just run (don't approach them) into them while outdoors.