Incredible West Coast Lakes For Swimming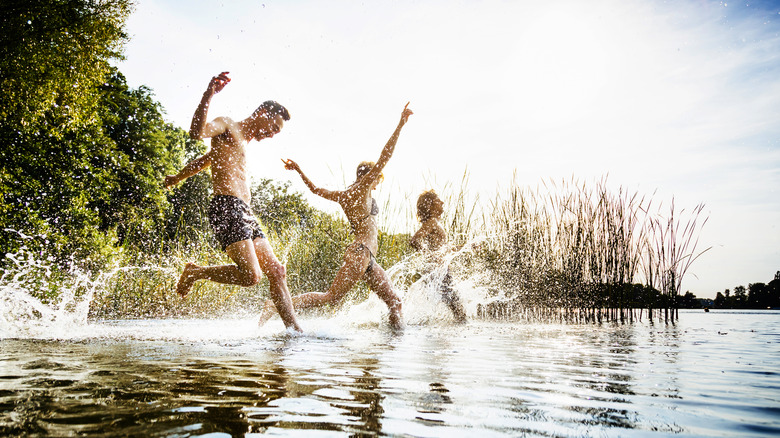 Tomml/Getty Images
The West Coast is jammed full of excellent waters. The geological processes that have gradually carved, lifted, weathered, and smashed the landscape over millions of years have formed a rugged terrain that transforms as you head northward from a rocky yellow to the lush mountainous forests of the Pacific Northwest. All across the West Coast region, however, there are fantastic lakes that offer up these views as a backdrop and make for great swimming, too.
These lakes are a smorgasbord of human creation and natural formation. Many were the result of subsequent flooding after the completion of a dam. The Colorado River, for instance, has been servicing commercial agriculture throughout the west since at least 1902, when the Bureau of Reclamation was established to manage this sort of human activity. The dependency on this essential waterway has led to the building of 15 separate dams — the most of any American river — along its route from high in the Colorado Rockies down to the southern border.
Natural lakes are also a staple of the far-flung Western states. Many beautiful natural water bodies enjoy the gigantic backdrops of towering mountain peaks, like Fish Lake in Utah or Walker Lake in Nevada. No matter where you find yourself along the West Coast, you're sure to be near a great lake to swim in; here are some of the best in this part of the country.
Lake Powell, Utah and Arizona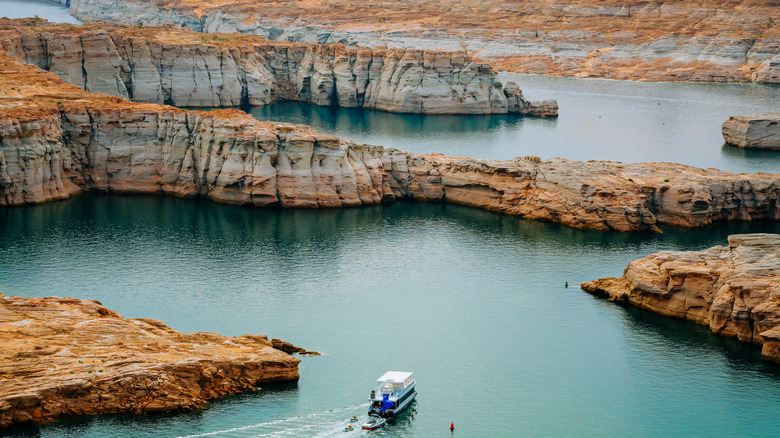 Nature, Food, Landscape, Travel/Getty Images
Lake Powell was created due to the Glen Canyon Dam's construction in the Colorado River. It's one of the largest artificial lakes in North America, with a shoreline that measures nearly 2,000 miles. The lake is so large that it required 17 years to fill after the dam's completion, brimming entirely for the first time in 1980. The lake snakes through the southern portion of Utah and crosses over at its low end into Arizona. Surrounding the water's winding course is a pairing of the Grand Staircase-Escalante National Monument and Glen Canyon National Recreation Area. Visitors will also take in views of Navajo Mountain and Mount Pennell, roughly stacked longitudinally near the top and bottom of the lake.
The scenery around the lake is spectacular, with the jagged waterway carving through the canyon that rises in all directions. Moreover, swimming in the water provides a relaxing and fun adventure for any lakegoer. Swimming, boating, and other recreational watersports are much-loved components of Lake Powell's overall landscape. You can also go hiking around the lake's shoreline, although there are no designated trails to follow, so you'll have to make your own path. Another great draw for visitors is the Rainbow Bridge, one of the largest known natural bridge features in the world. It's accessible via a lengthy hike or on a boat tour.
Crater Lake, Oregon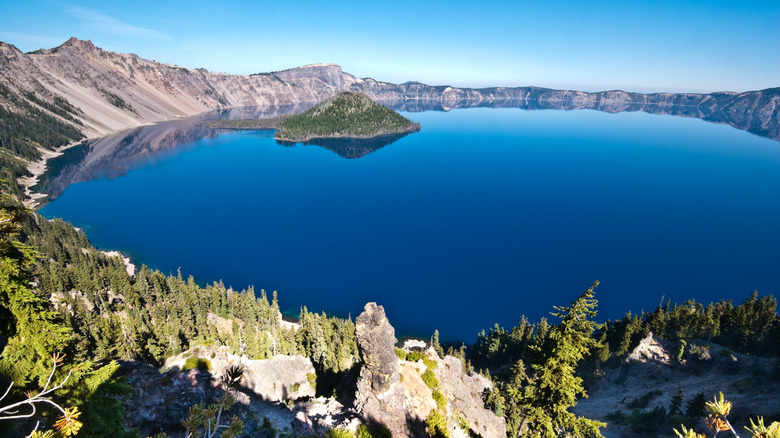 Jeffgoulden/Getty Images
Crater Lake is the deepest in the United States. Combined with its crystal clear waters, visitors to the lake, and by extension, Crater Lake National Park will catch a glimpse of insane depths of clarity through the vibrant blue waters. The lake was formed as a result of Mount Mazama's volcanic eruption around 7,700 years ago. Afterward, it's estimated that it took the lake between 420 and 740 years to fill up through natural rain and snowfall.
The lake's amazing clarity makes it a wonderful place to swim. Those who dip into the caldera Lake will be treated to fantastic water quality and a stunning backdrop that will inspire you, no matter the direction you look. Visitors can also take boat tours out to Wizard Island, formed due to the initial eruption and subsequent volcanic activity that appears to have ceased — for the time being — roughly 4,800 years ago. The lake is also home to spectacular hiking trails that will take you around its perimeter, granting an alternative view of the deep blue shades of sky and water in this marvelous natural environment.
Lake Tahoe, California and Nevada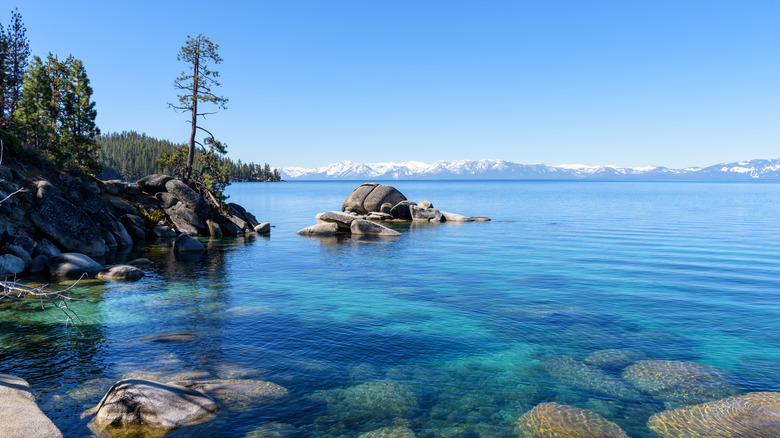 Yayaernst/Getty Images
This cultural icon can be found just along the border between Nevada and California. Lake Tahoe is an institution for those who live within vacationing distance from its waters and a must-see place to visit for those farther afield. Hiking is a great feature of the recreational area, with miles of trails leading all around the lake's perimeter. You can tackle the 165-mile Tahoe Rim Trail that will take you on a loop that circumnavigates the entire water body.
Swimming is likely what you're after, and Lake Tahoe offers up immaculate water for a refreshing dip. Relaxing along the lake's shores is a great way to spend a long weekend, and visitors flock to this part of the country to experience just that. You can also go whitewater rafting or participate in various watersports like kayaking and waterskiing on the lake's waters.
Lake Tahoe is a fascinating aquatic destination, and swimming and warm weather activities aren't the only reason to come. During the colder months, many people come to Tahoe to ski, golf, and camping can take place throughout most of the year — although spring and autumn are often better for these than the depths of winter.
Lake Washington, Washington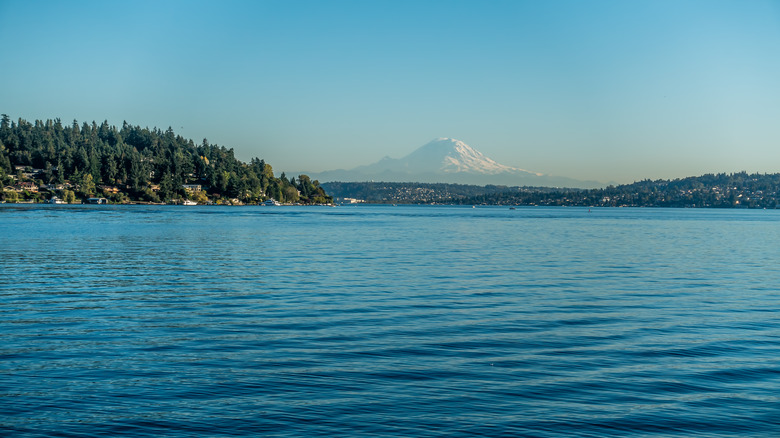 Gmc3101/Getty Images
Lake Washington is a natural lake fed by multiple rivers coursing through the Washington landscape toward coastal Seattle. The lake can be found directly inland, flanking the city on either side by water (Elliott Bay, releasing into Puget Sound and eventually the ocean to the west, and Lake Washington to its east). The freshwater found in Lake Washington makes for an excellent change of pace from the saline waterbody just next door, and it's naturally an ideal place to dive in for a dip after a hot summer day in this part of the Pacific Northwest. 
Visitors to Seattle will naturally congregate around the city's must-see attractions like the Space Needle and the Museum of Pop Culture. A day on or in Lake Washington is often high on that list, with many great kayak launching spots, greenspaces for picnics, and swimming areas, including Seward Park and Saint Edward State Park.
The waters are also perfect for boating and fishing, and the lake contains a few small islands that make for an added sense of adventure if you're out on a watercraft for the day. Similarly, there are seven confirmed plane wrecks beneath the surface, adding an interesting scuba option for those with the requisite PADI certification levels and an interest in exploring undersea structures.
Lake Sonoma, California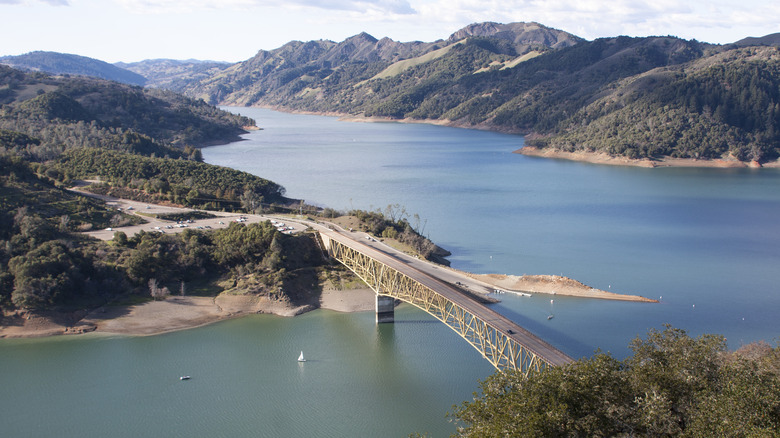 Rachel_hunter/Getty Images
The transcendent views of Sonoma County's soaring transition between tall mountain and sweeping valley is perhaps better expressed nowhere than on the shores of Lake Sonoma itself. The lake arcs through the cliffs and crags of the mountains near the town of Cloverdale and its acres of pristine vineyards. Tucked away firmly within California wine country, Lake Sonoma carves a path that juts out in a few northern reaches. Near the southern tail, visitors will find the Lake Sonoma Recreation Area (and just beside a vineyard, of course).
The 2,700-acre lake is a fabulous place to go swimming, and boaters, kayakers, and other watersports enthusiasts will also find something to enjoy on these waters. Renting a boat for the day is simple here, and you can opt for powerboats or even a canoe or kayak for a more laid-back experience. Moreover, a day trip to Lake Sonoma can easily transform into a lengthy stay in the shadow of the region's grapevines at one of the lakeshore's multiple campsites. These include Liberty Glen, a more secluded spot on the other end of the lake's rising landscape. The 50 miles of shoreline that Sonoma County's mountains seem to be swallowed up by offers a phenomenal place for swimming, watersports, hiking, and camping in one of America's premier relaxation destinations.
Clear Lake, Oregon
Clear Lake is an amazing place for scuba divers looking to experience something unique under the aquatic lid of the Earth's surface. Clear Lake offers stunning visibility, often providing divers with an effortless 100-foot range (and sometimes double that!). However, the water is chilly. Clear Lake remains roughly 38 degrees Fahrenheit annually, making it a great candidate for that elusive drysuit dive. Regardless of how you descend, once you're swimming beneath the surface, you'll come face to face with an ancient forest. It became submerged and beautifully preserved around 3,000 years ago as lava flows forced the landscape beneath a newly redirected river's path.
Swimming on the surface is also a great option for visitors, as is fishing, and since there are no powerboats on the water, you're bound to enjoy a serene splash. However, with the lake's icy temperature in mind, you'll benefit immensely from at least a wetsuit, regardless of how you plan to swim in the reservoir. Winter swimming is a uniquely rewarding experience, especially when the landscape is coated in powdery snow — it's a great way to take in the scenes of a true winter wonderland.
[Image by Steve Lundeberg, OSU via Wikimedia Commons | Cropped and scaled | CC BY-SA 2.0]
June Lake, California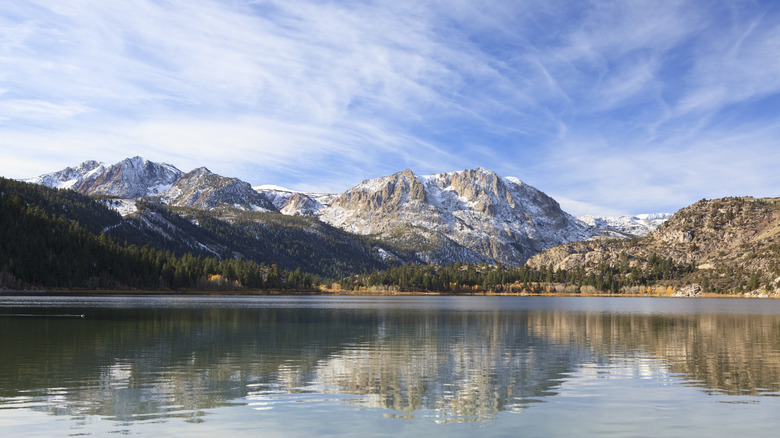 Sashabuzko/Getty Images
June Lake is one of the smaller ones to feature on this list. Even so, its 320-acre land coverage makes it one of the larger water features in the territory it inhabits. June Lake is also a natural water body, having been formed through the grand geological movement of the ages. This process is evident in the scenery surrounding the lake, making it a visually stunning place to swim, kayak, or sit along the shore. 
The lake is only a three-hour drive from Reno, in Nevada, but it's decidedly within the rainy, mountainous sphere of the northern segment of the Pacific coastline. The mountains that rise behind June Lake make for a fabulous autumn visit, and indeed, seasoned explorers suggest taking in the fall colors during the best month for sightseeing and relaxing at the lake: October.
Visitors can camp at June Lake's Oh Ridge campground and park RVs up to 40 feet. Whether you're here at the height of summer or later in the year, there's always something spectacular to see at the lake sitting 7,654 feet above sea level. While there are other scenic lakes in the area, this is the best one for fishing, swimming, and kayaking, without a doubt. The serene waters and equally undisturbed background vistas make for a magical place to dive in and splash around.
Priest Lake, Idaho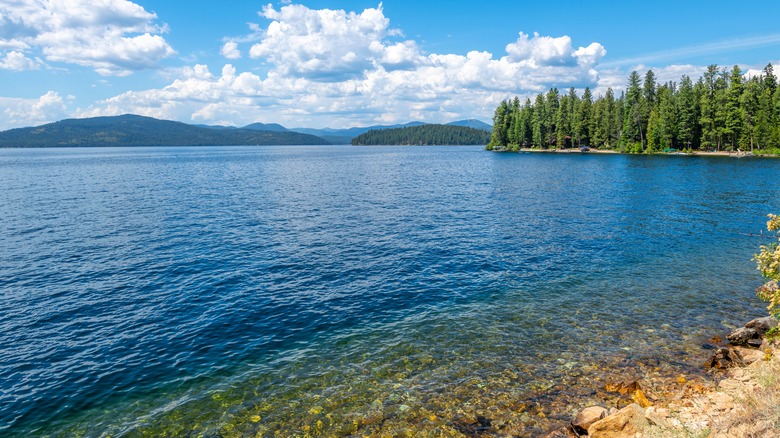 Kirk Fisher/Shutterstock
Priest Lake is a fantastic place for summertime relaxation. It's located in Northwest Idaho, in the panhandle region that closely borders Washington state and Canada. The town of Priest Lake is a small community tucked within the shoreline, roughly halfway up the lake. This is a beautiful place to rent a cabin and set off from if you're making a trip here. Priest Lake feels like a place where you might succeed in halting the clocks, if only for a while. With the rolling mountains as a backdrop, submerging yourself in the cooling waters offers the epitome of lakeside living — whether you plan to stay for a day or two or have designs on a longer visit. 
Swimming and boating are crucial components of the community's offerings, and visitors can easily rent boats to zip around the waters and explore the lake's small islands. Alternatively, fishing is a big part of any visit to this watering hole, so getting out on the lake to reel in a big catch can provide a day of immense pleasure. The lake offers up around 80 miles of total shoreline for visitors to explore and stretches 19 miles from top to bottom. In addition to swimming and watersports, you can hike the lake's shores along a range of trails that bring another angle of the lake's ecosystem into focus.
Lake Havasu, Arizona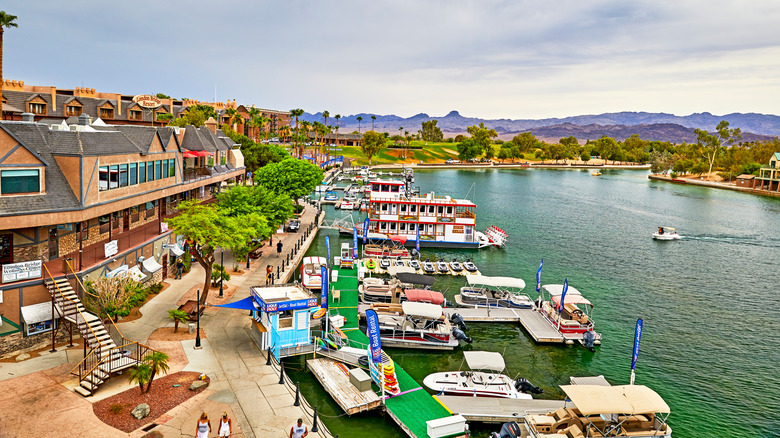 Pamela Au/Shutterstock
Lake Havasu is a favorite West Coast destination among spring breakers and others seeking a relaxing yet party-infused atmosphere. It's a great place to go swimming or boating, and the lake's deeper waters are teeming with trophy fish, too. This makes it an excellent place for fishing enthusiasts to ply their craft in competition settings and recreationally.
The lake was formed during the construction of the Parker Dam, another that crosses the Colorado River's waters to harness electrical power and the natural water supply gifted to the community by the Earth's geological might. The resulting lakeside community has adopted jet skis and other personal watercraft as a favorite means of travel, allowing Lake Havasu City to claim the title of "jet ski capital of the world." Renting one while you're on the lake offers an exciting way to explore the Colorado River and the lake that has formed behind one of its many dams.
It should be noted, however, that while Lake Havasu remains a fabulous place to cool off during the summer months, with swimming being an important activity for those visiting the area, spring break culture can lead to an uptick in alcohol consumption that causes irresponsible behaviors from time to time. If you're seeing the lake, you shouldn't operate a boat or swim after drinking. Enjoying the lake's amenities and natural beauty responsibly will ensure it remains a fantastic place to swim.
Walker Lake, Nevada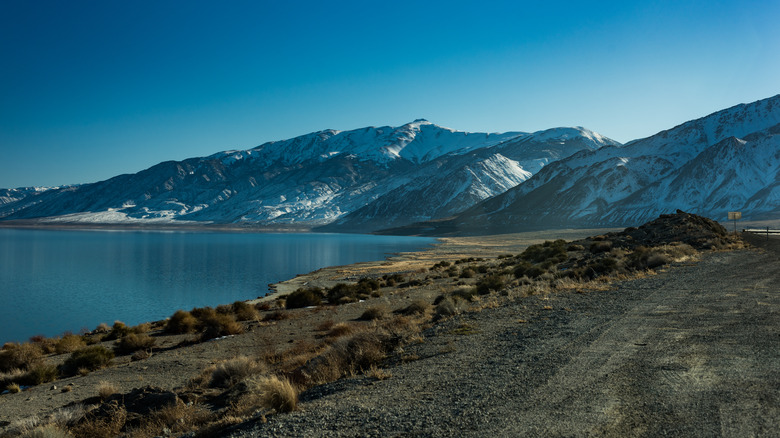 Jeremyborkat/Getty Images
Walker Lake is a water feature in the western reaches of the Nevada desert that experienced decades-long shrinkage. Its source waters were diverted in incremental jumps to support growing farming efforts and other human requirements. Despite this lengthy threat to the lake's continued existence, it remains a gorgeous recreational area set within the backdrop of the stark visuals of Nevada's landscape. The water covers a 30,000-acre swath and is characterized by a rocky shoreline and eastern stretches that include beach scenes, perfect for bathing and swimming on a day away from city life. Camping and watersports are a key part of a day on the lake, and fishing here is fantastic, as you might expect.
The landscape and the lake are both products of the same glacial forces that etched out much of the mountainous and aquatic features of the American West. The Western expanse offers otherworldly views and rising mountains that command your attention. While swimming in Walker Lake, you will surely experience the awe and wonder that dominates the outdoor environment. It's made even more interesting with the realization that the shoreline is a favorite hangout for desert bighorn sheep and a wide array of migratory birds. Splashing around in the waters while gazing upon these majestic animals completes a trip to the lake in spectacular fashion.
Fish Lake, Utah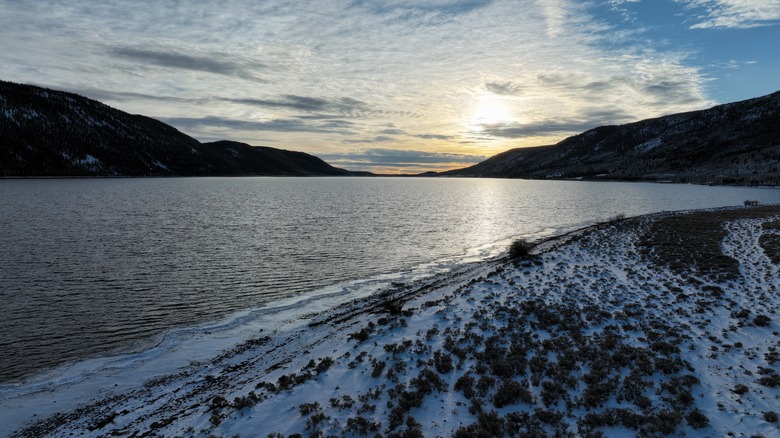 Photohobbiest/Shutterstock
In typical fashion for the otherworldly landscape of Utah, Fish Lake is an alpine water body found almost 9,000 feet above sea level. The resulting lake shore is a place of immense natural beauty dominated by lush aspen forests and open, mountainous meadows. The lake is situated within Fishlake National Forest, giving it an additional layer of services that might otherwise have been left incomplete. Swimming in Fish Lake is a phenomenal pastime for locals and visitors alike, and the reservoir acts as a lifeline for the area's human and animal community. The result is a lake teeming with wildlife, including deer, moose, elk, and even black bears and cougars.
Fishing in the lake is another common activity you'll see when visiting. Summer is a great time to explore the area, especially if you're interested in fishing from the familiar platform of a boat deck. However, you can enjoy the lake's waters all year, whether considering a fishing trip or thinking of diving in and, perhaps, even spearfishing while splashing around in the pristine environment of central Utah.
Whitefish Lake, Montana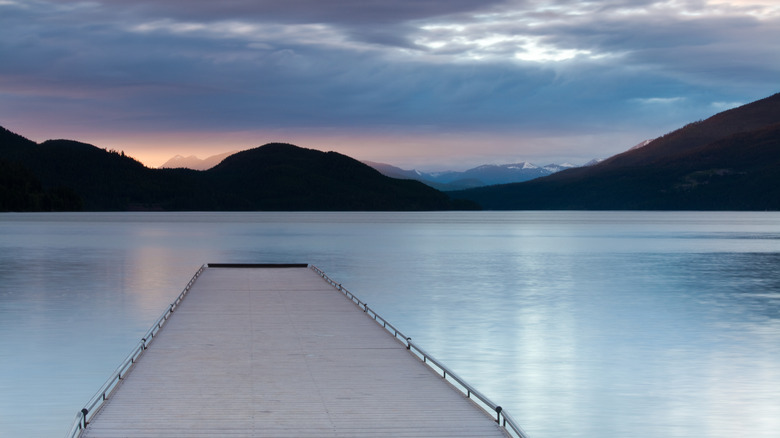 Imaginegolf/Getty Images
This lake can be found in the far northwestern corner of Montana, relatively close to Priest Lake in neighboring Idaho's slim upper panhandle. The result is a lake in the heart of gorgeous Big Sky Country rooted in the geographical Northwest. While this one might require a bit more trekking to see for the average traveler, a dip in the sublime waters here is well worth the effort. 
Whitefish Lake is also pretty close to Montana's Glacier National Park. This majestic, untamed wilderness celebrates the land's Native American heritage while offering a tactile lesson in climate science. Glacier National Park is one of the nation's most photogenic destinations, and the surrounding landscape, including Whitefish Lake, was carved from the same remnants of glacial geology.
Whitefish Lake is nestled in the Rocky Mountains and naturally provides a 360-degree view of its splendor. From the shoreline or within the waters themselves, you're sure to enjoy something of an awakening as you gawk at the beauty of your surroundings. Swimming and watersports are beloved activities by locals and visitors alike, and the town of Whitefish that will support your visit is a quaint, welcoming space that will put the cherry on top of your aquatic adventure. 
The shoreline is also dominated by color-saturated pebbles numbering in the thousands that spark a veritable rainbow under your feet. This place is bewitching and relaxing, making a day or weekend of swimming here a fantastic treat.