This Beautiful National Park Is Home To The Deepest Lake In America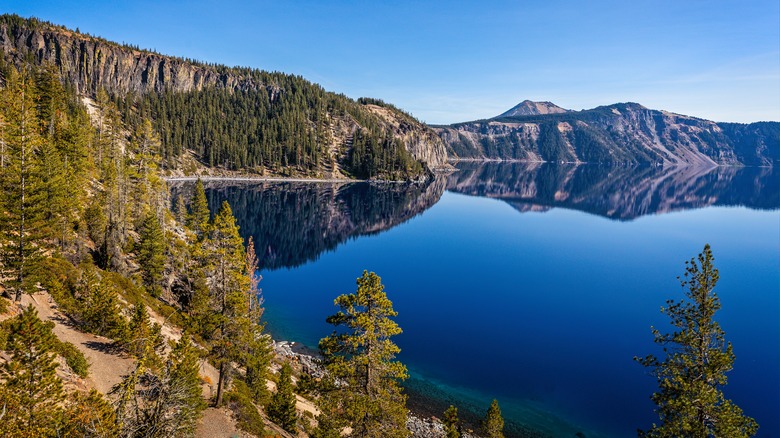 Kushal Bose/Shutterstock
The deepest lake in the U.S. resides within one of the country's oldest national parks — and the only national park in Oregon. There are many volcanic crater lakes around the world; countries like Indonesia and Japan have dozens of them. However, only one holds the distinction of being the Crater Lake, as opposed to just a crater lake.
Located in south-central Oregon near Klamath Falls, Crater Lake's history is as deep as the lake itself. Though a volcanic eruption formed it 7,700 years ago, the lake and surrounding area achieved national park status in 1902, at a time when there were only four other national parks in America: Yellowstone, Sequoia, Yosemite, and Mount Rainier. Now, there are 63 of them, with Alaska's Katmai National Park and Preserve containing another, much younger crater lake, formed on the eponymous Mount Katmai 10 years after the establishment of Crater Lake National Park. However, Crater Lake remains the country's most well-known volcanic lake.
You may have seen it on an Oregon license plate or the reverse side of the Oregon State quarter. According to Oregon Live, about a quarter million license plates are on the road today. And when the United States Mint issued its 50 State quarters, with George Washington's head on the front and designs unique to each state on the back, Oregon's coin carried the image of Crater Lake. But just how deep is the actual lake?
In the depths of a dormant volcano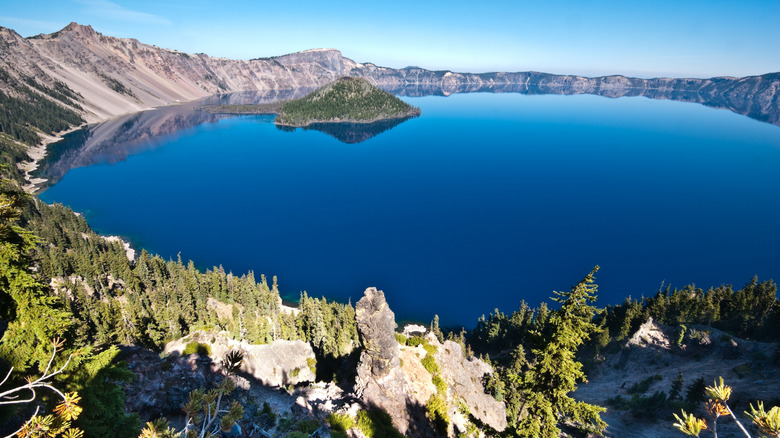 Jeffgoulden/Getty Images
Crater Lake bottoms out at 1,949 feet, making it the ninth deepest lake on the planet. Its nature as a geological formation gives it such depth: this lake extends down partially through a mountain with an elevation of over 8,000 feet. When the ancient volcano Mount Mazama erupted, its peak collapsed, and a caldera formed. Over time, rain and snow filled the caldera with water, creating what is now known as Crater Lake. Since the lake isn't connected to rivers or streams, its water naturally evaporates, replacing the total volume every 250 years. As for Mount Mazama, it's been dormant for almost 5,000 years, though it could become an active volcano someday.
In the meantime, Crater Lake remains a fixture of placid beauty in the Pacific Northwest. The lake is known for its clear waters; under the right conditions, it's so transparent that you can see down over 100 feet. Daily boat tours of the lake, led by Coast Guard-certified captains, are available in summer. Most of them have a park ranger aboard, as do the summer trolley tours that skirt the scenic Rim Drive and stop at several lakeside overlooks. While clouds sometimes obscure the sight of Crater Lake, the National Park Service maintains a webcam with a live feed so you can see the visibility state on any given day.
Plan a Crater Lake road trip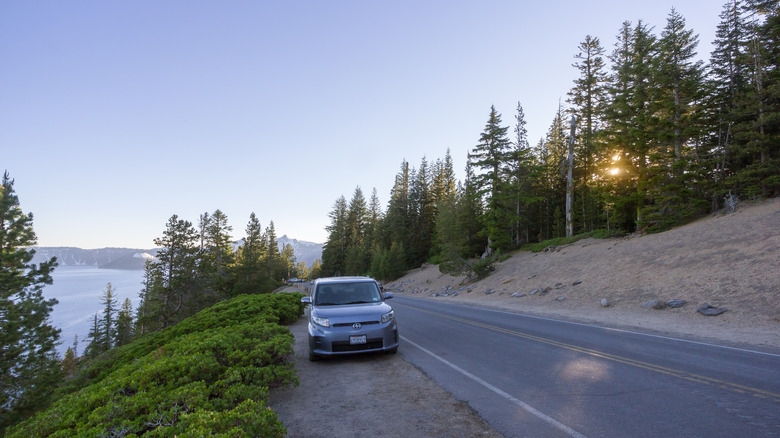 TS Photographer/Shutterstock
Crater Lake has a role in Native American history, with the Klamath Tribes regarding it as a sacred place. These same tribes are the namesake of Klamath County, where part of Crater Lake National Park is located. Just over the state line in California, there is also a coastal town named Klamath, where the Trees of Mystery attraction allows visitors to drive or hike through a redwood forest and see unusually shaped trees (along with two huge entrance statues of Paul Bunyan and Babe the Blue Ox, which can be seen from U.S. Route 101). This is just one example of a place worth visiting with Crater Lake on a road trip through Oregon and Northern California.
Starting in Portland, you could pick up a road map at Powell's City of Books, which takes up one square city block. From there, it's an easy day trip to Cannon Beach, which we've called the best budget-friendly beach in the Pacific Northwest. Once you get down to Crater Lake National Park, you can stay at its lodge or the cabins at Mazama Village during the on-season (from May to September or October).
Just be aware that Crater Lake is one of those national parks where you should fill up your car with gas before entering. The park spans almost 300 square miles, but its lone gas station is only open during the summer, so guests driving in are encouraged to prepare accordingly.