The Top Ranked Lake Town To Visit In America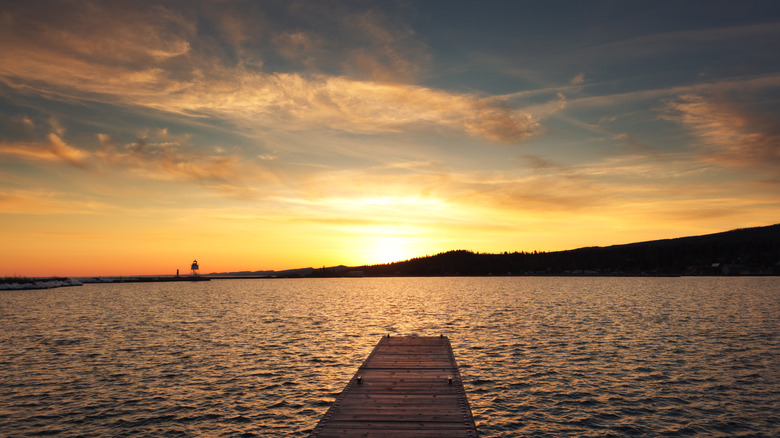 Yinyang/Getty Images
The USA is full of thousands of lake towns, but there's something to be said about visiting a quaint destination on the country's largest lake. At a whopping 31,700 square miles, Lake Superior takes the cake for the USA's biggest lake, but there's much more to celebrate about this vivid body of water than just its size. Easily one of the most beautiful lakes in the Midwest, Lake Superior is home to one of the top-ranked lake towns in the USA: Grand Marais, Minnesota.
Grand Marais is a small town, with a population of less than 1,500 people. Home to a public beach, a colonial lighthouse, and a bustling downtown area filled with boutique shops, trendy eateries, and galleries, Grand Marais is anything but small in spirit. While summer is the most popular month to visit, there's a way to enjoy this Minnesota destination in all seasons, even in the frigid winters. If you're looking for an off-the-beaten path escape over a notoriously beautiful lake, Grand Marais is calling.
What to do in Grand Marais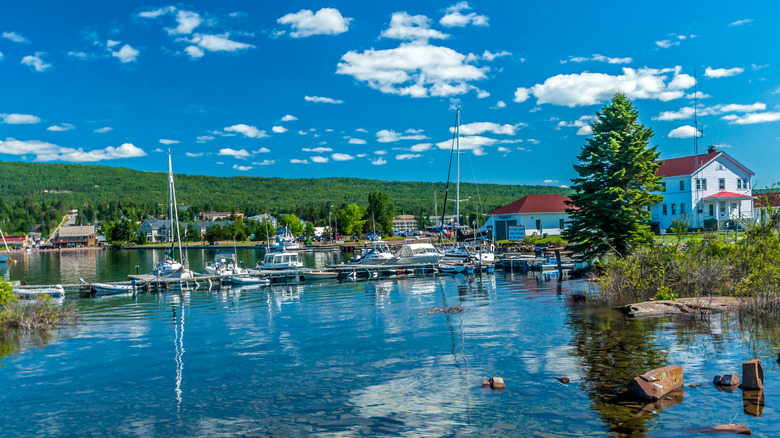 Lonnie Paulson/Shutterstock
For such a small town, there's quite a bit to do in Grand Marais. An absolute must-do when visiting is to get out on the water of Lake Superior. In the summertime, many visitors choose to kayak or go stand-up paddleboarding (commonly referred to as SUP). Grand Marais also has a free public beach called Agate Beach. There's even a boardwalk which was built in 2005 to enhance the beach experience. Fishing is also a common activity to partake in when on Lake Superior, and it isn't only reserved for summer. Ice-fishing in the cold winter months makes for a unique activity to enjoy, especially when you get lucky enough to catch some trout or walleye.
While we typically associate the northern lights with winter in destinations such as Norway and Iceland, you might be surprised to know you have a chance at seeing the aurora borealis from Minnesota from September to April. Head to Artist's Point for your best chance at seeing this natural wonder.
In addition to Grand Marais' beautiful outdoor scenery, the town is actually quite quirky. Home to several galleries, a visit to Grand Marais isn't complete without diving into the local art scene. Head to Grand Marais Art Colony and check out the colorful interior of Naniboujou Lodge & Restaurant, a funky art deco lodge.
A foodie's paradise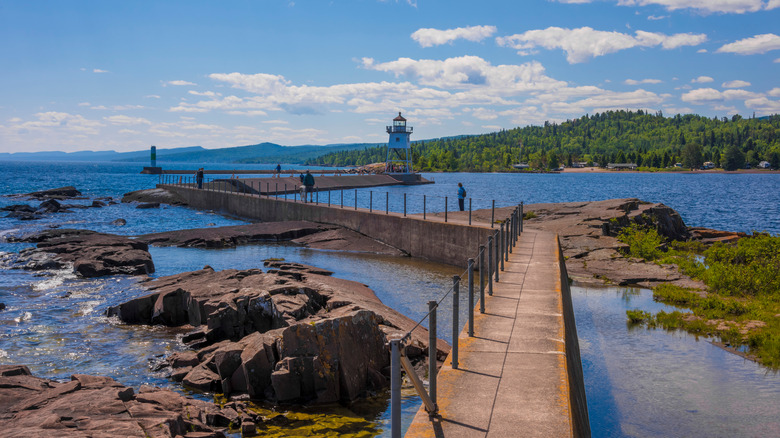 Craig Hinton/Shutterstock
You don't need to travel all the way to New York City or Las Vegas to try some of the country's best food. Some of the unexpectedly best bites can be found in small-town USA, and Grand Marais is no exception. There's a place in town called World's Best Donuts, and while there are arguably too many donuts in the world to properly compare, they certainly stack up to competition as being pretty darn tasty.
When on Lake Superior, you simply must indulge in some seafood. The Fisherman's Daughter is an iconic restaurant in town serving "dock to table" fish and chips. For one of the town's most popular eateries, grab a bite at Angry Trout Cafe. Everything on their menu is so enticing that it makes deciding what to order difficult, but know that no matter what you order, it's locally sourced, which is fully transparent in a disclaimer on their menu. Even the majority of their building and furniture is crafted locally. Minnesota is home to the largest Swedish-American population out of any U.S. State, and Angry Trout Cafe offers two traditional Swedish desserts, Kladdkaka and Swedish creme.
If you want to sip some libations, head to Voyageur Brewing Company for some local brews. Their beer is uniquely crafted with water straight from Lake Superior. It's safe to say, this lake town is a foodie's paradise.