Why You Should Add The Taj Mahal To Your Travel Bucket List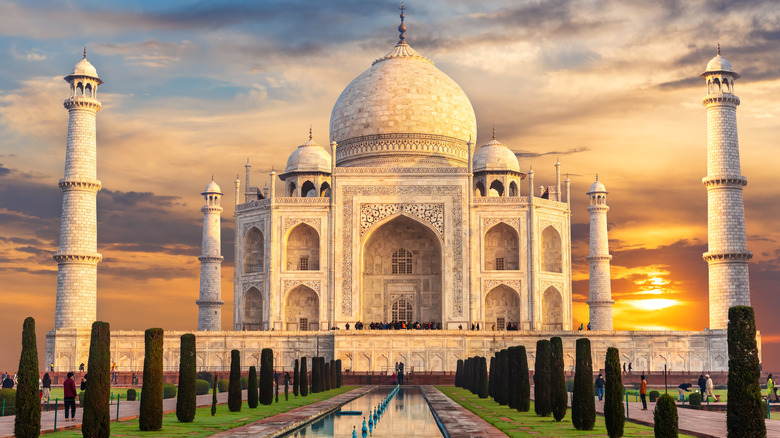 AlexAnton/Shutterstock
The Taj Mahal is one of the most popular attractions in the world. Located in Agra, India, this world wonder is well worth seeing, and with the crowds it attracts, it seems we're not the only ones who believe that to be true.
Loaded with fascinating history, the Taj Mahal is much more than just a pretty site. This ivory-white mausoleum made of marble was built by Mughal Emperor Shah Jahan in memory of his wife Mumtaz Mahal. Construction of the main building began in 1632 and was completed in 1648. Today, the Taj Mahal dazzles in the sunlight, and changes color throughout the day depending on the sun's position. It can turn into hues of pink, pearly white, and even hold an orange tint around sunset. Visitors are asked to be respectful by following some rules including turning cell phones to off or silent mode, and remembering that photography is prohibited inside of the main mausoleum. An interesting fact that might come as a surprise to those who visit this wonder of the world, is that the Taj Mahal has a similar-looking red sandstone version that the locals call the Red Taj Mahal. It is a little-known mausoleum located in a Roman Catholic cemetery in Agra, India.
Where is the Taj Mahal?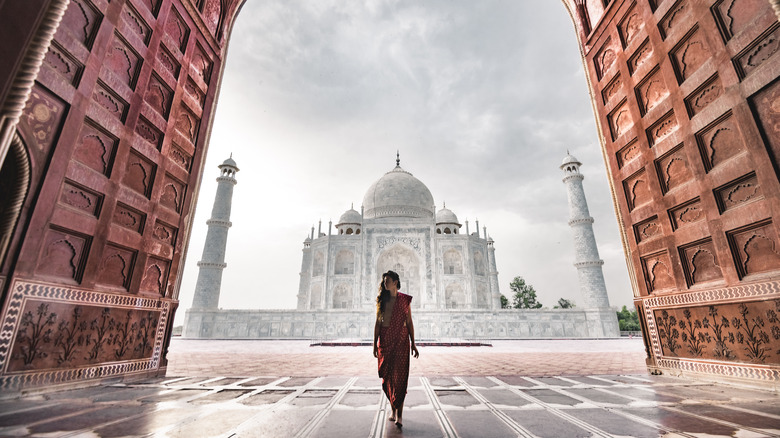 Franckreporter/Getty Images
With its location in Agra, India, the closest major city to the Taj Mahal is Delhi, and the nearest major airport is Indira Gandhi International Airport in Delhi (DEL). It is easily accessible by sleeper bus or train from several Indian cities, but many travelers choose to visit from either Delhi or Jaipur, better known as India's "Pink City," which provides the ultimate dopamine-travel boost.
The Taj Mahal is considered one of the new seven wonders of the world. The other world wonders on this list are Christ the Redeemer in Brazil, the Colosseum in Italy, the Great Wall of China in China, Petra in Jordan, Machu Picchu in Peru, and Chichen Itza in Mexico. The Taj Mahal is popular as is, but because it's on the world wonder list, the crowds it attracts are amplified with bucket-list travelers. Who doesn't want the bragging rights of saying they've seen one of the seven world wonders?
India is a notoriously affordable destination for Western travelers, so hiring a local guide to better understand the fascinating history is an investment worth making. A guide can ensure you get the historical facts necessary to enrich your visit, and can also help you find the best spots for photos. Note that to visit inside the mausoleum where the Taj Mahal Museum is, there is an additional entry fee of 200 rupees, or approximately $2.50.
Tips on visiting the Taj Mahal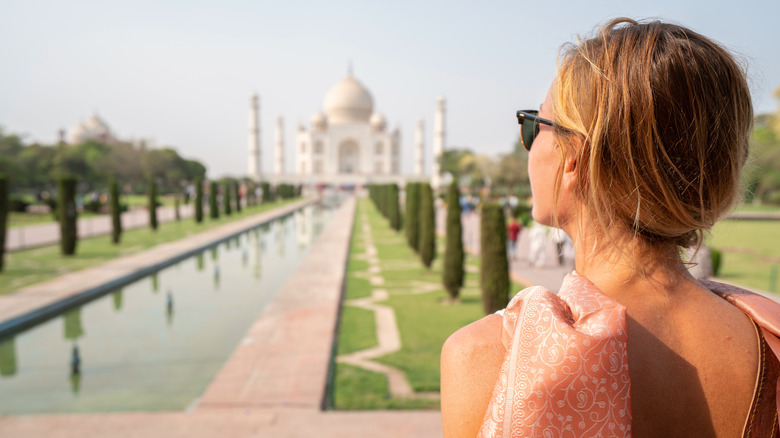 Swissmediavision/Getty Images
The Taj Mahal is the most popular tourist site in India, so you can imagine it gets quite busy. Your best bet for beating the crowds is getting there as early as possible. Buy your ticket ahead of time online so you can walk right in. The Taj Mahal advertises that their hours are from 6 a.m.-6:30 p.m., but they technically open 30 minutes prior to sunrise, so if you get there as early as 5 a.m., they will likely let you in. Arriving extremely early increases your chances of having a world wonder almost entirely to yourself. Entry to the Taj Mahal costs 1100 Indian rupees, or approximately $13.
Note that the Taj Mahal is closed every Friday. No tripods or drones are allowed inside.
If you want to grab lunch in Agra afterward, put your money toward a good cause and a delicious meal at Sheroes' Hangout. Run by acid attack survivors, the staff at Sheroes' Hangout promotes gender equity in India. Their menu has no prices, and each meal is prepared by the survivors. In the end, diners can donate what they'd like to their cause. Pro-tip: try their pomegranate juice; it's delicious.