The Early-Morning Strategy To Use On Your Visit To The Taj Mahal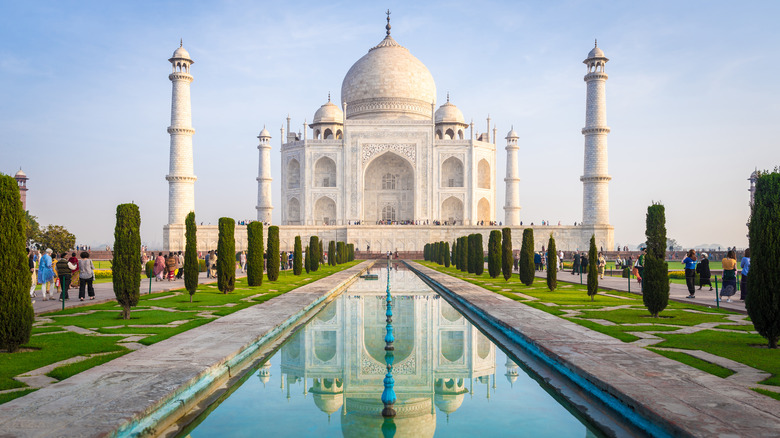 Niti Kantarote/Shutterstock
A Mughal mausoleum that took 20 years to build, is decorated with over 40 types of precious stones, and is visited by up to eight million people annually: It's the Taj Mahal, everyone. Some of the most famous photos of this romantic monument are taken on a bench in the perfectly laid out gardens, with the domed building rising in the background. But, with eight million visitors buzzing around, how were these photos captured?
So, we can't guarantee you'll get photos with no one in the background unless you're actual royalty, but there is a way you can visit the jewel in India's crown without the crowds. Travel blogger Nomadic Matt recommends heading to the Taj Mahal early in the morning, right when it opens, when most of the people in line to see the monument will be foreigners. The official Taj Mahal website agrees, stating that the site is relatively quiet in the early morning, a time when it's also at its most beguiling.
The Taj Mahal in the morning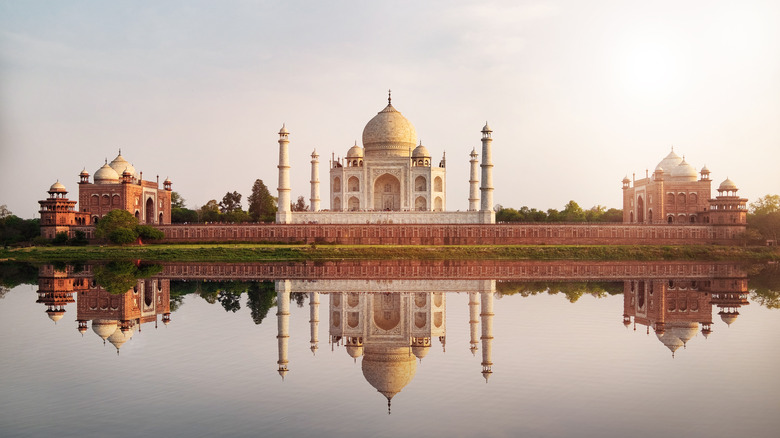 Tanarch/Shutterstock
If you're not that keen on dragging yourself out of bed before dawn while you're on vacation, let us assure you, it'll be absolutely worth it at the Taj Mahal. Pretty much everyone, including Two Blue Passports, agrees that the monument looks at its most glorious at sunrise. As the sun climbs, the white-marbled building gradually changes color and the inlaid jewels begin to shimmer.
Asia Highlights has more advice: avoid visiting the Taj Mahal on Indian public holidays and weekends, and if your main wish is to avoid the crowds, come during the off-season of April to June. However, be aware that the weather can be unpleasantly hot during those months. (The most pleasant weather is from October to March, per Asia Highlights.)
There are other ways to see the Taj Mahal than from inside the grounds. The official website has a list of places with stunning views of the mausoleum, including Mehtab Bagh — the Moonlight Garden — and Agra Fort, another must-visit location in Agra. When the crowds inside start to grow, slip out to one of these locations for quieter perspectives.