The Hack That Can Save You Money While Doing Laundry On A Cruise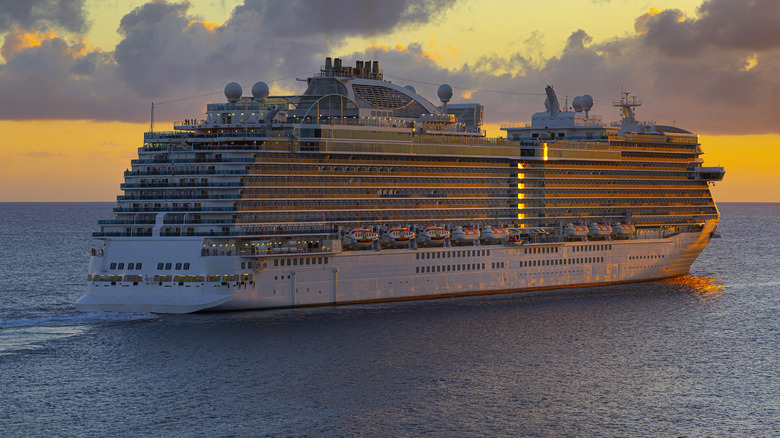 Jamesbrey/Getty Images
Lounging on the lido deck. Dining at the captain's table. Taking a swim with the ideal sunset view. We'll admit that a basket of dirty laundry doesn't usually come to mind as the dream cruise image. But smart packers and good planners often get a load, or two whirled on the open seas. Who wants to arrive home the night before work with none of their favorite clothes laundered?
An excellent benefit of cruising is taking advantage of services, and having clothes laundered is an option on high seas. One of our favorite hacks to save money is doing your laundry near the end of the cruise for a flat, often discounted, fee. And if that's not an alternative, some cruise lines offer self-service laundry, which costs less (sometimes even free) and will help you save money on your next cruise. We've got the details for getting clothes laundered before you disembark. 
How it works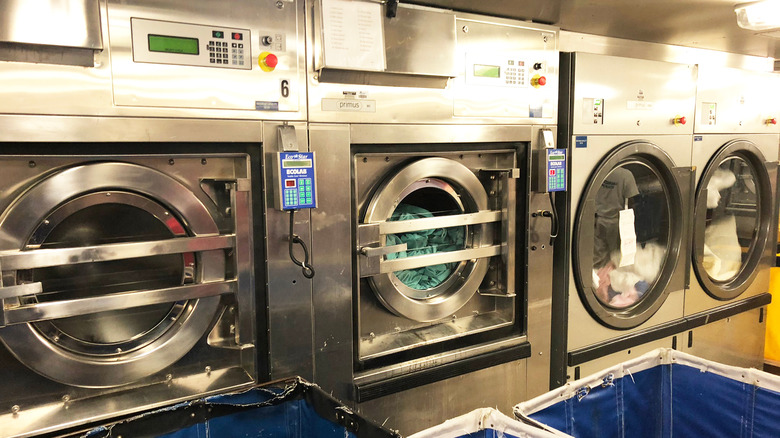 James R. Martin/Shutterstock
If you haven't cruised before, you should know that utilizing laundry services is simple. While the norm isn't self-service, some lines offer it. Using the laundry bag in your stateroom is the easiest way to transform your dirty laundry into freshly washed and folded clothes. Stewards will pick up bags and deliver them when ready. Most pick-ups are laundered and returned the next day, but you can most often get same-day express service for an extra fee. However, this can be expensive. That's where one of our favorite hacks comes in. 
As you near the end of your cruise vacation, prices for flat fee laundry drop, and a flat fee means the same price for whatever you can fit in the bag. Not only will you save money by waiting until the end of your cruise to have your clothes laundered, but it can also help beat the back-to-real-life blues when you unpack. It even saves you a chore on your return and allows you to unpack directly from suitcase to drawer. 
Additional options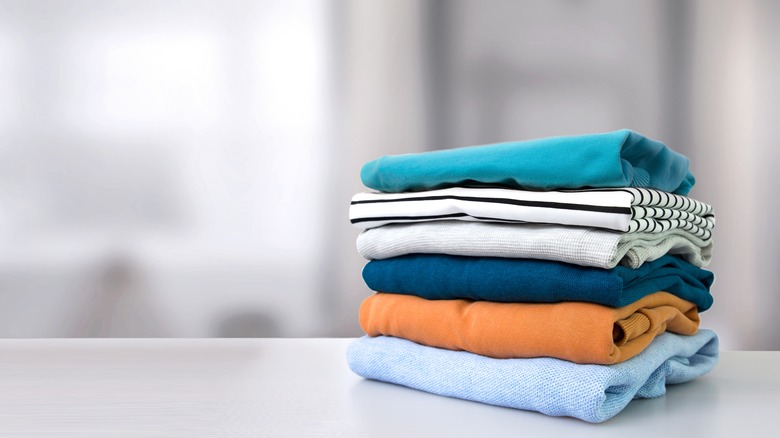 NYS/Shutterstock
If waiting until the end of your cruise for clean clothes isn't an alternative, you have other choices. Another way to save on your cruise laundry budget is DIY. Some cruise lines, including Disney cruise ships, offer a laundry room option for passengers. There is no need to pack and lug that detergent bottle; supplies are available for purchase. 
But if the idea of fluffing and folding on vacay isn't for you, consider a laundry package. These usually need to be booked and paid in advance of the cruise. Packages and prices vary. Keep in mind if you're a regular cruiser and accumulating points. You can use your loyalty points for laundry services on some lines, including Celebrity. 
And if you just need that one thing taken care of? Consider dry cleaning and pressing services. Because let's face it; no one wants to look wrinkled at the Captain's table, or any table for that matter.