This California Hike Is The Perfect Outdoor Activity For Wine-Lovers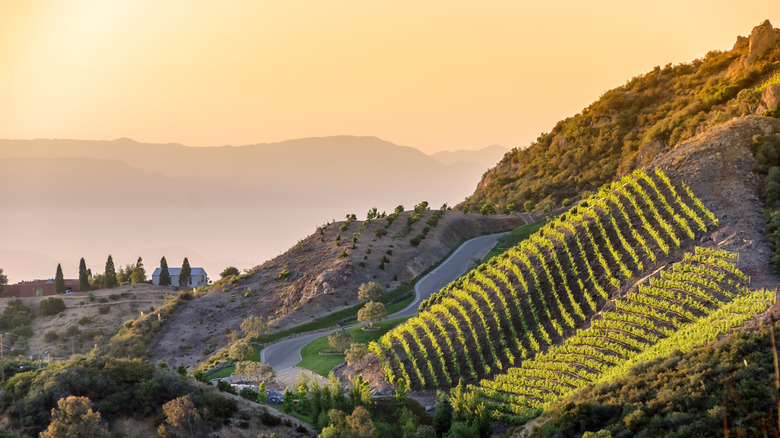 Ed-ni-photo/Getty Images
There are two types of people on vacation: those who are active and wake up early, and those who want to sit back, relax, and sip wine. This can cause some serious tension and a real discord in plans when trying to plan a trip with our loved ones who have opposite travel styles as us. Luckily, we have a vacation idea that caters to the best of both worlds: Malibu Wine Hikes in sunny southern California.
Malibu might best be known for its beaches, but the wine scene is booming. With a stunning dramatic landscape due to its mountainous and hilly environment, many visitors choose to hike in Malibu. So, take the impeccable wineries and pair them with one of the city's vigorous yet scenic hikes, and thus, you have Malibu Wine Hikes. For an off-the-beaten path vacation activity that will appease all types of travelers, here's what you need to know about hiking and simultaneously sipping vino in Malibu.
What is the Malibu wine hike?
The official Malibu wine hike tour spans a total of 2 to 2.5 miles of hiking with a duration of one and a half to two hours. It's worth noting that the tours run rain or shine, so check the weather beforehand to ensure you're prepared. Speaking of being prepared, you'll want to leave your Louboutins at home and wear a comfortable pair of walking shoes.
The hike itself takes place at Saddleback Ranch on 1,100 acres of private property owned by the founder of the company. You will have a tour guide who can help educate you and your group on what varietals you're sipping, along with some family history. You might even catch sight of one of the property's many four-legged friends, such as alpacas, llamas, miniature donkeys, horses, cows, and even some birds and reptiles that call the property home. Who could blame animals for inhabiting Malibu wine country? 
If walking is not your thing, the company also offers a 4×4 Adventure Tour, which is two hours long and includes multiple wine stops. There's also the option for a VW Wine Bus Tour which lasts three hours and includes two or three stops.
Much more than just wine (and hikes)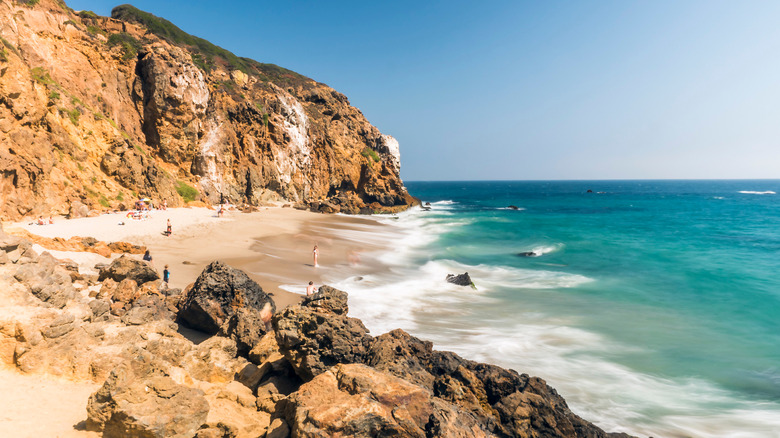 wonderlustpicstravel/Shutterstock
Malibu's tagline is "21 miles of scenic beauty" thanks to its long stretch of coastline, so it should come as no surprise that this southern Californian town is best known for its plethora of beaches. For some serious fun in the sun, head to popular Zuma Beach. Zuma is great for whale watching and sunbathing, but note that the water is generally a little cold. That doesn't stop many visitors from swimming and bodysurfing, though. Many who come to Malibu like to admire the stretch of over-the-top mansions of Hollywood's rich and famous. The best place to do this at is appropriately referred to as "Billionaire's Beach," whose proper name is Carbon Beach.
Surfers will especially thrive in Malibu. Malibu's Surfrider Beach was named the first World Surfing Reserve, and you might recognize it, as the beach has been used in plenty of films and television shows over the years.
Located around 30 miles from Los Angeles, Malibu is a popular day trip for city-slickers. You can, of course, visit this town in just a day, but life in Malibu is meant to be lived slow, so if your time allows for it, try to give yourself ample time in both Los Angeles and Malibu.