What Parents Should Know Before Flying With A Pack And Play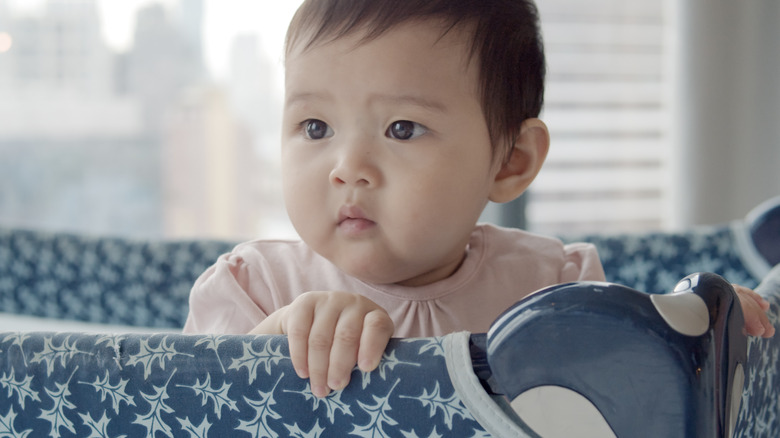 Athvisions/Getty Images
Pack and play and other similar playards are a must-have item for many parents of small children. They act as a safe space for little ones to play or take a nap in, with a comfy floor and four soft sides. These playpens are relatively lightweight and easy to move from room to room or even outside during outdoor play, unlike cribs and other furniture. And just as the name suggests, pack and plays are a breeze to fold up and pack away when needed.
If you're used to relying on a playard for your child, going on a vacation without it can seem unthinkable. Thankfully, you don't have to leave your pack and play behind during your next trip, even if you'll be flying far from home. Pack and plays generally come with a carrying bag so they can be brought along with the rest of your luggage. However, there are still a few things to keep in mind when bringing a playpen to ensure your trip goes off without a hitch.
Get to know your airline's rules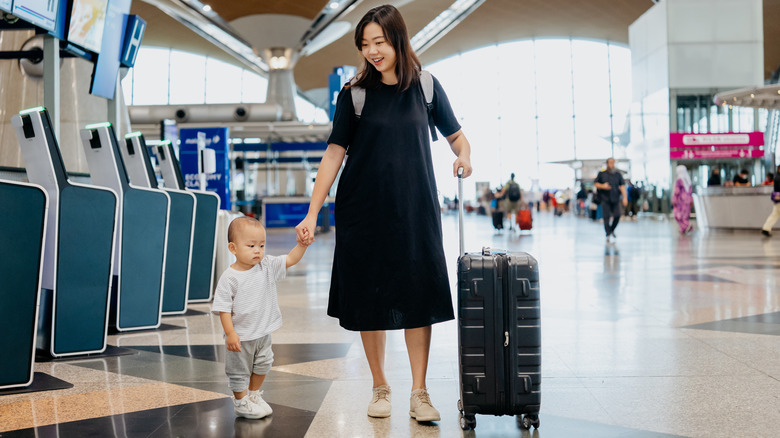 Hxyume/Getty Images
Pack and plays are designed to be used during travel but keep in mind that you'll still have to comply with your airline's rules when flying. For instance, United Airlines states that collapsible cribs must be stowed away with checked baggage. If you surpass your checked luggage allowance, you'll have to pay an additional fee to fly with the playpen. Similarly, American Airlines treats pack and plays as regular bags, though if yours is small enough when folded, it may be safe to bring as a carry-on item (research the check-in item dimensions for your flight to be sure). Regardless of which airline you'll be flying with, it's always a good idea to confirm your ticket's baggage allowance and, if in doubt, contact customer service to find out how to bring your pack and play along for your trip.
It's also important to consider the risk of damage when flying with a pack and play. According to SITA, an IT and air transport communications provider, nearly 8 out of 1000 bags were mishandled by airports and airlines in 2022 — a number that might sound low but has shot up compared to past years. The last thing you want when traveling with a pack and play is to arrive at your destination and discover it's been broken. To play it safe, place your folded playpen in a suitcase or protective duffel bag. Then, employ the pool noodle hack for extra assurance.
You may not need a pack and play after all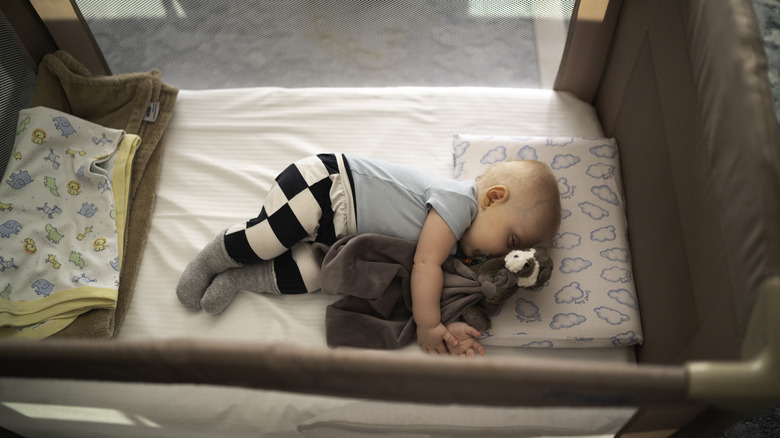 Fg Trade/Getty Images
Pack and plays might be a godsend when you're toting your tot around from home to a relative's house or even to the beach. But you might not miss yours as much as you'd expect while on vacation. Many playpens are lightweight enough for everyday purposes, but when their weight (approximately 19 pounds for the classic Graco model) is added to other hefty luggage, it can be a chore lugging them around. Think realistically about your travel plans. If, for example, you have to walk a long distance with your luggage to your hotel, you might regret bringing your pack and play along.
Another point to know: You can rent baby gear during your vacation. Additionally, many accommodations offer cribs or playpens to guests. That way, you have a safe place for your child to sleep or play while in the hotel without having to drag your gear with you.
Finally, consider other smaller alternatives to the standard pack and play. If your child is still small enough to fit in a bassinet, you might find one designed for travel that's easier to transport compared to a playpen. If your child is bigger and you use your playard as a toddler-friendly play space, you may be able to child-proof your hotel room instead. Nevertheless, always be sure to cover outlets, hide cords, and keep dangerous foods and medications out of reach.