How To Rent Baby Gear For Your Next Family Vacation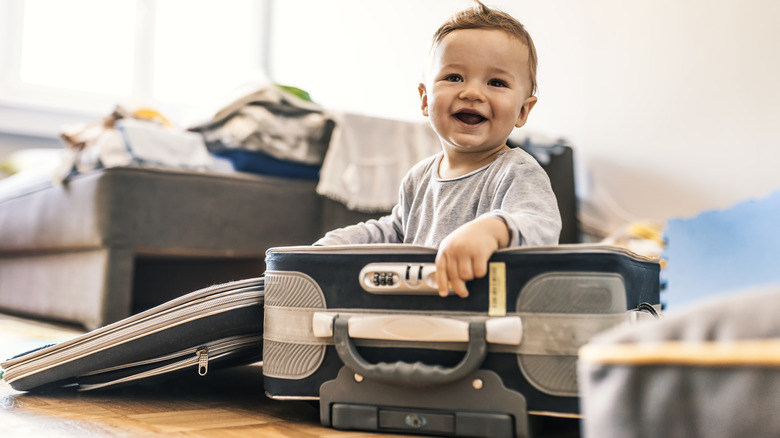 Ljubaphoto/Getty Images
Let's face it: Traveling with babies isn't easy. Little ones must be constantly entertained, continuously fed, and sporadically changed. Factor in all the necessary baby gear parents have to drag through the airport and lift in and out of cars, and traveling just got a whole lot heavier. But what if families didn't have to carry all of the gear with them? What if parents could travel in style and arrive at their final destination feeling a little less weighed down?
Cribs, highchairs, strollers, toys, car seats, portable baths, and bouncers are a few things parents can rent for their next family vacation. Big and bulky, these items can be awkward to carry, add stress to the start of a holiday, and are often not really necessary while in the airport. And it's not just plane travel. For families planning road trips with toddlers, there's only so much room in the trunk of the car. With several online baby rental companies willing to help traveling families, renting baby gear is as simple as selecting a destination, picking necessary baby items (and maybe a few fun toys), and finalizing the order.
Renting baby gear sounds good, but is it worth it?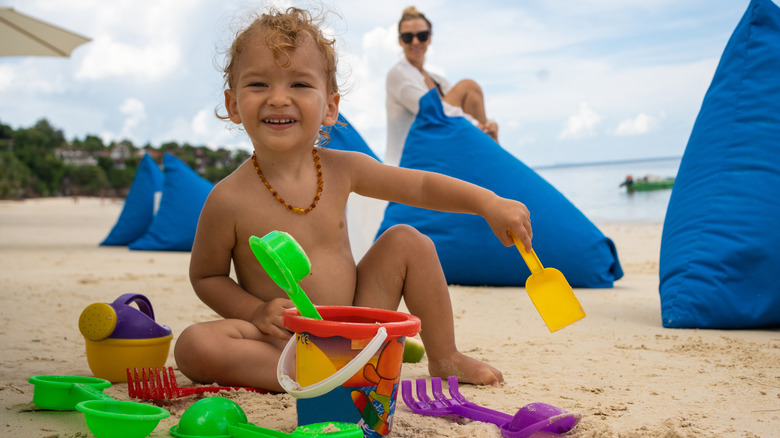 Miodrag Ignjatovic/Getty Images
Renting baby gear for a vacation helps families start their trip with less stuff, reduces stress, and can save money. It doesn't matter if families are traveling with the best family-friendly airlines or if their car trunk is oversized, bulky baby gear is hard to travel with. Most families won't want to purchase these expensive items for short-term use, so renting is an excellent option. Renting baby gear is also a fun and unique way to try out products that parents consider purchasing in the future. Wondering if that SNOO or the BOB jogging stroller is worth the hype? Why not try it out on your next family vacation?
Renting also makes sense for smaller items, like books, toys, and games. When it comes to little ones, new is exciting! And "new" but reused books, toys, and games are better for the environment. According to the United States Environment Protection Agency, reducing and reusing products like toys lets them be used to the fullest extent: "Making a new product emits greenhouse gases that contribute to climate change and requires a lot of materials and energy ... [R]eduction and reuse are the most effective ways you can save natural resources, protect the environment and save money." And renting smaller baby gear on vacation also has the added bonus of families being able to leave books, toys, and games behind without carrying them to, from, and around airports and in and out of cars during their travels.
Where to rent baby gear for your next family vacation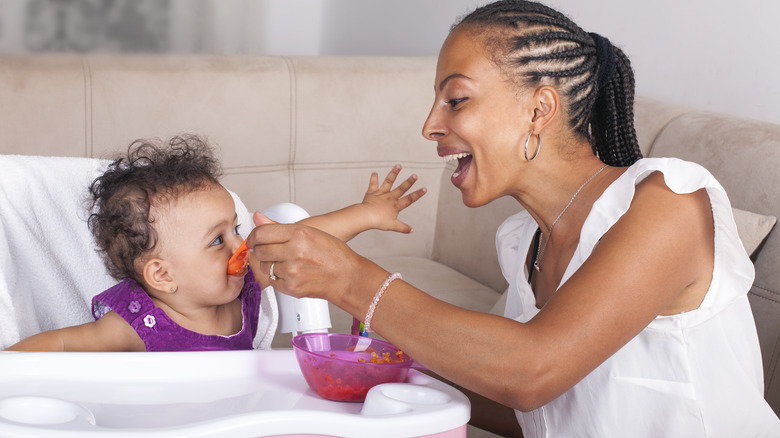 Eli_asenova/Getty Images
There are many online sites where families can rent baby equipment for their next family vacation. BabyQuip is a great option, recently receiving a 2023 Good Housekeeping Travel Award. The company has over 45,000 five-star reviews, thorough cleaning protocols, and software programs in place to monitor safety recalls and remove any recalled items from the site. Baby items can be delivered to the destination airport or to a family's vacation accommodation.
But BabyQuip isn't the only quality company ready to help families on vacation. Other popular choices include Baby's Away and the Traveling Baby Company. Baby's Away is available in 34 states and over 90 locations. All gear is sanitized, safety checked, and certified by the Juvenile Product Manufacturers Association. Traveling Baby Company is similar to BabyQuip and Baby's Away. They've been in business for 19 years, clean and sanitize equipment before delivery, and their primary concern is safety, which is why all products are checked after use, replaced when needed, and adhere to federal safety standards. No matter which company families choose to use, renting baby gear for family vacations is easy, helpful, and definitely worth it.