What's The Difference Between A Carry-On And Personal Item?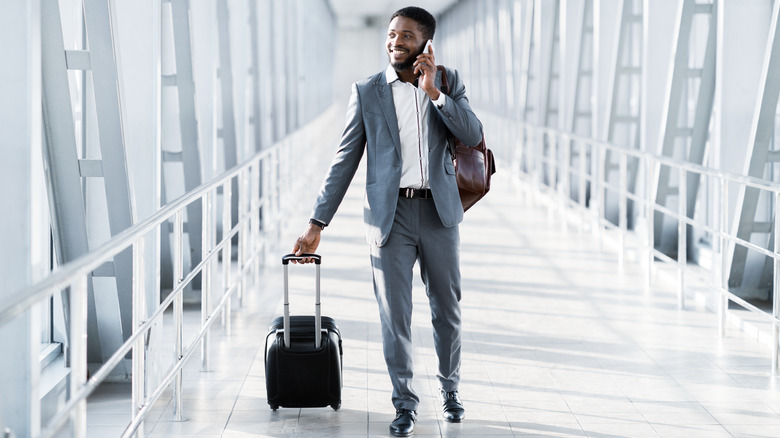 Prostock-studio/Shutterstock
Getting ready for a flight can be pretty hectic, especially when you consider packing. You already have the stress of choosing the right outfits and products, but you also need to make sure your bags don't go over a certain weight. Airlines will typically allow at least one checked piece of luggage up to around 50 pounds. Anything more than that, and your airline will likely charge you more money for the extra weight.
Even with checked luggage, travelers typically have the ability to carry some bags on board. Most airlines will allow you to take a carry-on bag and a personal item on board. The Transportation Security Administration (TSA) will take time to screen all of your bags for security reasons. It can be a bit annoying and overwhelming, but it's worth it to keep your electronics, medication, and other products (plus snacks!) nearby on the flight. However, it's important to know the difference between a carry-on and personal item before you fly.
Your carry-on bag should fit inside the plane's overhead bin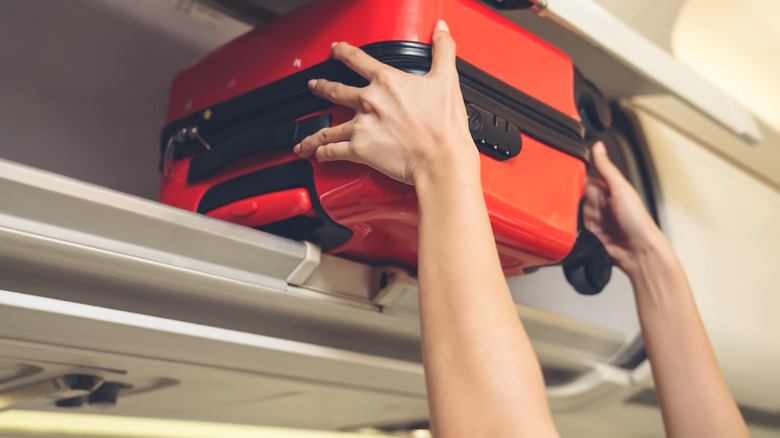 Blue Planet Studio/Shutterstock
Whether they have checked luggage, travelers can pack a carry-on bag with some essential items, just in case their luggage is lost during their flight. After all, no one likes getting off of a flight and discovering that they'll have nothing to wear for a few days. If you are only traveling for a brief period, you may also find it easier to travel with just a carry-on bag. This will allow you to carry the essentials you need for your trip without having to go through the dreaded baggage claim after your flight. 
According to Afar, there is a standard size for carry-on bags for domestic flights within the United States. Most airlines accept a carry-on bag that's smaller than 22 x 14 x 9 inches. That also includes the handles and wheels. The allowable size can vary a little based on the airline. Per TSA, it is important to check your airline's carry-on restrictions prior to your flight. Your carry-on luggage must be able to fit in the overhead bin on your plane, or you may end up having to pay to check your bag. 
Your personal item is typically smaller than any luggage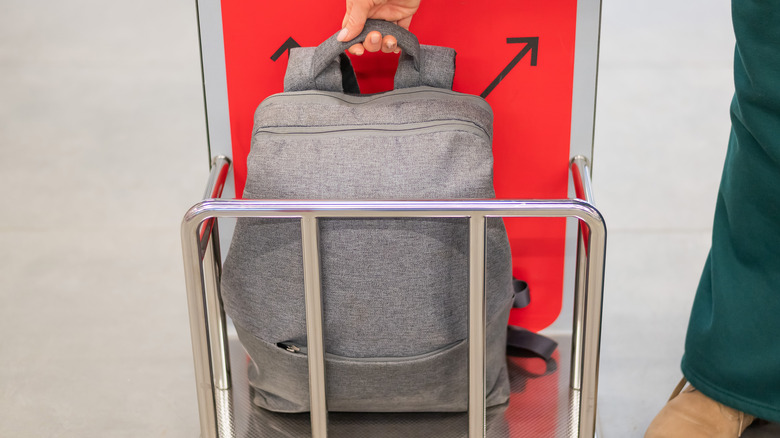 Reshetnikov_art/Shutterstock
In addition to your checked luggage and a carry-on bag, most airlines allow travelers to bring one personal item. Per Nerd Wallet, a personal item typically includes small backpacks, purses, briefcases, diaper bags, and camera bags. Basically, your personal item is any small bag you can fit under the seat in front of you. While TSA is picky about what you can carry in these bags, it can be helpful to have this personal item on the flight with you.
According to Travel & Leisure, families traveling with young children may be able to get away with having a stroller or diaper bag in addition to a personal item. It's also possible that airlines will allow uncommon items to be carried on for free. For example, if you have a formal dress or an instrument, most airlines will let you board with these items as well. In these cases, however, it's important that you confirm with your airline before you fly.