This Small New York Town Is A Great Spot To Stay When Exploring The Adirondacks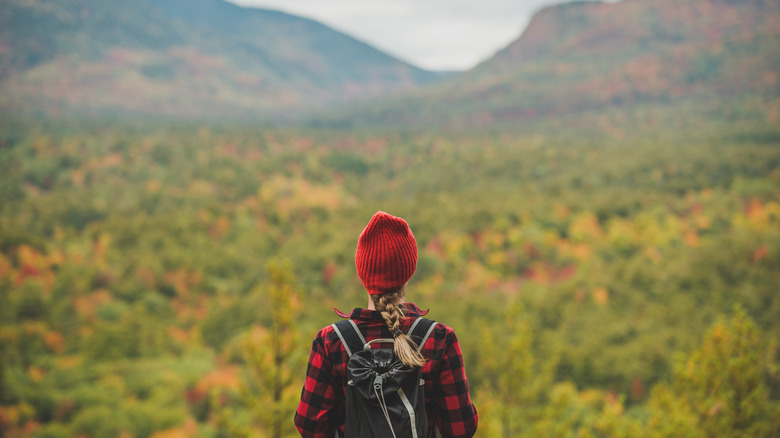 Mundusimages/Getty Images
One of the best regions in the U.S. for a mountainous getaway is the Adirondack Mountains in New York state. The Adirondacks span across over 9,000 square miles, so choosing where to base yourself for your getaway can feel like a daunting task. Many choose to visit popular picturesque lake towns like Lake Placid, family-friendly Lake George, or the artsy city of Saratoga Springs, but one of the best things visitors can treat themselves to when exploring the Adirondacks is its impeccable small-town charm. If you're looking for one of the most endearing small-town destinations in this scenic mountainous region, look no further than Inlet, New York.
Inlet is a quaint town located on Fourth Lake. Not only is Inlet one of the best-kept secrets of the Adirondacks, but visiting Fourth Lake is also a great way to ensure you get a proper water adventure. One of the best perks of visiting Inlet is it's enjoyable year-round, with each season offering a different town highlight. If you're looking to get away from the hustle and bustle of everyday life, a trip to Inlet is in order.
A charming destination with plenty to see (and eat)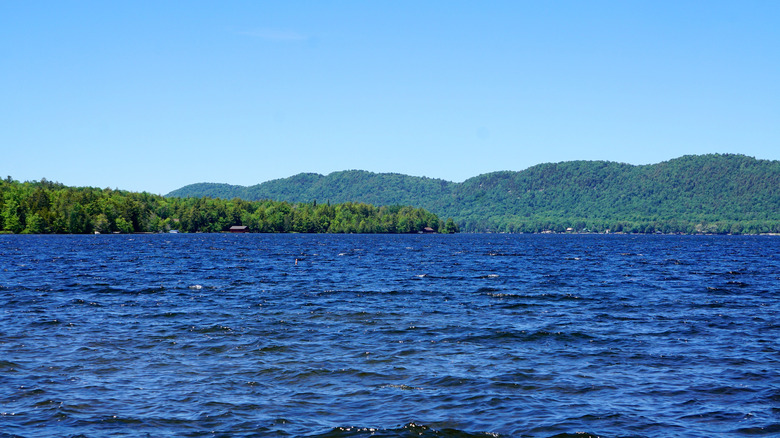 Linda Harms/Shutterstock
You'll want to start any day in Inlet at Tamarack Cafe. This charming cafe serves up breakfast sandwiches, pancakes, and homemade maple syrup and even has an on-site mini-golf course called Putterfingers to keep the kiddos entertained. If you simply want to start your day with a well-curated latte, head to Blue Line Coffee House. The blue line in their logo might look familiar. This is because it represents the outline of Adirondack Park.
Inlet is best known for is Arrowhead Park. Located on serene Fourth Lake, this free public state park has everything anyone could want on a proper getaway. Enjoy florals framing the lake in the spring, the beach in the summertime, fall foliage in autumn, and the annual Christmas on Main Street festivities in the winter. Inlet is also a fantastic option for snowmobilers, with The Inlet Trail System covering miles and miles of powdery trails among the dazzling Adirondacks.
You know the old saying: If you can't beat 'em, join 'em. Many boaters head to Inlet to get out on the water when the weather calls for it. Visitors can rent a boat from The Inlet Marina.
When your appetite is calling once more, grab a slice or a pie at Screamen Eagle Pizza. For dinner, a prime option in town is The Overlook Restaurant at The Woods Inn, which is also one of the best places to lodge at when visiting Inlet.
Plenty of hikes and family-friendly activities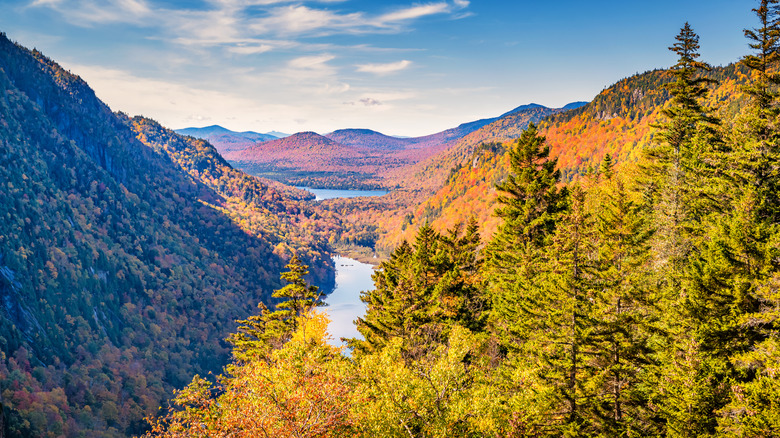 Benedek/Getty Images
Many who come to Inlet choose to embark on one of the town's hikes. The most popular trail is the Rocky Mountain Summit. This easy hike provides visitors with tranquil views overlooking the Fulton Chain of Lakes, including nearby Fourth Lake. The Rocky Mountain Summit makes for a great family-friendly hike due to its low physical impact, but the family-friendly activities don't stop there.
If you find that the unspoiled remoteness of Inlet has made you feel a little too serene, head to nearby Old Forge, about a 15-minute drive away. Old Forge is a bit more commercialized and geared toward tourists. It is home to one of Upstate New York's best water parks, Enchanted Forest Water Safari is a popular attraction for kids, and adults will have just as much fun there with adrenaline-spiking waterslides like Killermanjaro's Revenge, a 207-foot-long slide.
Because Inlet is so remote, you'll need a car to properly explore the town and its surroundings. If you're coming from out of state and need to fly into the area, the closest airport is Syracuse Hancock International (SYR).