These Mountain Towns Dazzle In The Wintertime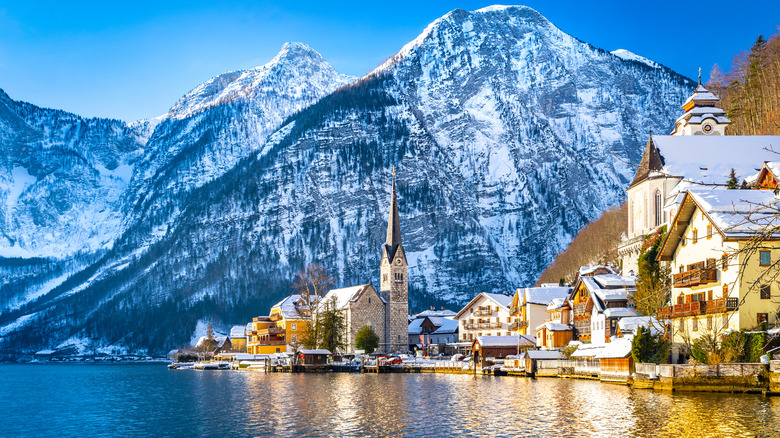 iStock.com/Aleh Varanishcha
While many people dread the first snowfall when cold weather hits, others feel that a sprinkling of snow can make certain places even more appealing. These mountain towns are a sight to behold in the wintertime. Some might even say they're magical.
Asheville, North Carolina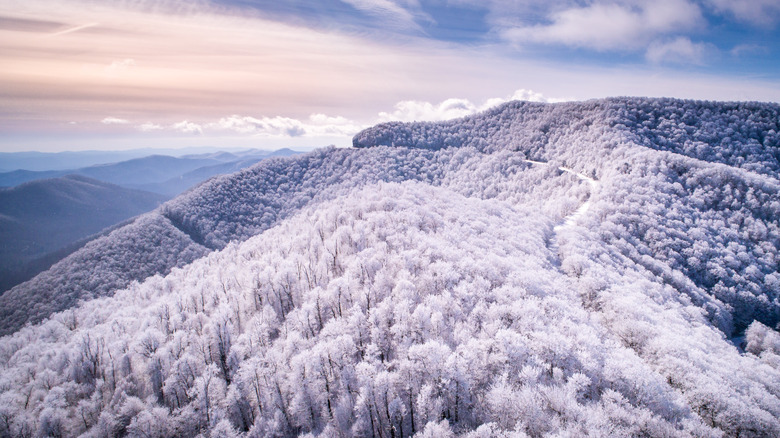 Gabriel Swinney/ Shutterstock
Asheville is nestled between the Blue Ridge and Great Smoky Mountains, with the Blue Ridge Parkway providing a spectacular, long-range view of the impressive landscape dusted with snow. 
Ashland, Oregon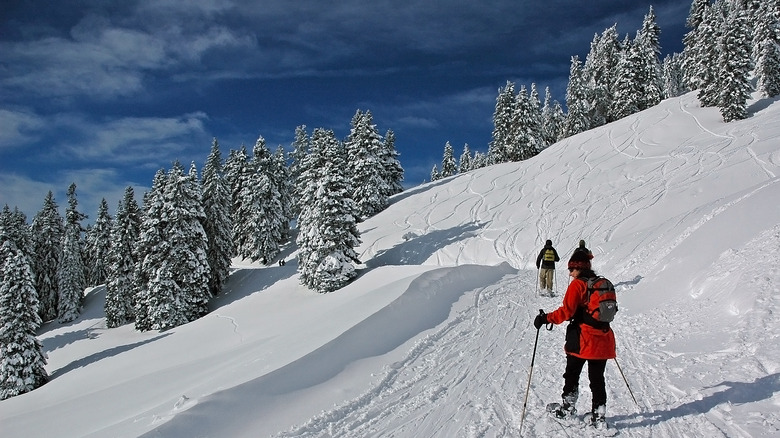 macie/Shutterstock
Ashland is an underrated gem in southwest Oregon nestled at the base of the Siskiyou and Cascade mountain ranges. If you're looking for a charming post-pandemic trip, head to Ashland to explore the city's coffee shops, bakeries, restaurants, dispensaries and local wineries.
Banner Elk, North Carolina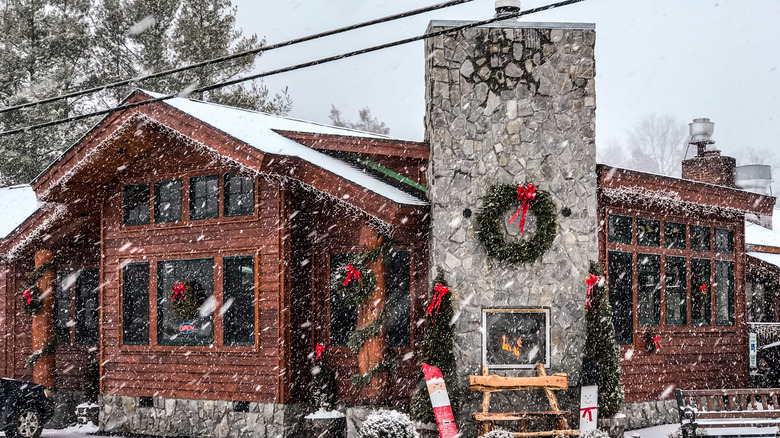 Jerry Coli | Dreamstime.com
This getaway in the Blue Ridge Mountains has every bit of small-town charm with cabins, cottages, skiing, snowboarding and more. And just outside of town, Grandfather Mountain's mile-high swinging bridge offers one of the most stunning views in the whole state.
Bethel, Maine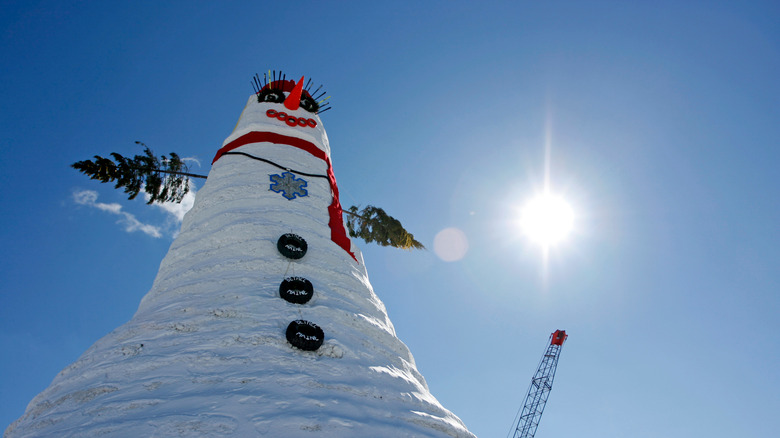 Royalty free/Getty Images
Bethel, Maine, is the most beautiful mountain village in the state. The village opens up right to the dazzling White Mountain National Forest. 
Bend, Oregon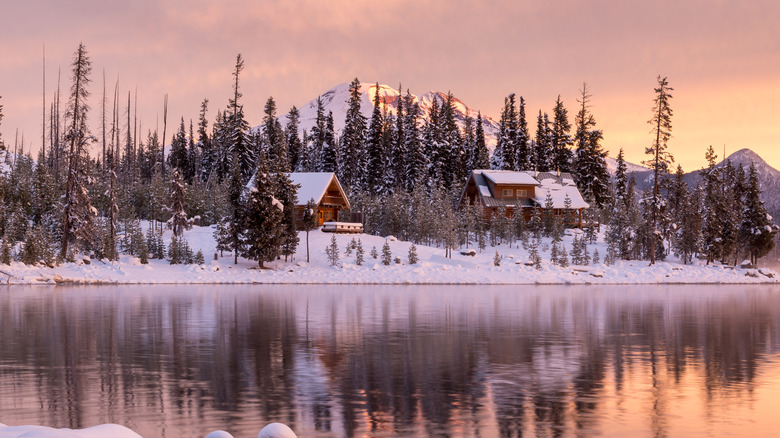 Richard Bacon /Shutterstock
Bend, Oregon, is epic in the winter, with the Central Cascades as the backdrop. To add to the drama, Bend's Mount Bachelor gets an average of 462 inches of fluffy snow a year.
Bisbee, Arizona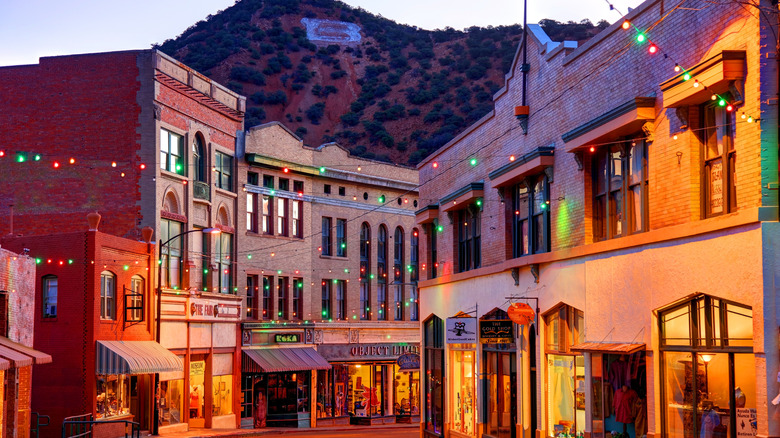 iStock.com/DenisTangneyJr
Bisbee, Arizona, is a quaint Victorian mining town that looks like an image in a history book. Sitting at an elevation of 5,300 feet in the Mule Mountains, Bisbee has a colorful collection of historic homes, shops, saloons and restaurants. 
Bozeman, Montana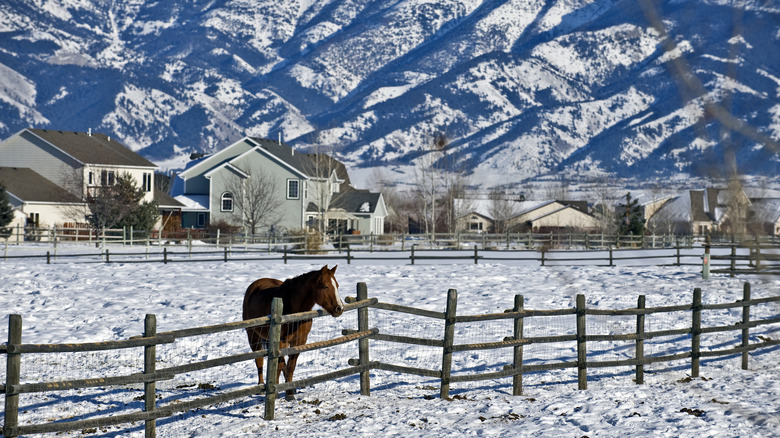 iStock.com/alancrosthwaite
Temperatures can get frigid during the winter in Bozeman, Montana. Nearby Hyalite Canyon has the highest concentration of natural ice-climbing routes in North America as well as routes that include majestic frozen waterfalls. 
Breckenridge, Colorado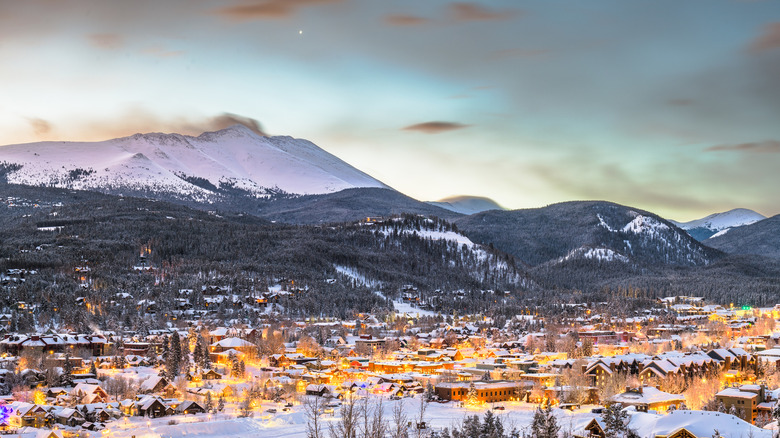 © Sean Pavone | Dreamstime.com
Breckenridge, Colorado, is a popular skiing destination in the winter that also has miles of snowshoeing and fat-biking trails, as well as scenic paths for family sleigh rides. The city's adorable Main Street is dotted with boutiques, galleries and restaurants. 
Charlottesville, Virginia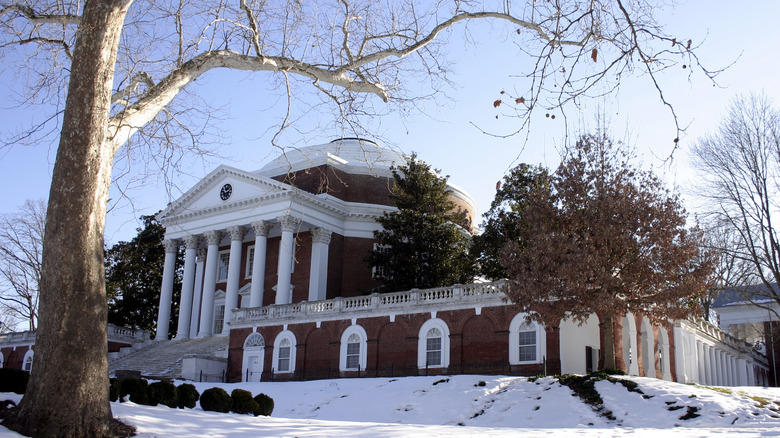 iStock.com/photohoo
Located along the foothills of the Blue Ridge Mountains, Charlottesville, Virginia, is more than just a college town with one of the most beautiful campuses in the country. After a dusting of snow, its hillsides look like a true winter wonderland.
Coeur d'Alene, Idaho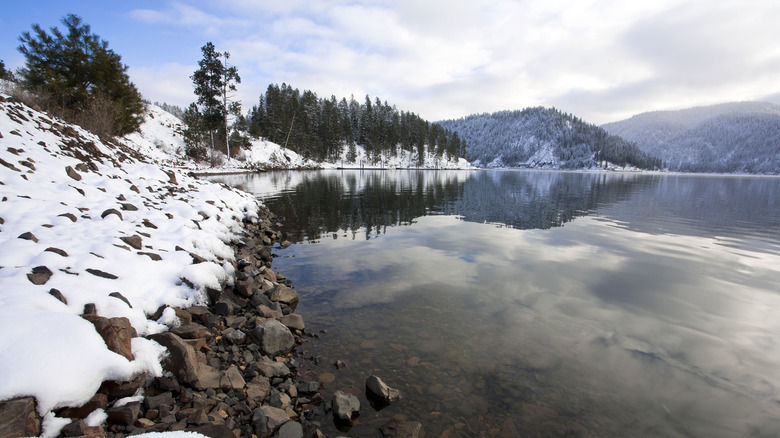 iStock.com/gjohnstonphoto
The Coeur d'Alene, Idaho, area is surrounded by more than 55 lakes, but Lake Coeur d'Alene, with its snow-capped mountains, is ravishing. 
Cortina d'Ampezzo, Italy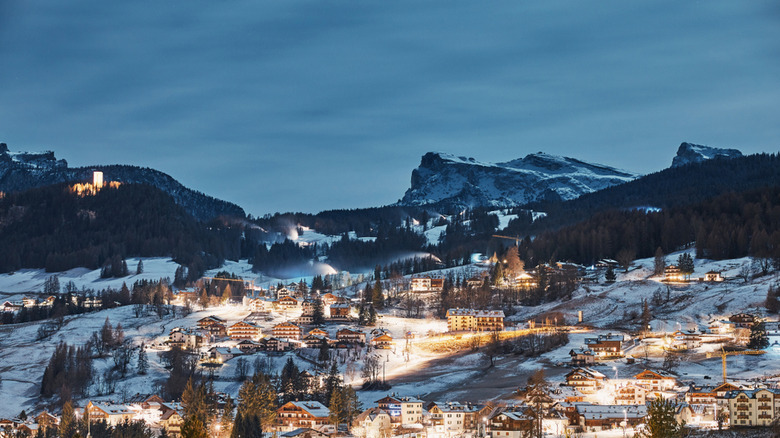 FrimuFilms/Shutterstock
After hosting the 1956 Winter Olympics, Cortina D'Ampezzo, Italy, known as Cortina for short, became a hotspot for sighting celebrities such as Sophia Loren, Brigitte Bardot and Audrey Hepburn. Cortina remains an idyllic Italian mountain town surrounded by skies and snow. 
Chamonix-Mont-Blanc, France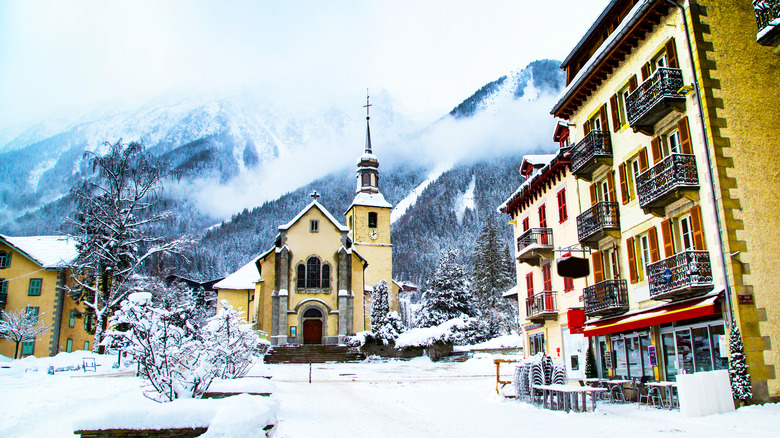 iStock.com/Kisa_Markiza
Located in the Alps near where France, Switzerland and Italy meet, the French village of Chamonix-Mont-Blanc hosted the very first Winter Olympics in 1924 and has been world-renowned ever since. The town sits beneath Mont-Blanc, the highest peak of the Alps.
Deadwood, South Dakota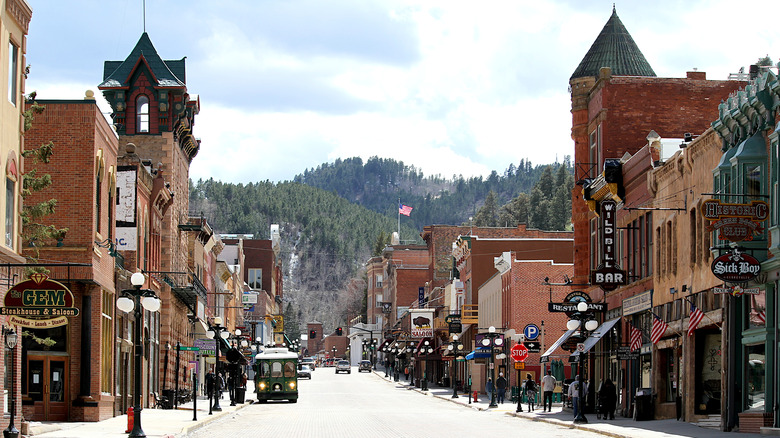 © Thomas Carlson/Dreamstime.com
South Dakota's Black Hills provide otherworldly scenery for the small town of Deadwood. Deadwood is near Custer State Park and Mount Rushmore National Memorial, a popular American landmark that is much more serene in the winter months.
Eureka Springs, Arkansas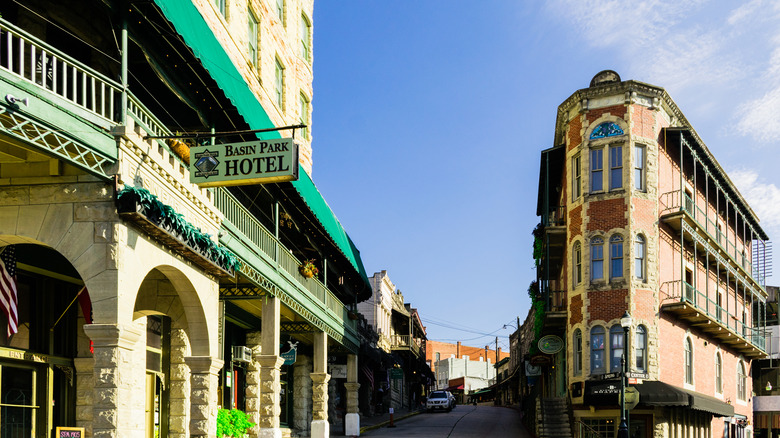 © Jonesrj35/Dreamstime.com
Its mountain location is part of what makes Eureka Springs, Arkansas, the state's most romantic destination. Lake Leatherwood City Park, along with the scenery of the surrounding Ozark Mountains, makes Eureka Springs a beautiful wintertime town.  
Furano, Japan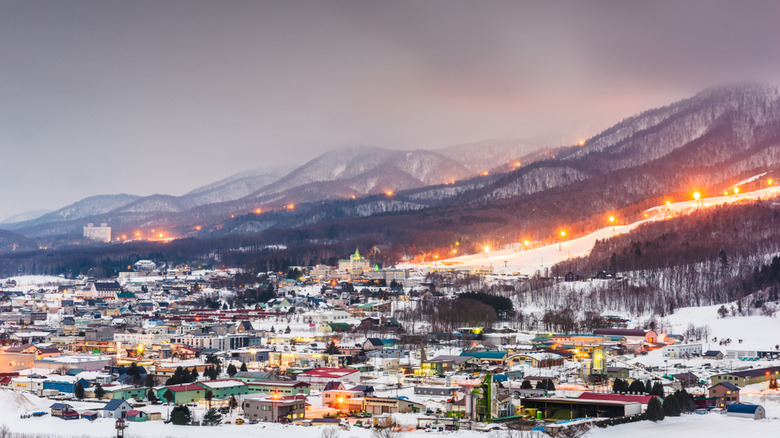 Sean Pavone/Shutterstock
Tourists might not know that more than 70% of Japan is covered in mountains, and Hokkaido, one of Japan's four main islands, is known for its picturesque rural landscapes. Furano is a small city at the center of that gorgeous island.
Girdwood, Alaska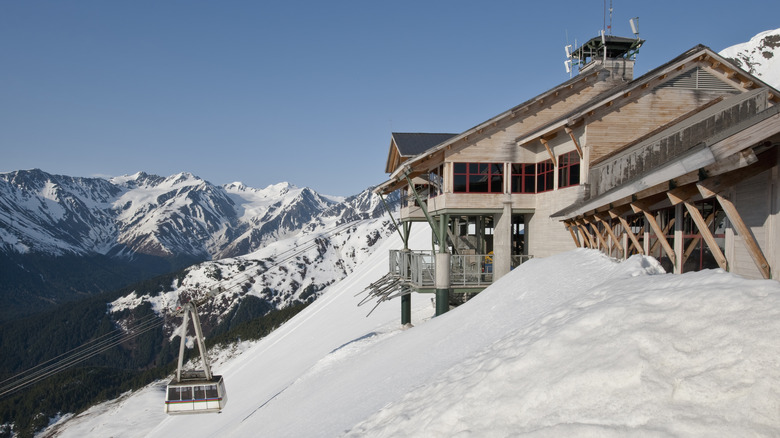 © Tom Dowd | Dreamstime.com
This famed Alaskan mountain town is just 36 miles south of Anchorage along the scenic Seward Highway. Girdwood is located in the foothills of the Chugach Mountains and offers plenty of unbeatable views. 
Hallstatt, Austria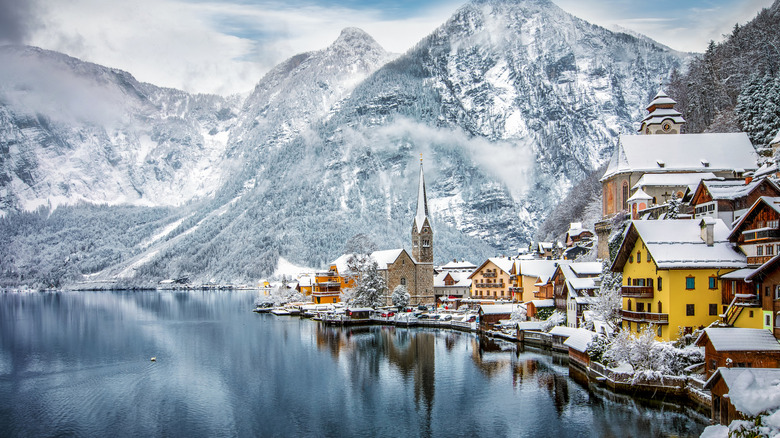 iStock.com/SHansche
With its colorful 16th-century houses and stunning surroundings, Hallstatt, Austria, is the ultimate charming Alpine village. This lake town is one of the oldest inhabited settlements in Europe, so its Old World charm is wholly authentic. 
Hongcun, China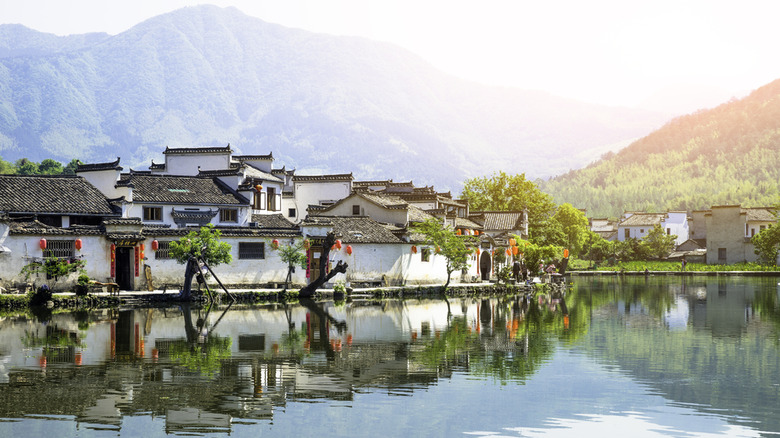 Zharov Pavel/Shutterstock
Perhaps the most famous mountains in China are the Huangshan Mountains, or Yellow Mountains. The mountains are located in the Anhui Province of eastern China. Their striking rock formations, twisting pine trees and sky-piercing peaks were frequently depicted in traditional Chinese paintings. Located in the mist-shrouded foothills, Hongcun is filled with historic Ming and Qing Dynasty architecture.
Hood River, Oregon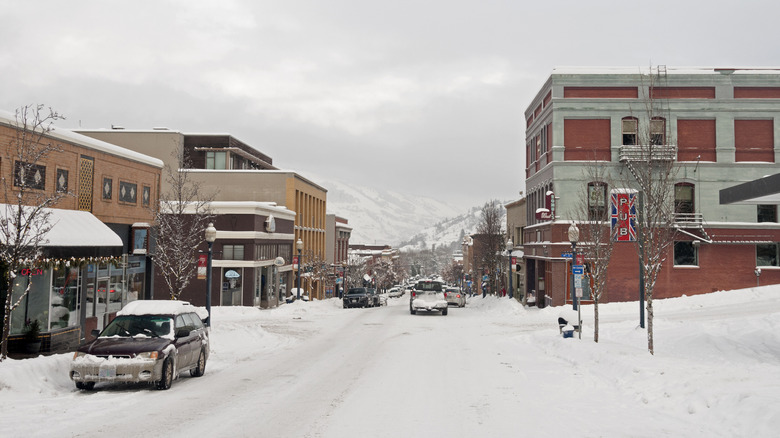 iStock.com/Gary Quay
Just about an hour outside Portland near the majestic Mount Hood, Oregon's Hood River is the perfect charming winter spot. 
Jackson, Wyoming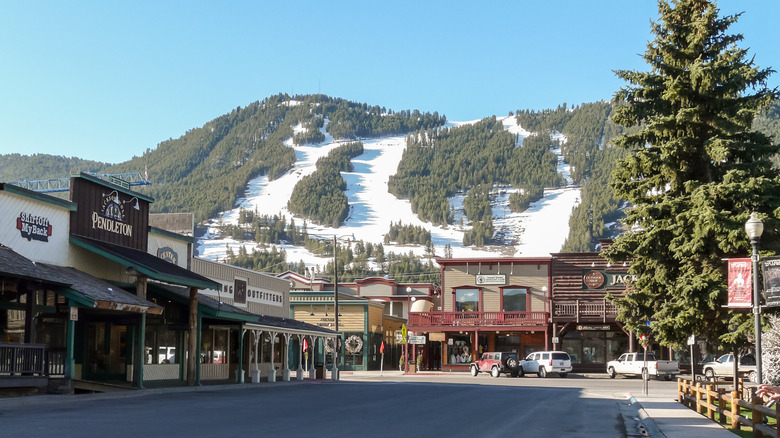 WitGorski/Shutterstock
Jackson, Wyoming's most coveted attraction is Grand Teton National Park, which, when dusted with snow, turns particularly stunning. 
Ketchum and Sun Valley, Idaho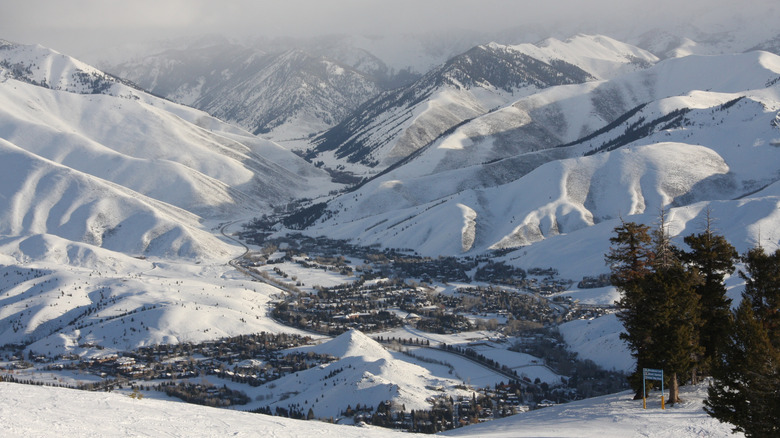 CSNafzger/Shutterstock
Ketchum and Sun Valley in Idaho are right on the boundaries of America's first Dark Sky Reserve, so not only are the mountains dazzling, the skies are too. 
Lake Bled, Slovenia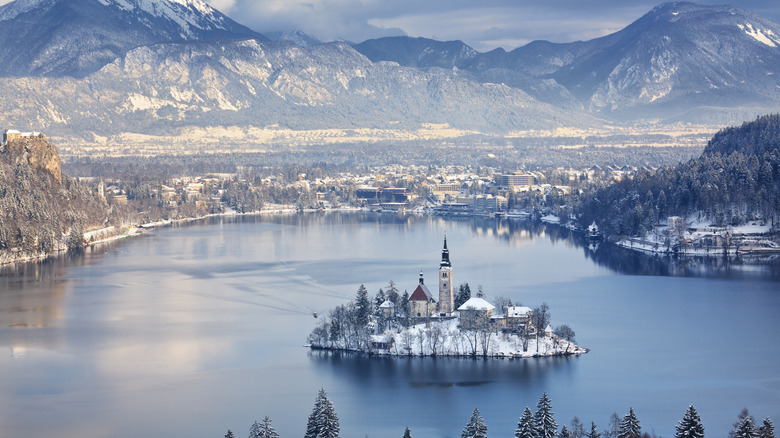 iStock.com/borchee
Under a dusting of snow, Bled, Slovenia, looks like a winter scene from a fairy tale. The majestic, medieval Bled Castle stands on a cliff above a blue glacial lake. 
Lake Placid, New York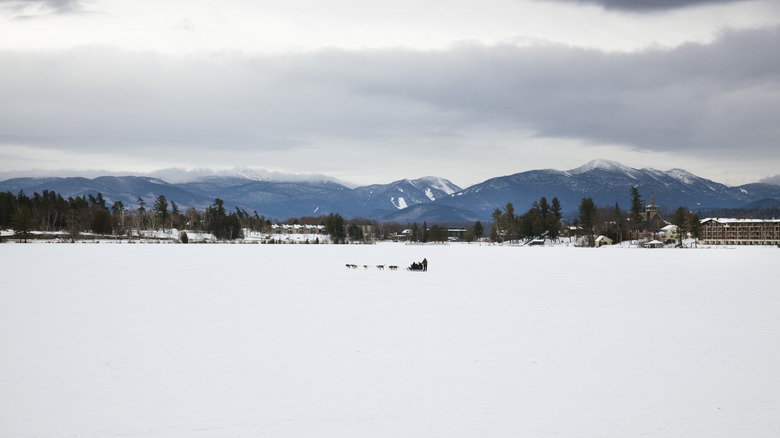 Royalty free/Getty Images
Located in the Adirondacks of upstate New York, Lake Placid famously hosted the 1980 Winter Olympics and remains a sportsman's playground to this day. 
Leavenworth, Washington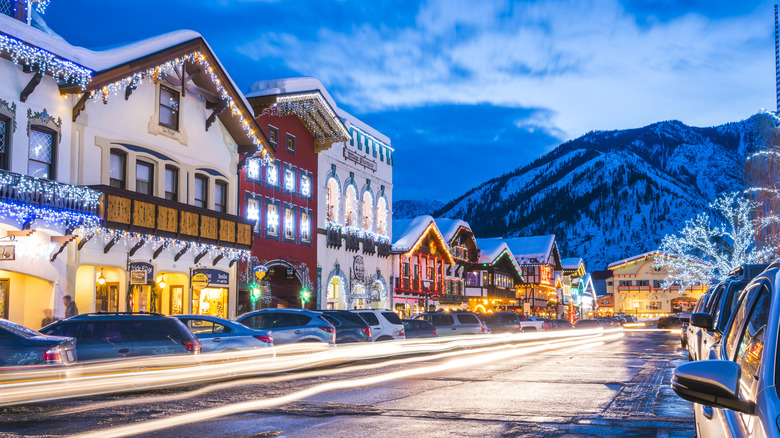 Checubus/Shutterstock
Leavenworth, Washington, is one of the most magical Christmas towns in America in part because of its Currier and Ives postcard charm. The village has Bavarian architecture with a stunning backdrop of the Cascade Mountains. 
Lewisburg, West Virginia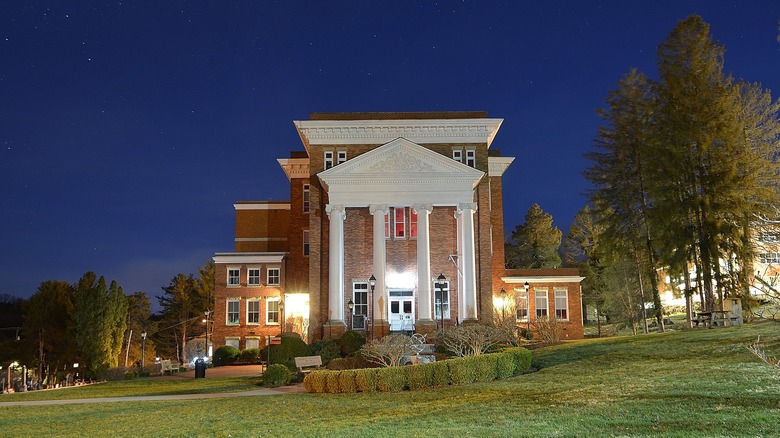 © Eric Falk/Dreamstime.com
Nestled in the Greenbrier River Valley of West Virginia's Allegheny Mountains, Lewisburg has a walkable, quaint downtown and historic buildings and museums. The town is surrounded by Greenbrier State Forest. 
Mammoth Lakes, California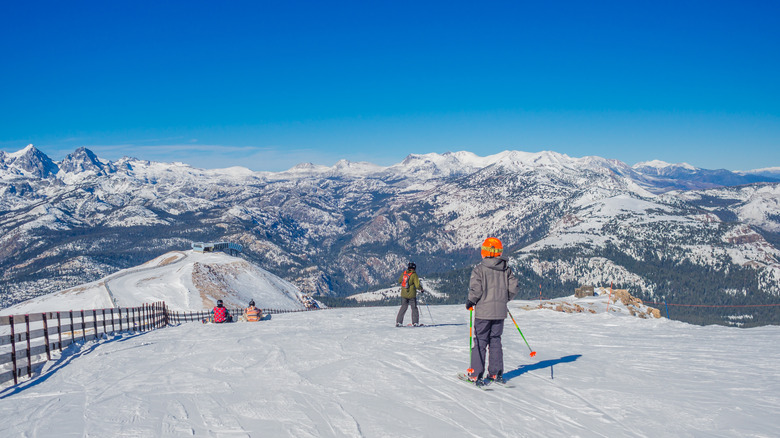 jannoon028/Shutterstock
Mammoth Lakes is one of the most popular ski resorts in America for good reason. Mammoth's high elevation means superior snow conditions for skiing and snowboarding. 
North Conway, New Hampshire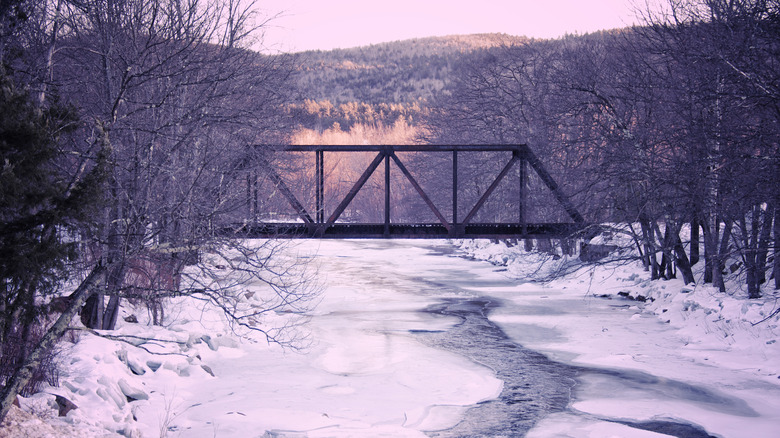 Lorna Wu 2/Shutterstock
Located in the heart of New Hampshire's Mount Washington Valley, North Conway has the best of both worlds — endless mountains and a quaint downtown village.
Park City, Utah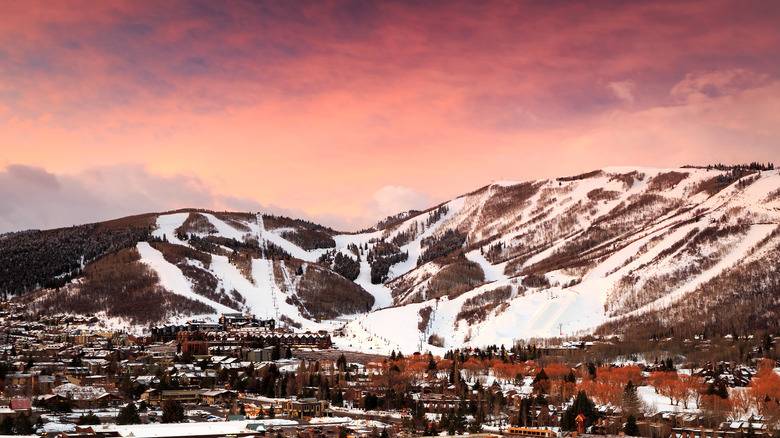 Johnny Adolphson/Shutterstock
Famous for hosting the Sundance Film Festival and the 2002 Winter Olympics, Park City, Utah, has a one-of-a-kind après-ski culture with a small village vibe. 
Prescott, Arizona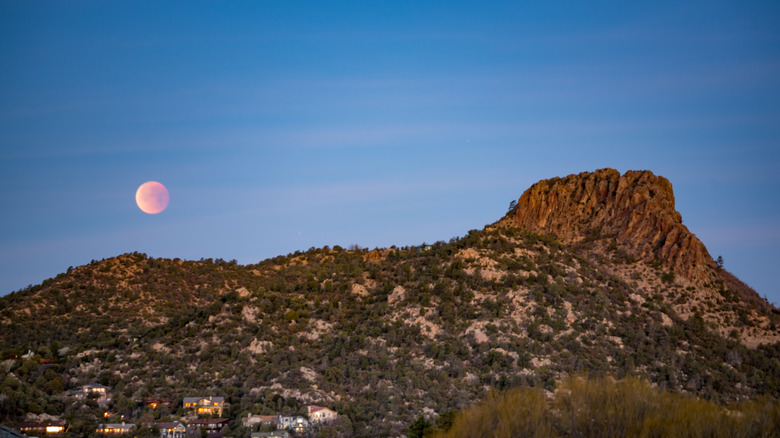 Nick Smart/Shutterstock
Sitting more than a mile high in elevation, the town of Prescott is surrounded by the Prescott National Forest, which has more than 400 miles of hiking, mountain biking and equestrian trails, with the top of Spruce Mountain offering amazing panoramic views. 
Seward, Alaska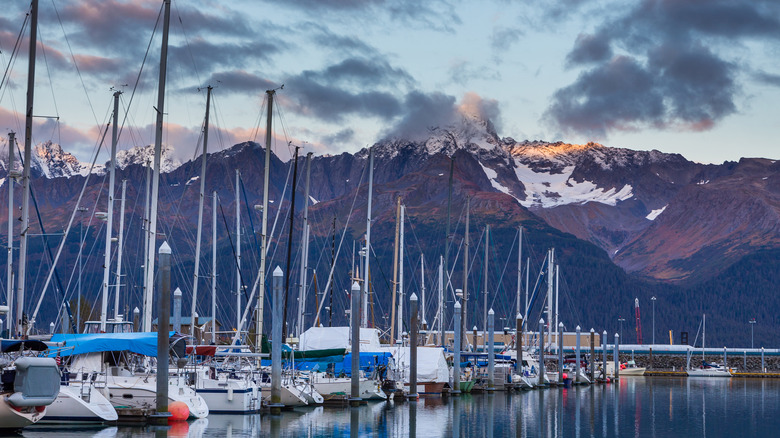 Tomasz Wozniak/Shutterstock
One of the most picturesque towns in Alaska, Seward is a coastal city that glistens in the winter. Known as the gateway to Kenai Fjords National Park, Seward is nestled between Resurrection Bay and staggering, snow-capped mountains. 
Stowe, Vermont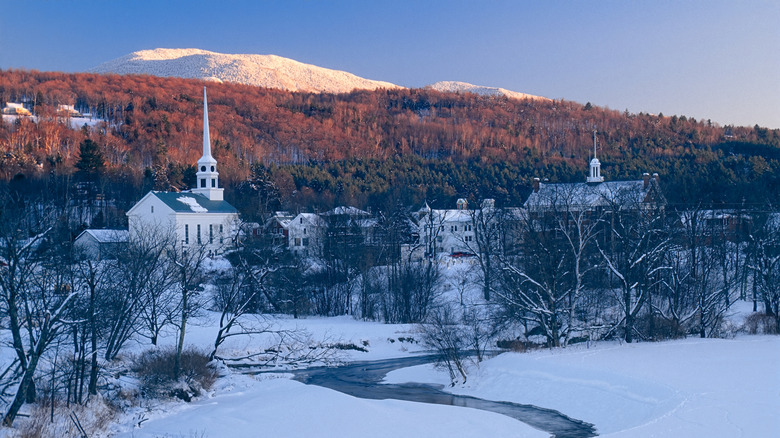 Don Landwehrle/Shutterstock
Stowe is a small New England ski town nestled next to the state's highest peak. Though Stowe may be better known for its beautiful fall foliage, it's a snowy wonderland in the winter. 
Sugar Hill, New Hampshire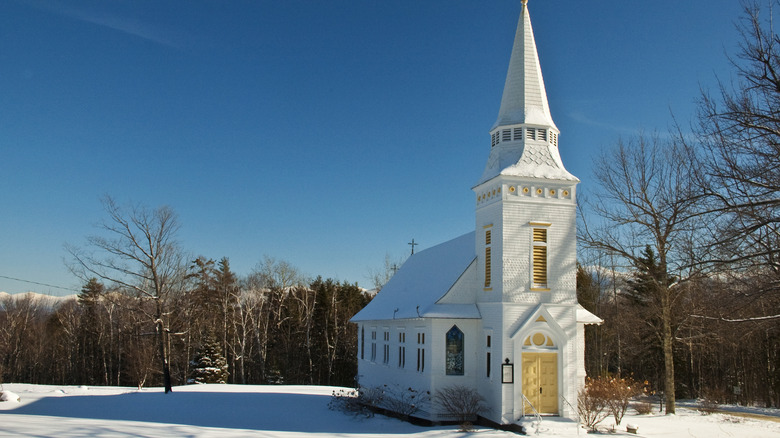 © Teconley | Dreamstime.com
Sugar Hill is a small town in New Hampshire's White Mountains with a population of less than 600 people. 
Taos, New Mexico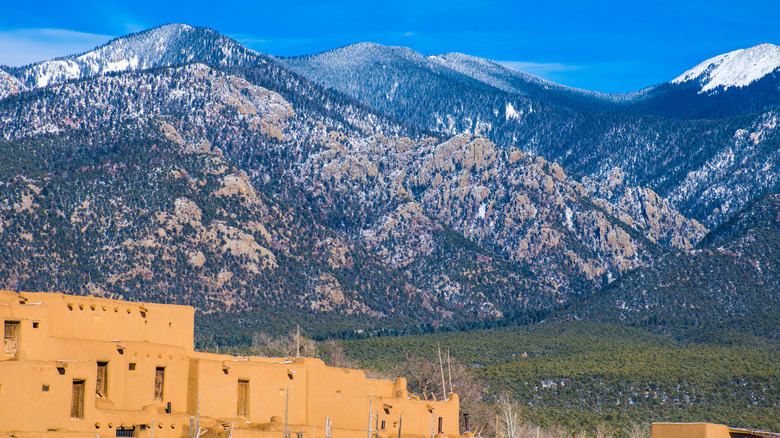 © Bryan Roschetzky/Dreamstime.com
Taos, New Mexico, is one of the prettiest towns in America, and winter only enhances its beauty. Taos Pueblo, a 1,000-year-old Native American village, is located about a mile outside Taos.
Telluride, Colorado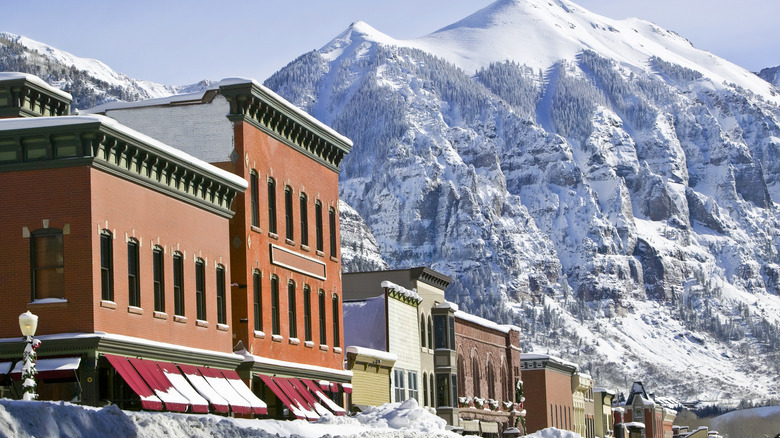 iStock.com/DOUGBERRY
Telluride is a charming village tucked in Colorado's Rocky Mountains. It was formerly a Victorian mining town. In the wintertime, the city looks like a scene from a snowglobe. 
Villa La Angostura, Argentina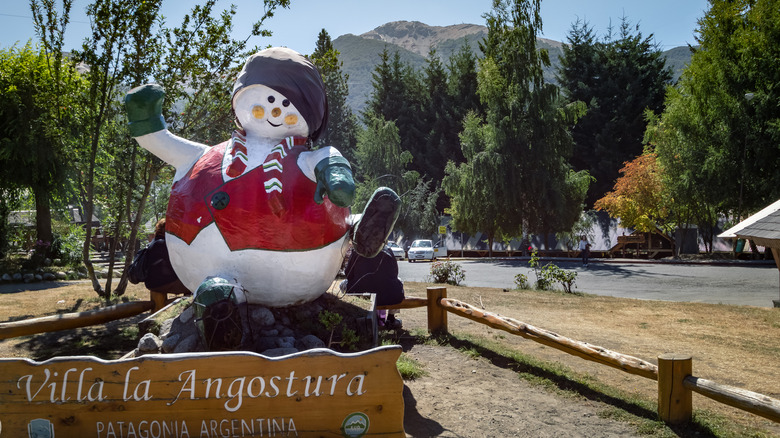 iStock.com/diegograndi
A lakeside Alpine village in the heart of Argentina's Patagonia region, Villa La Angostura is a hidden snow-kissed spot in South America. 
Wanaka, New Zealand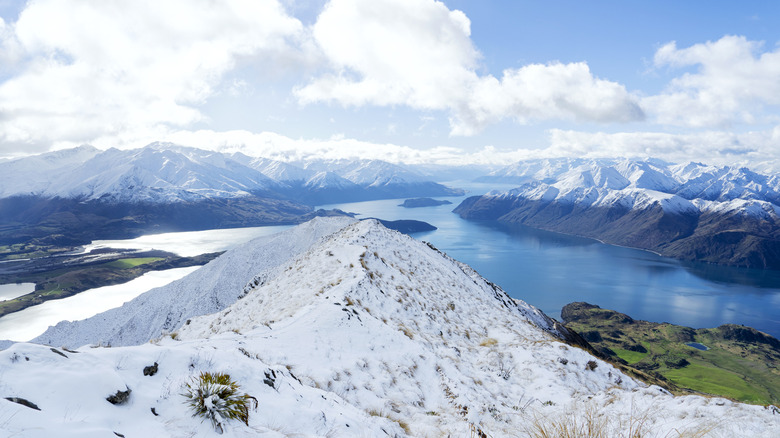 iStock.com/kityowong
Located on New Zealand's South Island, the town of Wanaka sits between its namesake lake and the island's Southern Alps. Because it's located in the Southern Hemisphere, Wanaka's peak winter season runs from June to August with plenty of fluffy snow.
Whistler, Canada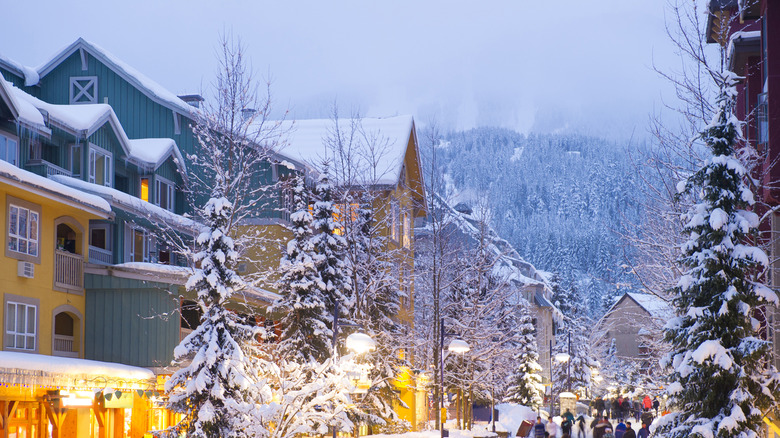 iStock.com/stockstudioX
One of the most famous ski destinations in Canada and the largest in the world, Whistler is located in the Coast Mountains of British Columbia. The town itself is situated in a vibrant base village with Alpine-style buildings.
Whitefish, Montana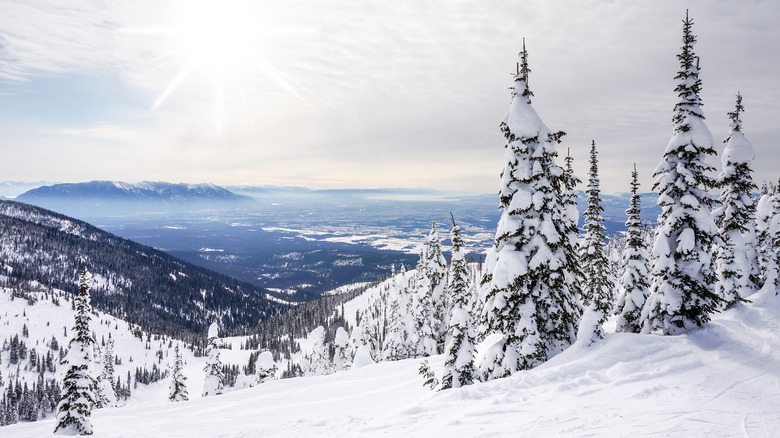 Ronnie Chua /Shutterstock
Whitefish serves as the gateway to one of the country's more underrated national parks, Glacier National Park. Portions of the famed scenic Going-to-the-Sun Road are open depending on snowfall. 
Woodstock, Vermont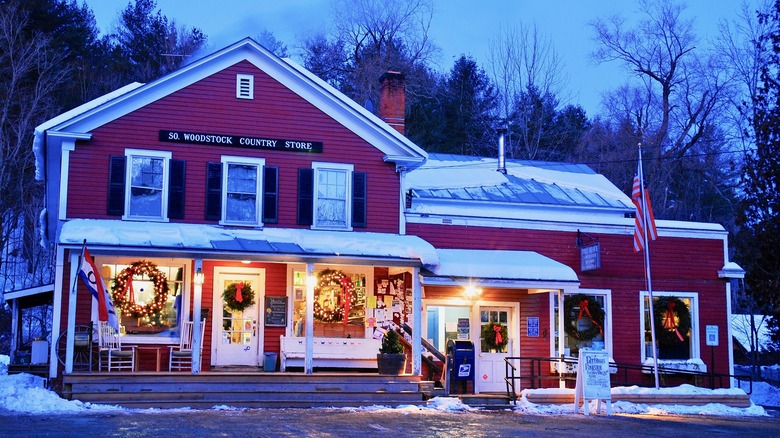 iStock.com/Kirkikis
Woodstock is picturesque with lovely landscapes and historic buildings, as well as the serene Ottauquechee River running through it. It's especially charming during the holiday season with festive holiday sights, Nordic skiing trails and more.
Zermatt, Switzerland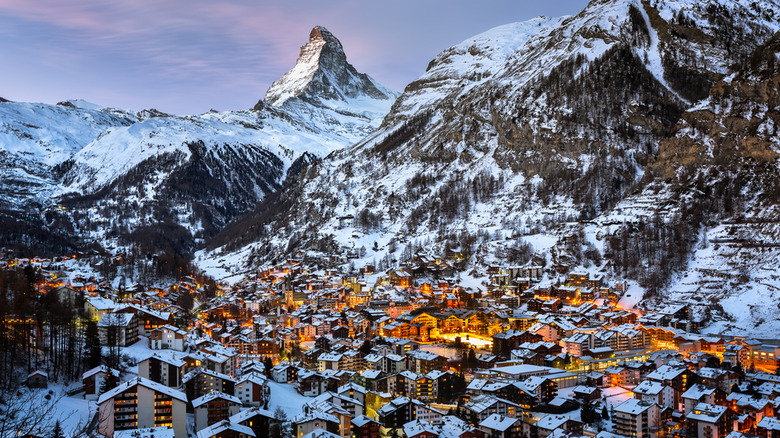 ansharphoto/Shutterstock
Zermatt is a storybook town that sits below the iconic Matterhorn peak in the Swiss Alps. Cars aren't allowed in town, so horse-drawn sleighs, buses and electric taxis are the only methods of transit, which only heightens the glamour. The Matterhorn is just one of many majestic mountains you need to see in your lifetime.