This Charming East Coast Beach Town Is The Perfect Place For Your Next Couples Trip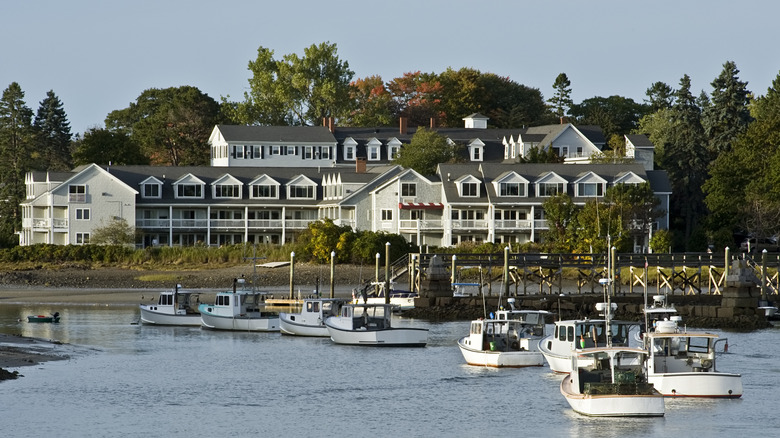 Easybuy4u/Getty Images
Spending time away together as a couple is a great way to stay connected. Whether it's a weekend break, anniversary celebration, or even a mini-moon, the charming East Coast beach town of Kennebunkport, Maine, is the perfect place for your next couples trip. The destination is fun, romantic, and relaxing, making it the ideal getaway with a significant other. 
The coastal town is just 30 miles south of Portland (where you'll find the closest airport) in charming New England. Kennebunkport was originally settled in 1629 and is rich in history. It's also a hub for art and culture. And while it's a popular summer destination, it offers visitors much to see and do year-round. From spring and summer whale watching to autumn leaf-peeping to a peaceful snowy walk, filling your days before heading to a romantic dinner with water views is easy. And with inns, hotels, resorts, and Airbnb bookings, it's effortless to find accommodations that suit your needs and budget. 
On the town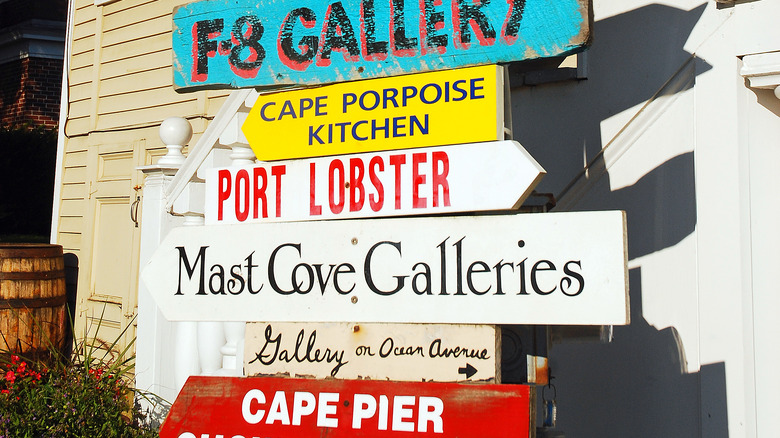 Kirkikis/Getty Images
Central to Kennebunkport is Dock Square, filled with galleries and shops and ideal for a hand-holding stroll. It's also where you'll find the town decked out in holiday lights and festivities in December. Just a few miles from the square, St. Ann's Church, a stone chapel built in 1892, is stunning and overlooks the Atlantic Ocean. Admission is free, and the church is open to visitors from mid-June to September. 
While Seashore Trolley Museum may not scream romantic, it's a lot of fun. Known as the largest museum of mass transit, you can explore restored trolleys and streetcars gathered from around the U.S. 
Technically, in Kennebunk (a few miles away from Kennebunkport), the aptly named Wedding Cake House is a time travel back in shipbuilding history and chockfull of romantic stories, as the house was gifted as a wedding present to George Washington Bourne. We can't think of a better couple's photo op than on the lawn in front of the sunny and frilled structure. 
Of course, it wouldn't be a complete Maine trip without a romantic lobster dinner. There's no shortage of swoon-worthy eateries in town. It doesn't have to be Valentine's Day to enjoy a cozy dinner for two at The White Barn Inn. Featuring New England cuisine in a breathtaking setting, Executive Chef Matthew Woolf brings his big-city experience to Kennebunkport. Dishes like the artichoke tart and butter-poached Kennebunkport lobster lead the way to a rhubarb soufflé to end the ideal evening. 
Enjoying nature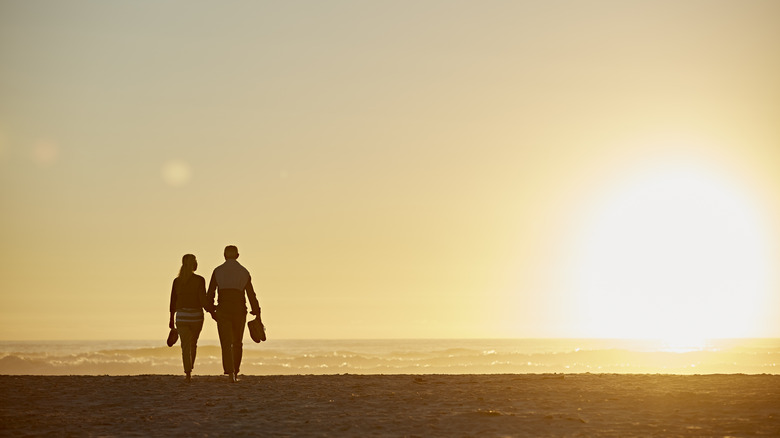 Morsa Images/Getty Images
There's a lot to take advantage of in nature in Kennebunkport. Depending on the season, hiking, whale watching, and leaf-peeping are all great options. Surrounded by river and ocean waters, beaches and boating are prime summer activities. A romantic walk on scenic Goose Rocks Beach offers coastal views and Timber Island in sight. And if you're on a couples trip with your dog, you can hit up popular Gooch's Beach, which allows leashed pets. 
Couples can also enjoy a fun day on the water with a boat tour, rented kayak, or adventure with white water rafting. For a slower pace, a lobster boat tour fits the bill. An evening lighthouse cruise is an ideal date night on vacation, timed just right with the sun setting. Additionally, The Emmons Preserve offers various hikes through scenic wooded areas. You can pack a picnic to enjoy on the homestead deck and unwind in nature.
With all Kennebunkport has to offer, it's the ideal getaway for couples searching for fun and time to relax and connect.