The Extra Perk Of Having Water Balloons For A Beach Day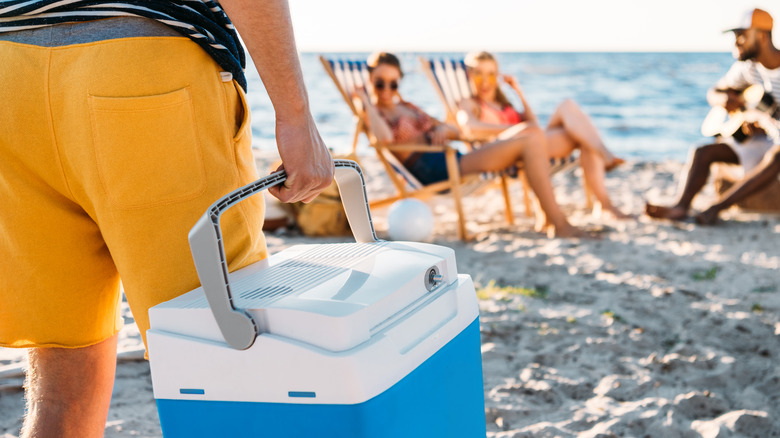 LightField Studios/Shutterstock
There are few things in life better than a beach day. The sun is shining, the waves are gently rolling, the sand feels warm between your toes, and these all come together for a picture-perfect escape — at least for a few hours. Whether you're dreaming of unwinding with a good book in hand, looking forward to moving your body with activities like volleyball, or simply building sandcastles with the little ones, the beach sets a versatile stage for everyone.
However, there's always one piece of the puzzle that leaves beachgoers scratching their heads: How to keep food and drinks cold throughout the day. After all, a nice, crisp can of soda or a refreshing sip of lemonade is essential not only for the sake of enjoyment but also for safety, especially considering that hot temperatures can easily spoil your fun. After all, even mild heatstroke can put a damper on any beach trip, causing everything from exhaustion to confusion and loss of consciousness.
Luckily, there's an ingenious tip that beachgoers swear by and it involves using water balloons in your cooler. A simple, efficient way to keep everything cold without the mess of melting ice, water balloons work well because they maintain a low temperature for a prolonged period of time. In turn, this ensures that you always have cool drinks on hand. Moreover, they also prevent your items from getting soaked, keeping everything dry and intact.
A well-stocked cooler with a fun twist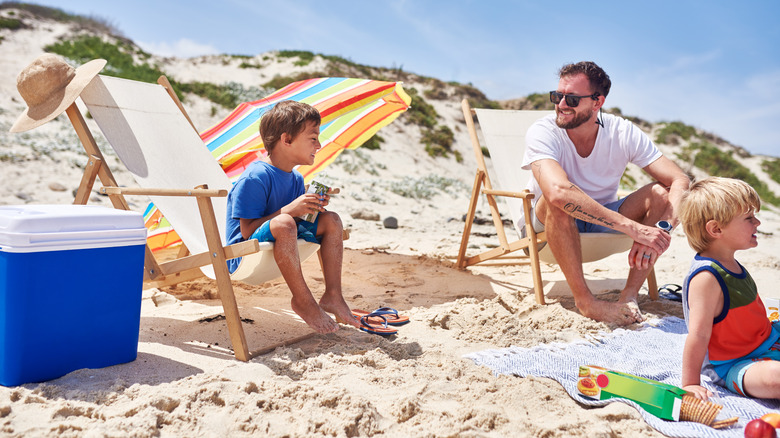 Moyo Studio/Getty Images
To make the most of this trick, simply fill up a handful of water balloons and stick them in the freezer. Once frozen, use them to line the bottom of your cooler or wagon and fill the rest up with your snacks and drinks. The frozen balloons will keep your items cold and dry, a significant upgrade from the usual soggy cooler experience. This, coupled with burying your cooler in the sand, will ensure that your food and drink stay cool no matter how hard the sun beats down. 
Plus, once they've done their job of keeping things cold, you can pop them and throw them away, leaving you with fewer items to carry back at the end of the day. Better yet, the balloons' role doesn't end there. These cooling agents can also open up a channel of spontaneous fun, especially for kids. Once thawed, water balloons become an instant source of entertainment — from impromptu water balloon fights to target practice with built sandcastles. 
This, in turn, adds an unexpected layer of fun to your beach outing and ensures it ends on a high. Just make sure to always clean up after yourself, and don't leave any balloon remnants behind. Not only will you be protecting the local wildlife, but you'll also save yourself from a hefty littering fine.