The TikTok Towel Hack You Need To Make Beach Days Easier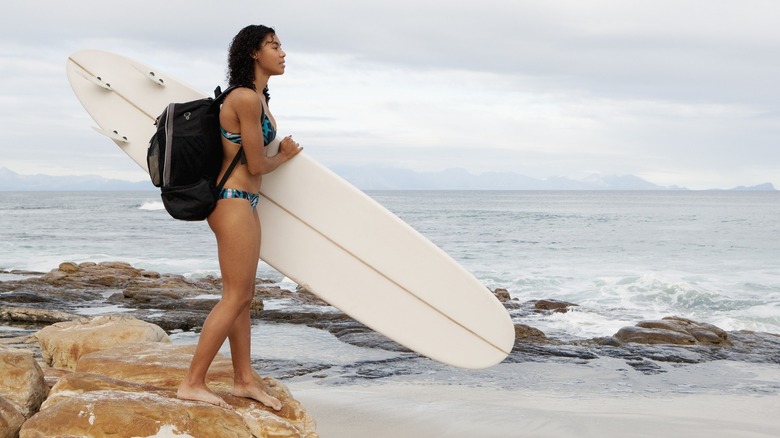 Clarissa Leahy / Getty Images
There's nothing like that sense of anticipation when heading to the beach — whether it's to catch a few waves, take a refreshing dip, or enjoy some chill time. From that first feeling of the sand between your toes and the sound of the waves hitting the shore to scoping out the best spot, it's one of those moments when all feels well with the world. The only slight snag, however, can be carrying all your stuff — which is why this simple towel hack from TikTok duo @KUYYAandNUNU, in which smaller items are tucked away inside, can help make beach days easier.
From bathing suits and books to sunscreen and snacks to water and wetsuits, there's a surprisingly long list of things that can be needed for a day at the beach. When you also throw in larger items such as a surfboard, a parasol, or a picnic hamper, juggling these diverse components can be quite a challenge. So, what's the best method for organizing it all?
Well, for the little things, at least, one of the most straightforward ways is to wrap them in your beach towel — a trick that takes less than a minute but saves valuable time later. Not only will it keep everything neat in your beach bag, it means you can stow smaller items safely and securely, and they will be accessible as soon as you hit the sand. 
Step-by-step instructions for this simple towel trick
Before you leave for the day, start by laying out your beach towel on a large, flat surface — such as a table, the bed, or on the floor. Keeping the towel lengthwise, neatly fold over each side so that they meet roughly in the middle, with one side slightly overlapping the other. Then fold over the far end, bringing it towards you by around a fifth or so of the full length.
Now, place your smaller items, such as suntan cream, goggles, and surf wax, in the center of the towel — arranging them as closely together as possible. Think kind of Tetris-style. Next, roll up the towel, starting from the end nearest you — and then, when you're almost done, tuck it into the "envelope" part that you'll find at the other end.
If everything has gone to plan, as the TikTok video demonstrates, you should now have a neat little package, with your smaller items secured safely inside, that you can either carry under your arm or pop in your beach bag. And hey presto; that's it! This nifty towel trick really is as simple as that.
A few other handy hacks for beach days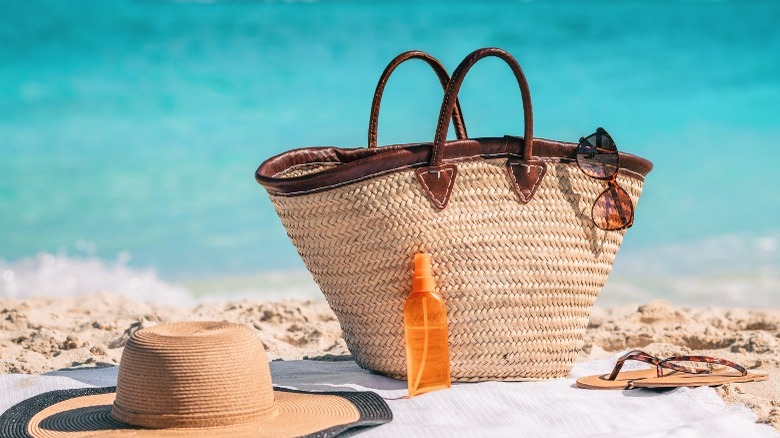 Maridav / Shutterstock
This smart shortcut is handy if you're carrying belongings for other family members and don't want to get them mixed up in your beach bag. Simply repeat the process for each person and stack the towels. It's also a useful method for those who don't wish to take a bag — for instance, if going for a swim or a surf alone — and who prefer to leave minimal items on the sand.
Of course, this is just one of many hacks that can make your day at the beach go more smoothly. Others include using a sled to transport all your gear (yes, really!), taking a mesh laundry bag for any wet and sandy beachwear afterward, and bringing a small waterproof pouch for your phone. On that note, there's also a whole list of other things you can do to keep your valuables safe at the beach.
So, next time you're heading to the ocean, remember this fail-safe towel technique and the other simple tips, and you'll soon be packing like a pro. Not only will this help to keep everything nicely organized, but it will also make the walk down to the beach a total breeze. That way, you can focus on the more important things, like soaking up some rays.