The Popular Tourist Attraction New York City Locals Suggest You Skip On Your Next Trip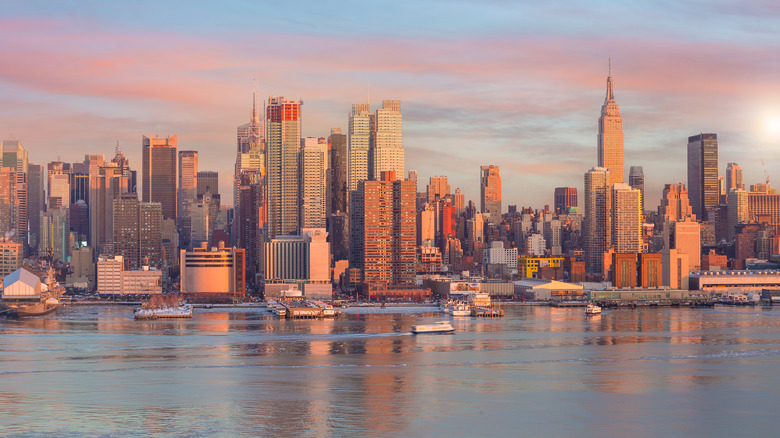 f11photo/Shutterstock
New York City is a tourist mecca. In fact, New York City Guide reported that 61 million people were expected to visit the Big Apple in 2023 alone. This might not come as a surprise, given that NYC has countless iconic attractions, such as Central Park, Times Square, and, of course, the Statue of Liberty. Designed by French sculptor Auguste Bartholdi, the Statue of Liberty was officially revealed in 1886. The copper monument, a UNESCO heritage site, was created to symbolize the goodwill between France and the United States and their shared democratic values. 
Visiting the Statue of Liberty is usually on the itinerary for most visitors. However, when PIX11, a TV station in New York, conducted a Twitter poll on the city's biggest tourist traps, the Statue of Liberty took second place. To get to the Statue of Liberty, tourists must take a ferry from The Battery, a park in Manhattan, to Liberty Island. At the time of this publication, general admission tickets cost around $24 and include ferry rides to and from Liberty Island and nearby Ellis Island. 
A ticket allows you to visit the Statue of Liberty Museum and the Ellis Island National Museum of Immigration. While this might seem like a good deal, one local stated on PIX11's social media, "Going to the island is a complete waste of time and money."
Why visiting the Statue of Liberty isn't worth it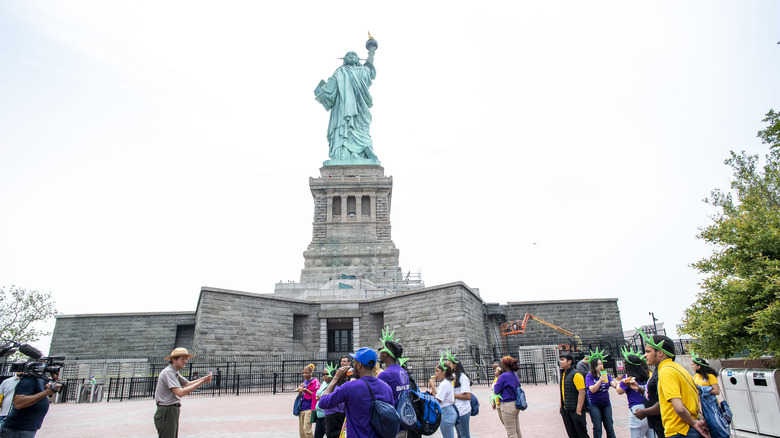 Eugene Gologursky/Getty Images
A general admission ticket may get you to Liberty Island, Ellis Island, the Statue of Liberty Museum, and the Ellis Island National Museum of Immigration. However, it does not get you inside the Statue of Liberty. Visitors must purchase a specific ticket to access the Statue of Liberty's pedestal or the Statue's Crown. At the time of this publication, ticket prices are around $24 and include everything a general admission ticket offers. Tickets to the Statue's Crown also gives you access to the pedestal; while the pedestal ticket doesn't give you access to the Crown. Confusing, huh? 
In other words, if tickets for the Statue's Crown happen to sell out on the day you want to visit, you might be stuck paying the same price for pedestal tickets or general admission. This means you'll do and see less while you are there, for the same price. Of course, there's also the Liberty Museum. But with only three different galleries and a rooftop deck, there's not much else to see. 
You might be better off spending time at the Ellis Island National Museum of Immigration, which has historical artifacts, photos, and more. However, this is not ideal if you only want to see the Statue of Liberty or only have time to do one thing. 
How to get up close to the Statue of Liberty for free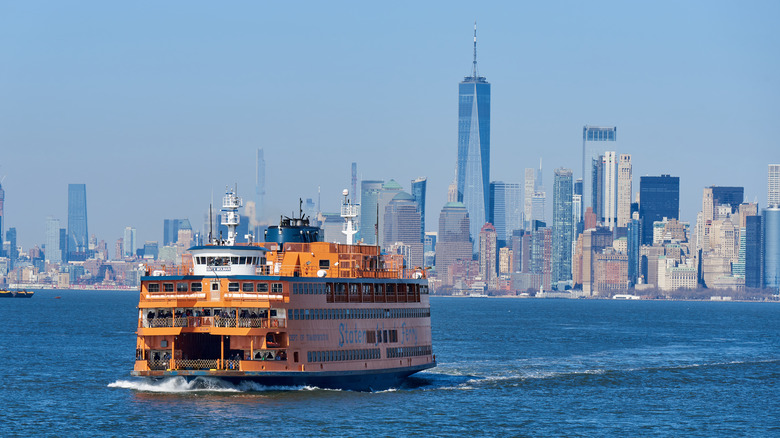 John Penney/Shutterstock
There's no need to spend money or trek to Liberty Island to see the Statue of Liberty. For example, you can get an impressive look at the Statue of Liberty from The Battery. Visiting the park is free, and there are also gardens, a bike path, and an impressive playground for children to enjoy. Alternatively, you could walk the Brooklyn Bridge via the Brooklyn Bridge Pedestrian Walkway for a glimpse of Lady Liberty. You can also use The Staten Island Ferry if you want optimal views. 
The ferry is free and departs from Manhattan's Whitehall Terminal. Its viewing deck allows you to see the Statue of Liberty in all its glory, which is something the ferry advertises on its website. Likewise, the ride only takes 25 minutes and runs all day, allowing visitors to plan their itinerary as they see fit. 
Although New York City has a reputation for being incredibly pricy, there are plenty of free things to do besides snapping photos of the Statue of Liberty. New York City is home to museums you'll want to visit, with many, including the American Folk Museum, having free admission. Other free activities include visiting the 9/11 memorial and strolling through Central Park.